News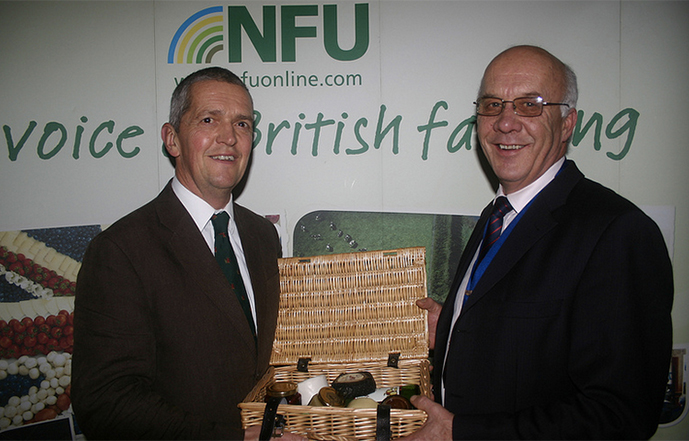 Farmers warned over Single Payment scams
Farmers are being urged to be cautious to a new twist on an old scam which has seen the farming community lose hundreds of thousands of pounds over th...
'Unanswered questions' remain over Countryside Scheme
The Countryside Stewardship Scheme will contribute around £900 million to rural businesses to help them improve the countryside environment. Many infl...
MEPs call for moratorium on cloned meat labelling
Draft plans to encourage food innovation via a new, authorisation procedure for novel foods have been approved by the Environment Committee. The d...
NFU Cymru Deputy President to Address Carmarthenshire AGM
NFU Cymru members are invited to the Carmarthenshire NFU Cymru Annual General Meeting (AGM), on Tuesday, 9 December 2014, at 7.30pm, in the Plough, Rh...
WNSC Introduces New Agricultural Apprenticeships Team
Walford and North Shropshire College (WNSC) is introducing a new team to assess agricultural apprentices, Graham Holt and Gill Coleman are bringing a ...
Four competing to become Zoetis / BPC Poultry Trainee of Year
Two brothers from Cheshire are among the four finalists competing for the Zoetis / British Poultry Council Trainee of the Year Award. The award, wh...
Glamorganshire farm student wins FUW award
THE latest winner of the Farmers' Union of Wales Glamorganshire county branch's Walter Rowlands memorial award is Luke Morgan of Groes Farm, Southernd...
FUW highlights concerns over exclusion of grazed woodland
THE Farmers' Union of Wales has written to newly-appointed EC Agricultural Commissioner Phil Hogan asking for rules which will exclude large tracts of...
Air ambulance lands FUW Glamorganshire cheque
A CHEQUE for just over £1,000 from the proceeds of a wooden horse race night on Farmers' Union of Wales Glamorganshire county member Lorraine Howells'...
Case IH Magnum Rowtrac previewed at LAMMA 2015
Combining the individual benefits of wheeled and tracked tractors, the new Case IH Magnum Rowtrac 380 CVX – which will be previewed in the UK at LAMMA...
UK farming income rises 15%
New statistics have revealed increased production and prices boosted farm income to £5.6 billion last year. Total income from farming rose by £743 ...
Organic support moves welcomed by industry body
DEFRA's decision to pay organic farmers lower conversion rates but increase maintenance rates has been described as 'the right move for the UK organic...
70% of chicken tests positive for campylobacter, FSA announces
70% of chickens tested positive for the presence of campylobacter, the Food Standards Agency has today announced. The cumulative results from the f...
Farmers risk losing out on subsidy due to poor exchange rates
British farmers risk losing out on a vital European subsidy because of poor exchange rates and hidden fees. Single Farm Payments will be made by th...
Government introduces mobile coverage for countryside
The government has introduced plans for a 'national roaming mobile network' to ensure all rural communities receive mobile phone coverage. The CLA,...
Farmers' plea for clearer communication
Farmers are feeling 'increasingly frustrated' by the lack of information they are receiving from the Welsh government with regards to the new A487 Bon...
New John Deere machinery to be shown at LAMMA
John Deere's new 6R and 6M Series tractors, R4040i self-propelled sprayer and 8000 Series self-propelled forage harvester will be featured for the fir...
Russia forecasting low grain crop, rouble weakness
EU grains closed mostly higher, with London wheat closing above GBP130/tonne and Paris wheat over EUR180/tonne for the first time on a front month sin...
Modern sheep genetics on the world stage
A record breaking number of six sheep breeds were represented on the joint EBLEX and British Livestock Genetics stand at the major Eurotier show. E...
Greater accuracy for pig growth sensor
On-farm development work has resulted in greater accuracy of information retrieval provided by the growth sensor system. This significant development ...
Vets welcome Defra avian flu publication
Wild birds are one possible source of the H5N8 avian flu outbreak in East Yorkshire. That is why Defra are advising poultry keepers to follow good pra...
Government must stop 'ruthless milk discounting'
Ruthless retail milk discounting is not sustainable, and ultimately will damage the sustainability of the UK dairy industry, NFU dairy board chairman ...
Farmers 'should now know the rules' as Defra clarifies CAP issues
Further clarification of some of the more controversial elements of the new Common Agricultural Policy has been issued by Defra ahead of its introduct...
Case IH to launch new machinery at LAMMA 2015
Case IH will exhibit new products at LAMMA 2015, the UK's largest farm equipment show, on 21 and 22 January. In addition to the new Case IH Rowtr...
Arla Foods announce further milk price cut
Arla Foods have announced they will cut their milk prices paid to farmers by 1.63ppl from December. This is the second cut the company have announc...
Germany bulk of wheat business, Friday trade likely to be thin
Soycomplex Beans and meal drifted lower, despite strong weekly export inspections (again) for the former of 2.784 MMT and the USDA announcing 235 T...
Farmers warned of Christmas fraud risks
Farmers are being warned of the increased threat of fraud in the run up to Christmas as criminals deliberately target the agricultural sector. With th...
Grassland farmers 'must wake up to changing pesticide rules'
While many farmers who use professional pesticides on grassland are aware of the need to protect water, a significant number remain unaware of the imm...
UK sowing conditions 'excellent', EU grains trade firmer
EU grains traded mostly firmer, doing their best to ignore weakness in the overnight US globex markets, possibly in the belief that European wheat pri...
Partnership to explore solar farms and agriculture
Education chiefs have teamed up with the UK's leading solar energy generator to spearhead a project aimed at exploring the relationship between solar ...
New Holland tractor plant welcomes Essex farmers
The New Holland Basildon Tractor Plant recently opened its doors and welcomed Essex farmers and invited guests as the county NFU branch marked its cen...
Fraud costing UK produce £11bn a year
UK food and drinks companies are losing more than £11.2bn a year to fraud and error, according to a new report. The research reviewed data from 73 ...
Claydon to exhibit new Hybrid T drill at LAMMA 2015
Claydon Drills will exhibit the production version of their new Hybrid T drill for the first time at LAMMA 2015. Exceptionally versatile and flexible,...
UK dairy farmers need to build new markets overseas
Concerns with recent drops in farmgate milk prices and the volatility of global dairy markets came to the fore at a recent meeting of dairy farmers in...
Farmers warned over tax implications of seasonal activities
Farmers, landowners and rural businesses are being warned to remember the tax implications of moving into other seasonal activities. • Letting lan...
Arable challenges discussed at NFU conference
Arable farmers in Wales had the opportunity to learn more about overcoming some of the challenges facing the sector earlier this week, thanks to a joi...
Significant environmental strides for the UK dairy industry
New research shows that the UK Dairy industry has made significant environmental strides over the last six years. Preliminary results from the 201...
Home Secretary endorses agricultural crime initiative
Home Secretary Theresa May MP has praised an agricultural industry led crime initiative which brings farmers, auctioneers and the police together in a...
NZ dairy farm prices 'soaring'
New Zealand dairy farm prices have soared recently despite the significant drop in milk prices over the past months. The REINZ Dairy Farm Price Ind...
Corn market closes with double digit losses; not a good week for wheat
Soycomplex Beans and meal fell hard, closing more or less at session lows. "Market sentiment seems to be shifting to one of risk reduction with Dec...
US UK beef inspection anticipated soon
EBLEX has been helping ensure the industry is in the strongest position possible should a trade agreement be reached between the UK and the US for bee...
Farmers face significant tax charges over HS2, NFU warns
Farmers have urged the HS2 Select Committee this week to cater for the hundreds of farm businesses blighted by the construction of High Speed 2. Ev...
JCB GT crowned fastest digger on earth
The JCB GT was today crowned the fastest digger on earth after reaching speeds of more than 70 miles an hour in Australia. The JCB GT - originally ...
Bradford shop owners fined for selling rotten fruit
A HMI investigation has seen Bradford shop owners fined for selling rotten, damaged and incorrectly labelled fruit. The owners of a Bradford shop h...
FUW Christmas card boost for charities
The Farmers' Union of Wales president's chosen charities - Ty Hafan and Ty Gobaith children's hospices - will be the big winners thanks to the union's...
Restrictions lifted in Yorkshire AI zone
Movement licences were set to be issued to egg producers in the Yorkshire avian influenza zone today as authorities confirmed that there had been no n...
Can UK farmers can meet global demand with shale gas?
The development of natural gas from shale will help the UK meet its future food and energy needs, experts suggest. "By giving the go-ahead for the ...
Hydro-electric makes benefit out of flooding for Worcestershire farmer
A Worcestershire farming partnership, frustrated by frequent flooding on areas of their land, has turned this to their advantage with the unveiling of...
John Deere 7R Series tractor 'sets new fluid efficiency benchmark'
After undergoing the demanding Powermix test at the DLG test centre in Groß-Umstadt (Germany), the John Deere 7310R tractor recently set a new fluid e...
Poultry producers urged to remain vigilant
Poultry producers have been urged to remain vigilant following a case of avian influenza discovered at a duck farm in Yorkshire, the NFU have said. ...