News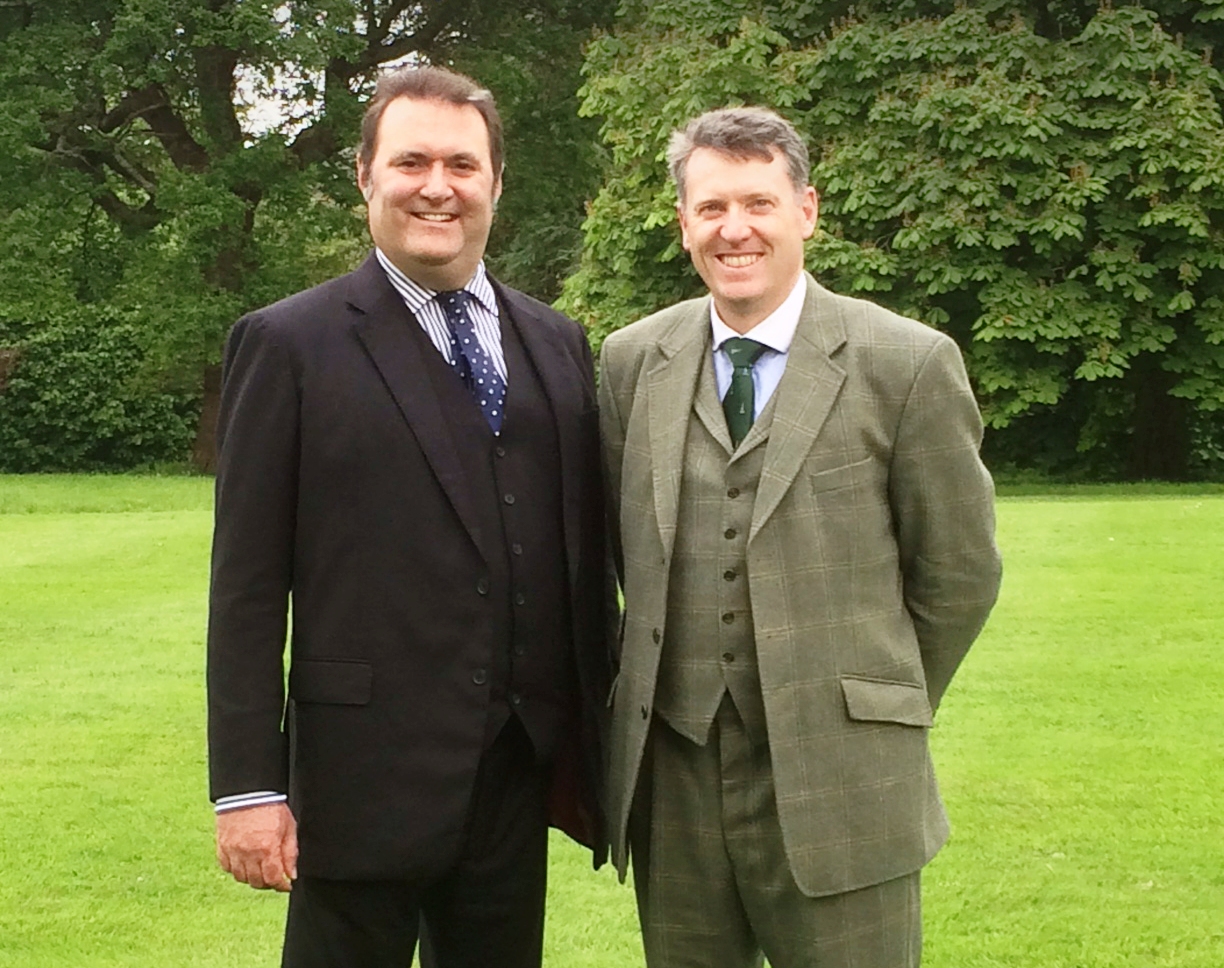 More Convenient Gletvax 6 for Protecting Piglets
A larger multi-dose bottle of Gletvax 6, the vaccine against E. coli and clostridial scours, will now make it more convenient to protect large numbers...
Do's and Don'ts of applying Avadex Granules
With the unprecedented high demand for Avadex Excel 15G (tri-allate) as an integral part of a successful black-grass control programme, it is importan...
3x3 Driving OSR Forward Initiative
BASF, Monsanto and Yara have developed a technical partnership to address some of the key challenges UK farmers face when growing oilseed rape. The th...
Real spider-men descend on Warwickshire for the ultimate climbing battle!
Warwickshire opens its doors to the world's arborist and forestry community this week, as it hosts the Husqvarna World Pole Climbing Championships 201...
New rural specialist for Everys Solictors
Everys Solicitors has welcomed animal welfare, countryside sports and meat industry law specialist Jamie Foster to the firm. Solicitor-Advocate Mr ...
Planting trees improves lamb and cow health
Farmers discovered ways of improving the health and wellbeing of livestock at a recent event aimed at highlighting how trees can increase a farm's pro...
Effective BYDV control planning
The 2014 harvest is almost complete and the new crops are either drilled or just about to go in. The end of summer has generally been dry and warm, tr...
Norfolk farmer sells collection of military vehicles
A 1945 Centurion tank, a 1940s US military truck, a 1930s Austin 8 military car and a parachute are among a collection of vintage military vehicles an...
High yielding biscuit wheats stay in contention at the top
With the majority of the 2014 HGCA official wheat sites harvested results for Limagrain UK's two biscuit wheat varieties up for recommendation this au...
'Good trade' at Bishops Castle sale of breeding sheep
Auctioneers Halls reported a "good trade" with buyers from near and far at a highly successful sale of 6,000 breeding sheep held at the Love Lane site...
Kuhn launches new front-mounted shredder
A new front-mounted shredder has been launched by Kuhn Farm Machinery to UK growers of biomass crops. The WS 320 BIO is a specialised biomass shred...
Farmers concerned over lack of lamb promotion
NFU Cymru and Welsh sheep farmers said they were concerned that some retailers are still failing to back Welsh farming and are not giving Welsh lamb p...
Antibiotic usage in livestock
With the growing problem of bacterial resistance to antibiotics, antibiotics from the fluoroquinolone and 3rd and 4th generation cephalosporin groups ...
Organic cotton can play role in 'feeding the world'
Organic cotton can help farmers feed their families and local communities around the world, according to a new Soil Association briefing. The Soil ...
New range of horse products for UK
A new range of 100 per cent natural horse care products is now available in the UK. Developed by Dutch company, Ropapharm Pharmaceuticals, they have b...
NFU spells out priorities ahead of 2015 General Election
A Government that understands farm businesses, wants agriculture to grow and has the policies that send the right signals to farmers, are the key mess...
Dairy Show 'boasts genetics of the future'
Calf showing can sometimes be seen as a poor relation compared to the excitement of dairy interbreed championships – but it is the foundation on which...
Farmers remain on guard over liverfluke
After last year's fierce fluke challenge and with the wet and warm conditions having continued this year, farmers are right to remain on their guard a...
Russian ban won't derail bullish poultry market, report says
The global outlook for the poultry industry is bullish for the remainder of 2014 and poultry meat prices will not be derailed by the Russian ban on ag...
New John Deere combine developments for 2015
John Deere is introducing the new five-walker W330 and six-walker W440 entry level combine harvesters for the 2015 season. Offering reliability and si...
FUW brings taste of rural life to Cardiff Country Fair
The Farmers' Union of Wales will welcome visitors to the Cardiff Country Fair at the end of the month with a taste of rural life and food production i...
New marketing manager at John Deere
Chris Wiltshire has been appointed the new branch tactical marketing manager at John Deere, from 1st October 2014. Chris replaces Gordon Day, who ...
Pig industry introduces confidential reporting service
A confidential reporting service will be introduced to maintain animal welfare standards on British pig farms, the National Pig Association has reveal...
Scottish farmer fears for his egg business on independence
One of Scotland's biggest farmers has expressed trade fears over Scottish independence. Glenrath Farms chairman John Campbell says he fears for the...
Financial pressures growing on farmers
The UK farming sector is coming under financial pressures on multiple fronts, an agricultural expert has warned. Farm gate milk prices have been cu...
Final Meeting of GLAD Partnership Project
The partnership included representatives from the UK, Italy, Portugal, Spain, Turkey and French Guiana. Phil Ridley, WNSC Enterprise and Developmen...
A health check for your soil
Soil is the basic raw material of farming and fundamental to agricultural productivity. Traditionally soil health has been seen largely as a function ...
Win £1000 off your next fertiliser order
Quality fertiliser is the key to yield and that holds true whether it's applied to grass, other forage or arable crops so this great prize of £1000 to...
Farmers reminded of changes to Bovine TB rules
Farmers were reminded of impending changes to rules on Bovine TB pre-movement testing of cattle moving to and from premises within Sole Occupancy Auth...
Graduate joins the rural professional team at Halls
The rural professional team at leading Shropshire-based company Halls has been further strengthened with the recruitment of a graduate from Ludlow. ...
Fertiliser prices look set to 'rise steadily'
Fertiliser prices look set to rise steadily over the coming months as new crop returns remain sufficient to sustain global demand. With the price o...
VG Launches the Revolutionary Biomass Air Blower System, Helping Businesses Improve their Bottom Line and Green Credentials
VG Biomass launch a revolutionary new plug and play biomass air blower system to provide agricultural businesses with a cost effective, reliable and e...
Combining solar and livestock farming: New guidance published
A new guidance published today expounds best practice in coupling conventional agriculture and ground-mounted solar electricity generation. The new...
English sheep exports to China hold 'huge benefits' for industry
Gaining access to the Chinese market for lamb produced in England would be a 'game-changer' for the industry and help manage price volatility, accordi...
Russia's harvest juggernaut rumbles on; wheat market closes lower
Soycomplex Beans closed mixed ahead of tomorrow's upcoming USDA report. It looks like most have positioned themselves where they want to be heading...
Proven vigour required for late sowings
Some parts of the UK are struggling to finish harvest and consequently to get their winter oilseed rape drilled. Those that have been pushed into late...
Retailers urged to back British lamb
The National Farmers' Union have said retailers must do more to promote British lamb in its peak season. The NFU and British sheep farmers are con...
Free-range solar lamb or chicken!
Guidance published today showcases a new generation of farms that produce both food and clean energy - with solar a 'lifeline' to struggling farmers ...
Phil Hogan nominated as Commissioner for Agriculture and Rural Development
The NFU has said it looks forward to working with a strong champion for productive agriculture after the announcement by President Juncker naming Phil...
Dairy crisis meeting planned after price crash
In the wake of very gloomy times ahead for British dairy, Farmers for Action have organised a series of crisis meetings which senior figures in the NF...
Realise ram investment post sale
Farmers who have purchased rams at this year's Cydectin Kelso Ram Sale are reminded to manage their performance post sale to maximise returns from the...
HS2 addressing landowners concerns 'too late' - CLA
HS2 Ltd has attempted to address the concerns of landowners affected by the rail link by releasing revised plans of the proposed route. The Country...
EU suspends Russian trade ban emergency measures
The European Commission has today suspended the emergency market measures for perishable fruit and vegetable markets announced on August 18 in the wak...
Glastir 2015 application deadline looms
Farmers are being urged to note the deadline for Glastir applications for those wishing to apply for Glastir starting January 2015. "Letters are ...
FUW welcomes All-Party Dairy Group
The Farmers' Union of Wales has today welcomed the establishment of a new Dairy All-Party Parliamentary Group. The group, which held its first mee...
Success of free information days for Installers following rising energy prices
Leading energy supplier Flogas Renewables is to continue its free information sessions for installers following the success of two trial days which to...
LammaXchange - a new way to buy and sell farm machinery
Want to buy or sell farm machinery and equipment? LammaXchange, the new easy-to-use and effective website from the team behind LAMMA Show, allows you ...
Slurry Pump Longevity with Landia
Fit and forget. A phrase often used in engineering. And never truer than when applying it to slurry pumps at farms. As any reputable pump manufactu...
Hogan named as new EU Agriculture Commissioner
European Commission President-elect Jean-Claude Juncker today unveiled his new Commission and named former Irish Environment Minister Phil Hogan as th...
Variety choice is key to maintaining high outputs
Wheat yields have generally been impressive, but performance between varieties has been highly variable. "Crops have generally out-performed their...