News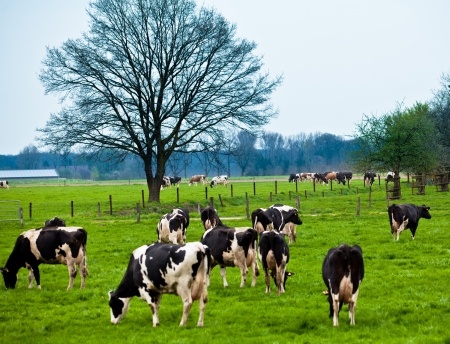 Arla slashes January milk price
Just two days before Christmas, dairy farmers supplying Arla have been hit with another price cut. This is a yet another severe cut which will be deva...
Methionine shortage causes problems for feed manufacturers
Methionine, the raw material used in poultry feeds is in short supply, and is causing problems for feed manufacturers, and in turn for poultry farmers...
Why farmers must understand compensation rules to new road improvements
The Government's planned road improvements to roads in the south and south-west, in particular those to the A272, A358 and the, much talked about, A30...
EU to recover €102m of CAP expenditure from member states
A total of €102 million of EU agricultural policy funds, unduly spent by Member States, is being claimed back by the European Commission from Greece, ...
Latest active farmer CAP rules will come as an 'enormous relief' to many
The latest rules covering the ability of genuine farmers and growers to claim payments under Basic Payment Scheme from 2015 will come as a 'big relief...
Kubota targets new market with launch of landmark M7001 model
Japanese manufacturer, Kubota, is set to exhibit its new M7001 tractor at LAMMA 2015 in January, kicking off what's set to be a busy year of new produ...
Minister hints at stunned meat labelling
Reports that Environment Minister George Eustice is giving consideration to labelling meat and fish as 'stunned' or 'non-stunned', has been welcomed b...
CAP definition of 'active farmer' causing distress
The RPA have published their last CAP reform countdown leaflet. This gives further detail on various issues of the forthcoming Basic Payment Scheme. ...
Highly virulent Asian-American pig disease spreads to Europe
The highly virulent Asian-American Porcine Epidemic Diarrhoea virus has spread to Europe. The disease is extremely infectious — a thimbleful of manure...
Latest Knight high-output sprayers at LAMMA 2015
Knight Farm Machinery will be featuring its latest high-output sprayers in trailed and self-propelled versions at LAMMA 2015 in January. With a ch...
Animal charities 'deeply disappointed' as Defra endorses next cull
Animal welfare charities have reacted strongly to the announcement by Nigel Gibbens, the Chief Veterinary Officer that DEFRA's badger cull policy shou...
2014: A year of CAP reform preparations and volatile prices
2014 has been a year of learning and preparation for farmers ahead of the introduction of the new Common Agricultural Policy (CAP), which is now almos...
'Huge issues' with Russian grain export licences
EU grains closed mixed, but with wheat marching on to fresh highs for the move on the developing Russian situation. Paris wheat came within a whisker ...
Wheat market closes with strong gains amid Russia turmoil
Soycomplex Beans closed with small gains at the end of a two-sided session. A trade delegation of Chinese buyers in Chicago were reported to have s...
First public showing for new Case IH Farmall A at LAMMA 2015
Amongst a host of new products being exhibited by Case IH at LAMMA 2015 will be the company's new Farmall A tractor, production of which is scheduled ...
Government determined to continue with culling, says Truss
Further measures to combat TB in cattle has been announced today by Defra as Environment Secretary Elizabeth Truss said the government must continue w...
Be prepared for spring fertiliser applications, advises UK's leading supplier
Arable and grassland farmers should ensure that they have adequate supplies of fertiliser in store this winter to avoid being caught out in the event ...
Finland's largest dairy farm opens doors to the public
Finland's largest dairy farm Finnmilk, with 600 cows, has opened its doors to the public as it starts milk production with the DeLaval AMR (Automated ...
RPA farm grants bolstering UK farm businesses
At a time when prices for farmers' produce is falling, many welcome the support grants made by the Rural Payments Agency, meeting its end of December ...
Suffering dairy market shows signs of recovery
Though the dairy market continues to suffer from low prices, the rate of decline is slowing and could even show a price recovery predicted in the next...
Rural businesses slam mobile coverage deal
Rural businesses have slammed proposals to deliver mobile phone coverage to 90 percent of the country by 2017. The commitment has been agreed by t...
JC machinery to introduce new fertiliser spreader at LAMMA 2015
Although no details are available, JC Machinery will be launching a new fertiliser spreader at LAMMA and you are invited to come along and view it at ...
Farmers 'disgusted' by Grocery Adjudicator's lack of teeth
Sharp decreases in the price of commodities, such as milk, lamb and beef, have highlighted the limitations of the Grocery Code Adjudicator. The Ten...
Tractor Show returns in the spring
In March 2015, the Three Counties Showground at Malvern will once again be home to hundreds of tractors, displays and trade stands, as the renowned Tr...
The Royal Welsh vows to tackle challenges
"As we look back and reflect on another successful year we must also look forward" said John Davies, The Royal Welsh Agricultural Society's chairman o...
Russian grain exports withdraw until rouble stabilises
EU grains were mixed, with wheat trading higher on further Russian jitters. Paris wheat closed at its highest levels since May. The day ended with ...
Gossip abound over Russia grain export restrictions
Soycomplex Beans closed lower on concerns about the Chinese economy and with a weaker Brazilian real heading bearish influences. The latter trigger...
Welsh beef producers under pressure from fragile market
The current fragile state of specialist beef production was highlighted at a recent NFU meeting when it was reported that the number of beef cattle, o...
Starter farm tenants meet to boost their business
Tenants from all seven Forestry Commission Scotland starter farms came together last week for a forum to share their experiences and help to develop t...
SRUC and Edinburgh University ranked 'most powerful' in agricultural research
Agricultural and veterinary research at SRUC and the University of Edinburgh has been ranked as most powerful in the UK in the Research Excellence Fra...
H5 avian influenza confirmed in Washington State
A pathogenic H5 avian influenza has been discovered in wild birds in Whatcom County, Washington. Two separate virus strains were identified: HPAI H...
FUW welcomes £20m boost to help develop Aberystwyth Innovation and Enterprise Campus
Welsh Government finance and business minister Jane Hutt's announcement that Aberystwyth University's Innovation and Enterprise Campus (AIEC) will be...
MPs question rural broadband coverage delays
MPs have subjected the Broadband Delivery UK (BDUK) company to robust questioning on its 'failure to meet targets.' Members of the Environment, Fo...
US corn harvest report indicates record crop
The overall quality of the United States' 2014 corn crop was good, with 88 percent of samples rating at grade No. 2 or better, according to the U.S. G...
EU cereal yields above five-year average, says EU Commission
EU grains finished the day higher, with Jan 15 London wheat up GBP2.25/tonne to GBP132.25/tonne; Jan 15 Paris wheat was EUR1.25/tonne firmer at EUR190...
EU winter wheat conditions 'take turn for the worse'
Soycomplex Beans closed around 7 to 8 cents lower. Weekly export inspections were 1.82 MMT, down from 2.2 MMT a week ago, but still a decent volume...
Unions express shock over farm death increases
Farmers are being warned to adhere more closely to health and safety initiatives after it emerged that 31 people were killed as a result of farming th...
Solar delivers a secure income for farmers - NFU vice president
Guy Smith, vice president of the NFU, has backed a new partnership to explore the relationship between solar farms and agriculture. He was speaki...
Avian flu to 'shake up' 2015 poultry trade
Global issues such as avian flu and trade restrictions remain on the horizon for 2015 and will have a big impact on global poultry trade. Regions a...
Upsurge in pulse crop growing prompts further roadshows
An upsurge of interest for pulse crop growing in the spring has prompted the further spread of the popular PGRO Pulse Roadshows for 2015. An addit...
EnviTec Biogas UK shows AD on a growth curve at Energy Now
High performance plant, a commitment to technology and innovation, a highly-trained service team operating nationwide and a strong balance sheet are j...
New food labelling regulations come into force
On 13th December, the new Food Information to Consumers' (FIC) regulations came into force. They cover provision of mandatory information regarding...
Farmers concerned over abattoir waste charge rises
Farmers are expressing concern that abattoir waste charges have risen by more than 60 per cent in recent weeks. The NFU is now calling on those pr...
Another record intake for John Deere & Babcock training
John Deere's award winning apprenticeship programme has raised the bar yet again, setting another record for the new training season's intake for the ...
'Be the first to know' if machinery is being stolen
A new security device that immediately sends tractor and machinery owners notification when the lock is being tampered with has just come onto the UK ...
Beef Association spring spectacular classes announced
A total of 15 classes, four championships and a supreme championship have been confirmed for next year's National Beef Association's (NBA) Spring Spec...
Top legal adviser to farmers appointed to RPA appeals panel
Head of the agriculture department at Lodders Solicitors, David Lodder, is to play a part in deciding appeals on Rural Payments Agency (RPA) decisions...
Farmers told to communicate more with the public
NFU Deputy President, Minette Batters, fears that farmer's role is being taken away from them and urges farmers to improve communication with the publ...
Simplification of CAP 'top priority for 2015'
Simplification of CAP is a 'top priority for 2015' according to farming union leaders who met recently with the new European Commissioner for Agricult...
Americans visit UK for technology training
American pig technicians, who are helping US pig farmers develop information harvesting systems for production management, have visited a UK company f...