News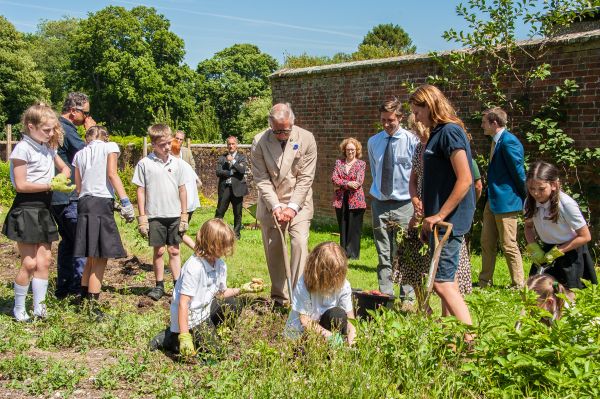 New sector wide food and farming educational resource announced
Countryside Classroom, a sector-wide collaboration, will promote learning both in the natural environment and in the classroom as it announces the dev...
Broiler farmer tours Europe in a chicken suit
From August 1st, Devon broiler farmer's daughter, Tamsin French, will dress as a chicken called 'Rosa', and embark on a 39-day tour of the European Un...
New branch manager at John Deere
Antony Scott has been appointed managing director for John Deere Limited in the UK and Ireland. He replaces Richard Johnson, who has been appointed ma...
Gareth Raw Rees Awards
Seven young farmers from across Wales have financially benefited from this year's Gareth Raw Rees Memorial Travel Scholarship. A total of £1,950 has b...
F4F signs global OEM agreement with SAP
F4F Agriculture, a global business dedicated to the farmer-centric digital supply chain, announces it has signed an original equipment manufacturer (O...
Smart segregation gates aid cow flow and management
The new range of gates includes two-way and three-way segregation options, to allow individual cows to be separated from the herd for specific attenti...
Redesigned claw for better sheep and goat milking
The Fullwood RP1 is a vertical unloading clawpiece, designed for use in parlours where the milking equipment is mounted at a high level – such as the ...
EU grains close lower; UK weather favourable for spring crops
EU grains closed lower again, with London and Paris wheat slumping to fresh 4 year lows. The day ended with new crop Nov 14 London wheat closing GB...
Wheat market concerned over US export business
Soycomplex Beans closed lower. Weather forecasts call for a couple of days of Midwest heat followed by a relatively cool and non-threatening start ...
Nine young farmers benefit from travel scholarship
Nine young farmers from across Wales have financially benefited from this year's Gareth Raw Rees Memorial Travel Scholarship. A total of £1,950 has be...
Farmers in lamb protest at Royal Welsh Show
NFU members have staged a demonstration outside the Tesco stand at the Royal Welsh Show in protest at the retailer's failure to back British lamb. ...
New Research Identifies Machinery as the Largest Global Agri-Tech Sector
A new report outlining the state of global agri-technology has been released today. The report produced by UK Agri-Food & Drink (UKAFD) Ltd, is the f...
Claydon appoints its first dealers
Claydon Drills has announced its first dealer appointments in the UK as part of an ongoing programme of expansion for the Suffolk-based manufacturing ...
Suckler herd of the year award launched
The search is on for the UK's top suckler herd, an annual award organised by Beef Shorthorn Society and supported by Morrison with £1,500 at stake. ...
New Environment Secretary visits CLA Game Fair
An economically viable countryside needs a policy agenda which will encourage business development, increase food production and recognise the cost of...
Farmers warned about machinery fires in hot weather
Farmers are being warned to watch for machinery fires during intensive haymaking and harvesting work in the hot weather. Each year thousands of far...
Cameron visits the Royal Welsh Show
Prime Minister David Cameron today flew in to Llanelwedd to visit the Royal Welsh Show for the morning. As the first serving British Prime Minister...
Protect maize before it gets too tall
Heavy rain and thunderstorms across southern and eastern England could trigger the onset of foliar diseases in maize crops. Cool wet or humid conditio...
Landowner seeks landmark ruling in case of concealed development
A Winchester based fish farmer is challenging an Inspector's decision in a case which surrounds the landmark Supreme Court ruling in Welwyn Hatfield. ...
Wales 'could become best business destination in UK'
Plaid Cymru Shadow Business Minister Rhun ap Iorwerth has warned that only through supporting Wales' business community can we put the Welsh economy b...
Prince of Wales visits innovative research project
As part of his annual Food and Farming Summer School, The Prince of Wales met with students and farmers at Eastbrook Farm in Wiltshire. He took a t...
Cameron announces £400m food procurement plans
From 2017, central government will commit to buying fresh, locally sourced, seasonal food, through a new, simplified food and drink buying standard. ...
Health of countryside goes under the microscope in CLA debates
The future development of the countryside was top of the agenda with debates between political and industry leaders at the CLA Game Fair at Blenheim P...
Farmers clash with Farage over CAP payments
UKIP's plans for taking UK farming out of Common Agricultural Policy (CAP) and the European Union are "unrealistic and uncosted" – according to CLA De...
Astrid yielding 4.67 t per ha
Ralph Moore who farms in South Norfolk is pleased with this year's crop of the winter oilseed rape with the first field of Astrid yielding 4.675 t per...
Alternaria control in potatoes
Andrew Stilwell of distributor Bartholomews looks after a large area of potatoes and of that area he reckons that 60 to 70% are processing varieties p...
Dialogue groups to advise the Commission on agricultural issues
The Directorate General for Agriculture and Rural Development (DG AGRI) of the European Commission has today finalised the review of the composition o...
Upward forecast for UK farmland this year
Capital growth during the first half of the year has been strong for farmland, especially for the best quality and has exceeded our expectations. The ...
Bovine TB rates fall to lowest in 10 years
Incidents of Bovine TB in cattle fell in April to their lowest levels in almost ten years, according to the latest statistics from Defra. The numbe...
Record number of participants as Garden re-leaf day total announced
Garden Re-Leaf day, the UK's biggest garden retail charity event in support of Children's hospice garden charity, Greenfingers, was last night hailed ...
Public urged to help support our bees' needs
Five simple actions to help pollinators such as planting more bee-friendly flowers and cutting grass less often were promoted today to protect the vit...
Endurance's new turbine range meets growing demand for farm wind
Endurance Wind Power has today launched four new farm-scale wind turbine models at the Country Land and Business (CLA) Game Fair. The turbines are tar...
Wheat market jumps following Ukraine news
General News broke in late afternoon trade (London time) that a Malaysian passenger plane en route from Amsterdam to Kuala Lumpur had apparently be...
Alegria – an attractive oilseed rape variety
Neil Potts of the advisory company Matford Arable Systems Ltd in Exeter describes the winter rape variety Alegria as being attractive from start to fi...
Kellogg's helps kids get closer to the origins of their food
A recent poll of 2,000 parents and primary school children in the UK found that a surprising number of children have lost touch with the fields where ...
Sow's influence on total herd feed conversion
With feed accounting for the major cost of pig production — over 70 per cent in some countries — the relationship between feed usage and productivity ...
Ancient woodland threat now hits Ambridge
It may be fictional but the latest storyline in the BBC's longest running soap opera, The Archers, highlights the very real and growing threat to anci...
Alegria in top three for Verticillium wilt resistance
In trials the oilseed rape variety Alegria from Grainseed was number 3 out of 30 varieties in terms of Verticillium Index and, with its other benefits...
Combine canopy clipping with fungicides for Sclerotinia
Sclerotinia is a very widespread and serious disease of carrots, affecting both yield and quality and growers should be integrating both cultural and ...
Early harvest and high yield is a winning combination
Farm Manager Philip Steans of Lackham Farm in Wiltshire has already harvested some of his Alienor winter oilseed rape (on 9th July) and it has yielded...
Corn market recovers most losses; EU barley estimate raises
Soycomplex Beans closed higher, consolidating recent losses - last night's close had been the lowest for a front month since Jan 2012. The USDA ann...
Commitment to renewables slashes fossil fuel costs
A contemporary Borders family farming business that specialises in arable crops and free-range eggs has renewable energy generation at the heart of it...
Ministers' visits to CLA Game Fair will put rural issues in focus
Ministers visiting the CLA Game Fair at Blenheim Palace, Oxfordshire will have the chance to hear firsthand the concerns of the countryside. Farmin...
Scottish farmers remain frustrated over lack of CAP clarity
With combines starting to roll, thousands of Scottish farmers remain frustrated at the lack of information on how they will be required to meet the gr...
MEPs in Strasbourg commit to backing British farming for the next five years
NFU President Meurig Raymond was in Strasbourg today to rally support from MEPs to sign the 'Back British Farming EU pledge.' By signing the pledge...
Argo Tractors to build Landini tractors in Brazil
Landini tractors will be produced in Brazil at a new factory being built by the Argo Group of Italy to supply the local market. The new facility wi...
Lakes farm gears up to host prestigious cattle open day
The Luing Cattle Society is holding its annual open day in England for the first ever time this year. The event takes place at High House Farm, Winst...
Seven steps for forage success
Poor optimisation of forage yields through simple losses in field, clamp and at feeding out could be causing dry matter (DM) declines upwards of 40%, ...
Replace reduce refine - A way forward for Antibiotic use in agriculture
A framework for replacement, reduction and refinement needs to be established for the responsible use of antimicrobials along the food supply chain. T...
Flexible control with the all-new DICKEY-john IntelliAg MVT Control System
For growers across the UK, knowing what type of product control system to invest in for controlling crop inputs can be a difficult choice with an incr...