News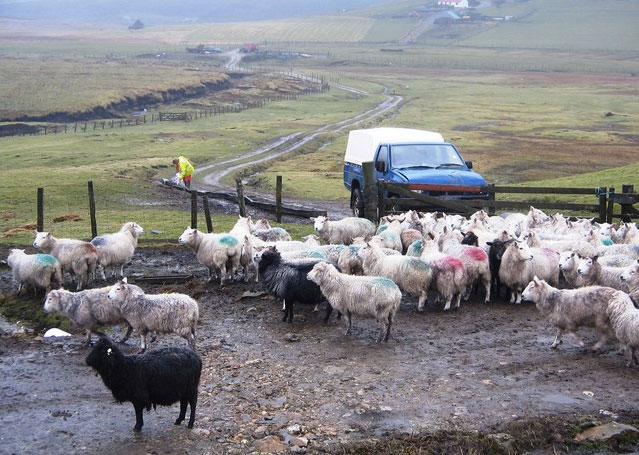 World 2014 wheat and corn crops getting bigger
EU grains closed mostly lower on the day, and little changed for the week, with the trade starting to develop a sideways pattern. The day ended with ...
Improving domestic wheat quality gives edge to GB's return to export market
The provisional results of AHDB/HGCA's annual Cereal Quality Survey 2014 show a general year-on-year improvement in GB wheat quality, leading to a pos...
NFU urged Welsh Government over fly-tipping
NFU Cymru has welcomed the commitment from Welsh Government to tackle the issue of fly-tipping in its draft Strategy 'A Fly-tipping Free Wales'. In...
Livestock rustling boosts rise in cost of rural crime
The cost of rural theft rose in the UK in 2013, according to NFU Mutual. The results of the insurer's 2014 Rural Crime Survey show the value of items ...
New Holland tractor joins Notting Hill carnival parade
Joining the world famous music and colour of the weekend-long Notting Hill carnival this year was the blue of a New Holland tractor. The appearanc...
Innovative dairy hygiene products at the UK Dairy Day
For the dairy industry, lameness remains one of the most significant welfare issues affecting productivity, with over half the average dairy herd expe...
Dairy companies cut price paid to farmers
Leading dairy companies Dairy Crest and Müller have announced a cut of 1.75ppl and 29.00ppl respectively for farmers on their milk contracts from the ...
Farmer takes a quack at duck eggs... from drakes?
'Waddle you do' when your ducks aren't laying eggs. I suppose the first thing you do is check that they can lay eggs? One UK farmer came a cropper whe...
Farmers urged not to come a crop-per on a level crossing this harvest
There are hundreds of user-worked crossings on farmland in Britain, which see a marked increase in traffic during the harvest season. Figures collated...
AB Vista strengthens support in Europe and Russia
In response to continuing growth in Central and Eastern Europe (CEE) and Russia, AB Vista is pleased to announce that Dr Dimcho Djouvinov will provide...
World's largest corn dolly measures over 65 feet
A woman from Dorset has just completed what could be the world's longest corn dolly measuring over 65 feet. The 20metre long intricately woven dol...
Growing hybrid rye as an energy crop
Growth of interest for crops going into the increasing number of Anaerobic Digesters (AD) has been marked over the last two years and is a trend set t...
Grassland Farmer of the Year 2014: Final round completed
The judges of the BGS Grassland Farmer of the Year Award criss-crossed the UK last week (18-22 August), visiting the three 2014 finalists at their far...
EU announces emergency support after Russian ban
The European Commission has announced today that it will open Private Storage Aid for butter, Skimmed Milk Powder (SMP) and certain cheeses in order t...
Variability of pre-em herbicides in dry conditions
A leading herbicide expert reports that soil moisture has a huge influence on the efficacy of pre-emergence herbicides and that there are significant ...
Protect cereal and rape seed from mites
With disappointing prices for both cereals and oilseed rape this harvest, it may be a season to prolong storage until prices recover. If this is the c...
NFU launches farmer database to fight rural crime
Livestock and farm machinery theft is on the rise but a new initiative launched by the NFU and Lancashire Constabulary aims to make the county a no-go...
New fuel marker dye from 1st April 2015
The UK and Irish governments are to bring in a new product to mark red diesel (green diesel in Ireland) in an attempt to help reduce illegal fuel laun...
NFU urge lobbying over beak trim review
The EU Council Directive on the Welfare of Laying Hens permits member states to authorise beak tipping in order to prevent feather pecking and canniba...
Local knowledge critical to future water level management in Welsh lowlands
Natural Resources Wales (NRW)' Report, launched recently, is the first of its kind in Wales looking at the work authorities are conducting across Wale...
European corn production to rise but wheat exports fall
EU grains closed mostly a little higher on the day, although London wheat was flat to a touch lower, hindered by a larger than normal EU/Black Sea fee...
Corn market closes flat; Ukraine wheat exports continue unhindered
Soycomplex Beans closed lower save for the increasingly erratic front month Sep 14. Oil World's Thomas Mielke said that soymeal is overpriced and t...
Landia say that right pumps and right maintenance are a must
Alleged hygiene failings in the poultry industry that have seen three of the UK's leading supermarkets launch emergency investigations into their chic...
NFU extends monitoring of Russian ban impact
NFU Scotland is to extend its regular monitoring of retail shop shelves to examine any impact that the Russian trade ban may have on prices or demand ...
16-year high for UK sheep meat exports
UK export volumes of sheep meat in the first six months of 2014 hit their highest half-year level since 1998, according to EBLEX. Global shipments ...
Farmers encouraged to have health checks
Farmers in Devon are being encouraged to have a free NHS Health Check to minimise their risk of developing common lifestyle-related conditions such as...
Research could lead to robot sheepdogs
Research to develop a mathematical shepherding model could lead to the development of robots that can gather and herd livestock, Swansea University ha...
Wildlife trusts urge badger vaccination schemes
Vaccination schemes are being demonstrated as a 'practical, cost-effective option' in dealing with bovine tuberculosis, an animal trust is claiming in...
NSA ram sale honours retiring committee members
Two staunch members of the NSA Wales and Border Ram Sales were honoured in a ceremony at the early Builth sale on Monday 4th August, to mark their ret...
Farmers reminded of dangers of rail line crossings
With the re-opening of the Cambrian rail line between Harlech and Pwllheli to engineering trains earlier this month, which is to be followed shortly b...
Russia to discuss wheat for oil swap with Iran
EU grains closed mixed, but mostly lower, with the exception of rapeseed. The "insurance" premium built in prior to the weekend to cover against an es...
USDA highest corn rating since 1994
Soycomplex Beans closed a little lower, save for front month Sep 14 which continued its spectacular fall from grace. That contract has now fallen a...
Soils to be surveyed in the South of England
The British Geological Society has told the NFU that it is carrying out a 'low density geochemical soil survey of the South of England' this September...
Bill amendment aims to increase cycling rates
Six national organisations are today proposing an amendment to the Infrastructure Bill, which would arrest the decline in funding for healthy every da...
English farmers 'losing millions' in EU payments
Farmers in England are missing out on millions of pounds in EU payments because they are not keeping adequate records, according to the government. ...
Natural England gives go-ahead for second badger cull
The second year of badger culling will begin in west Gloucestershire and west Somerset this autumn, Natural England has announced. The government a...
Cattle feed or biogas? Bangor study reveals important environmental trade-offs for biogas production on dairy farms
There is increasing interest in on-farm anaerobic digestion (AD) in the UK to manage animal manures and food waste, and to generate renewable electric...
Asian buyers looking to Black Sea for wheat
Soycomplex Was this the day that the front end premium on beans and meal finally started to capitulate? It could be, after both closed a choppy ses...
Muck scraping almost a pleasure with new McCormick tractor
It's a mucky job that needs doing twice daily without fail when cows are housed through the winter months. All the more reason, then, to have a dec...
Wildlife experts join forces to help curb infection
Animal experts are calling for better health surveillance of wild species to help stop the spread of diseases. Monitoring the health of animals liv...
Very gloomy times for UK dairy, Farmers for Action predicts
This week could be 'very gloomy times' for UK dairy farmers, according to Farmers for Action as they expect prices to fall by as much as 2ppl for Octo...
Wheat market closes higher across three exchanges
Soycomplex It was a case of "same story, different day" for soybeans, with the front end surging higher on continuing availability (or rather, lack...
Store cattle prices up, prime beef set to follow
The price store cattle are attracting at auction marts has improved by around £50 per animal over the last two weeks, according to reports from the Li...
Hybrid oilseed rape dominates across Europe
A recent survey of arable farmers, conducted by the Kleffmann Group, reports that 72% of farmers in the UK, nearly 3 in every four, intend to grow hyb...
Salmonella linked to foreign eggs as association calls for shoppers to buy British
A salmonella outbreak that has now affected nearly 250 people across the United Kingdom has been linked to foreign eggs. At the this current time t...
£30 million project set to reduce flood risk in Kent
More than 1,400 properties between Camber and Lydd will benefit as work begins on the Broomhill Sands Coastal Defence Scheme in Kent. The Environme...
Noble Foods merger deal with Manton's cleared by Competition and Markets Authority
United Kingdom competition authorities have cleared the takeover of Manton's egg processing plants by Noble Foods. The deal was called in by the Co...
Volunteers needed for FUW Wales Coast Path challenge
Farmers' Union of Wales members and friends are planning to cover all 871 miles of the Wales Coast Path during a huge sponsored walk to raise funds fo...
Code of Practice effectively bans sky lanterns, CLA says
A new code of practice intended to ensure the responsible sale and safe use of sky lanterns fails to address the fact that lanterns carrying naked fla...
Cereals Development Programme aims to attract young farmers
The NFU is encouraging young members of the farming industry to apply for the Cereals Development Programme to be in with a chance of gaining a full r...