News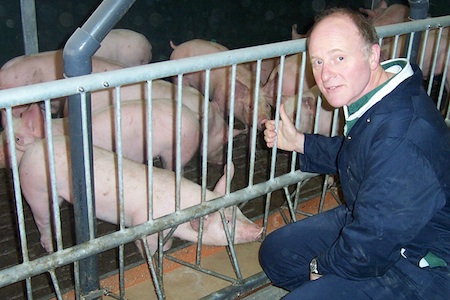 'Smart pig farming' offers producers a brighter future
'Smart pig farming' — the application of Information and Communications Technology (ICT) — will offer hard-pushed pig farmers a way to remain competit...
EU votes to 'modernise' pig inspection laws
European member states have voted for new legislation to modernise the inspection system in pig slaughterhouses. The new legislation aims to improv...
British Society of Plant Breeders elects new chairman
Dr Richard Summers, cereal breeding and research lead at RAGT Seeds, has been elected chairman of the British Society of Plant Breeders (BSPB) for a p...
Defra minister backs plant breeding campaign
Defra science minister Lord de Mauley has given the Government's formal backing to an industry-led campaign to highlight the critical role of plant br...
Don't blame farmers for wildlife losses, says CLA
The CLA said today it is wrong to place the blame on farmers for the loss of wildlife - in response to the newly released conservation report State of...
Rise of the 'hybrid consumer' to polarise the food sector
The rise of the 'hybrid consumer' is an emerging trend with significant implications for food companies, food retailers and food service companies. ...
Boost arable incomes by crimping grain
Arable farmers could boost incomes and spread their harvest workload this year by selling grain to livestock producers for crimping. Following a nu...
Isle of Wight sees largest sale of farmland for 10 years
Thorley Farm is the largest block of farmland to come onto the Isle of Wight market for over 10 years. At around 913 acres it provides the opportunit...
New director of technology and innovation at Hutchinsons
Hutchinsons has announced the appointment of Jeremy Macklin as Director of Technology and Innovation. He will join the company on 3rd June and will be...
Farmers warned over SAF computer errors
Farmers are being warned to double check their Single Application Form (SAF) acknowledgment letters to make sure they do not lose out due to computer ...
EU votes to ban flavouring substance
It has today been decided by the European Commission and European Union member states that the flavouring substance 3-acetyl-2,5-dimethylthiophene sho...
EC cancels poultry threshold amendments
The European Commission's decision not to amend thresholds for poultry and pigs or to include cattle in the Industrial Emissions Directive is 'a great...
Landowners should fight 'unfair' HS2, CLA says
The Country Land and Business Association is asking rural landowners to use the HS2 Draft Environmental Statement consultation to highlight the devast...
Heater hire is cost effective solution to delayed crops
Fruit, vegetable and flower crops have been unsurprisingly affected this year by the longest winter and the coldest March in the UK since 1962: in fac...
Deadline extended for £20m broadband fund applications
Rural communities have just under a month to get their applications in for the final round of the £20m Rural Community Broadband Fund. The deadline...
Farming delivers environmental positives amid report, says NFU
UK nature is in trouble according to a report published today by a coalition of leading conservation and research organisations. Scientists working si...
Scottish farmers urged to take up weather aid
Struggling Scottish farmers are being urged to take up the Scottish Government's offer of assistance when the Weather Aid scheme opens for application...
NSA Welsh Sheep 2013 attracts more than 9,000 farmers
The event at Beili Ficer, Llansawel, Llandeilo, brought together cutting edge innovation, a platform for discussion and dissemination, an inspirationa...
NSA 'expresses delight' over Schmallenberg vaccine
The National Sheep Association (NSA) has said it is 'delighted' that the Veterinary Medicine Directorate (VMD) has granted a licence for MSD Animal He...
Recognise farmers' contribution to wildlife survival, FUW urges
Welsh farmers are concerned about the findings of a new report which claims wildlife in Wales is in crisis despite a legacy of many years of agri-envi...
Hunt begins for this year's potato industry award winner
Potato Council is seeking industry's nominations for this year's British Potato Industry Award. This prestigious honour is awarded to an individual re...
Double the trouble from leatherjackets this spring
Leatherjacket populations have rocketed this spring as these grassland pests – the larvae of the crane fly or daddy long-legs, enjoyed last year's wet...
New feed handling brochure
Suffolk-based pig equipment specialists, Quality Equipment, has produced a new brochure on feed handling systems. It provides pig farmers with a wealt...
Researchers collaborate on unique cow monitoring system
COWTrack is the name of a new research project between livestock researchers at Aarhus University and logistics and integratorvirksomheden Lyngsoe Sys...
Tong Peal set to showcase at the Royal Highland Show
Tong Peal Engineering, the UK's leading designer and manufacturer of vegetable handling and sorting equipment, will once again be on Avenue Q in the A...
British produce display at Chelsea Flower Show gets gold
Chelsea Flower Show judges and visitors alike have praised the NFU and Waitrose's new display aimed at giving people the chance to walk through a tunn...
Food Standards Agency announces board appointments
The Food Standards Agency has announced the appointment of Roland Salmon to its Board and as Chair of the Welsh Food Advisory Committee; the reappoint...
Consider application technique with T2 fungicide
Paying attention to spraying technique with a T2 fungicide could help growers better protect the yield potential of this year's winter wheat crops, sa...
Contractor reduces combine harvester width with Michelin
Abbey Farm Contractors Limited, a Lincolnshire-based agricultural contractor, has reduced the track width of its John Deere combine harvester by 600mm...
Former Monsanto employee put in charge of GMO papers
Just months after a study was published showing that two Monsanto products, a genetically modified (GM) maize and Roundup herbicide, damaged the healt...
Dairy code must be given time to work - Williams
Ceredigion's Welsh Liberal Democrat MP Mark Williams, a member of the Welsh Affairs Select Committee, has welcomed today's publication of the Committe...
Union encouraged by land reform interim report
The NFU said it was 'encouraged' by the interim report produced by the Land Reform Review Group (LRRG)for land management and opportunities for local ...
Spring oats offer good opportunity at £180/tonne
Historically oats have suffered in the shadow of wheat and barley, this has changed however as the market is expanding for human consumption and to so...
Princess Royal to visit Cheshire County Show
Her Royal Highness the Princess Royal has accepted a role as President of this year's Cheshire County Show. The Princess will visit the Tabley Show...
Breakfast cereal makers need to 'think beyond the bowl'
Breakfast is probably the most important meal of the day, but in the US, the battle over what to eat and where has never been greater. According t...
South Devon cattle breeders celebrate at National Show
More than 100 South Devon cattle put on a stunning display at the breed's National Show last week. Hosted by the Devon County Show this year, the N...
Voluntary Code of Practice report welcomed by NFU
NFU Cymru has welcomed a report published today by the House of Commons Welsh Affairs Committee following its inquiry last autumn in to the voluntary ...
Difficult conditions prove challenging for students at Cereals 2013
The difficult weather conditions over the winter and spring have proved challenging for the six teams of students managing winter barley plots at the...
Defra and DECC review EU action on climate change
Businesses and organisations are being asked for their views on European Union policies to find out whether being a part of the EU helps or hinders th...
Schmallenberg vaccine ready for use this summer
UK farmers will be the first in the EU with access to a vaccine to help protect sheep and cattle against birth defects caused by the Schmallenberg Vir...
First Branson tractor sold in the UK
Joe Gathercole has been in farming since 1976 and reckons his new Branson 4520R compact tractor is "the best compact tractor I've ever used." He to...
Share your welfare stories to attract consumer support, farmers told
Britain's pig and poultry producers must be braver in talking about what happens on their farms if consumers are to be driven to buy more high-welfare...
NSA urges farmers to use new online tool in battle against fly strike
As temperatures begin to rise and blowflies become more of a nuisance to sheep, the National Sheep Association (NSA) urges farmers throughout the UK t...
New generation on rural development study leave
NFU Scotland's New Generation group is heading to Wales to see if the Welsh New Entrant/Young Farmer model could be adopted as part of Scotland's futu...
Most extreme projections of global warming 'less likely'
A new study led by Oxford University concludes that the latest observations of the climate system's response to rising greenhouse gas levels are consi...
Uralchem to present its new solar product line at UK Cereals 2013
URALCHEM, the second largest ammonium nitrate producer in the world is using its traditional participation in the leading technical event for the UK a...
Andrew Large joins the British Poultry Council as chief executive
Andrew Large joins the British Poultry Council (BPC) today as Chief Executive, following the retirement of Peter Bradnock after a 22-year tenure. ...
Top FUW bursary students plan sheep breeding careers
Two 16-year-olds studying at the same North Wales agricultural college who both run their own sheep flock have been chosen as the first winners of the...
CLA says more red tape will mean fewer homes to rent
The CLA has warned the Government that extra regulations on landlords could lead to a housing shortfall in the private rented sector. Giving eviden...
New discovery 'could shatter' ideas of how agricultural emerged
Archaeologists have made a discovery in southern subtropical China which could revolutionise thinking about how ancient humans lived in the region. ...