News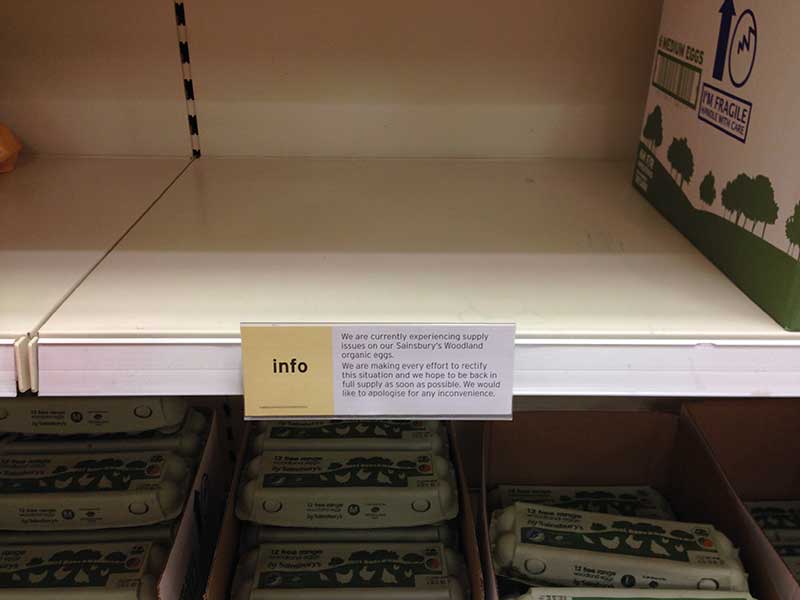 Organic predicted to do much better in 2014 as supermarkets report shortages
Organic egg sales could do much better in 2014 if they get the support of major retailers. That is the view of Soil Association trade director Finn Co...
US corn shipments 'held up' in China; Wheat market nominal gains
Soycomplex Beans reversed yesterday's losses, closing around 4-6 cents firmer on the day, on continued strong demand. The trade is expecting anothe...
NFU to support Bayer neonicotinoid legal challenge
The NFU is to support Bayer's legal challenge on the restrictions of the use of neonicotinoids, it has been announced. NFU Director General Andy R...
Top turkey award for Suffolk farmer
Suffolk farmer Jeremy Blackmore missed out on the big moment when his turkey won the top trophy for the first time at the Anglian Turkey Association's...
Lochhead and Paterson to discuss CAP
Scotland's Rural Affairs Secretary Richard Lochhead is due to meet DEFRA Minister Owen Paterson this coming Monday in Brussels, to discuss Scotland's ...
North American wood pellet exports steadily increase
North American shipments of wood pellets over the Atlantic continued to go up in the 2Q/13 with volumes more than double those in the 2Q/11, according...
Scottish poultry producers form new group
Scottish growers, impacted by a recent announcement by 2 Sisters about restructuring of its plants at Letham and Coupar Angus, have formed the Scottis...
Rural economy recovers as last year's pessimism fades
The rural economy is firmly in recovery as growth has spread from non-farming businesses to the farming sector, according to the latest data from the ...
FUW welcomes ASA ruling against RSPCA
The Farmers' Union of Wales has welcomed the Advertising Standards Authority's (ASA) decision to uphold a complaint by the union about an RSPCA advert...
Uralchem reports IFRS financial results for the first nine months of 2013
Uralchem Group, one of the largest producers of nitrogen and phosphate fertilizers in Russia, announced its unaudited IFRS financial results for the f...
United dairy industry pitches strategy to government
A united dairy industry has presented plans for an industry strategy to government, aimed at joining up plans to strengthen the sector. The NFU, D...
Sainsbury's announces £1m farming investment
Sainsbury's has announced over £1 million worth of investments to 700 of its farmers and suppliers at an annual farming conference. The 13 allocat...
Supermarkets step up to the mark after Horsegate
Two surveys researching the amount of British meat on supermarket shelves has shown retailers have increased their support for UK-farmed pork, lamb an...
USDA report raises global corn and wheat production estimates
Soycomplex The much-awaited USDA report was neutral to a little friendly for beans, subsequent modest losses may have been down a bit of pre-year e...
Shropshire dairy herd to be sold at auction in Shrewsbury
The entire milking portion of an unrecorded Shropshire dairy herd is to be sold at auction next week following a family's decision to cease milk produ...
Action needed to beat 'unprecedented' leatherjacket threat
Exceptional numbers of leatherjackets in crops this winter will cause significant damage to yields if left unchecked, warns leading agronomy firm Hutc...
US cold weather raising prospect of winterkill in wheat
Soycomplex Beans and meal posted sharp gains, led by nearby months, heading into tomorrow's USDA report. That is expected to show 203/14 US soybean...
New shearing record set near Clevedon
Five shearers have today claimed a World record by shearing 2638 lambs in eight hours in a woolshed near Clevedon, south of Auckland. The individua...
Sci-Tech Laboratories acquired by Cawood Scientific
Sci-Tech Laboratories is the latest company to become part of the Cawood Scientific Group, joining the well-known analytical businesses, NRM Laborator...
Mitas signs long-term agreement with CLAAS
At Agritechnica, Mitas signed a long-term agreement with CLAAS, one of the major manufacturers of agricultural machinery. Mitas will supply Continenta...
Walford and North Shropshire College Agriculture students visit Grain Store
The visit started with a presentation by an international Grain Analyst. This introduced the group to the world grain trade and focused on how it inf...
Farmers 'infuriated' with Government modulation plans
Despite the pledge by the Secretary of State that he would only transfer the maximum 15 per cent from Pillar 1 to Pillar 2 if he demonstrated it would...
Powys farmers crowned 'cream of the crop'
A farming family from Powys is celebrating after being crowned champions at a national milk quality awards for the second year running. David, Ala...
NFU Deputy President wins farming personality of the year award
NFU Deputy President Meurig Raymond says he is 'delighted' after being named farming personality of the year at an awards ceremony in London. Mr Ra...
AIC to support legal cases on neonicotinoid ban
The Agricultural Industries Confederation has confirmed that it is seeking to back two crop science companies in their challenge in the European Court...
FUW concerned over proposed closure of Whitland dairy
The proposed closure of Dairy Crest's Proper Welsh Milk dairy at Whitland in Carmarthenshire is a major body blow for the region's capacity to process...
Climate change leading to scarcity of farmland, investors say
Climate change and depletion of agricultural land are the most important factors driving investment returns from farmland, according to new research b...
Livestock sector at risk from animal health cuts, Royal College warns
Plans to reduce farm animal health surveillances could put the health of cattle, sheep and pigs at risk, according to the Royal College of Pathologist...
Stage is set for shearers to set world record
The stage is set for five shearers to set a new World record in a unique day of lamb shearing barely three quarters of an hour from the heart of Auckl...
Farm welfare rising up the business agenda, says report
A report on farm animal welfare, which assessed 70 leading companies from across Europe and the USA, have noted marked improvements made in their welf...
Retailers stocking more British beef but 'more needs to be done'
Latest figures released by EBLEX have revealed the average percentage of British beef and lamb on supermarket shelves has shown a 'marked improvement'...
Farming union backs red tape report
An interim report looking to tackle the level of red tape in Scottish agriculture has been welcomed NFU Scotland. The interim report: "Doing Better...
'Agriculture today faces new global challenges'
New Holland Agriculture took part in the 2013 Agrievolution Forum, held on December 5 and 6 in New Delhi, India, which focused on global food security...
Holsworthy agri-business centre to open in Spring
The new £6 million Agri-Business Centre in Holsworthy, Torridge, is on track to open in the spring following the completion of the structure's steel f...
GEO-GRIT
GEO-GRIT is the new name in animal health and vitality but by no means a new product. This organic and insoluble grit is proving to be beneficial to...
Corn market finishes lower after disappointing weekly exports
Soycomplex Beans finished the day narrowly mixed. Weekly soybean export sales of 805,200 MT for delivery in 2013/14 were pretty strong given that t...
Improved approach to detecting animal disease welcomed
The needs of Wales have been recognised by the Animal Health and Veterinary Laboratories Agency (AHVLA) with regards to its new approach to scanning s...
Amey subsidiary wins United Utilities service contract
United Utilities has extended Enterprise, a subsidiary of Amey UK, a five year contract to maintain its water and wastewater services in the North Wes...
Full backing from vets for NI BVD scheme
British Veterinary Association (BVA) has given its full backing to the announcement that compulsory testing for Bovine Viral Diarrhoea (BVD) will be i...
JC Machinery to show new products at LAMMA 2014
The new Vredo DZ Agri Air series of overseeders are specifically designed for small areas which may have slopes or undulating terrain. It features a p...
New Holland dealers celebrate success with national awards
New Holland has celebrated the success of its extensive dealer network awarding five accolades recognising excellence in dealer standards and performa...
HS2 'fair and generous' compensation package 'ignored'
Former Transport Minister Simon Burns' assurances of 'fair and generous' compensation has been ignored in the Department's consultation for those affe...
Chancellor welcomes JCB investment plans
JCB will today announce plans to invest £150 million to expand its operations in Staffordshire and create an additional 2,500 jobs by 2018. To mark...
Wheat market crashes lower; Brazil rains 'might be too much of a good thing'
Soycomplex The market closed higher, but is still trying to reconcile strong nearby demand for US beans and meal against projected record South Ame...
Livestock movement simplifications welcomed by NFU Cymru
NFU Cymru has welcomed Welsh Government's proposals that will potentially deliver significant simplification to livestock movement rules from 2015. ...
HS2 compensation package fails to address blight on farming, says NFU
The NFU have submitted its evidence as part of the latest consultation into property compensation for those affected by the proposed HS2 high-speed ra...
New Zealand sheep industry faces similar challenges as UK
The New Zealand sheep industry is tackling many of the same issues that the UK industry faces, according to NFU Livestock Board Chairman, Charles Serc...
Improved approach to surveillance for animal disease threats
The Animal Health and Veterinary Laboratories Agency has announced an approach to scanning surveillance to better detect new and re-emerging animal di...
Agency makes payments to highest number of English farmers
The Rural Payments Agency has paid the highest ever number of customers in England on the first banking day of this year's payment window – some 95,60...
Corn market closes higher despite concerns over Chinese rejections
Soycomplex Beans closed slightly lower on old crop, and at around the middle of the day's trading range, whilst prices for the 2014/15 harvest were...