News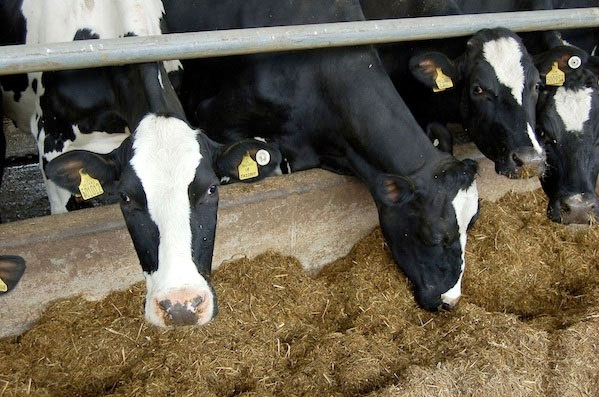 Global Timber and Wood Market Report - 4th July 2012
Eucalyptus log prices in Brazil reached a peak in the 3Q last year, but fell back almost eight percent in the 4Q/11 in US dollar terms because of the ...
TFA calls for get-out clause for dairy farmers
The Tenant Farmers Association has called for dairy farmers to have a mandatory two month get-out clause from milk supply contracts. TFA National ...
Bayer acquires biological firm AgraQuest for $500m
Bayer CropScience, the global crop science company, has signed an agreement to purchase AgraQuest, Inc. for $425 million (approximately EUR 340 millio...
Concerns over health and safety charges
Plans by the Health and Safety Executive (HSE) to charge farmers who break health and safety laws have attracted concern by farming unions. Despite...
Vets express disappointment over badger cull halt
The British Veterinary Association (BVA) has used its annual dinner to call for action on welfare at slaughter, stronger legislation over dog breeding...
Chicago market report - 3rd July 2012
Soycomplex Jul 12 Soybeans closed at USD15.32 1/4, up 19 1/2 cents; Nov 12 Soybeans closed at USD14.38, up 10 1/4 cents; Jul 12 Soybean Meal closed...
RPA opens second tranche of EU funding for promoting agricultural produce
Deadline 30 September 2012 Trade organisations can apply for half the cost of marketing goods at home and overseas in a scheme designed to increase...
UK's largest solar installation to be shown
Organisers will be marking the completion of a large photovoltaic panel rooftop installation at their headquarters in Harrogate as it is set to become...
Farming associations condemn milk price cuts
The latest round of milk price cuts by the three major dairy processors in the United Kingdom has attracted criticism by farming associations today. ...
EU market report - 2nd June 2012
EU grains finished higher with Jul 12 London wheat up GBP2.00/tonne lower to GBP190.00/tonne, and new crop Nov 12 GBP3.50/tonne higher to close at GBP...
Kirkpatrick scores again in Scotland
Golden Shears and New Zealand shearing champion John Kirkpatrick has won his second scottish blackface Open title at the 20th Lochearnhead Shears in S...
High rainfall at flowering increases Fusarium mycotoxin risk to highest levels in 10 years
Professor Simon Edwards of Harper Adams University College who helped develop the HGCA Fusarium mycotoxin risk assessment tool is warning the industry...
Countryside inflation nearly twice national average
The cost of living in countryside areas has been rising nearly twice as fast as in urban areas over the past year. The findings come from the Coun...
Government could miss 2015 broadband deadlines
The CLA has warned that the Government could miss deadlines to provide superfast broadband of at least 24 megabits per second (mbps) for 90 percent of...
AIC Launches Collaborative Sampling for Dioxins
The Agricultural Industries Confederation (AIC) has launched a collaborative sampling plan for the UK feed industry. It is designed to establish robus...
Dow AgroSciences video highlights farmers role in feeding the country
Calling all British farmers who feel unappreciated Feeling undervalued? For any UK farmers who are fed up of being taken for granted there's a mus...
Listing community assets jeopardises rural philanthropy, says CLA
The CLA has warned that allowing communities to register privately owned playing fields or village halls as a "community asset" would jeopardise the l...
National Trust to hosts Anglesey NFU Cymru Visit
Farmers and their families are invited to the next NFU Cymru Anglesey's summer meeting on Thursday, 12 July 2012. Starting at 7pm those present wil...
ICM in carrots leads to successful Sclerotinia control
Recent showery weather has encouraged the continuing activity of sclerotia, according to the BASF and ADAS sponsored monitoring system for carrot grow...
Time to protect stores before harvest
Despite a challenging season weather-wise, crops are looking good and harvest is not too far away. With the potential for good yields at good grain pr...
Chicago market report - 30th June 2012
Soybeans: Jul 12 Soybeans closed at USD15.12 3/4, up 46 3/4 cents; Nov 12 Soybeans closed at USD14.27 3/4, up 24 1/4 cents; Jul 12 Soybean Meal closed...
Wiseman confirms milk price reduction
Robert Wiseman Dairies has given its dairy farmer suppliers a month's notice of a 1.7 pence per litre (ppl) reduction in the farm-gate milk price, to ...
EU market report - 30th June 2012
EU grains closed mixed with Jul 12 London wheat down GBP1.50/tonne to GBP188.00/tonne and Nov 12 GBP0.50/tonne higher at GBP171.00/tonne. Aug 12 Paris...
Lincs businesses join forces to strengthen McCormick tractor sales and support
JPM Agricultural acquires the assets and takes on staff of MW Shepherd, appointed McCormick tractor sales and service dealer for north-east Lincs, Mar...
Farmers react angrily over milk price cuts
Farming associations have reacted angrily over Robert Wiseman Dairies' decision to cut its farm-gate milk prices by a further 1.7 pence per litre. ...
Fertiliser Market Report - 29th June 2012
Calum Findlay, Gleadell's fertiliser manager, comments on fertiliser markets: Nitrogen At the beginning of the week the global urea market was sti...
Grain and Oilseeds Market Report - 29th June 2012
Jonathan Lane, Gleadell's trading manager, comments on grain markets: WHEAT - USDA reports US wheat harvest 59% complete, 48% last week and 27%...
Report turns spotlight on supermarket social responsibilities
Major findings into the corporate social responsibility (CSR) policies of the 10 largest UK supermarket chains have been published today after an inve...
Clean up grain store ready for harvest
With significant investments having been made to maximize yields in the field, growers should not risk any yield loss post-harvest with poor grain sto...
More dioxins found in German eggs
High levels of dioxin have been found in eggs on yet more farms in Germany, according to new reports. The latest alerts follow the discovery of hig...
EU market report - 29th June 2012
EU grains closed generally flat with Jul 12 and Nov 12 London wheat both unchanged, along with Aug 12 and Nov 12 Paris wheat. Prices still hover a...
Schmallenberg vaccine produced
The development of a candidate vaccine against the Schmallenberg virus has been announced by MSD Animal Health. The first cases of the disease first a...
FUW accuses conservationists of 'failing birds'
Conservationist bodies have been accused of failing wildlife and contributing to the decline in upland birds today by the Farmers' Union of Wales. ...
The impending uneconomics of the potash market
The outlook for the potash market will depend on several key variables but whatever happens, there will be substantial overcapacity, ranging between 5...
Sustainable forestry strong in England
Latest figures published by Forestry Commission England show our woodlands are incredibly well protected and sustainable forestry remains strong. A...
Spelman and eupermarkets urged to block EC plan for untested GMOs in food
GM Freeze and Friends of the Earth urged Defra Secretary of State Caroline Spelman to reject proposals from the European Commission to drop the policy...
EU market report - 27th June 2012
EU grains finished mostly higher again although Jul 12 London wheat was GBP0.50/tonne lower at GBP189.50/tonne, new crop Nov 12 was GBP2.70/tonne high...
Growth in global oil market slows
Global oil consumption increased by 0.7 percent in 2011 to reach an all-time high of 88.03 barrels per day but the rate of increase was considerably s...
Timber and Wood Products Market Report - 27th June 2012
Reduced log export tariffs in Russia unlikely to boost the country's log export volumes back up to historic levels, reports the Wood Resource Quarterl...
Milk buyers warned against price cuts
Today the NFU has demanded milk buyers work with, rather than against dairy farmers, who face spiralling production costs. Following lively debate ...
EU Market Report - 26th June 2012
EU grains closed mixed with Jul 12 London wheat up GBP2.00/tonne to GBP190.00/tonne and Nov 12 GBP0.20/tonne lower at GBP167.80/tonne. Aug 12 Paris wh...
Industrial farming lobby threatens funds for agriculture's sustainability, says new report
The future of agricultural research under the Common Agricultural Policy (CAP) and Horizon 2020 is under threat according to a new analysis by Corpora...
Milk Link and ARLA Foods AMDA farmers vote yes to merger proposal
99.53% of votes cast by Milk Link Members support merger with Arla Foods amba 96.8 % Arla Foods amba Board of Representatives vote in favour The p...
Market report - 26th June 2012
Soybeans: Jul 12 Soybeans closed at USD14.82 1/2, up 40 cents; Nov 12 Soybeans closed at USD14.25 1/2, up 50 cents; Jul 12 Soybean Meal closed at USD4...
Sprayer manufacturers quick to adopt ProClean two-nozzle container rinsing system
A number of crop sprayer manufacturers have adopted a unique two-nozzle pesticide container rinsing system. The combination of Hypro's ProClean rot...
New VPTech inclined nozzle is the ideal choice for autumn grassweed spraying
The new VPTech nozzle assembly introduced by Hypro is designed to provide the ideal spray configuration for pre-and post-emergence autumn sprays. It d...
EU Market Report - 25 June 2012
EU grains closed sharply higher with Jul 12 London wheat up to GBP188050/tonne and Nov 12 London wheat rising GBP6.45/tonne to GBP168050/tonne. Aug 12...
ADAS grow environmental services by offering tailored archaeological assessments
Agricultural and environmental consultancy ADAS has established an archaeology team to help developers assess the impact of their proposed schemes on ...
Co-operative's habiltat Heroes hailed a success
The Co-operative Group is celebrating the first anniversary of its ground-breaking Habitat Heroes projects, to protect and preserve endangered wildlif...
Number of wind farms increases but many farmers are unaware of insurance risks
With rapid growth in the renewable energy industry prompting a surge in the number of farmers and growers setting up wind farms, a national broker is ...