News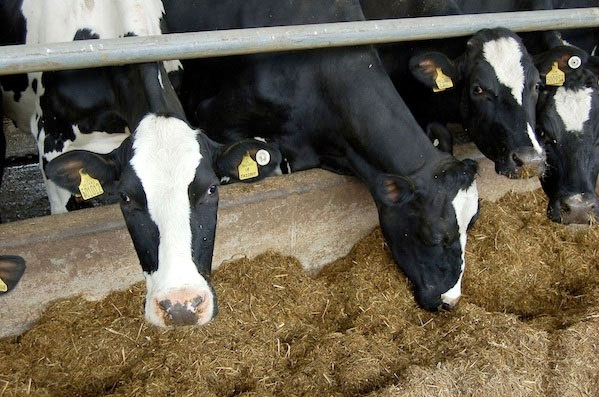 Opportunities for precision technology to improve dairy herd performance
Tracking animal behaviour, improving heat detection, picking up subclinical disease, improving grazing outputs and reducing lameness will all be discu...
Reverse decline in agriculture spending, NFU warns government
Farmers who battled against the elements to ensure the English wheat crop survived the torrid weather conditions of 2012 have seen high quality from t...
National Beef Association welcomes new chairman
At the fourteenth Annual General Meeting of the National Beef Association the current chairman, Hamish McBean stood down on rotation rules. He has be...
Chinese supply crisis to delay price adjustment
Faced with a local supply-side crisis China is buying huge quantities from the internationally traded market – squeezing out many other buyers. As a r...
Proactive treatment to tackle Light Leaf Spot risk
Oilseed rape growers are going to have to find new ways to tackle the increasing risk of Light Leaf Spot (LLS), with news that the active ingredient, ...
Sales of robotic milkers soar at Dairy Show
Sales of robotic milkers are rocketing, with more and more farmers seeking to improve cow welfare and productivity, while cutting back on labour. ...
EU must help producers selling milk below production costs, says NFU
The NFU has called on European policy makers to help make the sector more market focused and to provide dairy farmers with the right tools to supply a...
Global issues facing ornamental horticultural production
Over 90 delegates from around the world took part in strategic planning sessions, committees and professional tours during the 65th AIPH Annual Congre...
Sturdy pig weighers with functional features
Two new German-made electronic pig and livestock weighers have been introduced by Suffolk-based equipment supplier, Quality Equipment. They incorporat...
Calf disease monitoring system wins first Nick Bird Award
First winner of The Nick Bird Award is Doug Fleming, an agricultural engineering student at Harper Adams University, from Berwick-upon-Tweed. He gaine...
McCormick dealer celebrates with Powys organic dairy farmer
Organic dairy farmers Merfyn and Beryl Edwards will raise a glass to their local tractor dealer following a presentation to celebrate a sales landmark...
Farm college students learn how to buy rams fit for purpose
A genetics showcase and field day for lamb producers organised by Farmers' Union of Wales Carmarthenshire county chairman Catherine Nakielny at Gelli ...
FUW conference embraces technology and research
Advances in technology and research to show how they can help run a business effectively and make life easier for those working in agriculture will be...
Premier pedigree herd competition winner announced
Holstein UK's Premier pedigree Herd for 2013 is Bill Nadin and Yasmin Bradbury's Sterndale and Peak herd from Earl Sterndale near Buxton in Derbyshire...
Winter servicing key to optimising combine performance, says Case
Winter servicing of combine harvesters by an approved dealer with the experience, knowledge and equipment to do the job correctly and efficiently will...
Keenan to launch MF380 at Irish Ploughing Championship
The new Keenan MF380 was developed to fill the gap between the current MF360 and MF400 models; it has a nominal rating of 24 m3 capacity and a maximum...
Major supermarket chains 'have to respond to increasing pressure', says report
The latest grocery share figures from Kantar Worldpanel, published today for the 12 weeks ending 15 September 2013, show the big four supermarkets und...
Keane re-elected as Dairy UK chairman
Billy Keane has been re-elected to serve for a two year period of office as Chairman of Dairy UK. In his Chairman's Address to the Dairy UK AGM, Mr...
Labour Party decision on badger cull 'wrong,' says Kendall
The Labour Party has said it would halt the badger cull policy if it won the general election. But National Farmers' Union President Peter Kendall sai...
Massey Ferguson launches new machinery line-up in Eastern Europe
Massey Ferguson is set to relaunch the brand into Eastern Europe with a new product line-up of tractors, harvesting machinery and materials handling e...
Rural economy 'on the up,' says survey
The CLA said today that its survey for the Second Quarter of 2013 shows the rural economy is picking up. The Rural Economy Index, researched in con...
Wheat market jumps as funds decided to bank profits; Midwest rainfall
US Crop Weather "Midwest rainfall is expected to be heavy over the next few days due to an influx of tropical moisture from Mexico in an already un...
Milk price rises are well overdue, says NFU
Welsh farmers have been justifiably expectant of farm gate milk price rises these last few months, said NFU Cymru Milk Board Chairman, Aled Jones. ...
Urea market 'shows stronger tone globally'
Calum Findlay, Gleadell's Fertiliser Manager, comments on the fertiliser markets: Urea Confirming our thoughts from last week's report, the urea...
Lower acreage 'will not greatly affect the US balance sheet'
David Sheppard, Gleadell's Managing Director, comments on the wheat market WHEAT US analysts believe lower acreage will not greatly affect the...
Fiat Industrial confirmed as sector leader
For the third consecutive year, Fiat Industrial has been named Sector Leader in the Dow Jones Sustainability Indices (DJSI) World and Europe. Based on...
What you can say about benefits when selling organic food
The Soil Association is issuing a new report containing positive statements in support of organic food and farming having sought guidance from the Com...
NFU Cymru Conference - Live to farm or farm to live?
Live to Farm or Farm to Live? That will be the question being asked, and answered, through NFU Cymru's annual Conference which is to be held in Novemb...
Meat company appoints supermarket specialist
Yorkshire Dales Meat Company has appointed food and drink sales specialist Jennifer Carling to its team. Carling, who has more than 30 years' exper...
Eastern EU countries 'likely to increase grain exports'
Countries in the eastern European Union are likely to increase exports by up to 12 million tonnes between 2012/13 and 2020/21, making it an attractive...
Food testing to be stepped up
Food traceability experts believe that establishing the true geographical origin of products is now essential if consumer confidence in food is to be ...
Farm Assistant is one of eight finalists for UK worker of the year
Judi James, 53, from Littlebredy in Dorchester has been shortlisted to the final eight out of thousands of entries for UK Worker of the Year 2013. ...
Everys legal experts to offer family business advice at agricultural seminar
Everys legal experts to offer family business advice at agricultural seminar at Buckland tout-Saints Everys Solicitors will be offering free family...
Russia ends ban on British beef with trade deal
A beef and lamb trade deal expected to be worth up to £100 million over three years has been finalised in Moscow by Russian Deputy Prime Minister Arka...
April 'living her dream' as role model for young women in farming
A role model for young woman seeking a career in the male dominated farming industry has been shortlisted for a prestigious Apprentice of the Year awa...
High yielding wheats stay at the top
With the majority of the 2013 HGCA official wheat sites harvested, results for Limagrain UK's three wheat varieties up for recommendation this autumn ...
Sheep farmers urged to take 'buyer beware' approach to protect their flocks
Hundreds of thousands of breeding and store sheep will move around the UK every month this autumn, taking with them a number of serious threats to the...
Lincolnshire accountants support calls for UK to become more self-sufficient
Lincolnshire-based agricultural accountants Moore Thompson are supporting calls for the UK to become more self-sufficient in food. Recently the Na...
Grain warehousing demand expected to grow in India
Demand for grain warehousing in India is expected to grow in the coming five years, according to a new report, driven by an envisaged grain-storage de...
Brazil will begin harvesting its own wheat crop next month
Soycomplex It was a choppy session for beans, with front month Nov 13 trading 18 cents higher at one stage as traders grappled with the latest data...
Farmers urged to ensure they update maps
Farmers are being urged to keep the Rural Payments Agency (RPA) informed of any changes to their land and update their Rural Land Register Maps on a r...
Milk price increase for Muller members
Dairy farmer members of the Müller Wiseman Milk Group (MWMG) who receive the company's Standard milk price are to see it increase to 32.50 pence per l...
Dairy Show celebrates young farm vets with a new award
Three young veterinary students have been short-listed for a prestigious new award, which will be presented at the Dairy Show next month. The Dair...
Paul Edwards appointed as James Dawson Ltd Managing Director
James Dawson & Son Ltd - the engineer of bespoke advanced silicone and organic rubber products whose key customers include Caterpillar, JCB and Cummin...
Oilseed rape growers must act quickly to address major threats
Oilseed rape producers must act now to address the twin threats of unusually low dormancy in blackgrass and high populations of aggressively growing S...
Maize performance more dependent on location
Maize growers should focus much more on choosing varieties for specific locations rather than using regional averages, suggest trials carried out by f...
Livestock farmers should 'seize the opportunity' for more forage
A leading expert is urging livestock farmers to seize the opportunity and take advantage of conditions to help replenish depleted winter feed stocks. ...
Farmers' views on the neonicotinoid ban
In the wake of the UK governments published view that the ban of the neonicotinoids is "unnecessary and unjustified", the views of farmers in Great Br...
Not all metaldehydes are the same
Independent consultant and slug specialist Colin Myram reminds advisors and farmers that not all metaldehydes are the same – a powerful message that n...
New Business Development Manager appointed
Emma Ralph has been appointed Business Development Manager for Interagro UK Ltd, a newly created appointment for the leading adjuvant company selling ...