Pigs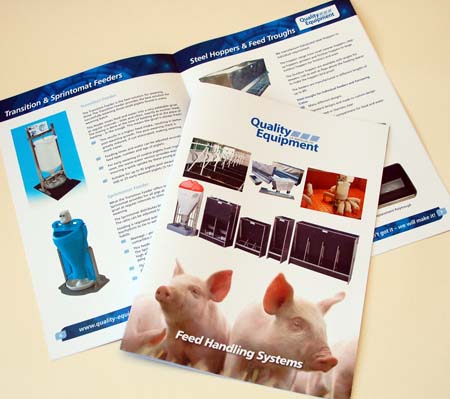 New feed handling brochure
Suffolk-based pig equipment specialists, Quality Equipment, has produced a new brochure on feed handling systems. It provides pig farmers with a wealt...
Share your welfare stories to attract consumer support, farmers told
Britain's pig and poultry producers must be braver in talking about what happens on their farms if consumers are to be driven to buy more high-welfare...
Tough times ahead for farmers, says Quinney
The next 12 months are going to be 'tough for farmers' as the adverse weather conditions continue to have a knock on effect according to NFU Vice Pres...
World's first real live pig feed aids animal welfare charity
The world's first real live pig feed is broadcast on a large format outdoor advertising screen in London this week to raise donations and support for ...
Profitability and welfare essential for pig and poultry sectors
The pig and poultry sectors have invested millions of pounds into new higher welfare systems but it is essential that these farmers can run their busi...
UK pig farmers need growth to reduce import bill
Britain needs to see a 'gentle and gradual' renewal of its pig industry with more efficient food production, the National Pig Association has said. ...
Thompson's tip: Serve sufficient sows for financial performance
A herd can achieve excellent farrowing and mortality rates yet still be under-performing financially if the farm is not selling the required total kg ...
Skilled staff are a priceless asset for the pig sector
Pig farmers need to develop their skills in keeping staff motivated if they are to retain the best workers in their businesses. Stuart Bosworth, w...
British pig industry to monitor illegally farmed EU meat
The British pig industry will this week start checking that pork from illegal European Union farms is not entering the British food chain. Nationa...
Cheshire Show's efforts to raise awareness of rare breeds receive backing from rural TV star
The Cheshire County Show is supporting the Rare Breed Survival Trust (RBST), which celebrates its 40th anniversary this year, by giving the public the...
Arable and livestock co-operation 'needed this spring'
Arable producers struggling to get crops drilled should take advantage of the forage shortage in the livestock sector and grow maize, suggests James T...
Fears over consumer perception on pig welfare
Pig producers need to embrace the latest science and technology available to them if the industry is to pull itself out of its current financial diffi...
Freedom Food pork sales up
Freedom Food today announced an increase in pork for the third year running which means that availability of Freedom Food labelled pork is at its high...
Financial pledges made as farmers remove perished livestock
Up to £250,000 will be available to reimburse farmers for the cost of removing sheep killed in freak snow in England last month, Farming Minister, Dav...
Pig disease that costs millions is target of genetic study
A fast mutating virus that affects pig herds and costs pork producers millions of pounds each year is being targeted by scientists. A transatlantic...
Farm groups call for livestock burial extension
The Country Land and Business Association has called for the temporary exemption for burying livestock perished by the recent extreme weather conditio...
Global pork sector in 'stable first quarter'
The global pork sector has experienced a stable first quarter in 2013, with supply and demand more or less in balance. This stabilisation, in combinat...
Nominations sought for pig industry 'extra-miler'
National Pig Association is seeking nominations for its Chris Brant Award which annually recognises someone who has contributed beyond the call of dut...
UK food firms make pork pledge amid welfare concerns
One hundred of the UK's leading food firms have pledged total traceability for the imported pork products they sell after concerns were raised by farm...
Thompson's tip: Provide cover for summer infertility
Many pig producers will be taking in batches of replacement gilts in split weights. But Paul Thompson, veterinary adviser to pig-breeding company...
NFU blasts EU policing of pig and poultry welfare
The National Farmers' Union has used a European advisory meeting to challenge Commission officials on their 'ongoing failures' to police pig and poult...
Government urged to support struggling farmers
The National Farmers' Union has urged the government and landlords to support struggling farmers who have lost livestock due to the extreme weather. ...
Scottish farmers battling 'worst March weather on record'
Farmers in Dumfries and Galloway and parts of Argyll and the Islands are battling through some of the worst March weather on record. Heavy drifting...
Pig farm incomes fall 50% in past year
A new report from the Department for Environment, Food and Rural Affairs has estimated that pig farm incomes have fallen by around 50%, a third succes...
Tests reveal 'pig DNA' in beef products
The Food Standards Agency's UK-wide beef product survey has revealed seven samples containing horse DNA and a further three may contain traces of pig....
Can China's poultry move out of pork's shadow?
In China, poultry producers have long lived in the shadow of the pork industry, which remains the meat of choice throughout the nation. Whilst thi...
EU pig welfare rules 'not being enforced' says charity
Compassion in World Farming has investigated 'shocking' lapses in pig welfare reported on Spanish farms still using sow stalls despite their EU wide b...
More robust checks needed for imported meat
A more robust system is needed to ensure imported food meets British standards, according to Agrantec. Following the recent scandals over horsemeat...
Thompson's tip: Keep an eye on stocking density
Pig finishers should keep an eye on stocking densities, particularly as pigs reach heavier weights, warns Paul Thompson, veterinary consultant to pig-...
Quality Equipment recruits new sales representative
James Romp has joined Suffolk-based Quality Equipment as sales representative for the whole of the UK. Having graduated from Northampton University...
ACMC pig breeders expands Philippines operation
International pig-breeding company, ACMC, is expanding its Philippines operation with the appointment of a new franchisee breeder on the island of Luz...
Farmers opt for euro subsidy payment as sterling falls
As the UK economy continues to falter, UK farmers face another challenging year brought on by adverse weather conditions, soaring costs and a weak eur...
Thompson's tip: Check the basics to save feed
With the high price of feed focusing attention on feed conversion, ACMC veterinary consultant, Paul Thompson, advises pig producers to check that the ...
Retailers challenged over illegal meat
British farmers have urged retailers to give a public assurance that they are not selling illegally-produced meat from European countries avoiding new...
Evidence secures big savings for pig industry
The Farm Energy Centre have agreed targets with the Government which will save the pig industry an estimated £18.5 million over the next 10 years. ...
New system ups mill output by 25 per cent
A new process control and information system is streamlining production and boosting daily output by over 25 per cent at Ufac-UK's specialist livestoc...
ACMC seals large order from Georgia
Against international competition, British pig-breeding company ACMC has won an order to supply genetically-advanced pigs to the Georgia, the strategi...
Farmex director Nick Bird dies aged 60
Nick Bird, director and co-owner of Reading-based control and monitoring specialists, Farmex Ltd, died suddenly from a heart condition on 13th January...
Thompson's tip: Feed conversion control is key to survival
Feed conversion rate (FCR) has a huge influence on financial efficiency. While there are a lot of actions that can be taken empirically to influen...
Europe's pig farmers flout Brussels stalls ban
From New Years Day up to 40 percent of European Union pigs will come from farms flouting animal welfare rules according to the National Pig Associatio...
Emergency summit urged for illegal EU pig meat
A call for an emergency summit meeting to prevent the importation of pig meat from illegal production systems in Europe from 1st January 2013 has been...
40,000 pigs an hour will illegally enter UK says NPA
Around 40,000 illegal pigs an hour will be entering the European food chain in January and bacon, ham and pizzas containing their meat will be destine...
Weather and feed costs denting farmer confidence
The effect of adverse weather conditions combined with concerns over feed bills have dented farmer confidence to invest according to a new survey. ...
British genetics win awards in Spain
For the third time herds using ACMC stock have received major awards at Porc D'or ('Golden pig' awards) at a Spanish pig industry ceremony attended by...
Three time Supreme champion for Yorkshire pig farmer
Yorkshire pig farmer Ian Broumpton has scored a hat-trick by winning the Supreme Championship for the third time in succession with a pen of five cutt...
Thompson's tip: Importance of efficient feed conversion
In these times of high feed prices one of the biggest drivers of financial efficiency is food conversion ratio. With feed conversion rate costed ...
Bacon launches with double award success
A brand new Cornish bacon is launched this week having secured two food industry awards. The 'Cornish Sweetheart' streaky bacon, developed by the K...
Hospital food welfare 'shocking' says survey
Eggs, chicken and pork served in English hospitals are produced from animals reared in only basic welfare conditions, according to a survey published ...
Pig producers warn over EU stall ban
An EU wide ban on gestation-sow stalls set to become law in the New Year is making hog producers worried about pork prices and the cost of production....
Tesco agrees £25m UK beef and pork deal
Tesco has announced it is to launch direct contracts with beef and pork farmers in a £25 million annual deal with better prices. The changes will ...