Pigs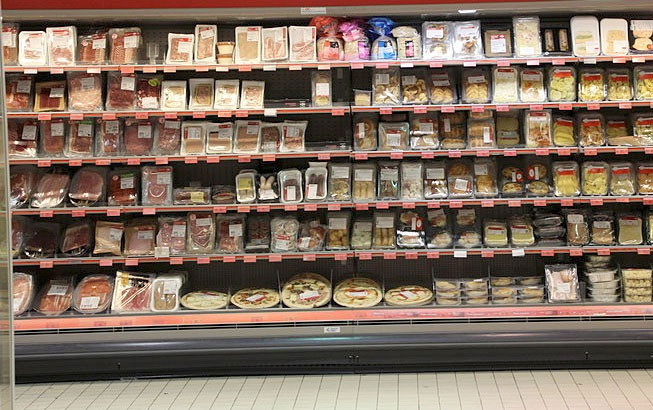 Benefits for all herds in moving to early hyopneumonia vaccination
Early vaccination of pig herds against enzootic pneumonia - as young as seven days of age - is recommended by veterinary surgeon John Hayden, who is s...
Supermarkets step up to the mark after Horsegate
Two surveys researching the amount of British meat on supermarket shelves has shown retailers have increased their support for UK-farmed pork, lamb an...
Livestock movement simplifications welcomed by NFU Cymru
NFU Cymru has welcomed Welsh Government's proposals that will potentially deliver significant simplification to livestock movement rules from 2015. ...
Cold weather semen storage
As the weather turns colder pig farmers should review their storage of semen, says ACMC veterinary consultant, Paul Thompson. It is important to meas...
Thompson's tip: Cold weather semen storage
As the weather turns colder pig farmers should review their storage of semen, says ACMC veterinary consultant, Paul Thompson. It is important to meas...
Mid Wales farmers tuck in to a banquet of bangers
Mid Wales farmers enjoyed a banquet of bangers in a special celebration of British Sausage Week laid on by Farmers' Union of Wales members Ithel and L...
New US meat labelling rules take effect Saturday
This Saturday, new regulations are scheduled to take effect that will require meat producers to list many details on their packaging, such as the coun...
Fluke disease 'could be more widespread than anticipated'
Overwintered fluke disease is forecast to be significant in all regions of the UK, except eastern England and the Midlands, according to the November ...
New Opportunity for Early Protection against Enzootic Pneumonia
New Opportunity for Early Protection against Enzootic Pneumonia A revised licence for the vaccine Suvaxyn™ MH-One will provide a new opportunity for ...
China's festival season drives pork growth
The global pork industry has experienced a positive Q3, according to figures. In line with expectations, the Rabobank five-nation hog price index cont...
Success for new Georgian pig unit
A privately-owned 650-sow Georgian farm, established with genetics from Britain in 2012, is on target to produce over 30 pigs per sow a year, around 2...
Green light for reform of pig inspections
The Food Standards Agency has welcomed the European Parliament's endorsement of proposals to change the regulations governing official controls in pig...
Major cuts of greenhouse gas emissions from livestock within reach
Greenhouse gas emissions by the livestock sector could be cut by as much as 30 percent through the wider use of existing best practices and technologi...
Sturdy pig weighers with functional features
Two new German-made electronic pig and livestock weighers have been introduced by Suffolk-based equipment supplier, Quality Equipment. They incorporat...
Calf disease monitoring system wins first Nick Bird Award
First winner of The Nick Bird Award is Doug Fleming, an agricultural engineering student at Harper Adams University, from Berwick-upon-Tweed. He gaine...
Cameron refuses to return red meat levy to Scotland
In a letter to First Minister Alex Salmond, Prime Minister David Cameron has refused to return to Scotland the levy income paid by Scots livestock pro...
New project aims to end tail docking
A project which aims to end tail docking of pigs was launched this month. A group of seven European research institutions, including Scotland's Rural ...
Government strategy 'will not stop excessive farm use of antibiotics'
The rapid spread of multi-drug resistant bacteria means everyday infections or diseases may be harder to prevent or treat, according to a new report s...
Lifting ban on waste feed for pigs 'risks causing next FMD epidemic'
Environmental activists who want to see a lifting of the European Union ban on feeding catering waste to pigs may be sending confusing signals to hobb...
Foundations for next food scandal being laid as retailers move away from shorter supply chains
The foundations for the next food scandal are already being laid by some retailers as they edge away from shorter supply chains that were promised fol...
Most popular year yet for Natural England grant scheme
From Northumberland to Cornwall, farmers in 79 priority catchment areas of England have submitted more applications than ever before for funding from ...
Concentrate on feed conversion to up financial returns
Feeding herd performance is far more important to a pig unit, financially, than litter performance. While pigs reared per sow per year is not insignif...
Compassion to march against live exports in London
A march is expected to go ahead in London on the 10th of August held by Compassion in World Farming against the live export of farm animals. Over ten ...
Heatwave harms pig performance
Recent heatwave conditions have highlighted problems resulting from wide temperature fluctuations in finishing houses, says Tim Miller, environmental ...
Ban pork imports from farms flouting stall ban, says NPA
Seven months after the European Union introduced a ban on keeping sows in stalls (except for the first four weeks of pregnancy) half of European Union...
Thompson's tip: Hot weather monitoring
Extremely hot weather can pose problems on pig farms. Producers should particularly monitor temperatures in their AI storage cabinets and water flow r...
Quality Equipment makes new appointments
Quality Equipment has strengthened its sales and marketing departments with two new appointments, Bill Diaper and Henry Stark. Bill Diaper, who sta...
Ragwort: Advice on control and disposal
Farmers are being reminded that they need to stay vigilant to ensure livestock isn't exposed to the risk of ragwort poisoning. Grazing land 'should...
East Midlands breeding consultant joins World Wide Sires
World Wide Sires UK has appointed Chris Godfrey as a new breeding consultant in the East Midlands. Godfrey, who has worked in the livestock and dai...
BOCM to showcase British pig industry at Buckingham Palace
BOCM PAULS is one of the Royal Warrant holding companies that have been invited to showcase its business at the Coronation Festival being held at Buck...
Thompson's tip: Getting pigs' weights right
With many producers taking finished pigs to the upper extremes of their contract weight, accurate weighing of pigs is essential to minimise the risk o...
New pig disease 'could be as bad as PMWS'
Porcine Epidemic Diarrhoea virus has been present in this country in a mild form for over 40 years. But new strains which have spread from China to th...
Livestock Event achieves record attendance
The Livestock Event attracted a record 9,130 visitors on Wednesday, day one at its NEC, Birmingham venue this week, while overall attendance was up 10...
NZ poultry processor invests in MTech software
MTech Systems — the global supplier of software for poultry, pig and animal feed industries — has reached agreement to supply Van Den Brink Poultry, o...
RDS presents WEIGHLOG a10 on-board weighing system at Livestock 2013
With the efficient use of animal feed having never been so important, RDS Technology will be focussing on how cost-effective on-board weighing can hel...
Council uphelds objection to Foston pig farm
In a vote last night, South Derbyshire District Council upheld its objection to the proposed large scale pig farm in Foston. As the key democratic rep...
Don't delay culling sows, says ACMC
Cull sow prices may be down — up to £30 per head compared with last year — but pig producers have been advised not to put off replacing older, less pr...
EU pig petition gets 100,000 signatures
A new pig campaign petition has gathered more than 100,000 signatures calling on all European Union member states to enforce welfare laws. Recently...
GM feed harming pig health, says new research
A new study claims that pigs were harmed by the consumption of feed containing genetically modified (GM) crops. GM-fed females had on average a 25%...
'Smart pig farming' offers producers a brighter future
'Smart pig farming' — the application of Information and Communications Technology (ICT) — will offer hard-pushed pig farmers a way to remain competit...
EU votes to 'modernise' pig inspection laws
European member states have voted for new legislation to modernise the inspection system in pig slaughterhouses. The new legislation aims to improv...
EC cancels poultry threshold amendments
The European Commission's decision not to amend thresholds for poultry and pigs or to include cattle in the Industrial Emissions Directive is 'a great...
New feed handling brochure
Suffolk-based pig equipment specialists, Quality Equipment, has produced a new brochure on feed handling systems. It provides pig farmers with a wealt...
Share your welfare stories to attract consumer support, farmers told
Britain's pig and poultry producers must be braver in talking about what happens on their farms if consumers are to be driven to buy more high-welfare...
Tough times ahead for farmers, says Quinney
The next 12 months are going to be 'tough for farmers' as the adverse weather conditions continue to have a knock on effect according to NFU Vice Pres...
World's first real live pig feed aids animal welfare charity
The world's first real live pig feed is broadcast on a large format outdoor advertising screen in London this week to raise donations and support for ...
Profitability and welfare essential for pig and poultry sectors
The pig and poultry sectors have invested millions of pounds into new higher welfare systems but it is essential that these farmers can run their busi...
UK pig farmers need growth to reduce import bill
Britain needs to see a 'gentle and gradual' renewal of its pig industry with more efficient food production, the National Pig Association has said. ...
Thompson's tip: Serve sufficient sows for financial performance
A herd can achieve excellent farrowing and mortality rates yet still be under-performing financially if the farm is not selling the required total kg ...
Skilled staff are a priceless asset for the pig sector
Pig farmers need to develop their skills in keeping staff motivated if they are to retain the best workers in their businesses. Stuart Bosworth, w...