Pigs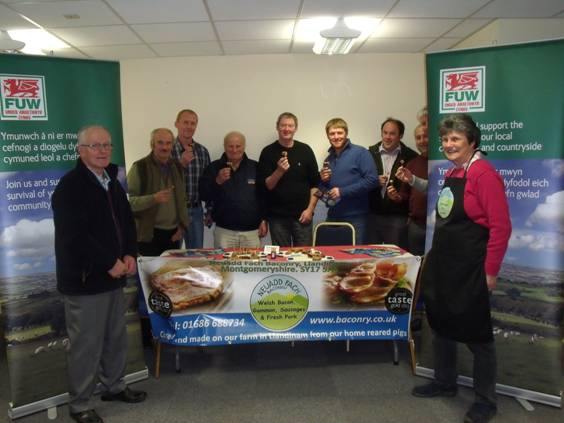 Worldwide pork shortage predicted
The world's pig farmers are warning of a shortage of bacon and pork next year because pig-feed has become unaffordable following disastrous growing an...
Farmers challenge Defra movement proposals
Proposed changes to simplify livestock movements could potentially make keeping sheep more burdensome, the NFU has warned. It comes following a mee...
Price volatility is not going away, livestock farmers warned
Livestock and dairy farmers have been warned to keep a close eye on the costs of production as input price volatility is 'here for the foreseeable fut...
Thompson's tip: Heat stress in boars
Boars used both for natural service and AI need careful management in warmer weather. Heat stress reduces quality of semen, warns Paul Thompson, vete...
World feed prices continue to pressure producers
Adverse weather conditions in many parts of the World have caused prices for wheat and soya to rise rapidly in recent weeks, putting severe pressure o...
Pig producers talk of crisis at Anglesey
Pig farmers fear that they will be forced out of business through a combination of rocketing feed costs and cheaper foreign imports as the industry de...
MEP says pig farming crisis can only be tackled by loss of major player or concerted action to raise prices
The crisis in pig farming can only be tackled by someone doing the right thing or the industry acting together, says UK Independence Party agriculture...
Schmallenberg virus circulating, say scientists
Schmallenberg virus could circulate across the UK after the virus has over-wintered according to results uncovered by the Royal Veterinary College and...
Proposed changes to stocktaking rules welcomed
The Accounting Council have decided to make "fair value" for biological assets optional rather than mandatory as the minutes of their July meeting hav...
NI consultation proposes firearm fee increases
A public consultation on proposals to increase fees and make other amendments to the Firearms (Northern Ireland) Order 2004 has been launched by the D...
EU paves way for GM meat and milk
European Union officials are paving the way to bring genetically modified (GM) animals to the European market. European authorities have developed ...
Retailers and caterers promise to sell only 'legal' pork
Britain's major food organisations have pledged to Government that they will not sell pork and pork products from illegal pig farms when the European ...
Sow parity impacts profits
With cull sow prices currently good, now is an ideal time for pig producers to review the sow parity distribution in their herds, says Paul Thompson, ...
EU pig rule could cost farmers £28m
A European directive that could leave British pig farmers facing a £28 million bill has been criticised by agricultural accountants. New rules int...
Swine infection screening using oral fluids
Large numbers of pigs could be screened more quickly and cost-effectively for a range of common pathogens, such as PRRSV, SIV and PCV2, thanks to a ne...
BPEX report on successful year for pig health
BPEX Director, Mick Sloyan, will be announcing new developments for pig health at the Pig & Poultry Fair. As the national Pig Health Improvement P...
Salmonella control for pigs launched
Animal nutrition specialists Optivite have launched a new salmonella control programme for pigs. The programme looks at meeting an overall need rat...
Martin Smith joins Ufac-UK
Martin Smith has been appointed area business manager for Ufac-UK. After graduating from the University College of North Wales with a BSc in zoolog...
Thompson's tip: Consider summer infertility now
While it may seem early to be discussing summer infertility, many breeding herds on pig farms have predictable dips in fertility associated with seaso...
Roslin Institute and Kent University win key funding
Leading global pig breeders and geneticists, JSR Genetics, have successfully won two prestigious Technology Strategy Board grants in conjunction with ...
JSR launch 'Faster Finishing' Boar
Pig and Poultry Fair 2012 will see the launch of a keenly anticipated new Sireline, the 'faster finishing' JSR Geneconverter 800m Boar, by...
Rising number of farm animals 'poses enviromental risk'
The global population of farm animals increased 23 percent between 1980 and 2010, from 3.5 billion to 4.3 billion, according to research by Worldwatch...
New pig welfare standards 'must be enforced'
New rules for the pig industry are intended to create a more-even set of welfare standards across Europe and stop some farmers - such as those in Brit...
NFU highlights research into Schmallenberg
Representatives from the NFU have met with scientists at the leading UK research institute studying livestock diseases to hear of progress in understa...
Easter holidays spark safety warning for children
Children in the West country are being reminded about the potential dangers of farm animals and playing in the countryside ahead of the Easter school ...
UK public have 'dismissed' negative red meat stories
The National Beef Association (NBA) believes the UK general public has largely dismissed claims published yesterday linking red meat to higher mortali...
RSPCA launching new advertising campaign
The RSPCA's Freedom Food labelling scheme is launching a new online advertising campaign this month in a bid to increase awareness of of farm an...
Co-operative Farms increase lone worker safety
Argyll Lone Worker Solutions today announced it has secured a two-year contract with Co-operative Farms. The contract win comes on the back of the...
Thompson's tip: Legacy of farrowing house scour
Scour in farrowing houses is well recognised. Perhaps what is less recognised is how much effect this can have on the post-weaning performance, says ...
Pfizer expands poultry team for UK and Ireland
Tony Grainger has been appointed manager for the Pfizer range of in-feed products for the poultry industry in the UK and Ireland. He has been with ...
Research predicts precision pig farming 'a stage nearer'
An initiative started in 2009 to help pig farmers improve their performance, using developments in IT and monitoring expertise, has come to fruition w...
Concerns rise over Schmallenberg
Welsh livestock farmers have expressed their worries about the potential spread of Schmallenberg Virus (SBV) following the increasing incidence of the...
This little (rare breed) pig went to market
Until recently, Luke and Louise Trowbridge of Stour Provost in Dorset could be found reading the story of the Three Little Pigs to their young sons, b...
Thompson tip: Slap-dash slap-marking
We still see numerous farm reports where slap-markings are recorded by the abattoir or by BPHS (British Pig Health Scheme) vets as illegible. There a...
Create a great idea and bag £1,000 with ABN award
Open to anyone with an idea for adding greater value to the British pig and poultry industry, the ABN Innovation Award 2012 sets out to highlight the ...
PIC opens UK's first gene transfer centre
Pig breeding company PIC UK has opened a world-class GT Centre of Excellence which is thought to be the first of its type in the UK and probably in Eu...
Solid investment in strawed pens
With confidence returning to the Scottish pig industry, an Aberdeenshire pig farmer has invested £50,000 in new solid-floored straw-based finishing h...
Thompson's tip: AI
Semen for AI on pig farms should be stored at 17oC in temperature-controlled cabinets. AI suppliers take care to ensure that semen is in good conditi...
Next generation meets with Paice to discuss future
The Minister of State for Agriculture and Food, Jim Paice, will meet with the NFU's Next Generation Policy Forum today to support the crucial ro...
Testing females to improve accuracy
Over 1,000 female pigs annually are currently individually tested at nucleus level for feed intake, feed conversion and growth rate by the Yorkshire-b...
Ufac-UK appoints Philippine distributor
Ufac-UK has appointed First Fil-Bio I/E Corporation, as their sole distributor in the Philippines. First Fil-Bio, based in Bulacan Province, near...
3,000 UK stocked sow unit opens in Russia
Russian dignitaries, local press and national TV, gathered at the official opening of the Delimeat Farming Complex, a 3,000 sow nucleus herd stocked b...
Dangers of fluctuating winter temperatures
As we move into winter, fluctuating temperatures can be a major stressor and predecessor to pneumonia in pigs, warns says Paul Thompson, veterinary co...
Silver success for Yorkshire pig farmer
Yorkshire pig farmer, Ian Broumpton, gained an armful of trophies at this years' Hull Market Christmas Fatstock Show. He gained first prize f...
Organic diet for organic pigs and poultry
You may think it strange that organic pork chops, eggs and poultry are not already produced from diets that are 100 percent organic. The difficulty ha...
Measuring amino acids in pigs ' new method on the way
New methods of measuring the amino acid requirement of pigs aim to reduce feed use, protect the environment and improve the economy for farmers. Me...
Waste food stunt was misguided, says National Pig Association
National Pig Association has applauded an attempt by Friends of the Earth to highlight the environmental benefits of pig farming at their 'feedi...
Farmers See Fodder Solutions at Open Day
Farmers and livestock managers travelled from around the country to the Fodder Solutions seminar and workshop for the opportunity to see the system in...
Thompson's tip: Keeping the milk-bar flowing
For a sow's mammary gland to work efficiently it should have been suckled in the previous lactation, says Paul Thompson, veterinary consultant t...
Pork scratchings are back on the British menu at Selfridges
On Monday 7th November, Selfridges Food Hall will be introducing a revolutionary new British snack - Mr Trotter's Great British Pork Crackling. ...