Pigs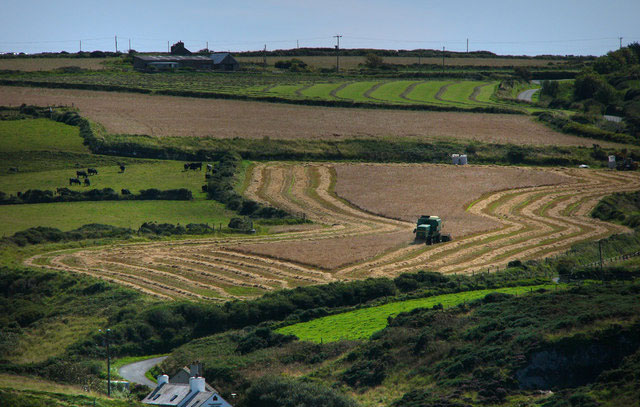 Ex-ministers son to cull 2500 pigs
The family farm of former Fianna Fail junior minister Ned O'Keeffe is facing a cull of its 2,500 pigs after being placed under restriction. I...
A disaster, no one knows what's coming next
The Cork town of Mitchelstown is hugely dependent on the Irish pigmeat sector. Indeed, its traditional title of 'Cheese town' from its ...
Tainted Irish pork may have reached 25 countries
Contaminated Irish pig meat may have been exported to up to 25 countries, Ireland's chief vet said Sunday, as shops at home and abroad cleared p...
Ireland probes toxin source after pork recall
Ireland launched an intensive investigation on Sunday to establish the source of a toxic substance that forced the recall of all Irish pork products, ...
Warning over Irish pork products
People should not eat Irish pork until there has been a full investigation into tainted pig feed, the Food Standards Agency has said. Nine premise...
EU holding series of meetings over Irish pork scare
European Commission believes Ireland has so far taken "adequate measures" and that talk of a ban is premature. Officials from EU member states will ...
Pork crisis: This is the last thing pig farmers need, says union
The latest crisis to hit the Northern Ireland farming industry could cost hundreds of thousands of pounds, it was feared last night. Joe McDonal...
Nine NI farms used tainted feed
Nine Northern Ireland farms have used the same contaminated feed which has led to a recall of all pig products processed in the Republic. Agricult...
Help for IPPC producers
The NFU is hosting a series of workshops at Stoneleigh, York, Taunton and Newmarket to help IPPC pig and poultry producers who, in the next year, have...
Vets detect new bluetongue virus
Five imported cattle on a Lancashire farm have tested positive for a new strain of the bluetongue virus. The Department for Environment, Food and ...
Meat Hygiene Service stike may hit livestock farms
Livestock farmers have been warned there could be disruption next week as Meat Hygiene Service staff belonging to UNISON have given notice of a three ...
Fire threatens Belfast pig farm
The fire service are bringing a scrub fire on Belfast Road under control. It is not clear how the fire began but two properties are said to be unde...
Salmonella excuses delay planning application
A farming family from Berwick has finally won the go-ahead for a free range egg unit following a bitter eight month planning battle. Jonathan Watso...
British Pig Association to show pedigree pigs and stage National Sausage Competition at Royal Smithfield Christmas Fair 2008
It looks just like a sheep with its thick, hairy coat, but in fact it is a pig. This is the Mangalitza and two are being brought to the Royal Smithfi...
Reception for Chinese delegation
A top level Chinese delegation will be attending a reception, sponsored by BPEX, at the world's biggest specialised livestock event. Eurotier...
Credit crunch sees Bath chaps, ox cheek and pigs trotters return
These cheap cuts of meat used to be a regular staple in butchers&quote; windows but have not been sold in quantity since rationing ended in the 1950s....
Helen Browning expansion at Tesco
The Helen Browning Organic Meat business is on the verge of a major expansion with Tesco, with new branded product listings and the launch of its new ...
Targeting pork quality
Excellent pork eating quality is one of the main drivers for consumers and a consistently high quality product is essential to keep them coming back f...
Subsidy to increase pork weight in Philippines
The government of the Philippines has introduced a subsidy to farmers, in order to encourage them to fatten pigs to a heavier weight per carcass by 15...
China deal on pigs
The British and Chinese governments have agreed to open the way for exports of pig meat to China. It follows a protocol signed by UK Minister for T...
New market for British pig meat moves closer
Defra today announced that a protocol on the conditions for the export of UK pig meat to China has been signed by the Minister for Trade and Investmen...
Soya alternative sought for pigs
A research project has just started looking at creating a win-win situation for the British pig industry by cutting costs and lessening environmental ...
Huge Chinese pig-breeding deal for ACMC
British pig-breeding company ACMC Ltd has clinched a major deal — worth over half a million pounds sterling — to deliver genetically-advanced pigs to ...
£300,000 boost for pig training schemes
BPEX has set out its stall to help the British pig industry boost its skill levels with grant applications worth more than £300,000 in the pipeline to...
Pig industry goes for gold in China
As the Olympics get underway in China, there is good news for the UK pig industry. From today (Thursday 7 August) the Peoples Republic of China has li...
Action to improve productivity
The latest in a comprehensive series of practical tips for pig keepers have just been published by BPEX. The two latest Action for Productivity sh...
Pig project into the millions
More than a million piglets have so far been vaccinated as part of a BPEX research project into PCV2. The £1.5million vaccine voucher scheme was la...
First north meeting for young NPA members
The first meeting for young National Pig Association (NPA) members in the North-East was well attended at the Ramada Hotel on the outskirts of York. T...
IPPC - Have your say?
The NFU is urging pig and poultry farmers to respond to a consultation on proposals to amend the Integrated Pollution Prevention and Control Directive...
British pork exports rise rapidly
Exports of British pork are booming showing a year-on-year rise of more than 20%. The figures for the first four months of 2008 are 41,000 tonnes u...
Fears for future of pig farming
The recent rise in prices for pork meat could paradoxically spell the end for more of Wiltshire pig farmers. Although there were once more pigs tha...
Cash-in on cull sows to increase productivity
Due to the disruption caused by foot-and-mouth and very poor cull sow prices, lots of pig farmers have held onto older sows for too long. As a result...
Peasmarsh pig wins Supreme Champion in the South of England Show
Peasmarsh farmers Charles and Dawn Bull were celebrating this week after one of their pigs was named Supreme Champion in the South of England Show. ...
PCV2 Sow Vaccine gets star billing at 2008 Pig & Poultry Fair
A vaccine that has helped "revolutionise pig production in the UK" by reducing mortality and improving performance won two major industry awards at th...
Pig farming losses amount to £6 a second
Losses in the troubled UK pig industry are now running at £6 a second. The soaring costs of fuel and feed are taking their toll and farmers are cal...
Thompson's tip: Don't ZAP salmonella control
With changes to the ZAP salmonella scheme having been recently instigated, there is now a requirement for all finishing pig farms to have a Salmonella...
After-sales role for Tim Miller
Tim Miller is taking on an after-sales role for pig housing made by Staffordshire-based ARM Buildings, including the Trobridge range. His new respo...
Cracking results for Clarence court at the Pig and Poultry marketing Awards 2008
Speciality egg producer Clarence Court is celebrating two triumphs at the 2008 British Pig and Poultry Marketing Awards. The awards, which took place...
Farmers along India-Pakistan border seek compensation
Farmers affected by the fencing near the India-Pakistan border in Punjab have not received compensation for the land acquired by the government. Their...
New-look Pig & Poultry Fair faces up to changing world
The Royal Agricultural Society of England is busy putting the finishing touches to this year's British Pig & Poultry Fair taking place at Stonelei...
Danish Bacon goes for Gold with new sponsorship for 2008
The airwaves are once again sizzling with the sound of Danish Bacon thanks to this year's highly targeted consumer marketing and promotional campa...
Vietnam to limit pig sales to China due to disease
Vietnam will limit pig exports to China from this week as it seeks to prevent a disease from spreading among its swine stock or to its neighbours, the...
Oregano supplement for suckling piglets
Ropadiar, a feed supplement for pigs, based on the natural herb, oregano, is now available as an emulsion for suckling piglets from GE Baker (UK) Ltd ...
Pig and Poultry Fair 2008
The 2008 British Pig and Poultry Fair will take place at Stoneleigh Park on 13th-14th May. Expectations are higher than ever this year, following the ...
Traditional Pigs at Highland Show
Traditonal pigs will be making a comeback to this years Royal Highland held just outside Edinburgh in June. The Bidgiemire Pig Co. on behalf of the B...
Vets advise farmers facing bluetongue threat
Farmers are being reminded to be aware of the signs of bluetongue disease as virus-carrying midges become active again. The warning came at a roads...
Scottish Government agrees to order bluetongue vaccine
Farmers in Scotland will be given the opportunity to vaccinate against bluetongue this winter after the Scottish Government agreed to secure 12 millio...
Take a journey through time with ABN at 2008 British Pig & Poultry Fair
Visitors to this year's British Pig & Poultry Fair should prepare for a journey to the future, courtesy of the Fair's partner, leading monogas...
Extra bluetongue vaccine delights farmers
Livestock farmers warmly welcomed Defra's announcement yesterday that five million doses of the bluetongue vaccine could be ready by the end of ne...
Scientists, vets and farmers work to beat pig disease
A virus that can cause economic devastation for pig farmers, welfare issues for animals and drive up the price of pork and bacon for consumers is bein...