Pigs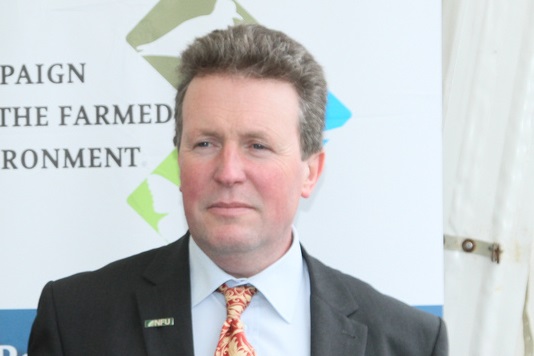 Foot and Mouth Disease: Reactions
Douglas Chalmers, Director CLA North, comments on the recent announcement by DEFRA that Foot and Mouth Disease has been confirmed on a farm in Surrey ...
Rising feed prices hit pig industry
Rising feed prices are hitting the British pig industry badly with increases so far this year equating to a 16 per cent rise in costs of production - ...
Innovation in preventing respiratory disease in pigs
A new approval for one of the leading injectable antibiotics is set to reduce the impact of swine respiratory disease on pig health and performance. ...
ABN becomes key Pig and Poultry Fair partner
Leading monogastric nutrition company, ABN, is to be the principal sponsor of the 2008 British Pig and Poultry Fair, due to be held at Stoneleigh Park...
Seeking super pig person
The annual search is under way for somebody whose commitment to the British pig industry needs to be recognised and honoured by their peers. The D...
Honour for BPEX Chairman
British Pig Executive (BPEX) Chairman Stewart Houston has been awarded a CBE in the Queen's Birthday Honours for services to the pig industry. ...
Deadly African swine fever spreads to Georgia
African swine fever, a devastating pig disease which causes major economic losses in many African countries, has spread to Georgia, south-east Europe....
Royal pig and beef herds increase to support demand at Windsor farm Shop
The Royal pig and beef enterprises have had to be expanded, Royal Agricultural Society of England (RASE) members were told during a behind-the-scenes ...
Have a say in pig industry future
Pig farmers are being offered the chance to have a say in how their levy money is spent over the next few years. Major changes are taking place as the...
Labouring for more skilled workforce
Feed is often seen as having the greatest impact on the profitability of a pig unit - but surely labour is far more important! For a unit to remain...
Innovation in bacon – Danish Bacon launches sizzling new ad campaign
Danish Bacon's 2007 advertising and promotional campaign is set to get mouths watering by capitalising on the popularity of one of the nation'...
ACMC scoops huge Russian orders— to produce 3 million slaughter pigs annually
British pig-breeding company ACMC Ltd has landed two huge orders for genetically improved pigs from the Russian Republic of Tatarstan. The initial de...
Pork campaign packs major punch
MORE than 100 million on-pack stickers promoting the Quality Standard Mark for pork will be appearing in supermarkets across the country. The stickers...
Consistently seeking quality pork
KEEPING costs down is only one half of the pig production equation - if the meat quality is not good enough it won't be popular. High and cons...
Menus should identify meat - MLC
MENUS in hotels, restaurants, pubs and cafes should give their diners more information about the origins of the meat they serve. The demand for mor...
Learning the language of pigs
With more and more workers coming in from eastern Europe, the scope for misunderstanding and unnecessary problems is great. To help pig farmers overco...
Sainsbury's driving premium bacon sales as UK celebrates first British Bacon Education Week
As Britain gets ready to celebrate the first ever British Bacon Education Week, one UK manufacturer is leading the way in premium quality bacon sales,...
Retailers telling fewer porkies
RETAILERS have been given a pat on the back by the British Pig Executive (BPEX) after a check-up on how they labelled their Christmas gammon. But, BPE...
Showcase the very best of pork
DOZENS of succulent, tasty innovative ideas for using pork have come into the spotlight as entries for a new competition flood in. The Foodservice Por...
Oz opens doors to British pork
THE doors to a new big market have been open to British pig producers with approval to export to Australia. The agreement came about as a result of wo...
Pigging out on pork at Christmas
When the Christmas turkey has been finished, people start looking for different meats and more and more are turning to pork to satisfy the family says...
Pig industry confidence returns
Britain's pig production is showing a welcome upward trend in the latest edition of the annual pan-European cost of production analysis produced b...
Pork packs confuse consumers
MISLEADING labelling is alive and well, tricking people into thinking they are buying British pork and pork products when they are not. A survey by th...
Pig's progress - attention to detail
To induce or not to induce? This was one of the topics identified by benchmarking at a recent Red Meat Industry Forum (RMIF) farm business club meetin...
Green challenge for pig industry
CONCERN for the environment is top of the political agenda and its importance is also recognised by the pig industry. There is a wide range of legisla...
Building a better future for England
The England Implementation Group (eig) has today published 'Building a better future for England's kept animals', its first annual report ...
Pig website is world
THE three key elements to track and improve the profitability of a pig enterprise have been brought together on a unique new web-based service - the f...
New pig centre to provide link from lab to farm
A new pig development centre launched at the University of Leeds today (October 6) will link academics with pig producers to help the UK¹s pig industr...
Power from pig waste project wins CDM approval
An innovative series of projects that generate electricity from pig waste in Mexico have been approved under the Clean Development Mechanism. Clima...
IT in pig production: which generation will reap benefits?
The challenge of bringing the full benefits of information technology (IT) to the pig industry will be tackled this autumn in the 5th Annual Fellowshi...
AI quality standards launched
ONE of the final links in the assurance chain - from farm to fork - has been completed with the launch by the British Pig Executive (BPEX) of the arti...
Encouraging signs from pig census
The latest Defra census is showing encouraging signs the British pig industry is turning the corner says British Pig Executive (BPEX) Chairman Stewart...
Watch out for autumn infertility
Although the nights are only just starting to draw in, pig producers should not delay in taking steps to guard against autumn infertility. This syndr...
Study published into resource efficiency of the UK pig sector
The first ever study into the environmental impact and resource efficiency of the UK pig sector has been completed and warns that the growing pressure...
Bringing home the bacon
More than 350 chefs were given an insight into curing bacon and ham in a presentation by the British Pig Executive (BPEX) . As part of the two-day Ski...
Environment Agency hosts workshops to help farmers understand new legislation
Workshops to help pig and poultry farmers across England understand new regulations to control pollution have been organised by the Environment Agency...
New Chief Steward for the Great Yorkshire Pig Section
One of the most important sections at the Great Yorkshire Show has a new leader. Peter Brier, who has been involved in helping to run the pig classes ...
Knowledge transfer gets a boost
Better herd health and better performance in breeding, growing and finishing are the top priorities for new staff taken on by the British Pig Executiv...
Encouraging view of pig industry
The whole is greater than the sum of the parts - that expression could be used to describe the latest improvements seen in the British pig industry. F...
Irish pig producers to benefit from new recording agreement
Pig producers throughout Ireland look set to benefit from improved recording technology thanks to a new agreement between Agridata and pig data manage...
Growing and finishing pigs set to benefit as new generation antibiotic gains enteric licence
UK Pig producers with enteric conditions such as ileitis and swine dysentery have a powerful new in-feed option from Schering-Plough Animal Health. Pr...
AI - BPEX helps to get it right
THE British Pig Executive (BPEX) has taken another major step forward to improving the productivity of the British pig herd with the launch of an Arti...
Farmer partners required
Due to unprecedented expansion in sales of breeding stock, Yorkshire-based international pig genetics company, ACMC, is seeking UK farmers in isolated...
Smithfield Foods takes stake in ACMC
Smithfield Foods Inc — the world's largest integrated pig company — has taken an undisclosed equity stake in UK-based international pig-breeding c...
New ventilation package offers control and monitoring
Farmex, the Reading-based environmental control and monitoring specialist, is introducing a brand new complete ventilation systems package for pig bui...
Use your KPIs pig producers advised
Not making use of IT through computerised recording systems is costing pig producers thousands of pounds a year. Such systems highlight Key Perform...
ACMC sets up first Scottish multiplier unit
Scotland's first multiplier unit for international pig-breeding company, ACMC Ltd, is being established this month by well-known pig farmer, Paul ...
Warkup moves into outdoor market
Pig building manufacturer AM Warkup has chosen the forthcoming British Pig & Poultry Fair (Stoneleigh, Warwickshire May 9 and 10) to launch a brand ne...
Gilt sales soar as breeding company records rapid growth
Against a contracting national herd in the UK, pig-breeding company ACMC has reported a sharp increase in sales of breeding gilts, between January 200...
Creep feeding - the outdoor challenge!
For most outdoor pig producers creep feeding of piglets while on the sow is a bane. It is so impractical that most simply don't do it. So when th...