Pigs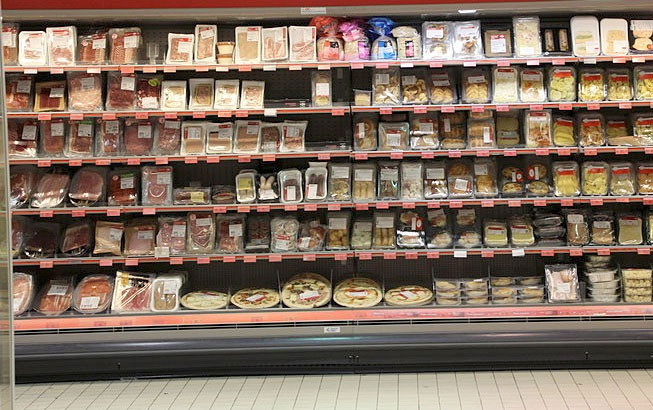 Rochdale Bluetongue zone
Rochdale has been included in a protection zone after an outbreak of Bluetongue - one hundred miles away. The borough has been placed in a `surveil...
Big plans for poultry health at the British Pig and Poultry Fair
The Farm Health Planning initiative, led by producers and vets in partnership with DEFRA, has been running successfully for some time and is already w...
Debut for Gerald at insurer's 105th AGM
A Cornish farmer, who breeds pigs near Wadebridge and Liskeard, is preparing to preside over his first Annual General Meeting as the new Chairman of S...
Hog farm expansion turned down
Not wishing to nearly double the number of animals, Chatham-Kent councillors have shot down a proposed hog farm expansion. Monday's planning a...
10,000-plus sign petition supporting pig industry
More than 10,000 people have signed an online petition calling for an increase in pork prices in support of the struggling pig farming industry. Th...
Celebrity chefs back British bacon
Gordon Ramsay and other celebrity TV chefs are backing a campaign to support British bacon. The F word star branded it a "complete disgrace" that t...
Farmers to decide on wild boar controls
Farmers and rural communities will have to decide for themselves whether they want wild boar living on their land. The government has drawn up an a...
Pig farmers trot out Internet song to save bacon
In what they say is a last-ditch attempt to save the country's pork industry, dozens of pig farmers gathered in London on Thursday aiming for an I...
Pigs are shot after motorway fire
Police marksmen have had to shoot a number of badly injured pigs after an animal transporter caught fire on a stretch of motorway in County Durham. ...
Pig and poultry supply chain to debate feed prices
Grain prices and risk management are just two of the topics set to fuel the headline feed debate at the British Pig and Poultry Fair 2008 on 13th and ...
Residents not wild about pig farm plan
A frustrated property owner's vow to build a pig and poultry farm within shouting distance of Vallejo's upscale Hiddenbrooke homes is causing ...
Pigs lay the golden ham
At $82 a pound, I certainly won't be making sandwiches with this ham. I recently tried Iberico ham, the famous Spanish ham that's been av...
Free-range pork demand
Demand for free-range pork has gone up but supply could be limited if action is not taken to support farmers, warns a leading producer. Following J...
Hong Kong to receive over 3,900 pigs a day
Hong Kong is to be supplied by Beijing with more than 3,900 live pigs daily to meet Lunar New Year demand and to help stabilise prices. The Lu...
PIG farmers are the latest to feel the effects of the disastrous harvest of 2007
Just under 4% of Welsh farms – fewer than 1,500 holdings – keep pigs, but as we report today, that figure is sure to fall after the dramatic increase ...
200 pigs die in farm blaze
AROUND 200 piglets are thought to have died in a fire at a farm near Great Horwood today, Friday. Firefighters from Winslow, Buckingham and Bletchl...
China denies spreading pig disease to neighbors
An official with the Ministry of Agriculture dismissed allegations that blue-ear pig disease had spread from China to Vietnam and Myanmar. "It is grou...
Hog farmers seek stake in plant
Hog farmers in the Upper Midwest and Canada's prairie provinces plan to buy a majority interest in a North Dakota slaughter plant, in what one off...
Pig lorry crash closes road
A lorry, carrying 200 pigs, has crashed on the A1075 at Great Hockham. The driver was trapped in the cab of the lorry, which crashed at about 1.10p...
Ministerial inquiry a breath of fresh air for free range pork farmers
A Ministerial inquiry has been launched to gain consensus on what rearing practices constitute genuine free-range pork. The inquiry follows a rece...
Sheffield farmer on a mission to save our bacon
Imagine a world without roast pork and crackling, a place without ham or a good pork pie. Daft as it sounds it may well happen - according to Sheff...
Are the food labels telling porkies?
The supermarket meat aisle is a minefield for those seeking sausages and bacon from pigs that were once as happy as, well, pigs in muck. More than ...
Positive signs from pig producers
The British pig industry is still showing improved production performance according to the latest Cost of Production survey published by the British P...
Ant antics to help piggery communications
Computer systems specialist, David Dobson, has been appointed by Farmex — the Reading-based high-tech company — to research methods which could revolu...
East Anglian pig farmers invited to farm health workshop
A workshop for local small-scale pig producers is taking place next week in Bedfordshire offering advice on putting together a farm health plan. A ...
Heavier pigs hitting the market
Foot and Mouth restrictions have caused a huge backlog of pigs which means average slaughter weights are now some 3kg higher. Pigs weighing more th...
Bacon knocks 'em for a four
Bacon sales hit a high last week - just as the World Cancer Research Fund was urging people to cut down saying it was a potential cancer risk. Figu...
Master Classes to Breath New Life into Agriculture
Pioneering Reaseheath College in Nantwich, Cheshire, has launched a programme of free evening master classes to encourage farmers to increase their pr...
Move to suspend Pig Levy
With the British pig industry facing a crisis from rocketing feed prices, the British Pig Executive (BPEX) has launched a major campaign to improve re...
Cash grants for pig development
New ideas are the lifeblood of the pig industry and to develop them, the British Pig Executive (BPEX) is putting its money where its mouth is. A to...
Answers to a weighty pig problem?
With feed costs rocketing pig producers are asking themselves how best to minimise the effects. Should pigs be taken to a higher slaughter weight t...
Pig meat export ban eased
News that exports of pig meat can restart from parts of the UK is a small step on the road back to normality says the British Pig Executive (BPEX). ...
I'm backing British pigs
Award-winning sausage maker John Langford is throwing is weight behind the campaign to get a fair return for British pig producers. John, who runs ...
Wireless system for piggeries — it's not the Home Service!
Farmex — the Reading-based high-tech ventilation company — has been awarded a grant for a £100,000, two-year project to look into ways of producing a ...
Pork - We'll pay more say shoppers
British consumers have said 'yes' to digging a bit deeper into their pockets to help secure the future of quality British pork supplies accord...
Back British pig and poultry to secure future supplies
At a time when the world's food supplies are coming under unprecedented pressure because of a combination of climate change and soaring demand, th...
Pig industry losses unsustainable
Britain's pig farmers and processors today launched a major campaign www.britishpigsareworthit.com to persuade supermarkets and foodservice outle...
Web link shows pig farmers how to save expensive feed
With hard-pressed British pig farmers facing sharp increases in feed costs — in addition to pressure on pig prices caused by foot-and-mouth disease re...
Eu pig export ban lifted
News of the re-opening of export markets in the EU to British pig meat will give the industry a much-needed boost says the British Pig Executive (BPEX...
Minister in talks to help pig industry
Sustainable supply chains are the key to tackling the economic threats to the British pig industry says British Pig Executive (BPEX) Chairman Stewart ...
Re-opened: Red meat exports to the EU
The demand is still out there - importers in EU member states are telling us they want our beef and lamb now says the Chairman of the English Beef and...
British pig meat supplies re-start
The licensed movement of pigs in England and Wales from farm direct to abattoir will be permitted from Midnight, Wed 8 August, was greeted as fantasti...
Movement to slaughter welcomed
The announcement that farmers in England can start to send cattle and sheep to slaughter has been welcomed by the English Beef and Lamb Executive (EBL...
Foot and Mouth Disease: Reactions
Douglas Chalmers, Director CLA North, comments on the recent announcement by DEFRA that Foot and Mouth Disease has been confirmed on a farm in Surrey ...
Rising feed prices hit pig industry
Rising feed prices are hitting the British pig industry badly with increases so far this year equating to a 16 per cent rise in costs of production - ...
Innovation in preventing respiratory disease in pigs
A new approval for one of the leading injectable antibiotics is set to reduce the impact of swine respiratory disease on pig health and performance. ...
ABN becomes key Pig and Poultry Fair partner
Leading monogastric nutrition company, ABN, is to be the principal sponsor of the 2008 British Pig and Poultry Fair, due to be held at Stoneleigh Park...
Seeking super pig person
The annual search is under way for somebody whose commitment to the British pig industry needs to be recognised and honoured by their peers. The D...
Honour for BPEX Chairman
British Pig Executive (BPEX) Chairman Stewart Houston has been awarded a CBE in the Queen's Birthday Honours for services to the pig industry. ...
Deadly African swine fever spreads to Georgia
African swine fever, a devastating pig disease which causes major economic losses in many African countries, has spread to Georgia, south-east Europe....