Poultry Husbandry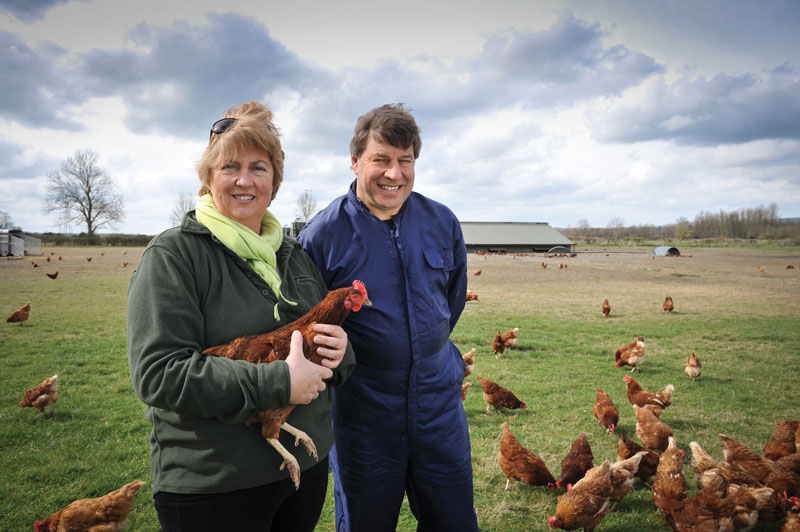 Tending to the flock - Organic best practice
Attention to detail, innovative on-farm techniques and a passion for organic poultry has seen performance at Lawn Farm, Pewsey consistently high. T...
Producer group discuss beak trimming amidst new revelations of injurious pecking outbreak in trials
Severe injurious pecking has broken out on another unit involved in the University of Bristol's current beak trimming trials. Scientists involved i...
Revise feed programmes for free range hens this winter, farmers warned
With cold weather conditions threatening to inhibit the ability of free range hens to self-regulate their body temperature, nutritional experts at ABN...
Sci-Tech Laboratories acquired by Cawood Scientific
Sci-Tech Laboratories is the latest company to become part of the Cawood Scientific Group, joining the well-known analytical businesses, NRM Laborator...
Hydor extends poultry range following BFC purchase
Agricultural ventilation specialists Hydor will be featuring a range of products from BFC Parts at this years Livestock Event (Stand LE-365). The rang...
Taking a strategic approach to poultry worming could be profitable
It's been a miserable old winter for poultry and their keepers. Many producers are familiar with the idea of regular or routine worming but this sprin...
Positive global outlook threatened by bird flu in China
The positive outlook for the global poultry industry is dependent on a balance in local supply and demand, falling feed costs and ongoing high prices ...
MEPs call for greater animal welfare enforcement
The European Parliament has called for better enforcement of current legislation on animal welfare and the adoption of a 'science-based' framework on ...
Packers warn egg producers of looming storm
Following Peter Thornton's warning to the free range sector at the Pig and Poultry Fair, Noble contract producer and farms director Tom Willings (pict...
Have you a bone to pick!
In the icy weather that we are currently having, the Accident and Emergency Departments in the hospitals are likely to be treating an increased number...
Are yours the right size?
For many free range egg producers there is now absolutely no incentive to produce Very Large eggs. For many, the price received for Very Large eggs i...
Poultry manure really is money?
Not long ago, many arable farmers regarded poultry manure as something that would be worth using so long as no money changed hands. Times have changed...
Organic egg production - For how much longer?
During 2008, the financial problems that we are and will be facing have led to a reduction in the sales of organic eggs. Fortunately for the free ran...
Oh Dear, Winter Is Here Again!
This is the time of year when some free range egg producers are able to thank their lucky stars that the hens are in warm and dry houses. Oh, are the...
Foot and mouth urgent action call
The need to further unwind Foot and Mouth Disease movement restrictions as swiftly as possible has been impressed upon the Minister for Rural Affairs,...
Feeding for Organic egg production
With feed constituting a major component of any animal production system and in the case of egg production, the major cost, it is vital that every asp...
Infectious bronchitis
Today, as ever, if you ask any producer to name the most significant cause of egg production problems, IB is still likely to top the charts, being riv...
Pasteurellosis (or Fowl Cholera)
Pasteurellosis is an infection caused by the bacteria Pasteurella multocida. This is a very severe infectious disease of poultry. In the days before a...
Water - Friend and Foe!
Water is essential for life. That applies to us as much as to our chickens! Providing ample amounts of fresh clean water is needed to maintain the hea...
Infectious Coryza
Cause The bacterium causing this disease is Hemophilus paragallinarum. Transmission The disease spreads from bird to bird and flock to flock by c...
The millions who ignore welfare
Millions of consumers completely ignore animal welfare issues when shopping in the supermarket, says a new report. Well over a third of the populat...
Minimum shade area to double
The area of shade required for birds on range is set to double. Freedom Food standards already include the new regulation—which comes into force o...
Oral statement by David Miliband on the avian influenza situation in Suffolk
Mr Speaker, with your permission I would like to make a statement about the avian influenza outbreak in Suffolk. Just after 5pm on Thursday 1 Febr...
Oral statement for David Miliband - avian influenza situation in Suffolk
Mr Speaker, with your permission I would like to make a statement about the avian influenza outbreak in Suffolk. Just after 5pm on Thursday 1 Febru...
Time to stop mucking about.....
Where there's muck there's money. And now DEFRA has started spelling out just how much cash the contents of a droppings pit can be worth. ...
Pickle your hens to preserve their health!
Many types of bacteria are present in the gut of animals and in most cases a symbiotic relationship exists where the type and numbers of bacteria are ...
A whiter shade of pale
Although we may have seen little in the way of sunshine so far this year, for some producers what we have had has already cost them dear. The problem ...
Product liability insurance
Producers and farmers should be aware from December 4th 2000 proposed changes to the Consumer Protection Act will increase their legal responsibility ...
Too close for comfort
Although the introduction of scratch areas has arguably brought about welfare benefits for the laying hen, it is becoming increasingly apparent that b...
Shut that pophole
When it comes to getting ventilation right for poultry, the most difficult set of circumstances will be found in free range systems – that was the ver...
The critical questions on yolk colour
What began with a simple, yet superbly successful, marketing stunt by supermarket chain Iceland developed into a direct assault on the values that the...
Stress...it really is a killer
by Ranger editor John Widdowson When our esteemed team of vets write in the Ranger each month we are often told that one of the major disease prev...
Getting down to the real nitty grit-ty
In most free range management plans grit is the vaguely worded add on. It is usually described as simply being "available" or fed "ad-l...
Vaccinating against coccidiosis
Coccidiosis is estimated to cost the UK's poultry industry £40 million every year, with poor performing chickens the result of intestinal damage...
Feeding hens in hot weather
By consultant nutritionist John Portsmouth As day-length lengthens, ambient temperature almost always increases and as it does so, feed intake decr...
A switch to new lighting ideas
The lighting pattern in most free range sheds is as predictable as night following day. Pullets which have come off a 10 hour day on the rearing fa...
Just a broody nuisance
Any free range producer, who has struggled over the years to get his system working well, is sure to have learnt that to fix one problem usually creat...
Pale and Interesting!
First quality eggs must have first quality shells. First the egg must have a strong shell to withstand transportation and packing. Second, a clean she...
Fair game?
I was recently asked by a free range producer how concerned he should be about the increasing number of game birds visiting his site at this time of t...
Avian Flu...should I worry?
Recent reports of avian flu in the USA have prompted this question from a number of members. The short answer is to use these warnings as an opportuni...
Chicken runs
Healthy chickens need healthy guts for optimum health and performance. If the gut is disturbed and not working properly, there can be all sorts of pro...
Prevention and Treatment of Disease in Organic Flocks
There is an increasing interest in organic poultry production and the following article looks at some of the issues raised in Section 5 of the EU Coun...
Some like it hot!
Ostriches may like it hot but for free range layers and those who look after them, very hot weather can be bad news. Adult chickens are fairly adaptab...
Balaclavas for chickens...a solution to the white egg syndrome?
Eggs were never designed to be eaten! Their role is clearly to act as a vehicle to carry a developing embryo, protected against the outside elements b...
Avian Flu test on dead wild bird in Scotland
Preliminary tests have found highly pathogenic H5 avian flu in a sample from a swan found dead in Fife, Scotland. The preliminary results were repo...
A day in the life of an egg
The original purpose of an egg was a protective development chamber for an embryo to eventually produce a day old chick. Genetics and nutrition have l...
Blackhead
Blackhead, more correctly known as Histomoniasis, is a disease of the digestive tract of a number of bird species caused by the parasite, Histomonas m...
Stepping over another organic hurdle
By Peter Whitehouse Last year experts were warning that a total ban on the use of synthetic amino acids in organic layer diets would lead to disast...
Ranging hens lay better eggs
Hens that range lay eggs with improved nutritional qualities, according to new research in America. The findings reflect long-standing results in t...