Poultry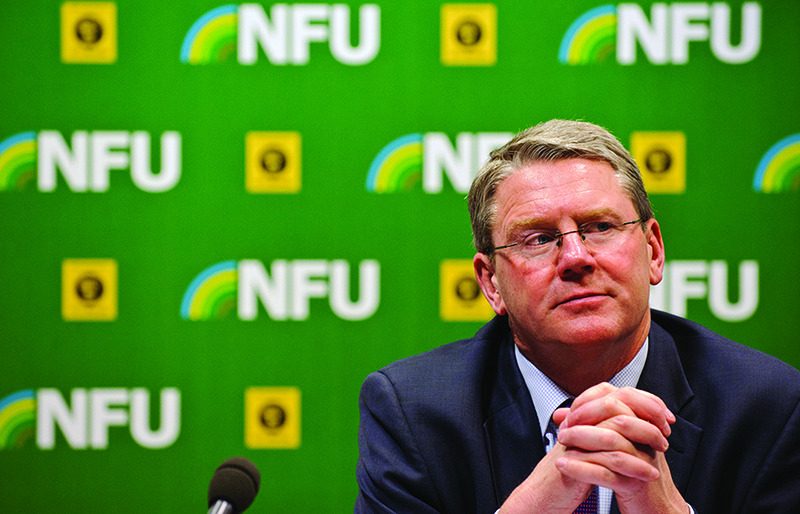 Stocking density increase welcomed by the British Free Range Egg Producers Association
The RSPCA has now agreed to an increase in the external stocking density on Freedom Food free range laying units. The Lion code was amended in Janu...
RSPCA increase stocking density levels for free range producers
The RSPCA has announced today that it will be increasing the maximum permitted outside range stocking density for free-range hens under the Freedom Fo...
Largest Free Range Conference in UK promises to be an exciting day
The British Free Range Egg Producers Association Conference 09 which takes place at Stoneleigh Park, Warwickshire on 3rd December is expected to be ev...
One producers battle with crop impaction
Chickens do what chickens do and need close supervision in order to get the best performance possible. With this in mind there follows a report on ou...
BFREPA chairman to speak at Severn Valley Poultry meeting
The next meeting of the popular Severn Valley Poultry Discussion Group takes place in October – with BFREPA chairman Tom Vesey as guest speaker. The d...
Growing appeal of Michaelmas goose
The revival of the traditional celebration of Michaelmas by eating goose continues to grow as more families and restaurants see the appeal of seasonal...
Help! My flock has skin problems
This article was written specifically for the Ranger magazine by Crowshall Veterinary Services. The Ranger is the monthly magazine for free range egg ...
Egg producers warned of 'Pullet Rush'
The impending ban on conventional laying cages could well put extra pressure on pullet rearers and impact on the availability of pullets for free rang...
Egg producer price reduced by two major packers
Two of the major packers have cut payments to producers just two months after increasing their rates on the back of increased feed costs. But Stonegat...
Poultry Passports benefit 2,000 individuals
The Poultry Meat Training Initiative announced today that the scheme has successfully enrolled over 2,000 individuals from the poultry industry onto t...
Hydor warms market with winterwarm announcement
Agricultural ventilation experts Hydor Limited have extended their range of products for the poultry market with the announcement that the company is ...
New poultry ventilation brochure from Hydor
Salisbury based, agricultural ventilation experts, Hydor Limited, have produced a new A4, 40 page, full-colour brochure for the poultry market, demons...
New evapoature cooling brochure from Hydor
Agricultural ventilation expert, Hydor Limited, has produced a new publication on evaporative cooling. The sixteen page brochure, like all current Hyd...
Ufac launches new website
Specialist feed supplement manufacturer Ufac-UK has launched a new website, located at www.ufacuk.com The easy-to-navigate site provides informativ...
Packers lower producer egg prices as feed falls
Two of the major packers have cut payments to producers just two months after increasing their rates on the back of increased feed costs. But Stonegat...
Palletline trusted with free range eggs - the ultimate fragile goods
It looks like an insurmountable challenge – transporting fragile eggs through a pallet network whilst maintaining high levels of customer satisfaction...
Supporting team chicken
In previous Ranger articles we have likened the performance of the laying chicken to that of an Olympic athlete. In this article, we are looking at t...
Free Range Egg Producers Special: Are you fed up?
For more information on free range egg production visit www.theranger.co.uk Very occasionally a feed mill may make a mistake. This is not knock th...
British Lion egg products promoted to UK food manufacturers
Producers of Lion egg products have highlighted the success of their current marketing campaign, with more food manufacturers than ever specifying Bri...
Delegates prepare for International Egg Conference in Canada
Worldwide representatives of the egg industry will get together in Canada next month for a four-day conference organised by the International Egg Comm...
BFREPA to help fund research into Osteoporosis
The British Free Range Egg Producers Association (BFREPA) has agreed to partly fund proposed research into osteoporosis in laying hens. The researc...
Student wins national recognition for work in free range
A student has won national recognition for her work in helping new producers into the free range egg industry. Jill Brown, a student at Scottish Agri...
Further developments in egg fraud case
An Irish businessman has agreed to be extradited to the UK over his alleged involvement in egg fraud. Businessman Pearse Piggott faced three charge...
Vet Medicines Act Affects Poultry Wormers
Enforcement of the Veterinary Medicines legislation will require thousands of poultry owners to change the way they worm in the future, warns Janssen ...
UK poultry producers must have same rules as Europe
The NFU has today responded to calls from the RSPCA and other welfare organisations for Defra not to allow UK producers to use the same legal stocking...
New plastic panelling system for livestock
A new range of tough, hygienic, multifunctional plastic panels for livestock buildings has been introduced by Herefordshire-based Hanco Agricultural. ...
Organic certification for oregano supplement
Ropadiar, the oregano-based supplement for livestock, has been certified for inclusion in pig and poultry diets by Organic Farmers and Growers (OF&G),...
New company offers diagnostic testing for pig and poultry industries
A new company, MDT Molecular Diagnostic Testing, has been set up specifically to provide a sophisticated testing service for veterinary surgeons and t...
Death of Much Respected Poultry Scientist
SAC colleagues and many in the poultry industry have been greatly saddened by the death of Dr Tom Acamovic, Senior Researcher and Reader in the Avian ...
Training accolade for workplace qualifications
Twenty five employees of Cobb Europe received National Vocational Qualification (NVQ) certificates in poultry production in a large group presentation...
Last remaining stands available at the free range conference of the year
This year's BFREPA (British Free Range Egg Producers Association) conference held at Stoneleigh Agricultural Centre on the 3rd of December is pr...
Fishmeal has no place in organic feed
The organic sector should seek to reverse a decision permitting the use of fishmeal in organic pig and poultry diets and repudiate exploitative fishin...
UK cage ban by December 2010 - No derogation
The UK Government has now indicated how it intends to introduce the EU ban on conventional cages – and it is disappointing news for the industry. Any ...
British Lion Eggs website gets overhaul
Consumers, retailers, caterers, journalists and health professionals now have immediate online access to a plethora of in-depth information on eggs fo...
Feed treatment cuts salmonella risk
Treating feed and feed storage bins with organic acids will help poultry producers reduce the risk of salmonella contamination in their flocks and hel...
Modern tractor investment for poultry enterprise brings performance and reliability
Investment in better equipment is always on the agenda for farm-based businesses but there has to be an economic argument to justify them. For Jeff...
Organic food finalist – five key factors
An Oxfordshire couple, who gave up their conventional way of life to run an organic chicken farm, have been nominated in a prestigious food award. Her...
Dutch productivity 'target for UK pig producers'
visit to the Netherlands sponsored by Pfizer Animal Health for UK breeding farm managers. The managers, from Rattlerow Farms nucleus and multiplica...
Promotion for Leasea Butler and Wout van Wolfswinkel within Cobb Europe
Two new appointments have been made by Cobb Europe with Leasea Butler becoming technical service manager and Wout van Wolfswinkel taking on the parent...
Survey result show Freedom Food level of support for stocking density increase
More than 80 per cent of BFREPA (British Free Range Egg Producers Association) members who took part in a survey on the impact of increased external s...
Test will determine laying system
A scientist in New Zealand has developed a test that could help to prevent cage eggs being fraudulently sold as free range. The research in New Zea...
Supply chain must work together to secure long-term future of British lamb
All parts of the supply chain must work together to secure the long-term future of British lamb by ensuring producers are paid a stable and sustainabl...
Blackacre gets cracking at Asda
Blackacre Farm Eggs of North Cheriton, Somerset is delighted to announce that its free-range eggs are now available locally in seven Asda stores. Bla...
New regional chick sales manager
Richard Jones has been appointed the new regional sales and technical manager for Tom Barron Independent Hatcheries in Wales, West Midlands and part o...
NFU secures IPPC victory for pig and poultry farmers
The NFU has won a significant victory on plans to review the Integrated Pollution Prevention and Control Directive. More than 18 months-worth of lobby...
Titre testing and early vaccination aid Gumboro control in Germany
Gumboro disease is such a problem that veterinarian Dr Herman Block and his colleagues in northern Germany take 49,000 blood samples a year to determi...
Positive salmonella test in laying flocks expected to be low
The number of positive salmonella tests in laying flocks is expected to be low when the first National Control Programme results are published. Pau...
Scottish egg producer attacks happy egg discounting
Scottish egg producer John Campbell has launched an attack on Noble Foods for heavily discounting its new happy egg co brand. But Noble says its mar...
DEFRA apply for extradition of Irishman for alleged egg fraud
British authorities have applied for the extradition of an Irish businessman for his alleged involvement in egg fraud. Defra told the Ranger (www.t...
New test can distinguish free range from cage eggs
A New Zealand researcher has developed a scientific technique to identify the difference between eggs from caged hens and those from free-range and or...