Poultry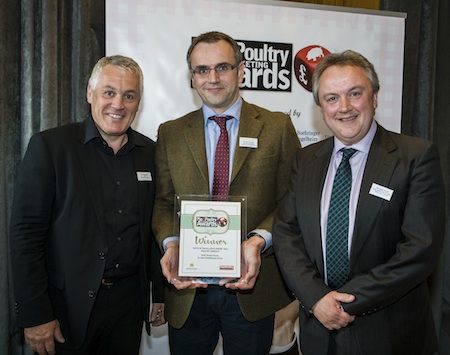 Egg based product will produce benefit to health and wellbeing
A Dutch food company is working on an egg-based product that it claims could help children perform better at school. The research is being carried ...
Barn eggs will play a big part in German market
Following the opening of Newquip's new offices we had the opportunity to find out what was happening in the German egg market. Bernd Meerpoh...
The Ranger magazine takes free range egg producers back to basics
The Ranger magazine provides a whole host of husbandry and veterinary information to free range egg producers. To receive the Ranger visit www.therang...
Significant numbers of Egg producers at risk of Avian Influenza
A recent study into the threat of avian influenza to egg farms found that a significant number of units were at high risk of infection. The study w...
'It's chic to be frugal' International Egg Conference told
That's the message from consumers in the current recession, according to Richard Lewis of CIES, the international food business forum. Some 400 ...
Egg Producers warned about GM crops
This is a story from the Ranger magazine which is mailed to members of the British Free Range Egg Producers Association. To join the Association visit...
New President for British Poultry Veterinary Association
At the Spring Meeting of the British Veterinary Poultry Association in Harrogate, Claire Knott was elected President for the term 2009-2011. Clair...
MacDonald's stay committed to free range
The fast food giant McDonald's will remain committed to free range eggs despite the pressures of the recession, according to Dean McKenna, the c...
European egg shortage looming
The ban on conventional cages will lead to a shortage of eggs in Europe. That is the view of Prof Hans-Wilhelm Windhorst, a statistical analyst with ...
Investment the theme as egg packers post accounts
Noble Foods made a loss during the year in which it was formed through the merger of Deans Food Group and Clifford Kent Holdings (Stonegate). The com...
Happy Eggs Launch in Little Chef
As part of an on-going commitment to responsible farming Little Chef has linked up with ethical egg producer, the happy egg co., for its supply of fre...
Who will be top pig and poultry trainees of 2009
The search for the top trainees in the pig and poultry industries has begun with the launch of the 2009 Pfizer Trainee of the Year Awards. Generous...
Moy park receives support from RSPCA for higher welfare chicken production
Following a recent industry visit to an innovative broiler farm in Lincolnshire, Moy Park Ltd has received support from the RSPCA for its higher welfa...
New research and production facilities basis for growth of Cobb Europe
The acquisition of Hybro and restructuring of Cobb Ireland expand the production facilities for Cobb parent stock in Europe, and provide a major resea...
Feed Matters discussed at Aviagen seminars
Over 150 Aviagen customers and suppliers came together in Slovakia and the Czech Republic last week for two separate seminars held by Aviagen. The se...
Poultry production estimates downgraded in US
USDA earlier this week revised downward its estimate for 2009 broiler production to 35.8 billion pounds, a decline of 3.1 percent from a year earlier,...
Could free range egg production beat the recession?
The current recession is unlikely to stop the growth in sales of free range eggs, according to a market analyst at the Co-operative Bank. Recent fi...
Tracing the Yellow River
Members of BFREPA who have raised concerns about liquid egg and other egg products now have the support of a leading politician. Welsh free range e...
Emergency (Autogenous) vaccines in Principle and Practice
Bacterial infections can cause major economic and welfare issues in farmed animals and are often controlled through the use of antibiotics. A signific...
Painsford Farm - Where the birds do the talking!
It is a simple philosophy when it comes to successful management of free range layer flocks at Peter Foster's unit at Painsford Farm near Totnes...
Poultry on the Piste 2009
Following the success of conferences in the snow in 2007 and 2008, 24 poultry producers and lecturers braved the slopes in Zauchensee, Austria during ...
Are yours the right size?
For many free range egg producers there is now absolutely no incentive to produce Very Large eggs. For many, the price received for Very Large eggs i...
Free range fraud case to start in 2010
Three people charged following an inquiry into allegedly bogus free range eggs were expected to appear at Worcester Crown Court again this month t...
Blackacre celebrates 30 years of family farming
Blackacre Farm Eggs in Templecombe, Somerset is celebrating its 30th anniversary. Started by husband and wife team Tim and Judy Wood, Blackacre began...
New area sales manager
Dr Stephan Hagen has been appointed area sales manager for Lohmann Animal Health's vaccines division in Germany, Austria and Switzerland. He wil...
Government has failed to invest in bird flu research
Commenting on the outbreak of bird flu at two Bernard Matthews farms, Liberal Democrat Shadow Environment, Food and Rural Affairs Secretary, Tim Farro...
Confirmation of unspecified type of Avian Influenza at Bernard Matthews
Bernard Matthews Farms can confirm that Defra have undertaken tests for Avian Influenza on two of its small breeder farms, following notification from...
The Ranger magazine continues to supply egg producers with valuable information
The Ranger magazine is the official magazine of the British Free Range Egg Producers Association and is packed with information, news, veterinary and ...
New head of corporate communications
Dr Roland Börner has been appointed head of corporate communications for animal health company, Lohmann Animal Health. Based at the company's...
Chicken may have to be fed on GM soya
Charles Bourns, Poultry Board Chairman, has warned, "The poultry industry decided for reasons of competitive advantage that they would feed GM fr...
Cornish Duck Company set for bumper year
Award-winning local food producer the Cornish Duck Company is quietly confident it will see a bumper year of trading, despite the gloomy outlook on th...
Take care of spring chicken worming problems with Flubenvet
This spring, poultry owners are being made aware of the need to worm their birds. Whether you keep just a few birds in the back garden, breed pure-bre...
Poultry manure really is money?
Not long ago, many arable farmers regarded poultry manure as something that would be worth using so long as no money changed hands. Times have changed...
Worms - The hidden enemy
This article is taken from www.theranger.co.uk The article and content are copyright of Crowshall Veterinary Services. In the past year, we have se...
Happy hens lay tasty eggs
More details have now been disclosed about Noble's new national free range egg brand, including information about how producers will be selected...
BFREPA launch calendar photographic competition
Then get snapping for the competition of the year? BFREPA have teamed up with Vencomatic to offer a whopping £500.00 first prize for the best free ...
New Lion Code comes into force
The new Lion code of practice has been completed and is scheduled to come into force this month. It was expected to be distributed to subscribers a...
Sainsbury's to remove 'caged egg' ingredients
Free range producers have welcome the announcement by Sainsbury's that it is ending the sale of cage eggs a year ahead of schedule. The supe...
Where now for small cage producers?
Many smaller egg producers are likely to be lost to the industry when the EU's ban on conventional cages comes into force in 2012, according to ...
Conventional hen cages - Their days really are numbered
Egg producers attending the Poultry Association of Northern Ireland (PANI) conference were told quite clearly that the chances of a derogation being o...
Packing centre to close
Noble Foods has announced that it will be closing its Holsworthy packing operation, which is based in north Devon, as the packer continues to improve ...
Egg producers get increase as Nobles responds to feed prices
Noble Foods has taken swift action to offset the impact of a sudden surge in feed prices and has increased its free range producer price by three penc...
UK Introduces New Poultry Standards
The contents of a new EU broiler welfare directive issued last week by DEFRA for consultation with the poultry sector prior to implementation in 2010,...
Valentine's Day might come late for goose this year
An increasing number of goose eggs will go on sale this spring as producers seek to cater for growing interest from consumers, retailers and restauran...
Good future for traditional Christmas turkey despite hard times
Despite the recession farmgate sales to the local community remain a growth area, according to Paul Kelly, managing director of turkey poult suppli...
How much range for free range layers?
As we know, a new year is always a good time to take stock of what we are doing and why we are doing it. The latter part of last year saw discussio...
The new zoonoses legislation in brief
Since 1st February 2008 - National Control Programme for Laying Flocks Sampling and testing programme at: - day-old and 2 weeks before transfer ...
Hot air balloons responsible for deaths
The issue of low flying aircraft and the effect they can have on laying flocks has been making headlines again recently. Caplor Farm in Herefordshi...
Packer price reductions leads to grader surge
An increasing number of producers are looking into installing their own on-farm grading and packing facilities. A combination of tighter margins, r...
Accurate records are the key to success for any free range egg producer
It is essential that all free range egg producers, regardless of size, keep accurate records, for the following reasons: • To monitor flock perform...