Poultry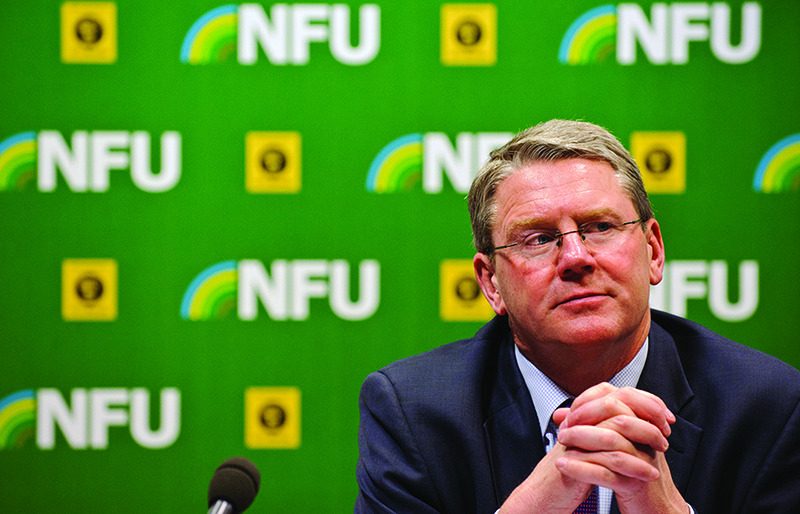 When your Non-GM products contain GM - Supermarkets must act!
The row over the enforced use of non-GM feed in the poultry sector is likely to come to a head this year. High protein (hipro) soya meal typically ...
Egg producers call on major retailers to abandon Non-GM rule
Roger Gent, chairman of the largest association of free range egg producers, the British Free Range Egg Producers' Association (BFREPA), is calling on...
New system ups mill output by 25 per cent
A new process control and information system is streamlining production and boosting daily output by over 25 per cent at Ufac-UK's specialist livestoc...
Co-op deny u-turn on cage eggs
The Co-op has dismissed a rumour that it was about to re-introduce cage eggs to the shelves of its stores. Eggs in Co-op branches have been wholly ...
Organic eggs 'still declining'
Recent statistics indicate that demand for organic eggs is still declining. Figures compiled by Kantar Worldpanel for the 52 week period up to Oct...
Producers unlikely to see cost cuts in 2013
Egg producers are unlikely to enjoy any respite from rising input costs in the year ahead, with feed prices, in particular, expected to put the squeez...
Changes to Lion code will help producers switch packers
Egg producers may find it easier to switch packers in future following a decision that the Ranger magazine understands was taken recently by the Briti...
What does 2013 hold for free range producers?
Britain's biggest free range egg producer has warned that the free range egg sector needs to keep control of bird numbers to prevent supplies of eggs ...
Egg producers look at other sectors
A company which specialises in free range chicken and turkey is offering free range egg producers a way out of their current financial crisis. With...
Eggs could improve health of unborn babies
Mothers could improve the health of their unborn babies by eating eggs during pregnancy, according to new scientific research. A research team in t...
Suffolk producer triumphs at traditional turkey show
A stag turkey won Mick and Charlotte Binder the championship at the Anglian Turkey Association's annual show and ball at Stoke-by-Nayland — now a uniq...
Suffolk broiler farm manager wins Pfizer poultry award
Suffolk broiler farm manager Rachel Almey is the winner of the 2012 Pfizer Poultry Trainee of the Year Award. She was presented with the award, whi...
Top marketing award for goose producers
Shropshire goose producers William and Jennie Brisbourne have won the poultry industry's top marketing award presented on Tuesday by Farming Minister ...
Seven fold appeal of goose: resilient today as through the ages
1. Christmas dinner The goose was seen through the centuries as the traditional roast meal for the Christmas table. 2. Victorian popularity I...
British poultry industry recognises excellence at BPC awards
The British poultry industry celebrated outstanding achievements and potential for excellence during the British Poultry Council Annual Awards at the ...
Cycles of boom and bust for egg producers getting worse
The cycles of boom and bust in the United Kingdom egg market are getting worse, according to Robert Gooch, policy director with the British Free Range...
Noble Foods to focus on energy saving investments
Energy saving is seen as a major benefit with a large scale investment programme by Noble Foods to improve and refurbish its pullet rearing facilities...
BFREPA/Elanco Egg Producer of the Year Awards
A couple who were honoured with the BFREPA/Elanco Egg Producer of the Year Award by the British Free Range Egg Producers' Association (BFREPA) were de...
High feed prices continue to affect poultry margins
The global poultry industry continues to face the challenge of high feed costs, which is putting margins under pressure in many parts of the world, ac...
Can free range flocks perform without beak trimming?
The United Kingdom egg industry may ask for a further delay to the introduction of the Government's intended ban on the use of beak trimming. The b...
Morrisons moves away from 100% British poultry meat
Supermarket chain Morrisons is moving away form stocking 100 percent British poultry meat, a decision that has been described as 'disappointing for th...
Higher feed prices 'here to stay' says poultry chairman
The chairman of the British Poultry Council (BPC), John Reed, has warned that higher feed prices are here to stay. His warning came during a speech...
Hospital food welfare 'shocking' says survey
Eggs, chicken and pork served in English hospitals are produced from animals reared in only basic welfare conditions, according to a survey published ...
Bradnock named poultry person of the year
BPC Chief Executive Peter Bradnock was named BPC-BOCM PAULS poultry person of the year at the 2012 Egg and Poultry Industry Conference. Mr Bradnock...
Arrests in poultry gangmaster raid
Two people have been arrested and a gangmaster company has had its licence revoked by the Gangmaster Licensing Authority (GLA) following a joint inves...
125,000 birds culled in rare salmonella outbreak
More than 125,000 laying hens have been culled at a farm in Northern Ireland following the discovery of salmonella gallinarum. A total of 125,000 b...
Price rises for Noble elite
Noble Foods is promising price rises for what it says are its "top producers", but has warned of possible price cuts for those it deems to be underper...
Egg producers warned on stocking rates
Government inspectors have warned that they will be checking egg production units for overstocking, following a claim that some producers may have bee...
Martin Smith promoted as Ufac's sales manager
Eleven months after joining Ufac-UK as area business manager, Midlands, Martin Smith has been promoted to national sales manager for the UK and Irelan...
New landmark in sales growth
Worldwide sales by Food Chain Innovation of the energy-efficient lining material Valéron AVA have reached another landmark, topping 300,000 sq metres ...
Young poultry farmers set to become industry's new leaders
Twenty young people will be taking part in a new training programme aimed at creating new industry leaders for British poultry and to ensure the suppl...
E.coli poultry vaccine to be launched
An innovation in protecting chickens against E.coli bacteria has been achieved with the launch of a first modified live vaccine. The vaccine, which...
Mexican avian flu 'nightmare' as 25m birds lost
Two leaders of the Mexican egg industry have spoken of their "nightmare" after an estimated 25 million laying birds were lost in an outbreak of avian ...
African egg exports set to hit the EU
A number of North African countries are gearing up production to enable them to export eggs to the European Union. Delegates at the London conferen...
Falling demand for free range eggs easing
Recent statistics indicate that the decline in demand for free range eggs may be slowing down. Noble Foods chief executive Peter Thornton told the...
RHI proves popular with poultry farms
One of the conditions of the RHI is that applicants must not have mains gas available to them, so potential sites are likely to be in rural locations....
Kievs boost spent hen values
A high welfare initiative between television farmer Jimmy Doherty and the supermarket group Tesco could help to maintain strong demand for spent hens....
Chicken tax to cost British farmers millions of sales
New VAT rules on hot food could have a serious impact on the British poultry industry – with sales of whole rotisserie chickens expected to fall by up...
Focus shifts to egg processing for final day of IEC London 2012
Steve Manton, Chair of the IEC's Egg Processors International Committee, opened Thursday morning's speaker sessions; he told the IEC audience: "Egg p...
Eggs are the talk of London
Over 450 of the egg industry's leaders and decision makers from across the world are meeting this week in London, for the International Egg Commission...
Egg sector warns on cancelled birds
John Bowler has estimated that nearly half a million pullets have been cancelled recently as the free range egg sector has entered what he says is "un...
HMRC tax returns highlight missing eggs
Imports of shell eggs have increased by nearly 70 per cent over the first five months of the year, according to the latest statistics released by the ...
Morrisons stripped of Compassion in World Farming award
Compassion in World Farming has announced that it is taking the unprecedented step of stripping Morrisons of its prestigious Good Egg Commendation awa...
Broiler study points way to help counter feed price hike
The benefits of intermittent lighting programmes on broiler welfare and performance are shown up in a Bristol University study conducted in collaborat...
Beak trimming - can we do without it?
Researchers at the University of Bristol are appealing for help from free range egg producers who are considering managing their flocks without beak t...
Chick placings down but egg sets up
Commercial layer chick placings in the United Kingdom are down for the second month running, following a series of large increases earlier in the year...
Egg Market Report - 15th August 2012
At the time of writing, Tuesday 7th August, the market is influenced by the traditionally weak school summer holiday period, with lower retail sales a...
World feed prices continue to pressure producers
Adverse weather conditions in many parts of the World have caused prices for wheat and soya to rise rapidly in recent weeks, putting severe pressure o...
Waitrose raises prices paid to egg producers facing rising feed prices
Waitrose has underlined its commitment to British farming by announcing a further increase in the prices it pays to its 119 Columbian Blacktail egg pr...
Pullet rearers urged to allow time to adjust to payment terms
The British Free Range Egg Producers' Association is appealing to pullet rearers considering introducing up-front payments to give producers time to a...