Poultry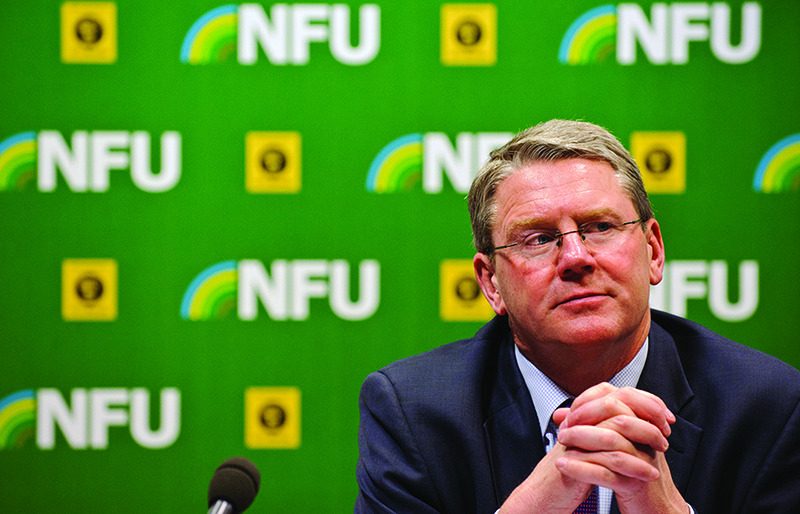 Positive future for livestock farmers
"Everyone aspires to eat red meat, it is the protein of choice and we as farmers have an obligation to feed the growing global population." This was t...
Non-cage eggs over 50% for first time
The latest figures released by Defra show that in 2011 51 per cent of Class A eggs were laid by hens which were not cooped-up in cruel cages - compare...
Poultry environmental impact study notches up another gear
The environmental impact of different broiler and egg production systems is set to come under the spotlight in a project funded by Defra LINK, Scottis...
Do we face a future of more expensive meals?
The era of ever-decreasing food prices has come to an end, according to leading figures in agriculture. That was one of the messages to emerge from...
Prioskolie goes for high accuracy packing of poultry pieces
The Meyn-Ishida alliance has completed the installation of a chicken processing and packing plant in Russia's Belgorod province for poultry gian...
PM urged to support British eggs as thousands sign pledge
The British Egg Industry Council (BEIC) has written to Prime Minister David Cameron to urge him to support legally produced UK eggs, in light of milli...
Pas Reform granted exclusive use of Microban in hatcheries
Microban antibacterial technology is finding new applications in the hatchery sector, through an Agreement that gives leading Dutch hatchery technolog...
Alan Dickinson is top of the pecking order
Poultry farmer Alan Dickinson of North Netherscales Farm in Penrith is Cumbria's new NFU county chairman. Alan rents a proportion of his 230 ...
Action to boost meat exports
Extra '300k to promote Scotch Beef and Scotch Lamb sales in Europe Support for Scotch Beef and Scotch Lamb is being ramped up with '300...
New tonic set to give game birds a lift
Following on from the acquisition of Janssen Animal Health, Elanco has launched a new improved version of the former company's game bird tonic a...
AB Vista to sponsor poultry congress
AB Vista has announced its sponsorship of the 22nd Central American and Caribbean Poultry Congress. As well as lending its name to the event, AB Vi...
UK fails to meet cage ban deadline
As many as half a million hens in the United Kingdom are still being housed in conventional laying cages - in breach of a European Union ban. An EU...
Next generation meets with Paice to discuss future
The Minister of State for Agriculture and Food, Jim Paice, will meet with the NFU's Next Generation Policy Forum today to support the crucial ro...
CLA trust awards more than £50,000 to countryside charities
More than £50,000 was donated to countryside charities in 2011 by the CLA Charitable Trust. The CLA Charitable Trust provided grants of £52,000 las...
Ufac-UK appoints Philippine distributor
Ufac-UK has appointed First Fil-Bio I/E Corporation, as their sole distributor in the Philippines. First Fil-Bio, based in Bulacan Province, near...
Humphrey Pullets appoints general manager
Humphrey Pullets of Hampshire have announced the appointment of Charles MacLeod who, as General Manager, will be responsible for all aspects of their ...
New Tonic could provide vital boost to poultry profits
Elanco has launched a new poultry product that could prove just the tonic for the poultry industry in the face of rising fuel and feed costs. Followin...
Halls optimistic about business prospects in 2012
A leading firm of auctioneers, estate agents and valuers, which has 10 offices in Shropshire, Worcestershire and Mid Wales, is looking forward with gr...
Egg ban rage
Leaders of the United Kingdom egg industry reacted with dismay and anger after the Government announced it would not implement a unilateral ban on ill...
ADAS arranges DEFRA funded beak trimming workshops
Each year ADAS arranges a series of Defra-funded stakeholder workshops on pertinent poultry welfare issues. With the proposed review of evidence in 20...
Retail growth of free range egg stalls
The retail growth of free range eggs has stalled, according to figures produced at the Egg and Poultry Industry Conference. Whilst free range has c...
New research shows that eggs help cut calories
New research from Surrey University, the first of its kind in the UK, has found that eating eggs at breakfast, compared to other common breakfasts, ma...
Food standards agency endorses British Egg Safety
The Food Standards Agency has given a huge endorsement to the safety of British eggs by relaxing its advice on using eggs after their best before date...
NFU responds to Government statement on illegal eggs
The NFU has today expressed its disappointment that the Government has not been able to adopt stronger measures to protect egg producers from illegal ...
MEP farmer hits out at ineffectual Paice proposals for egg screening
East of England MEP, Stuart Agnew (UKIP) has accused Agriculture Minister Jim Paice of 'fiddling while Rome burns' in a response to the Go...
Egg industry slams UK Government for allowing illegal battery eggs next year
The British Egg Industry Council (BEIC) has accused the UK Government of 'chickening out' on its promise to protect UK egg producers who h...
UK unites to stamp out battery cages
Tough action will be taken to improve welfare standards and living conditions for hens and prevent eggs produced in 'battery cages' being ...
Organic diet for organic pigs and poultry
You may think it strange that organic pork chops, eggs and poultry are not already produced from diets that are 100 percent organic. The difficulty ha...
MEP's 'Good Eggs UK' Campaign presses egg trade to pass the three Cs test: 'No cages, no cruelty, no crime'
With less than a month to go until the EU's ban on battery cage eggs comes into force, the UKIP MEP and agriculture spokesman Stuart Agnew&rsquo...
Potential crisis for organic poultry sector to be averted
Organic poultry farmers are being urged to carry on as normal after the European Commission announced it would not introduce immediate changes to mono...
Fair contracts for egg producers
The Ranger magazine, the leading magazine in the UK for free range egg producers, is inviting farmers to contribute to a story which will ultimately l...
Last surviving turkey show celebrates 50th anniversary
Fifty years on from formation of the Anglian Turkey Association, one of the founder members David Grove Smith was triumphant at its anniversary Christ...
Need for parallel sustainability and health agendas - BNF
A special edition of health professional publication, Nutrition Bulletin, examining complex nutrition and health factors associated with the challenge...
Free range producers reminded of impending stocking density changes
The British Free Range Egg Producers Association Council is reminding longstanding producers of the change in the internal stocking density regulation...
Noble Foods wins BFREPA Marketing Breakthrough Award
Britain's leading egg company, Noble Foods is celebrating winning the Marketing Breakthrough Award at last week's British Free Range Egg P...
Don`t be afraid of cooking a goose for the first time
Five hints to make cooking the perfect goose a simple task are being issued this Christmas for first-time households. "Consumers who have nev...
Spent hen warning
Egg producers looking to deplete their flocks in December or January are being advised to book early to avoid disappointment. The end of the year h...
Award for newcomer to goose production
Buckinghamshire goose producer David Bruce is this year's recipient of the John Adlard Memorial Award for newcomers to the field. He began pr...
Pfizer Trainee of Year Awards for pig and poultry industries
Two young workers progressing to management on a Midlands outdoor pig unit and on a Suffolk duck farm are the winners of the 2011 Pfizer Trainees of t...
Seven hatcheries adopt new air cleaning technology
The latest air cleaning technology from Air Scientifics for destroying micro-organisms is now installed in seven Aviagen hatcheries in Europe. The ...
Mixed box for free range egg producers
Some free range producers have benefited from price rises recently, although a number of packers are currently keeping their cards close to the chest....
Finalists chosen for Pfizer Poultry Trainee of Year Award
Three of the poultry industry's brightest young workers from Herefordshire, Oxfordshire and Suffolk have been chosen as finalists competing for ...
New turkey project ends chapter in early UK broiler story
Kelly Turkeys is to invest in new accommodation for its turkey breeding programme ' and so replace two buildings where some of the first broiler...
Tough times for egg producers in UK
To stabilise the egg market, the number of laying hens across the EU needs to decline by around 20–40 million laying hens but egg prices are unlikely ...
Specialist poultry nutritionist boosts Premier's team
Premier Nutrition has appointed Patrick Garland as poultry nutritionist to support an increased demand at the company from UK, Ireland and overseas cu...
EU softens ban on illegal cage eggs for processing
A European commissioner has openly conceded that cage eggs will continue to be produced in some European Union states after the EU's ban on conv...
Make your bird stand out this Christmas
Turkey producers who want their birds to stand out from the crowd this festive season can now order luxurious packaging online. The packaging has b...
Bowler producers boost BFREPA numbers
The Bowler Group is to join the British Free Range Egg Producers Association (BFREPA), swelling the ranks of the association by a third at a stroke. ...
NFU lobbying secures important changes for organic poultry sector
Proposed regulation changes which would have had a devastating effect for organic poultry farmers have been averted, following extensive lobbying by t...
The million pound egg giveaway
Noble Foods is to pay compensation to egg producers who depleted flocks early to help ease the oversupply in the egg market. The country's bi...