Poultry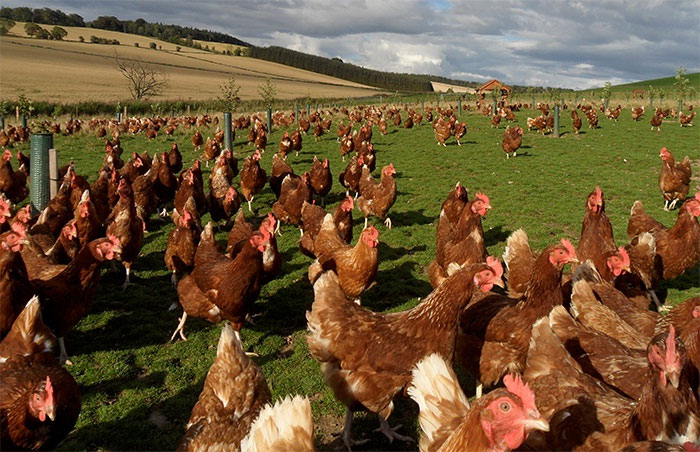 Two out of three go for bronze
Bronze will account for two out of every three traditional turkeys this Christmas for the first time for many decades, according to Paul Kelly, managi...
WIPASZ selects MEYN-ISHIDA for poultry processing project in Poland
Meyn-Ishida, the alliance dedicated to the sales of total poultry processing solutions, has just won its fourth major contract since its official laun...
Broiler survey shows potential for better disease control
The importance of good protection against infectious bronchitis (IB) and infectious bursal disease (IBD) ' often hidden diseases that impair bir...
Pfizer Pig and Poultry Trainee Awards enter fifth year
Employees in the pig and poultry industries are invited to enter the competition for the fifth Pfizer Trainee of the Year Awards with their £2000 trai...
Chick placement figures fall
First quarter statistics released by Defra show large year-on-year falls in the layer chick placement figures for the United Kingdom. The figure fo...
50% of UK eggs laid by free range hens
For the first time 50 per cent of UK eggs are now laid by cage free hens and more people than ever are choosing higher welfare eggs. The latest fi...
Egg producer takes California state to court
An egg producer has explained to International Egg Commission delegates why she is taking the state of California to court. The legal action revolv...
Social responsibility new catchword for egg producers
Corporate social responsibility seemed to be three words on the lips of most speakers at the London conference of the International Egg Commission. ...
Countdown on to 68th Kenilworth Agricultural Show
One of the Midlands' most popular agricultural shows takes place in Warwickshire on Saturday, June 4. The Kenilworth Show attracts thousands...
A new breed of solar farm
Our Generation, the solar power specialist, has completed its first agricultural solar system installation at a poultry farm in Herefordshire ' ...
Break the cycle for effective red mite control
Effective control of red mite can only be achieved by breaking the cycle of re-infection, according to a poultry industry specialist. Red mite are ...
Confusion surrounds cage ban deadline
Many IEC delegates were left feeling more confused than ever after listening to Andrea Gavinelli attempt to explain what will happen when the European...
Pressure mounts on European cage ban decision
Supporters of Compassion in World Farming (CIWF) have staged a demonstration in London as part of a campaign to ensure that the European Union ban on ...
Goose eggs: 'can't keep up with demand'
One of the largest suppliers of goose eggs is struggling to keep up with demand as consumers' appetite for niche products continues to grow. ...
Second triumph for UK flock manager
Cargill Meats Europe is the latest winner of the Cobb Flock of the Year for Europe, Middle East and Africa region and the award is a second personal t...
Welsh grants add to egg producers woes
British Free Range Egg Producers (BFREPA) chairman John Retson has appealed for governments to act responsibly after the Welsh Assembly announced that...
South West to Host Poultry Conference
The WCLA (West Country Layers Association) will be holding their 5th regional conference on the 25th May at the Taunton Racecourse in Somerset. Th...
Aviagen France Ready for Business
Aviagen France, the newly-formed business unit of Aviagen, is now the primary supplier of Ross stock to the French market. This follows the conclusion...
Omega acids could reduce bone breakage in laying hens
Researchers at the University of Bristol funded by the Biotechnology and Biological Sciences Research Council have found that adding the right combina...
US egg producers accused of price fixing
Egg producers in the United States have been accused of price-fixing for what they say is an attempt to improve animal welfare. United Egg Producer...
Minister calls for ban on egg exports from EU states not meeting deadline
Agriculture Minister Jim Paice says he wants a blanket ban on the export of eggs and egg products from any European Union member state that fails to m...
Enter your hens in the UK's most prestigious hen calendar
The British Free Range Egg Producers Association are looking for the top hen of 2012 to star on the front cover of this years' BFREPA Free Range...
Eggs: Now with extra vitamin D and less cholesterol
New research has provided more evidence to support the benefits of eating eggs. Latest statistics produced by the United States Department of Agricult...
Bourns to continue poultry fight in Europe
NFU Poultry Board Chairman Charles Bourns will continue to fight for UK poultry interests in Europe after his re-election to two influential committee...
Committee told of 'collateral damage' to the egg industry
Members of a House of Commons committee have been warned about the potential threat that would be posed to the United Kingdom egg industry if conventi...
MEP calls for 'skull & crossbones' on illegal eggs
The European Commissioner for Agriculture, Dacian Ciolos has been on the receiving end of a major broadside from the East of England MEP Stuart Agnew ...
Hi-Tech solution for one of the UK's largest broiler farms
The increasing use of technology by today's new breed of farmer is nowhere better demonstrated than in a Shropshire based enterprise which is se...
BFREPA meetings with Sainsbury 'Informative'
BFREPA chairman John Retson has held what he describes as a "very informative' meeting with representatives of Sainsbury's supermarket. T...
Opportunity or threat?
Organisers of a recent consumer focus group believe the British pig and poultry industries can tackle some key challenges head on when the results are...
Geese benefited from harsh winter
The harsh weather last autumn had a silver lining for goose producers, according to results of the annual survey carried out by Norfolk Geese, the UK&...
Worse than Edwina Currie years!
Egg producers are facing a bigger crisis than the one caused by Edwina Currie in the 1980s. That was the view expressed by Steve Carlyle of Country Fr...
Chickens have feelings too
Research released today has found that chickens have the ability to feel empathy, an emotion long thought to be a defining human trait. Compassion ...
Hungary raises cage ban compromise
Hungary has raised the prospect of a compromise on the implementation of the EU's ban on conventional laying cages. It comes despite the UK and...
Egg Producers get shock 5 pence drop
Despite supermarkets raising prices, two of the UK's larger egg packers have dropped the price they pay to egg producers by a further 5p per doz...
UK action sees off battery cage ban delay
British-led action has prevented an attempt by some EU Member States to delay a ban on 'battery cages' for laying hens. UK Environment...
Egg price rise hopes crushed
The packers organisation NEMAL has crushed hopes of an increase in egg prices for beleaguered free range producers with a warning that its members are...
'Play your strong cards'
'Play your strong cards' to compete with multiple retailers Farmers and butchers should play to their strengths in competing for the Ch...
Key accounts manager for Intervet/Schering Plough
Gerard Bailey-Watts has been appointed Key Account Manager for Poultry at Intervet/Schering-Plough Animal Health UK. With a strong poultry background,...
New feed appointment
Matthew Noble has been appointed area business manager for the North of England and Scotland by Newmarket-based feed supplements manufacturer, Ufac-UK...
New European base for MTech Systems
A new joint venture business with MTech Systems Incorporated, the US-based provider of leading software for poultry, pig and animal feed industries, i...
Farm planning decision dissapointment
The NFU has expressed its deep disappointment after a farm and abattoir looking to meet strict animal welfare and food hygiene regulations lost its pl...
Appointed to new poultry veterinary position
Stuart Andrews has been appointed veterinary manager for Pfizer Poultry Health for the UK and Ireland — a new position following the company's a...
Challenging times for the egg market in 2011
BFREPA chairman John Retson believes that the imbalance in the free range egg market may not improve until late in the year. And with feed prices expe...
UK faces oversupply of eggs
"We are facing oversupply of eggs in the UK. Without doubt there has been a degree of over-confidence throughout the entire egg industry, from the pro...
Supermarkets shun Scottish pork and chicken
An investigation of supermarket shelves carried out by NFU Scotland has shown the major retailers Tesco and Asda shunning home produced pork and chick...
Organic eggs set for testing times
The year ahead could well be another testing one for organic egg producers. The recession has already hit organic egg sales. With the coalition Govern...
Sainsbury's first to raise egg prices
Sainsbury have been the first supermarket to raise egg prices which may spell the end of months of misery by hundreds of UK egg producers struggling t...
The AgriLamp range expands into broilers
LED lighting specialists, Glo lighting, today launches the AgriLamp™ 30W Dimmable Broiler Lamp designed specifically for the broiler segment of the po...
Certification company suspended
The certification body responsible for certifying the Lion code of practice has been suspended by the United Kingdom Accreditation Service (UKAS). But...
One chicken makes three meals
As consumers start to feel the pinch with rising food prices impacting on groceries across the board, the NFU has launched a new campaign to help peop...