Produce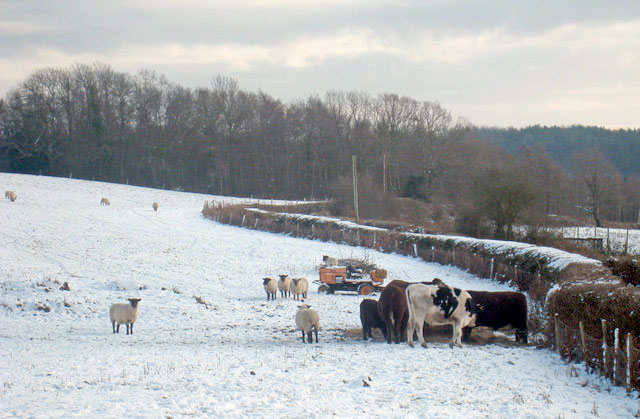 Snow-hit farmers urge government for financial support
The National Farmers' Union has called on the Scottish Government to consider a financial support package for those affected by recent bad weather con...
Dried fruit products withdrawn over allergy fears
Gima UK has withdrawn various branded dried fruit products because they contain sulphites which are not mentioned on the label. The company has wit...
Bagged salad caused May 2012 infection outbreak
The Health Protection Agency has published findings of an investigation into an outbreak of Cryptosporidium infection that affected around 300 people ...
Young farmers meet with MP Jamie Reed
Farmers need 'the right signals from government' if they are to carry on in business, according to young farmers who met with Jamie Reed MP at an even...
Food sustainability report launched
A new report has highlighted that the food industry is looking for ways to measure how sustainably its ingredients are grown and produced, providing a...
MEP attacks Paterson for mishandling horsemeat scandal
Environmental Secretary Owen Paterson has been criticised in the European Parliament for his handling of the horsemeat scandal. UKIP MEP Stuart Agn...
Beef pulled from Northamptonshire school menus
Northamptonshire County Council has removed beef products from the menu of 17 schools in its district after traces of horsemeat had been identified in...
NFU and Tesco discuss 'British meat' pledges
The NFU has met with Tesco representatives to discuss its recent pledge to source meat 'closer to home' and to build partnerships with British farmers...
Can China's poultry move out of pork's shadow?
In China, poultry producers have long lived in the shadow of the pork industry, which remains the meat of choice throughout the nation. Whilst thi...
Produce World announce £4.5m profit
Produce World has announced operating profits of £4.5 million for the year to end of June 2012. Given the losses made by the business in 2010/11, ...
Work starts on new meat processing facility
Work has started on a new 8,000 square metre abattoir and meat processing facility in Hortonwood, Telford, which should be operational by July 2013, j...
Tesco makes pledge as Kendall calls for major shift in supply chains
Shorter supply chains and British sourced beef is needed as the horse meat scandal shows failings in the current system according to NFU President Pet...
Produce World stops company name categories
Fresh vegetable grower and supplier Produce World has announced that it has stopped using individual company names for the various product categories ...
Shoppers want more British food, research says
Customers want to see more British food on supermarket shelves in wake of the horsemeat scandal, according to research. More than 82% of shoppers a...
Cheap food culture has 'become outdated' says beef association
The cheap food culture that has dominated the UK over the past 30 years has become outdated, said the National Beef Association who predicted farmers ...
Celebrity chefs call for higher hospital food standards
Broadcaster Loyd Grossman and several celebrity chefs are calling for the introduction of legally binding hospital food standards by endorsing a repor...
Kendall in second term as EU food chairman
NFU President Peter Kendall has been endorsed for a further two year term as chairman of the Copa-Cogeca Food Chain Working Party that represents EU f...
Weather and feed costs denting farmer confidence
The effect of adverse weather conditions combined with concerns over feed bills have dented farmer confidence to invest according to a new survey. ...
Frozen food firms continue buy-and-build strategy
The mature European frozen foods market is characterised by modest growth and challenged by growing consumer preference for fresh products. Still,...
Supermarket adjudicator granted powers to fine retailers
Powers to fine retailers who unfairly treat their suppliers will be given to the new supermarket adjudicator, the government announced today. The ...
Supplier and retailer relationship questioned as food prices rise
Price volatility for food and drink raw materials mean supermarkets and their suppliers 'must work closer together' according to professional services...
Ugly veg rule change means more produce on sale
Over three hundred thousand tonnes of British produce, enough to fill 2,500 Boeing 747-400 freight planes, is estimated to have reached supermarket sh...
Variable returns highlight profit and loss for potatoes
Financial returns for UK potato growers have never been as variable as those experienced this season, according to industry consultant and agronomist,...
New best product awards to be launched at food show
Scotland's Speciality Food Show is launching new awards aimed at recognising best products available at the show. The new awards will be judged by ...
Bacon launches with double award success
A brand new Cornish bacon is launched this week having secured two food industry awards. The 'Cornish Sweetheart' streaky bacon, developed by the K...
Vion withdrawal 'will result in farming uncertainty'
Dutch food producer Vion NV, which employs 13,000 people in 38 sites around the UK, is to sell its UK operations. The group runs abattoirs and proc...
Supermarket adjudicator 'must have power to fine'
Farming groups have called for 'improvements' to the Groceries Code Adjudicator Bill as it is set to become law. The Bill had its second reading in...
Sustainable farming experts call for change
Bold changes are needed to the way food is produced is we are able to continue feeding the world, according to experts at LEAF (Linking Environment an...
Hospital food welfare 'shocking' says survey
Eggs, chicken and pork served in English hospitals are produced from animals reared in only basic welfare conditions, according to a survey published ...
EU approval of Roundup 'based on bad science' says study
The EU approval of glyphosate, the main ingredient of the herbicide Roundup, is based on bad science, according to a new peer-reviewed study. The s...
California rejects GM labelling initiative
California's electorate voted to reject labelling of genetically modified foods by a margin of 53 to 47 percent. Unlike in Europe, consumers in the...
Supermarket watchdog must have power to fine, say activists
Activists today will stage a demonstration to highlight the need for the government to ensure the new supermarket watchdog being introduced has the po...
Vegetable oil stocks reach 38 year low
Demand for vegetable oils for food and biofuel use is expected to increase by an additional 23 million tonnes by 2016; however supply is expected to s...
Tomato growers gambling with £40m investment
British tomato growers are gambling with an investment of £40million a year in producing crops before they receive any return, according to the Tomato...
Tesco makes switch as supermarket label campaign launched
A new campaign encouraging people to take photos of poor food labels or merchandising and upload them to Facebook has been launched today. The NFU...
Food Standards Agency issue guidance on safe and legal eggs
The Food Standards Agency (FSA) has written to the heads of all environmental health services across the country following a complaint that some envir...
Hydor publishes new brochure for horticultural market
Hydor, designers and manufacturers of complete environmental ventilation and control systems for agriculture, have announced a new addition to its ext...
Food service sector vital for British growers - NFU
British growers must take advantage of a growing food service sector to replace imported produce and spread some of the risks associated with supplyin...
Farmers call for GMO production to ensure food security
Zimbabwe industry and farmers have urged government to adopt Genetically Modified Organisms (GMOs) production to ensure food security in the wake of r...
Three out of four shoppers unaware of fruit and veg seasons
Three quarters of shoppers have admitted being unaware of when the bulk of British fruit and vegetables are in-season, according to a new survey. H...
What is the real cost of cheap food?
With increasing public awareness of animal welfare, how much more are people willing to pay for the happiness of the animals they eat? Innovative r...
Global fish production reaches all-time high
Total global fish production, including both wild capture fish and aquaculture, reached an all-time high of 154 million tons in 2011, and aquaculture ...
Cameron accused of failing to address causes of food crisis
David Cameron has been accused by campaigners of 'failing to address the causes of the global food crisis' by suggesting that hunger can be solved by ...
Low confidence is damaging rural economy
Rural businesses are facing a significant drop in confidence and investment, according to the Second Quarter findings of the Rural Economy Index. C...
Current food supply could lead to severe price rises
The latest crisis to hit dairy farming is just the latest of a wider problem in the food industry, according to the Green Party. The party warned t...
Poor practice in fresh produce 'a wake-up call'
An investigation that shines a light on poor practice in the fresh produce supply chain should act as a 'wake-up call' ahead of the appointment of an ...
Farmers agree dairy deal at Royal Welsh
Leaders of the dairy coalition have said they are putting "100 percent effort" into targeting retailers and major milk buyers to ensure dairy farmers ...
Retailers urged to act now to save British fruit and veg
Tomatoes, cucumbers and spring onions are among several British fruit and vegetable crops that have been labelled as 'endangered' due to a significant...
Potato growers face weather challenges
Potato growers are facing many weather-related challenges and recent warm, wet weather has led to a massive increase in the number of Smith Periods th...
Government unveils Green Food project
A major study into how Britain's entire food system must change to keep food affordable without destroying nature, at a time of soaring world populati...