Produce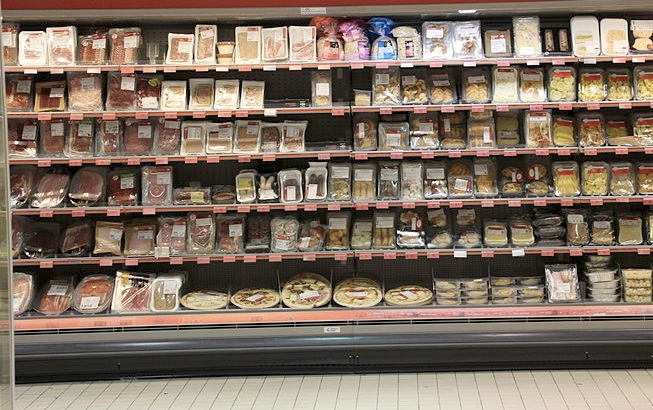 New food labelling regulations come into force
On 13th December, the new Food Information to Consumers' (FIC) regulations came into force. They cover provision of mandatory information regarding...
Catering butcher smashes its Christmas orders records
Yorkshire Dales Meat Company - the catering butcher supplying professional kitchens and supermarkets across the North of England - has smashed all pre...
UK farmer confidence falling, according to new survey
Falling farmgate prices and market price volatility have contributed to a drop in farmer confidence, a new survey by the NFU has revealed. After th...
Co-Op makes £1.5bn investment in UK farming
The Co-operative Food will be investing £1.5bn to source own-brand British meat, produce and dairy products from the UK. The business will increase th...
Farmers call on volunteers to salvage unwanted produce
Farmers are calling for volunteers to salvage thousands of tonnes of fresh fruit and vegetables that are wasted on UK farms every year. Farmers acr...
Peter upsets the odds to become Wales' top young butcher
Talented 19-year-old butcher Peter Rushforth caused an upset by beating the defending champion in the final of the Welsh Young Butcher Competition 201...
Food hygiene rating scheme extended
From 28 November 2014, trade to trade food businesses in Wales come within the scope of the Food Hygiene Rating (Wales) Act. Under this extension t...
Organic support moves welcomed by industry body
DEFRA's decision to pay organic farmers lower conversion rates but increase maintenance rates has been described as 'the right move for the UK organic...
Fraud costing UK produce £11bn a year
UK food and drinks companies are losing more than £11.2bn a year to fraud and error, according to a new report. The research reviewed data from 73 ...
Bradford shop owners fined for selling rotten fruit
A HMI investigation has seen Bradford shop owners fined for selling rotten, damaged and incorrectly labelled fruit. The owners of a Bradford shop h...
Dairy industry needs to find ways of coping with market volatility
Pembrokeshire dairy farmers voiced their concerns regarding severe farmgate milk price cuts during a well-attended Pembrokeshire NFU Cymru on-farm mee...
UK beef farmers 'should be in bullish mood'
British beef farmers should be in 'bullish mood' after the famous French butcher Yves-Marie le Bourdonnec, declared that British breeds were a cut abo...
New grocery box reduces waste and keeps produce fresh
Goplasticpallets.com has launched a new perforated, rigid pallet box in the UK – the GoBox 1210 BBE – which is ideal for the storage and transportatio...
NFU concerned over new organic regulations
NFU Cymru has expressed deep concern at EU proposals for a new Regulation governing organic food production in Wales. Presenting evidence to Assemb...
Improvements needed to boost agricultural productivity
Greater improvements are required to boost agricultural productivity in England, Innovation for Agriculture have warned. Addressing the barriers to...
Welsh food and drink producers head to China
With Export Week now upon us, eleven Welsh companies are getting ready to fly the Welsh flag in China to promote their produce at the Food and Hotel C...
Supermarket competition on prices 'risks quality'
As retailers continue to participate in a highly competitive race to the bottom in price wars, industry experts have warned that food quality may be j...
Parents say schools should serve more British food
Parents want to see more British food served up in schools and more lessons on food and farming, according to a new NFU survey. A YouGov poll comm...
Organic market continues to boom
Proving small changes can add up to a big difference, new Nielsen figures released today show sales of organic products in excess of a staggering £100...
Farmers call for reassurances as Defra publishes new CAP scheme
More details have been unveiled today about how the new CAP will be implemented in England. The latest leaflet, which will also be posted to farmer...
Move to ban pesticides 'a threat to UK food security'
Scientists have cast doubt on the European Union's aim to restrict the use of a range of pesticides. They have voiced this view in response to a r...
'Extremely worrying times' ahead for farmers, says NFU
With farmers facing significant challenges heading into the winter, the Government is being urged to come forward with proposals for how they intend t...
Supermarket price battles causing 'grocery deflation'
The grocery market is entering deflation as new share figures released today show that like-for-like prices have declined. Fraser McKevitt, head of...
Businesses to receive funding to solve food security challenges
Businesses will receive £5 million of funding to develop innovations to solve some of the world's greatest agriculture challenges such as food securit...
British food production 'under threat', says new report
The availability of iconic British foods could be drastically reduced according to an independent report released today. The report, commissioned b...
Sustainable food security needs public awareness, EU commissioner says
One of the big challenges for sustainable food security is public awareness, European Commissioner for Agriculture Dacian Ciolos said in a speech in M...
'Never a better time to get into the agricultural industry'
There has never been a better time to get into the agricultural industry. The world's population is growing and the resulting demand for food presents...
Conference tackles sustainable agriculture and growing global demands
The challenges of delivering sustainable agriculture while meeting growing global demands for food will feature high on the agenda for this year's AIC...
EU announces new measures for farmers affected by Russian ban
The European Union has adopted new emergency measures in the wake of the Russian ban on EU agricultural imports, the Commission announced. Worth up...
UK organic sales outperforming non-organic
The UK's organic grocery market is showing accelerated growth and outperforming non-organic sales in supermarkets, according to new figures released b...
Referendum must 'drive Scottish farming sector forward'
Scotland's decision to remain within the United Kingdom must provide 'a platform to drive our farming and food drink sectors forward', according to th...
NFU spells out priorities ahead of 2015 General Election
A Government that understands farm businesses, wants agriculture to grow and has the policies that send the right signals to farmers, are the key mess...
FUW brings taste of rural life to Cardiff Country Fair
The Farmers' Union of Wales will welcome visitors to the Cardiff Country Fair at the end of the month with a taste of rural life and food production i...
A health check for your soil
Soil is the basic raw material of farming and fundamental to agricultural productivity. Traditionally soil health has been seen largely as a function ...
EU suspends Russian trade ban emergency measures
The European Commission has today suspended the emergency market measures for perishable fruit and vegetable markets announced on August 18 in the wak...
British food and farming in global spotlight at IFAJ Congress this week
Thursday 4th September marks the start of the keenly awaited 5 day International Federation of Agricultural Journalists (IFAJ) 2014 Congress. 'Inn...
Red Tractor joins food festival celebrations
Red Tractor Assurance (RTA) joined thousands of hungry festival goers last week as The Big Feastival opened its gates. Hosted by Alex James and Ja...
What will be the impact of the Russian ban?
On August 7, 2014, Russia announced the introduction of an import ban, applicable from August 8, on certain meat, dairy, fruit, vegetable and processe...
EU announces emergency support after Russian ban
The European Commission has announced today that it will open Private Storage Aid for butter, Skimmed Milk Powder (SMP) and certain cheeses in order t...
Landia say that right pumps and right maintenance are a must
Alleged hygiene failings in the poultry industry that have seen three of the UK's leading supermarkets launch emergency investigations into their chic...
NFU extends monitoring of Russian ban impact
NFU Scotland is to extend its regular monitoring of retail shop shelves to examine any impact that the Russian trade ban may have on prices or demand ...
Noble Foods merger deal with Manton's cleared by Competition and Markets Authority
United Kingdom competition authorities have cleared the takeover of Manton's egg processing plants by Noble Foods. The deal was called in by the Co...
Co-op announces £5m boost for producers
The Co-operative has announced a £5m boost for British farmers who supply its own-brand fresh meat, poultry and milk. The premiums will go to membe...
EU announces support measures for farmers hit by Russian sanctions
After the impact of the Russian sanctions on European agricultural products, the Commission will begin to introduce support measures for certain peris...
Farming growth plan needed for UK self-sufficiency
The National Farmers' Union is calling for a farming growth plan to halt the backward slide of UK food production self-sufficiency. NFU president ...
More farmers need to offer apprenticeships, industry leaders urge
Industry leaders have joined forces to encourage farmers to act now to help secure the future of their businesses. A number of the region's key agr...
UK 'not self-sufficient' in food production, NFU warns
Britain would run out of food if it relied only on home-grown produce, the National Farmers' Union have warned. In 2013 the UK was 55 per cent self...
Russia bans produce imports from Europe
Russia has banned imports from the EU and other Western countries this week in response to sanctions made on the country. Countries banned from exp...
Milk production stays within UK's quota
The Rural Payments Agency (RPA) has received end of year details from milk purchasers and direct sellers of the amount of milk which was produced for ...
Public votes Yorkshire Dales meat company the best catering butcher sausagemaker at festival
Yorkshire Dales Meat Company outshone its catering butcher competitors in a public vote for the best sausage at The Camp Hill Estate Beer and Sausage ...