Property News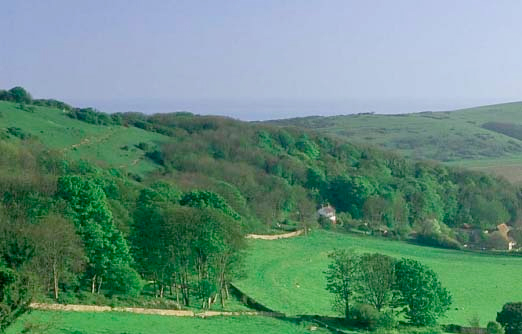 Welsh government upland proposals flawed, NFU says
NFU Cymru President Stephen James has expressed deep disappointment at the recent announcement by Deputy Minister for Farming and Food, Rebecca Evans ...
Property investors warned over HMRC levy
Property investors are being warned to be aware of an apparent push by HMRC to levy class 2 National Insurance contributions on rented property income...
Who picks up the pieces if fracking causes damage? asks CLA
The consultation response from the Department of Energy and Climate Change (DECC) on fracking fails to properly tackle the issue of long-term liabilit...
Grazers return to nature reserve
For the first time in many years cattle are roaming the heathland landscape of one of south Devon's top nature reserves. Bovey Heathfield nature r...
Build on brownfield land, CPRE urges
The government should do more to protect green spaces by facilitating house building on brownfield land, according to Campaign to Protect Rural Englan...
NFU spells out priorities ahead of 2015 General Election
A Government that understands farm businesses, wants agriculture to grow and has the policies that send the right signals to farmers, are the key mess...
HS2 addressing landowners concerns 'too late' - CLA
HS2 Ltd has attempted to address the concerns of landowners affected by the rail link by releasing revised plans of the proposed route. The Country...
Raymond to chair meeting on farmers affected by HS2
NFU President Meurig Raymond is chairing a meeting at NFU HQ on Friday for farmers affected by HS2 who have lodged a petition with the HS2 Select Comm...
Winter is coming: British weather set to become more unsettled
British winters are becoming increasingly volatile due to extreme variations in pressure over the North Atlantic according to scientists from the Univ...
Planning loophole causing glut of house building in the countryside
A new research paper from the Campaign to Protect Rural England (CPRE) published today shows that steep targets for the amount of land councils must a...
CLA attacks Clegg over coastal access
It was "extraordinary in a time of austerity" for the Government to plan to spend millions speeding up the coastal access process when most of the coa...
UK-wide interest in former dairy farm with a £2m price guide
Auctioneers Halls are reporting UK-wide interest in a beautifully situated, 161-acre former Shropshire dairy farm that is to be sold by public auction...
Court rules against anti-fracking protestors
No future anti-fracking demonstrations will be able to take place on farmland in Lancashire following a hearing at Manchester High Court. HHJ Hodg...
NFU urged Welsh Government over fly-tipping
NFU Cymru has welcomed the commitment from Welsh Government to tackle the issue of fly-tipping in its draft Strategy 'A Fly-tipping Free Wales'. In...
Livestock rustling boosts rise in cost of rural crime
The cost of rural theft rose in the UK in 2013, according to NFU Mutual. The results of the insurer's 2014 Rural Crime Survey show the value of items ...
Local knowledge critical to future water level management in Welsh lowlands
Natural Resources Wales (NRW)' Report, launched recently, is the first of its kind in Wales looking at the work authorities are conducting across Wale...
Farmers reminded of dangers of rail line crossings
With the re-opening of the Cambrian rail line between Harlech and Pwllheli to engineering trains earlier this month, which is to be followed shortly b...
Bill amendment aims to increase cycling rates
Six national organisations are today proposing an amendment to the Infrastructure Bill, which would arrest the decline in funding for healthy every da...
£30 million project set to reduce flood risk in Kent
More than 1,400 properties between Camber and Lydd will benefit as work begins on the Broomhill Sands Coastal Defence Scheme in Kent. The Environme...
Code of Practice effectively bans sky lanterns, CLA says
A new code of practice intended to ensure the responsible sale and safe use of sky lanterns fails to address the fact that lanterns carrying naked fla...
Government not respecting property rights over fracking, says CLA
The CLA has accused the Government of having too little regard for property rights and long-term liabilities to meet the demands of energy industry in...
Demand for arable land driving up farmland prices
Strong demand for arable land is fuelling the increase in farmland prices across the UK, according to estate agents Halls. Peter Willcock made the ...
Farmers warned after spate of farm fires
Farmers are being encouraged to be safe and vigilant as 25 farm fires have been reported in five weeks in Shropshire. The causes of the fires inclu...
Big judging weekend for starter farm tenants
This weekend coming four of Forestry Commission Scotland's starter farm tenants will be taking centre stage and judging on the agricultural circuit. ...
Farm accommodation 'could be affected by latest tax proposals'
The Office for Tax Simplification (OTS) has just published its final review of employee benefits. The OTS gives independent advice to Government on s...
Former dairy farm up for auction with £2m price guide
A beautifully situated 161-acre former Shropshire dairy farm with a five bedroomed farmhouse, extensive farm buildings and planning consent for three ...
AMC eases lending to diversified businesses
A change in the way the Agricultural Mortgage Corporation (AMC) considers loan proposals from landed estates is set to significantly improve the abili...
Farmers optimistic about expansion despite price falls
The majority of farmers are optimistic about future growth and are planning for expansion where possible, according to the second in a series of agric...
Landowner seeks landmark ruling in case of concealed development
A Winchester based fish farmer is challenging an Inspector's decision in a case which surrounds the landmark Supreme Court ruling in Welwyn Hatfield. ...
Upward forecast for UK farmland this year
Capital growth during the first half of the year has been strong for farmland, especially for the best quality and has exceeded our expectations. The ...
The importance of land supply - does the public understand the crisis?
The importance of residential land supply is a subject that divides opinion. There is clear evidence that demand is outstripping supply but at grass r...
Boris Johnson calls for landowner shale rights
Boris Johnson has entered the fracking debate with a proposal to change the law to give landowners the commercial rights to oil and gas beneath their ...
Countryside is undervalued, says trust
Rural and "opportunity" are words not often associated together, but with 5.5 million people employed in the rural economy, and domestic food and drin...
More pasture-fed producers wanted
The Pasture-Fed Livestock Association, which certifies farmers producing beef and lamb solely on pasture and conserved forage, is looking for more sup...
High levels of second home ownership causing 'rural housing crisis'
High levels of second home ownership, low wages and high prices are causing a 'rural housing crisis,' according to a new report. Rural areas face p...
Policymakers urged to value benefits of shooting in countryside
Policymakers are being urged to consider new research highlighting the benefits of shooting in the countryside. The Country Land and Business Assoc...
Want to buy a house in the country? The average worker will need a 150% pay rise
People living and working in the countryside are being pushed out, as house prices in rural areas soar, second homes lie empty and populations become ...
Stop hiding behind Hybrid Bill and negotiate with landowners, CLA says
Successful bio-diversity offsetting depends on HS2 Ltd's contact with landowners not proposals in the Hybrid Bill, according to the Country Land and B...
Maintenance of flood defences 'only a small part of flood prevention'
IAgrE is behind the Environment, Food and Rural Affairs Committee's report into the 2013-14 winter floods, launched today, that criticises the Governm...
Flood funding 'needs to recognise the value of agriculture'
Defra has been called to act on the recommendations of the Efra Select Committee's report into this winter's flooding which severely hit farmland acro...
Farmers share their experiences of high speed rail links
Farmers who'll be impacted by the proposed HS2 have visited Kent to see how the country's first high speed rail line has affected farm business. A ...
'Farm tax' could mean an end to farming as we know it, says CLA
A £500m farm tax proposal by the Labour Party would mean the end of farming as we know it, according to the Country Land and Business Association Pres...
Government investment in infrastructure 'needs to boost rural economy'
Proposals in the Queen's speech to bolster investment in infrastructure and reform planning law 'must also benefit the rural economy', the Country Lan...
Queen's speech shale gas proposals fail to address landowner concerns
Proposals in the Queen's speech yesterday to open up access to shale sites as part of the government's Infrastructure Bill fails to address the concer...
Farmers need reliable source of water to cope with dry years, as new report published
Cooperation between businesses, water companies and the government will be key to managing scarce water resources and securing future supplies, accord...
Rural property continues to generate impressive gains in 2013
Rural property continued to generate impressive returns for investors in 2013, according to the results of the IPD Rural Property Index for the year e...
'Don't leave it too late' to claim support, flood-hit farmers told
Flood hit farmers in England are encouraged to submit their applications to claim support from the Farming Recovery Fund into Defra before the 27 June...
New satellite broadband agreement is 'boost for farmers'
Avonline Broadband, one of the UK's largest satellite broadband provider, has announced an agreement with UK operator Avanti that has expanded its ran...
Unions voice family farm concerns
Farming unions have voiced their concerns for family farms ahead of both HS2 plans and new policies that will be adopted by the EU Parliament followin...
Farmers urged to act as HS2 deadline approaches
Farmers and growers are being urged to tell the Government exactly how they will be affected by the HS2 rail link as the deadline for petitioning the ...