Property News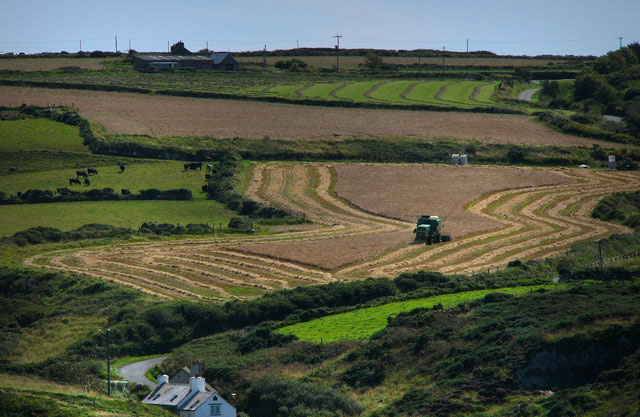 Rural economy recovers as last year's pessimism fades
The rural economy is firmly in recovery as growth has spread from non-farming businesses to the farming sector, according to the latest data from the ...
Climate change leading to scarcity of farmland, investors say
Climate change and depletion of agricultural land are the most important factors driving investment returns from farmland, according to new research b...
Holsworthy agri-business centre to open in Spring
The new £6 million Agri-Business Centre in Holsworthy, Torridge, is on track to open in the spring following the completion of the structure's steel f...
HS2 'fair and generous' compensation package 'ignored'
Former Transport Minister Simon Burns' assurances of 'fair and generous' compensation has been ignored in the Department's consultation for those affe...
HS2 compensation package fails to address blight on farming, says NFU
The NFU have submitted its evidence as part of the latest consultation into property compensation for those affected by the proposed HS2 high-speed ra...
New research shows increased investor appetite for farmland
A new research study has revealed that 23% of institutional investors are looking to increase their holdings in farmland over the next year and a furt...
'High interest' in Shropshire land and woodland auction
Auctioneers Halls have reported a high level of interest in six parcels of pastureland and woodland across Shropshire that will be going under the ham...
HS2 bill timescale could breach international law
Campaign to Protect Rural England has warned that the consultation timescale for the HS2 hybrid bill is likely to breach international law. Respon...
Reform of compulsory purchase system needed 'more than ever'
Immediate reform of the compulsory purchase system is needed following the first reading of the Hybrid Bill – a milestone for HS2, the Country Land an...
BTF Partnership offers over 150 acres for sale in East Sussex
BTF Partnership is currently offering for sale over 150 acres of land in a number of smaller parcels across East Sussex. Tim Crundwell, rural agenc...
RSPB livid over 'destruction of farmland'
The RSPB has sent a formal letter of complaint to Devon NHS bosses concerning the destruction of farmland near Exminster. The site, Hillcrest, is ...
NFU calls for thriving tenancy sector
A thriving tenanted land sector is absolutely central to growing successful farm businesses, said the NFU today. Speaking at the largest ever NFU ...
UK's first 'new generation' wind turbine installed on Cornish farm
The first of a new generation of farm-scale wind turbines has been installed on a farm at Liskeard in Cornwall where it will generate the equivalent ...
Union seeks clarification on LFASS
NFU Scotland has written to the European Commission, seeking clarification that the nation's Less Favoured Areas Support Scheme (LFASS) can be re-base...
HS2 compulsory purchase 'must be fair' as parliament debates Bill
The High Speed Rail Preparation Bill to be debated in parliament tomorrow must be fair to those facing compulsory purchase of their properties, the CL...
UK farmland prices 'continue to rise' during third quarter
There has been a 5% rise in farmland acres publicly marketed across Great Britain during the first three quarters of 2013, according to research. The ...
Coalition reforms putting countryside under 'unprecedented pressure'
In a major new report, the Campaign to Protect Rural England (CPRE) has gathered evidence from across England which reveals unprecedented pressure on ...
Tenant farming in the spotlight at national conference
The tenant farming sector will come under the spotlight next month at a national conference organised by the NFU. The NFU Tenant Farmers' Conferenc...
Government flood defences 'inadequately funded'
New Government plans to maintain waterways are inadequately funded, leave many areas vulnerable to flooding and do not address a number of critical qu...
'Planning proposals could help solve the rural housing crisis', says CLA
Government proposals to deregulate the planning laws will provide 'critically needed new housing' in rural areas, according to the Country Land and Bu...
Environment Agency budget cuts 'will increase flood risks'
A series of Environment Agency pilot studies on river maintenance will make it easier for farmers to maintain waterways, but reductions in the Agency'...
Farmers to hear of upland support from NFU speakers
Peak District farmers have the chance to hear about the future of upland support from two key speakers at their upland farming group meeting on 22 Oct...
Farmers support planning changes, says survey
Farmers are keen to make use of proposed changes that would allow them to turn farm buildings into residential ones without the need for a planning ap...
Farmers urged to prepare for new buildings legislation
Farmers Urged to Prepare for New Buildings Legislation Farmers planning new buildings on their land must ensure they are CE marked – or risk findin...
More of Wales may be included in provisional open access maps
Concern was expressed at a recent Brecon and Radnor NFU Cymru meeting with regard to more land in Wales potentially being included in the open access ...
Scrap metal victory 'will frustrate thieves'
Licensing laws introduced on Monday will make it tougher for thieves to dispose of stolen scrap metal, the CLA said. The Association said metal th...
Apprenticeship scheme aims to increase upland farm base
An apprenticeship scheme which aims to increase the upland farming skills base in the North York Moors has been granted £49,968 by The Prince's Countr...
Charity helps farms under pressure in the South West
A scheme in the South West which helps farmers under financial and other pressures has been given a grant of £25,000 by The Prince's Countryside Fund....
'No chance' of meeting 2015 rural broadband deadline, says CLA
The report on rural broadband delivery by the Commons' Public Accounts Select Committee confirms that the current system 'is a flop' and there is no c...
Maize performance more dependent on location
Maize growers should focus much more on choosing varieties for specific locations rather than using regional averages, suggest trials carried out by f...
Land managers encouraged to think big
A cross-boundary, cross-agency approach to large scale land management can improve Scotland's biodiversity and benefit the environment, communities an...
HS2 proposals 'not fair and generous', says CLA
The CLA today said the Department of Transport's proposed package of measures for HS2 compensation were simply not fair and generous. The Associati...
College farm opens its door to the public
Walford and North Shropshire College will be opening its doors to the public on Sunday 22nd September, with visitors able to view the farm's new milki...
Weather and increasing land values force farmers 'to rethink strategies'
The increase in values of agricultural estates along with the volatile weather that has affected the productivity of arable farmland over the past few...
Succession planning seminars aim to boost family business profits
Family-owned businesses across the South West could benefit from a series of specialised seminars designed to overcome common barriers to succession p...
Black Isle growers selected as new East Highland Monitor Farms
Black Isle growers Brian and Caroline Matheson from Ballicherry Farm in Balblair have been selected as the new Arable East Highland Monitor Farm in a ...
Consultation on HS2 bond scheme 'urgently needed,' says CLA
The CLA said today that a consultation on a property bond scheme for the HS2 high speed rail project is urgently needed to help landowners. CLA Pr...
Land owners warned of 'pitfalls' as values strengthen
Farmland continues to rise in value according to the Royal Institution of Chartered Surveyors (RICS) and, with a slow upswing in the economy, greater ...
Farmland in the south 'outstripping the national average'
Agricultural land prices in the south are outstripping the national average, with non-farming investors helping push the market along and to the south...
Time for farms 'to start thinking about auto-enrolment'
The dates for smaller employers to start planning for pensions auto-enrolment are closing in. Even for employers who already have a pension scheme, al...
The value of agricultural land
"Land is not made anymore," this was the clear message from NFU Cymru President, Ed Bailey, a beef and sheep farmer in Meirionnydd, on the eve of the ...
Green Belt 'under threat', says rural group
Newly published figures by Campaign to Protect Rural England show that over 150,000 houses are planned for Green Belt sites, an increase of 84% in a y...
Farmland prices expected to rise further
Farmland prices have increased over the course of a decade driven primarily by commercial demand and are expected to rise further, according The Royal...
Farmers win injunction over badger cull protesters
A High Court judge has granted the NFU and a number of other claimants an interim injunction to protect farmers in and around the pilot cull areas fro...
Remember to restore public rights of way - CLA
With a Bank Holiday approaching, CLA Midlands is reminding farmers busy with cultivation to ensure that rights of way on their land remain open and un...
Welsh farmers reminded of waste exemption changes
Welsh farmers are being reminded that they have until 1st October 2013 to re-register agricultural waste exemptions in the new system. Farm-based ...
Weed control strategy destroys weed seed at harvest
A long-term study in Australia offers a new weed control model for global agriculture. This mechanical method targets weed seeds during harvest, reduc...
FUW highlights rural crime plan at Merioneth County Show
North Wales Police and Crime Commissioner Winston Roddick will visit the Farmers' Union of Wales stand during next week's Merioneth County Show at Bal...
Block of Shropshire arable land for sale at £2.5m
A block of nearly 331 acres of fertile and productive Shropshire arable land and woodland is on the market with agents Halls for £2.5 million. Kyt...
More of Wales may be included in open access maps
Disappointment was expressed today at Anglesey show by the President of NFU Cymru that more land in Wales is potentially going to be included in the o...