Property News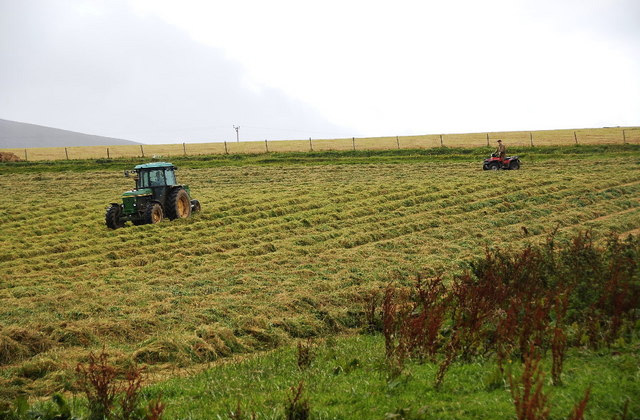 New employment allowance scheme to help farms
A new scheme has been introduced from 6 April 2014 that will help fund the cost of employing staff. Contained in the National Insurance Contributions ...
Farmland prices hit new heights
The value of English farmland continued to strengthen at the beginning of 2014, rising by almost 6.5% in the first three months, the first time prices...
Fly-tipping still a significant problem - NFU
The NFU is urging households who dispose of waste and rubbish, which ends up dumped on farmland, to take more responsibility or face the risk of prose...
HS2 property bond scheme refusal 'a major blow'
The Government's failure to provide a Property Bond Scheme for those affected by HS2 was a "major blow" for property owners, according to the Country ...
Mandatory landlord registration 'should be rejected'
The idea of mandatory landlord registration should be 'rejected by local authorities in England', the Country Land and Business Association has said. ...
Visitors see latest farm buildings at Agricultural Buildings Show
Keen interest in the continuing process of updating farm buildings, on all types of farm, ensured a positive turnout of farmers and sector specialists...
MPs back calls for more environmental protections for HS2
A committee of MPs have stressed that the government should impose greater environmental safeguards on the HS2 high speed rail link before continuing ...
New ideas emerge from NFU tenant roadshow
Fresh ideas on the Scottish tenanted sector have emerged at NFU Scotland roadshow meetings held in the past few weeks. The Union is on the road, me...
UK faces land-based skills shortages, says report
The UK faces significant employee and skills shortages in the agricultural and land-based industries over the next decade, according to a report launc...
Three blocks of Mid Wales farmland set for May auction
Three blocks of accommodation land in Mid Wales will be going under the hammer at a public auction next month. The auction has been organised by le...
NFU meets with Scottish minister over flooding issues
Exceptional rainfall and extreme tidal surges have been responsible for significant flooding of farmland and catastrophic breaches of flood defences i...
RPA inspectors reassure on flooded farms
The Rural Payments Agency (RPA) has announced that while farmers in flood affected areas may still be selected for cross compliance inspections this y...
Dredging begins on the River Parrett in Somerset
Dredging of one of the major rivers in the Somerset Moors and Levels has begun, the Environment Agency announced. Initial work on a 200-metre stret...
Severe winter storms could signal onset of climate change in UK
The UK was battered with the heaviest rainfall and most frequent severe gales on record this winter according to researchers at the University of East...
Don't end up on the wrong side of a 'right of way'
Rights of way have been in the news again. Barely a week seems to go by without landowners heading to the High Court, often spending hundreds of thou...
Badger colony repairs to cost £35,000 for Norfolk council
Work is underway by Norfolk County Council to repair long distance country paths damaged by badger cull colonies which is expected to cost £35,000. ...
New rules on residential barn conversions
Changes to the planning rules which will make it easier for farmers to convert barns to residential use, without specific planning permission, accordi...
Take advantage of rural planning changes, landowners urged
Rural land owners are being urged to act now to take full advantage of the latest changes to Rural Planning policy. Hosting a 'New Planning Opport...
HMRC to focus on landlords in latest tax crackdown
HMRC is ratcheting up its ongoing crackdown on tax evasion with its latest focus on landlords who let out residential property, whether at home or ove...
New awards celebrate farm wildlife success
The new Nottinghamshire Farm Environment Award launches today, run by NFU, jointly with Nottinghamshire Farming and Wildlife (NFW), the awards are des...
Union to meet with MPs to discuss land ownership report
As part of routine meetings, NFU Scotland will be meeting with a number of Scottish MPs next week when the findings of the Scottish Affairs Committee'...
North East land prices quietly creeping up
Land prices in the North East are 'gaining momentum' as opinion based prices of bare land are at approximately £7,000 with Knight Frank reporting an a...
Support for upland farmers 'major talking point' at NFU meeting
Support for upland farmers was a major talking point at the recent Meirionnydd NFU Cymru county meeting which was held in Fronolau, Tabor, Dolgellau. ...
£140m Flood and Coastal Risk Management funding
In the Budget, the Chancellor announced an additional £140m Flood and Coastal Risk Management funding over the next two years. This is in addition...
NFU meetings to discuss agricultural holdings
NFU Scotland has gone on the road to gather evidence through a number of meetings for tenant, owner-occupier and landlord members on the Agricultural ...
HS2 'failing landowners and the environment'
The CLA yesterday told the Environmental Audit Select Committee that HS2 Ltd had missed the opportunity to deliver a better environment. The organ...
Budget fails to benefit farms, says CLA
The Chancellor's budget speech fails to benefit unincorporated rural businesses such as farms, according to the Country Land and Business Association....
New HS2 report 'raises serious concerns', says NFU
The announcement by the new head of HS2 to fast-track the project has only increased the NFU's serious concerns over the route, raising further the ne...
Wet weather proves to be a perfect storm for worms this spring
With the UK in the grip of the wettest, wildest winter on record, game birds are prone to infection from an upsurge of parasitic worms that can hit th...
Farmers pilot new digital mapping service for RPA
Following successful small-scale initial trials, the Rural Payments Agency (RPA) is now rolling out to 1,000 farmers and agents the chance to test a n...
Property bond scheme 'will help landowners' with HS2
The CLA have responded to HS2 Ltd Chairman David Higgins' report by saying that extending the train route should be considered alongside the introduct...
Shropshire farm with equestrian link has £920,000 guide price
A 47.8-acre North Shropshire farm, which has been used mainly for equestrian purposes, is new on the property market with a guide price of £920,000. ...
£20,000 raised for Somerset farmer Flood victims
A staggering £20,000 has been raised by NFU Cymru Glamorgan members jointly with Glamorgan Young Farmers Clubs for the Somerset farmers who have been ...
Fastracs come to aid of flood hit farmers
The Environment Agency is spearheading massive flood relief efforts in the Somerset Levels with the help of a fleet of six JCB machines. Two of the Br...
New homes on farms 'not a done deal'
Farmers with redundant buildings are on track to gain the rights to convert them for residential use. Following national consultation, from 6 Apri...
Farmers alerted after muddy roads cause peak in accidents
Farmers and landowners have been issued advice on how to prevent excessive mud being left on roads, which can cause serious accidents. Prompted by ...
Living near brownfield land can damage health
People living near brownfield sites are significantly more likely to suffer from poor health than those living in areas with little or no brownfield l...
What are the consequences for livestock farmers after the floods?
With much of the UK having seen record levels of rainfall and extensive flooding of pastures and crops, James Ingles, Head of Agriculture at Barenbrug...
Land-based engineering industry at the forefront of apprenticeship reform
The Institution of Agricultural Engineers (IAgrE) has joined forces with a number of top UK companies and industry associations to collectively develo...
Flooding insurance claims 'to run into hundreds of millions'
As the flooding covering huge areas of farmland in the south of England and elsewhere caused by the record rainfall over the winter months recedes, fa...
Paterson announces plans to protect Somerset
Homes and businesses in Somerset will be better protected from the risk of flooding under a new action plan outlined by Environment Secretary Owen Pat...
Risk of flooding from groundwater remains
Water levels continue to fall on the Somerset Levels as the country's largest ever pumping operation continues, but one severe flood warning remains i...
Banking crisis may still impact farmland prices
The banking crisis may still have a further and unforeseen impact on the UK's farming industry, according to accountants. With news that the Co-ope...
Perthshire flooding 'underlines need for action plan' - NFU
The NFU has used a visit to a flood-hit farmer in Perthshire to renew its call for key stakeholders to get round the table and start planning to minim...
Farmland prices reach new highs
Farmland is proving more attractive to investors as prices rise almost 15% in the past year, according to new figures. The RICS Rural Land Market S...
HS2 underestimates impact on farm businesses, says NFU
Farming unions have claimed the HS2 Environmental Statement 'underestimates' the impact on farm businesses and agricultural operations. The Environ...
Government funds needed to address flood risks - NFU
The Government must review its flooding and coastal defence policies and commit more money into helping to reduce further risks to the British country...
'More clarity needed' on rural broadband funds, says CLA
The CLA today said more clarity is needed on an announcement by the Government of £250million for superfast broadband. CLA President Henry Robins...
£10m Farming Flood Recovery Fund to open on Friday
Farmers whose businesses have been directly affected by flooding will be able access £10 million of government support from Friday, Farming Minister G...
Receding flood waters pose new dangers, warn vets
Animal owners in flood-stricken areas should be aware of new dangers posed by receding flood waters, according to the British Veterinary Association. ...