Property News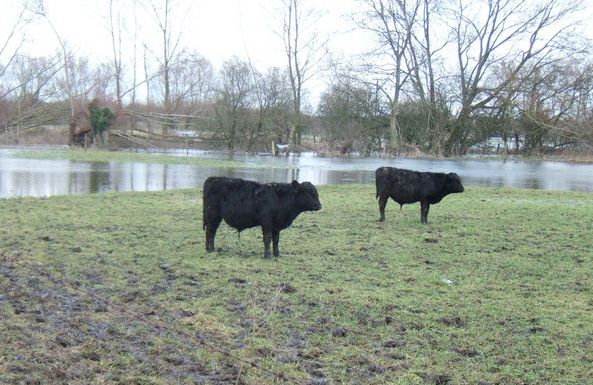 Living near brownfield land can damage health
People living near brownfield sites are significantly more likely to suffer from poor health than those living in areas with little or no brownfield l...
What are the consequences for livestock farmers after the floods?
With much of the UK having seen record levels of rainfall and extensive flooding of pastures and crops, James Ingles, Head of Agriculture at Barenbrug...
Land-based engineering industry at the forefront of apprenticeship reform
The Institution of Agricultural Engineers (IAgrE) has joined forces with a number of top UK companies and industry associations to collectively develo...
Flooding insurance claims 'to run into hundreds of millions'
As the flooding covering huge areas of farmland in the south of England and elsewhere caused by the record rainfall over the winter months recedes, fa...
Paterson announces plans to protect Somerset
Homes and businesses in Somerset will be better protected from the risk of flooding under a new action plan outlined by Environment Secretary Owen Pat...
Risk of flooding from groundwater remains
Water levels continue to fall on the Somerset Levels as the country's largest ever pumping operation continues, but one severe flood warning remains i...
Banking crisis may still impact farmland prices
The banking crisis may still have a further and unforeseen impact on the UK's farming industry, according to accountants. With news that the Co-ope...
Perthshire flooding 'underlines need for action plan' - NFU
The NFU has used a visit to a flood-hit farmer in Perthshire to renew its call for key stakeholders to get round the table and start planning to minim...
Farmland prices reach new highs
Farmland is proving more attractive to investors as prices rise almost 15% in the past year, according to new figures. The RICS Rural Land Market S...
HS2 underestimates impact on farm businesses, says NFU
Farming unions have claimed the HS2 Environmental Statement 'underestimates' the impact on farm businesses and agricultural operations. The Environ...
Government funds needed to address flood risks - NFU
The Government must review its flooding and coastal defence policies and commit more money into helping to reduce further risks to the British country...
'More clarity needed' on rural broadband funds, says CLA
The CLA today said more clarity is needed on an announcement by the Government of £250million for superfast broadband. CLA President Henry Robins...
£10m Farming Flood Recovery Fund to open on Friday
Farmers whose businesses have been directly affected by flooding will be able access £10 million of government support from Friday, Farming Minister G...
Receding flood waters pose new dangers, warn vets
Animal owners in flood-stricken areas should be aware of new dangers posed by receding flood waters, according to the British Veterinary Association. ...
River levels continue to fall across southern England
Two severe flood warnings remain in place on the Somerset Levels, whilst the country's largest-ever pumping operation continues in order to reduce flo...
CLA takes HS2 campaign to Westminster
The CLA today hosted a panel discussion in Parliament to discuss compensation arrangements for HS2, the issue of blight and a CLA - proposed property ...
Warning of hidden water contamination as floods subside
A warning that hidden dangers of floods contaminating private water supplies should not be ignored has been highlighted by a leading borehole company....
88 flood warnings still in place across England
Flood warnings are still in place across southern and central England and properties could remain flooded for some time. River levels are expected to ...
Views sought on £1bn investment plans for Welsh rural communities
Minister for Natural Resources and Food, Alun Davies, has today set out his views on how nearly £1bn of funding should be spent to strengthen Welsh fa...
Government rail plans fail to consider flooding, say CPRE
Government draft plans for transporting infrastructure fails to consider the threat to existing transport networks from flooding, according to Campaig...
Flood warnings remain but river levels set to fall slowly
River levels are expected to remain high for several more days, especially along the Thames and Severn, but levels are starting to gradually fall this...
Lower farm incomes contributing to 'unprecedented pressures'
Plummeting farm incomes coupled with extreme weather events and structural change through CAP reform are contributing to 'unprecedented pressures on f...
Glamorgan NFU hold fundraising event for Somerset flood victims
A fundraising event has been organised by Glamorgan NFU and YFC to raise money for the farmers in Somerset affected by the floods. "The purpose of ...
Livestock farmers facing 'unprecedented threat' due to mild winter
Livestock farmers throughout Scotland and Northern England are facing an 'unprecedented threat' to their livelihood due to the extremely mild winter s...
Country tourism sees drop in enquiries
Media reports of flooding and gale force winds are essential to keep the country updated on the weather situation but up and down the country tourism ...
Review of watercourse management needed, says NFU
NFU Scotland has written to the Scottish Government and SEPA calling for a high level meeting to discuss watercourse management following significant ...
Chesterton Humberts to split into two companies
Chesterton Global Ltd, the owner of international property consultancy and estate agency Chesterton Humberts has announced that it will be de-merging ...
Union meets with local MSPs to inspect flooding damage
Representatives from NFU Scotland joined with local MSPs and councillors in East Ayrshire to examine the damage caused by recent flooding to farmland ...
Halls sell North Shropshire farm with £1.75m price guide
The sale of a versatile 165-acre livestock and arable farm in rural North Shropshire, which had a guide price of £1.75 million, has been completed by ...
Farmers warned by RIDBA to respect the CE Mark
After July 1st farmers need to be extra vigilant about their new buildings, according to RIDBA. A new regulation which could have far-reaching effe...
Flood management needs cross-party support, says expert
Flood management needs long-term planning and cross-party political support to succeed, according to a Durham University expert. Dr Nicholas Odoni,...
Emergency fund set up for flood-stricken farmers
An emergency fund has been set up by Hitachi Capital to support flood stricken farmers in meeting unforeseen costs. "The feedback from our approved...
Beware tax burden on planning uplift
Landowners are increasingly benefiting from development uplift in land values – but must plan carefully to avoid hefty tax bills. "The past 18 mont...
HS2 inquiry 'must balance land take with environment'
The organisation said it recognises that environmental mitigation is required, but questions the scale and the excessive land take that is detailed wi...
Financial and fodder support needed for Somerset farmers
Chris Mallon, Chief Executive of the National Beef Association, has received many telephone calls asking for information about the cattle on the Somer...
NFU President Peter Kendall outlines flooding concerns
Following a visit to flood-hit areas of Somerset, Gloucestershire and Oxfordshire, NFU President Peter Kendall has said Britain needs more resilient a...
Bridgwater rest centre opened for flood evacuated
A Bridgwater rest centre is now up and running for the people evacuated from flooded areas of the Somerset Levels. Westfield Church, West Street,...
Plaid Cymru secures commitment on farmland flooding
Plaid Cymru calls to give farmers a stronger role in maintaining rivers and tackling farmland flooding in Wales were boosted today when the Minister f...
Rural fast-track planning court 'threatens local democracy'
Plans that would limit the ability of communities to challenge developments in the countryside are expected to be unveiled tomorrow as part of the Cri...
Lessons must be learned from severe flooding - NFU
Government must learn important lessons from the severe flooding that is continuing to damage many rural communities not just in Somerset but across t...
Review flood management, CLA urges after 'wettest January'
Flood management must be looked at urgently according to the Country Land and Business Association following Environment Agency Chairman Lord Smith's ...
Wettest January for 250 years, observers say
Weather observers at the University of Oxford have confirmed that January 2014 was the wettest since their records began in the 1760s. The Universi...
HS2 fails to consider whether farm businesses can survive
The CLA responded to the HS2 route consultation covering the Phase Two tracks from Birmingham to Manchester and Leeds saying the increasing land grab ...
Survey shows need for better rural mobile coverage
A campaign to assess mobile coverage in rural areas will help agricultural purchasing group Anglia Farmers (AF) to push for signal improvements. Th...
Queen's agricultural investment reaches £19m
The Duchy of Lancaster, which manages the monarch's portfolio of land investments, has announced the purchase of 560 acres of land comprising Quadring...
Largest pumping operation ever as Somerset experiences biggest flood
Flood warnings remain in force for south west and southern England. Heavy showers could cause further flooding in south west and southern England thro...
PM right to slash rural red tape - CLA
Moves by the Prime Minister to radically reform the regulations that govern the rural economy have been welcomed by farming unions. The Country La...
Warehouse investment increased 50% in 2013
2013 was a record year for distribution warehouse investment with approximately £2.5 billion transacted, which is an increase of nearly 50% on 2012, a...
Defra urged to back moorland farmers
The CLA has stressed its support for boosting payments under CAP reform on land areas designated as moorland. The organisation said taking a small...
HS2 statement 'ignores the impact on landowners'
The extension of the HS2 Environmental Statement response deadline 'allows more time for its consideration', according to the Country Land and Busines...