Property News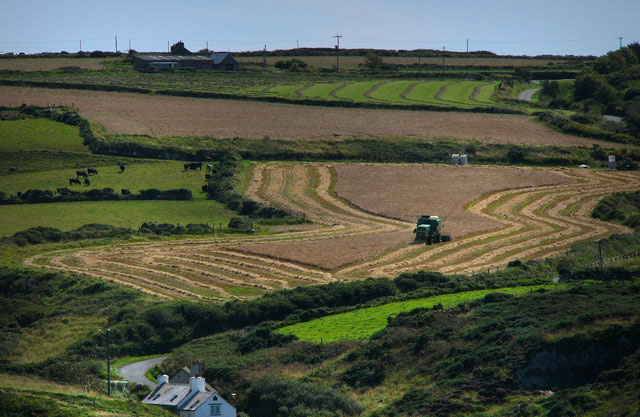 Landowners should fight 'unfair' HS2, CLA says
The Country Land and Business Association is asking rural landowners to use the HS2 Draft Environmental Statement consultation to highlight the devast...
Farming delivers environmental positives amid report, says NFU
UK nature is in trouble according to a report published today by a coalition of leading conservation and research organisations. Scientists working si...
Scottish farmers urged to take up weather aid
Struggling Scottish farmers are being urged to take up the Scottish Government's offer of assistance when the Weather Aid scheme opens for application...
Union encouraged by land reform interim report
The NFU said it was 'encouraged' by the interim report produced by the Land Reform Review Group (LRRG)for land management and opportunities for local ...
New generation on rural development study leave
NFU Scotland's New Generation group is heading to Wales to see if the Welsh New Entrant/Young Farmer model could be adopted as part of Scotland's futu...
Most extreme projections of global warming 'less likely'
A new study led by Oxford University concludes that the latest observations of the climate system's response to rising greenhouse gas levels are consi...
CLA says more red tape will mean fewer homes to rent
The CLA has warned the Government that extra regulations on landlords could lead to a housing shortfall in the private rented sector. Giving eviden...
Path bridge inspections are 'vital and should be routine'
As the countryside makes ready for summer visitors, Smiths Gore is advising farmers and landowners that they should be mindful of their duty of care o...
Redundant farm buildings could become cash cows
Further details of planning regulations have been unveiled which aim to benefit struggling farmers by allowing easier conversion of redundant farm bui...
Fisher German hunts for 'not spots'
The government has just announced that Arqiva has won the £150 million contract to improve mobile coverage in "not spots" across England, Scotland, Wa...
West Sussex estate comes to the market after 50 years in the same family
An attractive country estate set in 348 acres of West Sussex countryside has just come to the market with selling agents Henry Adams. Tye Oak Farmhou...
Financial support available to snow-hit farmers
We are still waiting for confirmation on the finer details of the support packages, but here is the latest information as it stands to date: Englan...
Insecticide restrictions 'will have a catastrophic impact'
The decision on Monday to introduce EU-wide restrictions on neonicotinoid insecticides linked to bee decline is 'likely to have catastrophic impacts f...
New funding to target water pollution in South Downs
£80,000 is being invested in identifying and tackling water pollution in the South Downs National Park thanks to a partnership between the South Downs...
Unlock potential of smallholders to combat hunger, report says
The single most important thing governments can do to end global hunger is to support the millions of women farming tiny plots of land in developing c...
Mega farm fears threatening UK livestock production
Growing urbanisation of the British countryside is threatening national food production, says the National Pig Association. There are concerns tha...
A breath of fresh air
Diane Symes, Chair of the AHDB Education Group, shares her passion for teaching children about food, farming and health eating. It's my passion - ...
Indirect land use change proposal 'a blow'
A proposal to reduce the market size for biofuel production in Europe will damage farmer confidence and reduce the incentive to produce for food, feed...
MPs to meet farmers to discuss future
On Tuesday April 16th the All Party Parliamentary Group on Agroecology will be hosting an event in Parliament bringing together an array of farmers so...
Farm groups call for livestock burial extension
The Country Land and Business Association has called for the temporary exemption for burying livestock perished by the recent extreme weather conditio...
Dog scheme hopes to reduce livestock attacks
A prolonged wet winter and an unseasonably cold start to 2013 has left many farmers facing significant financial problems and now, with the lambing se...
Livestock burial relaxation 'a slight help'
A relaxation of a strict EU rule will allow farmers in Wales to bury their dead animals after they perished in recent extreme weather conditions. S...
Snow-hit farmers urge government for financial support
The National Farmers' Union has called on the Scottish Government to consider a financial support package for those affected by recent bad weather con...
Prince urges support for countryside communities
During a visit to a Land Rover driver-training programme, the Prince of Wales highlighted the urgent need to help Britain's rural economy and called f...
Rural careers 'inadequate' for young people, says report
The countryside offers inadequate career opportunities for young people, according to a report released today. The findings from NFU Mutual's Count...
Ofgem scores own goal over landlords, says CLA
The CLA has urged the Department for Energy and Climate Change (DECC) to change new guidance which could see landlords having to move into their renta...
'Incredible' trade reported at auction as Shrewsbury land sells
An 'incredible' trade was reported by auctioneers Halls as 48 acres of pastureland near Shrewsbury sold for £12,300 an acre at the first property auct...
Sheep and cattle perishing in freeze
Unseasonable snow and icy conditions are causing thousands of sheep and cattle to perish along with added fears of disruptions in feed and fuel delive...
Scottish farmers battling 'worst March weather on record'
Farmers in Dumfries and Galloway and parts of Argyll and the Islands are battling through some of the worst March weather on record. Heavy drifting...
£5 million to support flood defence schemes
Thirteen communities across the country will benefit from a £5 million fund to come up with innovative projects that will better protect homes and bus...
Abandoned horses 'causing concern for farmers'
More and more horses are being abandoned on farms and common land causing concern for farmers, according to the National Farmers' Union. "The issu...
Defra announces third round of rural broadband fund
Businesses and homes in England's remotest spots could benefit from superfast internet as the third round of the £20m Rural Community Broadband Fund o...
Wet soils create complex soil pest and disease challenge
Potato crops could be in greater danger of PCN attack this season, if soil sampling has failed to identify existing populations and impending risk. ...
Farmers urged to have their say in upland support reviews
Hill farms in the Lake District, Bowland Forest and Peak District National Park in East Cheshire will mostly be classified as being in a Less Favourab...
Bargain Hunt star opens Halls' new auction headquarters
Celebrity antiques expert Tim Wonnacott opened Halls' new headquarters and fine art salerooms in Shrewsbury on Friday. Around 400 guests attended t...
Government to consult on HS2 compensation
The Government is to re-open its consultation on property compensation as part of the planned new high speed rail link, following a ruling at the High...
Key CAP vote ends as MEPs back mandatory 'greening'
The European Parliament has backed plans to cap direct payments and made 'greening' measures mandatory as Wednesday's voting session ends. "Today w...
Figures reveal farm theft increases
Farmers are being warned to review their security following a sharp rise in tractor and quad bike thefts, according to figures. The value of tracto...
Mass cull 'not the answer' says deer group
The call for a nationwide cull of half the UK's deer population following the publication of a report by the University of East Anglia has been brande...
Legal agreement made to protect iconic chalk river
Wildlife along the river Darent – one of England's iconic chalk rivers – will be safeguarded in the after a legal agreement came into force in Februar...
New solutions needed to pay for conservation
The Country Land and Business Association (CLA) has urged the government to find new ways to pay for looking after the natural environment. It said...
Calls for budget increases to combat flooding
Farmers have called for a 'more effective partnership' between government and the Environment Agency to help protect high value land from flooding. ...
Rising farm values increase pressure to reveal risks
The rising price of farm and agricultural land has increased pressure to reveal the environmental risks associated with it, according to research. ...
Duke's estate in 'aggressive' approach to rent increases
The Tenant Farmers Association has expressed concerns over reports from Ralph Percy, Duke of Northumberland's estate of an 'aggressive' approach being...
Farmer diversifies ready for CAP reform
A Meirionnydd farmer has gone the extra mile to ensure he is financially prepared to deal with a possible cut in his single farm payment following CAP...
EU farm reforms as voted by the Committee
Agriculture Committee MEPs set out their position on EU farm policy reform in texts voted on Wednesday and Thursday, after more than a year's worth of...
Farmers set for redundant buildings boost
Struggling farmers have been handed a boost after new planning regulations were introduced that could see redundant farm buildings converted into cash...
Bee population at risk over EU cuts
An already declining bee population could be dealt further blows if cuts to greener farming projects are made at the EU summit. EU leaders are meet...
Roalan announces 3G broadband service for rural areas
Data communication specialists Roalan have announced 3G broadband servers for customers unable to get a faster connection due to their location. Th...
Less Favoured Area designation in the spotlight after 40 years
Farmers are being urged to take part in a new government consultation on the way Less Favoured Areas (LFAs) are designated or risk having their land c...