Renewable Energy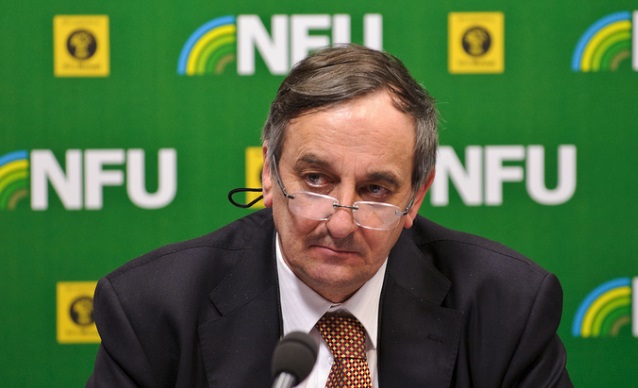 Farming delivers environmental positives amid report, says NFU
UK nature is in trouble according to a report published today by a coalition of leading conservation and research organisations. Scientists working si...
Defra and DECC review EU action on climate change
Businesses and organisations are being asked for their views on European Union policies to find out whether being a part of the EU helps or hinders th...
Most extreme projections of global warming 'less likely'
A new study led by Oxford University concludes that the latest observations of the climate system's response to rising greenhouse gas levels are consi...
Biomass & Farming Businesses host Business Secretary
Secretary of State for Business, Innovation and Skills Vince Cable MP and Secretary of State for Scotland Michael Moore MP visited a growing farm-base...
Milions of UK Solar Construction projects put at risk by EU levy
Solar companies are reporting that millions of pounds worth of UK projects are being put at risk due to an EU trade levy of between 40% & 70% which it...
Strong signals of support continue, but EU 2020 target unlikely to be met
The continued slow pace of new investments in renewable energy around the world seen in Q1 this year, masks some strong signals of support according t...
Gaia-Wind doubles market at a stroke
The UK's leading small wind turbine manufacturer today announced the roll out of a Single Phase connection option for its hugely successful 133 model....
Inazin brings online 23MW of solar power in four weeks
Inazin Power Ltd, a leading developer of large scale solar parks in the UK, has successfully developed and managed the build and connection of 23 MW o...
Strathclyde researchers developing new turbine systems
Researchers at the University of Strathclyde are working with Scotland's fastest growing private firm, energy company Gaia-Wind, to develop new wind t...
Researchers developing climate change resilient crops
Researchers at the University of Bolton have made a molecular-level discovery in plants that could lead to the development of crops that are more resi...
Gaia-Wind in major UK sales shakeup
UK small wind turbine manufacturer Gaia-Wind today announced a major expansion of their UK sales and distribution network which will extend customer ...
Fracking 'not a significant' cause of earthquakes, says research
A new study of hundreds of thousands of hydraulic fracturing (or "fracking") operations has found that the process has only caused earth tremors that ...
Government must prevent wasted opportunities says CIWEM
The government's 'zero waste' economy objective has been described as 'desirable but unrealistic' by the Chartered Institution of Water and Environmen...
Importance of renewables in the spotlight for young farmers
Young poultry producers from across the UK have been out-and-about learning about how renewable energy can make a positive difference to their busines...
Environmental groups 'alarmed' at curriculum changes
Climate change is expected to be dropped from the English curriculum for under 14-year olds which has been described by environmental groups as 'alarm...
Environment institute criticises Osborne's fracking pledges
The Chartered Institution of Water & Environmental Management has criticised George Osborne's promise of tax breaks for the gas industry. CIWEM sai...
Nature conservation review to begin, Benyon announces
A triennial review of the Joint Nature Conservation Committee (JNCC) starts today, Environment Minister, Richard Benyon announced. The JNCC provide...
Feed is contributing to climate change, says crop expert
European agriculture's reliance on imported protein for use in livestock feeds is environmentally detrimental, not to mention expensive. The EU imp...
New solutions needed to pay for conservation
The Country Land and Business Association (CLA) has urged the government to find new ways to pay for looking after the natural environment. It said...
Solar tariffs revealed as PV market stabilises
Official figures for November, December and January show that 50 MW of domestic PV (0-10 kW), less than 9 MW of small-medium projects (10-50 kW), plus...
Wood fuel boiler targets zero carbon goal
A wood fuel boiler is firing leading green campaigners towards a zero carbon goal. With its new biomass system, the Lake District National Park Aut...
Gaia-Wind praises Chancellor's windfall for turbine buyers
Farms and rural businesses with renewables in mind have been given a quarter million pound window of opportunity over the next two years. Businesses w...
Renewable energy offers lifeline for struggling farmers
Record levels of interest are being reported in renewable energy as a source of income among farmers struggling financially. In a year that saw cro...
Dairy farm steps up banker education programme
A Wiltshire dairy farm is stepping up its campaign to help the banking industry make agricultural investment decisions. Stowell Farms in Pewsey sec...
Hydropower and geothermal growth slows
Although the global consumption and installed capacity of hydropower and geothermal technologieshave increased steadily since 2003, both types of ener...
Solar for farmers: What are the financial returns?
Farmers have taken up solar technology as they know is wonderful asset for any business it reduces your energy bills greatly, creates you an income fo...
'Greener revolution needed in agriculture'
A 'greener revolution' is needed in agriculture according to Bayer CropScience's new CEO Liam Condon, to increase productivity and sustainability. ...
Marginal Areas can Drive Farm Profitability
The Government and farmers must do more to unlock the potential of marginal areas in the UK, it has been claimed. Anaerobic digestion (AD) speciali...
Global consumption of coal and gas grows
Although oil remains the world's leading energy source, coal and natural gas continue to grow in significance, according to new research conducted by ...
Evidence secures savings for horticulture industry
New climate change levy agreements agreed by the government sare set to save the protected horticulture industry an estimated £22 million. The Farm...
Heavy investment in gas 'risky' says CIWEM
A low carbon economy and investment in gas should not come at the expense of renewable investment according to the Chartered Institution of Water and ...
EPA awards $700k to college sustainable design teams
Today the U.S. Environmental Protection Agency (EPA) awarded grants to 45 college teams in phase I of its People, Prosperity and the Planet (P3) annua...
Bioethanol and biodiesel 'crucial' to meeting energy needs
Biodiesel and bioethanol markets are crucial to meeting future energy needs according to the NFU. The news follows a series of meetings between bio...
Farm tenants express anger over green energy schemes
Farm tenants have called on local authorities to work with them in the development of renewable energy schemes. Concerns have been raised by the te...
Human intervention must 'protect countryside' says minister
Human intervention is the 'only way we are going to protect the countryside' said Natural Environment and Fisheries Minister Richard Benyon. Speaki...
DirectDrive transmission 'sets benchmark for fuel efficiency'
Following an extensive road test conducted by technical experts from the Schleswig Holstein Chamber of Agriculture in Germany on behalf of John Deere,...
Hive announces solar parks completion
Hive Energy, a developer of solar parks, announced that it has completed the pre-construction development of nine new solar parks with a total output ...
Agriculture 'in good position' to meet greenhouse targets
Agriculture is in a good position to meet its greenhouse gas emission reduction targets of three million tonnes of CO2 equivalent by 2020. The new...
Landowners warned over renewable development payments
Landowners looking to develop renewables projects on their land must be aware that there could be overage clauses affecting their land. If the lan...
Sustainable farming experts call for change
Bold changes are needed to the way food is produced is we are able to continue feeding the world, according to experts at LEAF (Linking Environment an...
Leading experts urge early renewable advice
Rural businesses and landowners can play a major part in achieving government targets for renewable energy and gain significant rewards, but without t...
Climate related migration 'short distance, not international'
Recent reports, as well as extreme weather events such as Superstorm Sandy, suggest that climate change, and particularly sea-level rise, may be occur...
Meeting leads to progress on internal drainage issues
NFU members have had a meeting with Dafydd Roberts, the Environment Agency's project manager for Internal Drainage Districts (IDD) who will identify t...
Scottish turbine Delivers 200,000 kWh at Danish farm
Scottish based farm scale wind turbine manufacturer Gaia-Wind this week looked back to their Danish roots as Esther Bukholt and Ole Nielsen's turbine ...
Renewable energy projects generate £200m a year in Scotland
Small-scale renewable energy projects in Scotland, including wind turbines, could be generating £200m worth of power a year, latest estimates suggest....
Fracking should proceed 'with caution' warns CIWEM
The government should proceed with caution over fracking warns the Chartered Institution of Water and Environmental Management (CIWEM), in its new pol...
Sustainable palm oil to be used by 2015
By the end of 2015 all palm oil used in central Government food and catering services will come from environmentally friendly sources, Environment Min...
EnviTec completes three farm AD projects in the South East
Three farms in the South East are now producing their own electricity and exporting the surplus to the grid. EnviTec Biogas has completed the anaer...
Economic degrowth offers alternative to overconsumption
If everyone lived like the average American, according to the Global Footprint Network, the Earth could sustain only 1.7 billion people - a quarter of...
European changes to biofuel policies are 'ill-conceived', says NFU
The NFU is calling on the EU to forge joined-up policies that support both the production of food and renewable fuel after the European Commission pro...