Renewable Energy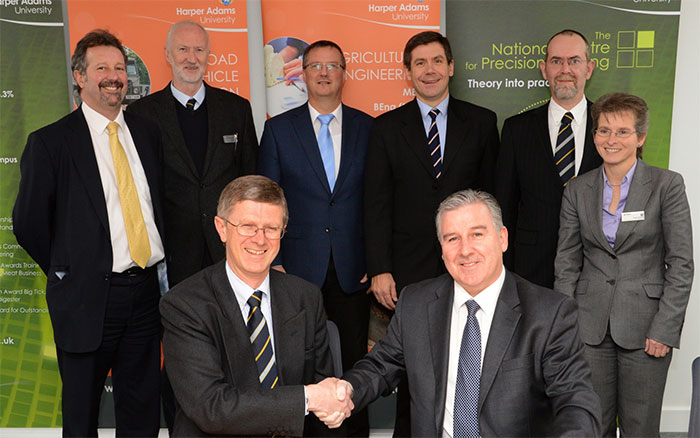 Electric technology could transform agriculture, partnership announces
Researchers at Harper Adams University have partnered with global engineering experts GKN Land Systems to explore how electric technology could transf...
Solar planning permission 'gives encouraging' lessons for farmers
One of the UK's largest solar farm project received planning consent last week. The positive public reaction, added to the fact that planning permissi...
Government support for solar and wind projects remains, says Old Mill
Recent news that the government is to cut support for solar and onshore wind projects should not deter farmers from investing in the renewable technol...
Solar farms: A taxing problem for farmers?
With Developer RWE Innogy shelving plans for the 240-turbine Atlantic Array project in the Bristol Channel, there is likely to be even greater interes...
Crail family farm powers ahead with WTN turbine
A family farm in Crail, Fife has just become the new owner of the third WTN turbine to be installed in Scotland joining the 12 others currently operat...
Growth will be green and UK should lead - Huhne
Speaking at the ADBA National Conference in Westminster, former Secretary of State for Energy Chris Huhne told delegates: "Let's knock on the head the...
NFU calls for UK backing on £700million biofuels industry
An NFU delegation will call for the UK government to back the biofuels industry, worth an estimated £700 million at the farm gate, when it meets with ...
Lobbying victory offers lifeline to on-farm AD
News that the Government will launch a review of Feed-in Tariffs (FIT) for small scale anaerobic digestion (AD) in January has been described as a pos...
Dairy farm milks savings from solar
A Devon dairy farm is milking healthy energy savings after having a large solar panel system fitted onto a barn roof. Reeves and Partner dairy farm...
Global carbon emissions set to reach record 36bn tonnes in 2013
Global emissions of carbon dioxide from burning fossil fuels are set to rise again in 2013, reaching a record high of 36 billion tonnes - according to...
Website launched to help farmers through the maze of regulation
Here at 360 Environmental we are an independent team of waste management and environmental experts that specialise in helping farmers understand and c...
Creating simpler, cheaper solar cells
Over the last four years, solar cells made from materials called perovskites have reached efficiencies that other technologies took decades to achieve...
The Biogas combi that seeks to make it easier for farmers
The simple but highly effective ComBigaS approach to AD is proving that very notable biogas yields can be achieved, even when your raison d'être was b...
Local farmer hosts green energy event
Cornwall farmer Matthew Rowe who has installed the UK's most advanced wind turbine on his Liskeard dairy farm is hosting an open day for the benefit o...
Chickens to benefit from biofuels bonanza
Chickens could be the unexpected beneficiaries of the growing biofuels industry, feeding on proteins retrieved from the fermenters used to brew bioeth...
Next Step in Gaia-Wind UK Wide Expansion " A Great Success".
Leading UK farm scale wind turbine manufacturer Gaia-Wind has taken a major step in their programme to expand their UK sales and distribution network ...
U-turn throws renewables into turmoil, says CLA
The 'political wrangling' over green energy policy has created uncertainty in the industry and is damaging for future investment, according to the Cou...
UK's first 'new generation' wind turbine installed on Cornish farm
The first of a new generation of farm-scale wind turbines has been installed on a farm at Liskeard in Cornwall where it will generate the equivalent ...
AIC welcomes FAO report on livestock production and climate change
The Agricultural Industries Confederation, which recently launched the Feed Adviser Register (FAR) welcomes a new global report that highlights how bo...
EnviTec Biogas reports record numbers at Nextgen 2013
Farmers and landowners are becoming increasingly aware of the range of options to produce renewable energy on their sites, according to feedback from ...
Wind, wood and sun at North East Renewables Night
NFU Scotland is hosting a 'Windy, Sunny and Woody' evening in the North East next week, as farmers get a chance to hear about some of the many renewab...
Norvento gets fit for the UK Wind Market
Spanish renewable energy developer and manufacturer launches a revolutionary 100kW turbine to the UK market (nED 100) and outlines twelve-month develo...
Topling Director named Green Energy Farmer of the Year
Topling Ltd co-founder and Director John Seed has been named the Green Energy Farmer of the Year at a gala event at the Grosvenor House Hotel in Londo...
Organic farming contributes to climate change mitigation
The results of a new meta-analysis published in the Science of the Total Environment journal 1reveal that organically farmed lands emit less nitrous o...
Solar wind – the next renewable breakthrough?
A pioneering new service for renewable energy developers and wind farm owners is being launched by environmental and engineering consultancy Wardell A...
Biogas launches new compact plant at Nextgen 2013
EnviTec Biogas UK will be showcasing its new anaerobic digestion (AD) compact unit, which delivers the company's renowned quality in a compact design,...
Major cuts of greenhouse gas emissions from livestock within reach
Greenhouse gas emissions by the livestock sector could be cut by as much as 30 percent through the wider use of existing best practices and technologi...
Farming is part of the climate change solution, says NFU
Farmers in Britain are already providing part of the solution to the growing threat of climate change, with agriculture set to meet its greenhouse gas...
FUW conference embraces technology and research
Advances in technology and research to show how they can help run a business effectively and make life easier for those working in agriculture will be...
FarmingUK Renewable Energy Special 2013
FarmingUK's special renewable energy digital magazine has gone live today! In this one off publication, you can learn about how renewable energy pr...
Senior Environment Adviser to address local NFU members
Nichola Salter, Senior Environment Adviser, Natural Resources Wales will be addressing members at the next NFU Cymru Brecon and Radnor county meeting ...
Gaia-Wind Cook up "Self Raising Tower"
World leading farm scale wind turbine manufacturer Gaia-Wind today announced the introduction of the "Self Raising Tower". The new hinged and motorise...
Shale Gas: lack of information means fear of unknown
Nick Herbert, MP for Arundel and South Downs, has highlighted increasing concerns in rural England about the impact fracking may have on our matchless...
Managed estates urged to grow revenues with anaerobic digestion
Estate owners are being urged to target income from anaerobic digestion (AD) as tenancies are renegotiated and amalgamated. EnviTec Biogas UK belie...
Whitefield Farm harvests power from the sun to bring fresh milk
Norcroft Energy, Yorkshire's Electrical and Renewable Energy Specialists, has just completed a solar panel installation at Whitefield Farm near Penist...
Government urged to back Royal Welsh renewable energy drive
The Welsh First Minister and the Welsh Government have been urged to support the Royal Welsh Agricultural Society in their attempts to develop renewab...
Climate change report 'presents opportunities'
A Committee on Climate Change (CCC) report presents opportunities for paying land managers for maintaining carbon levels, according to CLA President H...
First UK-made turbine switched on by Tonga PM
The wind turbine was dispatched to the South Pacific island kingdom earlier this year, by Scottish Secretary Michael Moore who said: "As I witnessed f...
Bioenergy production 'must use resources more efficiently'
Bioenergy production should follow EU resource efficiency principles. This means extracting more energy from the same material input, and avoiding neg...
CAP Reform and Crop Diversity Can be Springboard for Growth
Linking CAP payments to crop diversity represents a growth opportunity for farmers, according to anaerobic digestion (AD) specialist EnviTec Biogas UK...
Krone baler shows biomass benefits
A trial on a Scottish farm as part of the commissioning process for a new biomass boiler has shown the benefits of creating high density bales using a...
FUW leader praises farming family's inspiring achievements
How a small scale wind turbine provides valuable extra income for a farm on the southern slopes of Cader Idris in Meirionnydd while also making it sel...
Uralchem presents new solar product line
URALCHEM, the second largest ammonium nitrate producer in the world is using its traditional participation in the leading technical event for the UK a...
UK farm completes one of the largest solar installations
Infinite Energy, a Commercial Solar PV specialist has recently completed one of the largest roof mounted agricultural solar PV installations in the UK...
Bettaland is shining example of sustainable business
Spalding's peat-free nursery Bettaland celebrated its 10th anniversary, with former Energy Minister John Hayes MP formally opening its award-winning g...
Farming delivers environmental positives amid report, says NFU
UK nature is in trouble according to a report published today by a coalition of leading conservation and research organisations. Scientists working si...
Defra and DECC review EU action on climate change
Businesses and organisations are being asked for their views on European Union policies to find out whether being a part of the EU helps or hinders th...
Most extreme projections of global warming 'less likely'
A new study led by Oxford University concludes that the latest observations of the climate system's response to rising greenhouse gas levels are consi...
Biomass & Farming Businesses host Business Secretary
Secretary of State for Business, Innovation and Skills Vince Cable MP and Secretary of State for Scotland Michael Moore MP visited a growing farm-base...
Milions of UK Solar Construction projects put at risk by EU levy
Solar companies are reporting that millions of pounds worth of UK projects are being put at risk due to an EU trade levy of between 40% & 70% which it...