Renewable Energy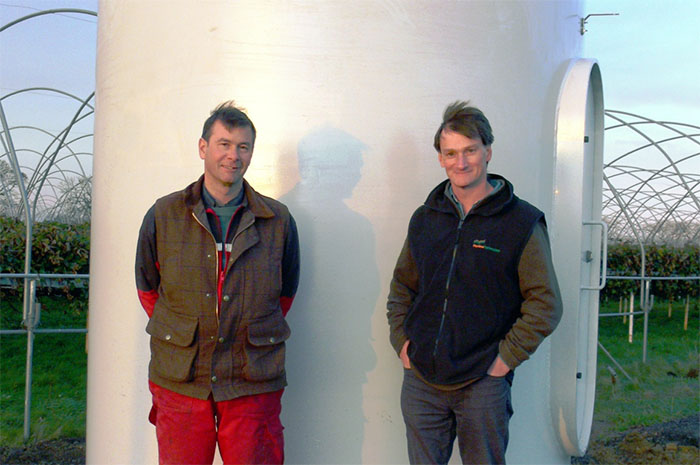 Suppliers announced for pioneering solar project
A revolutionary solar project in Somerset is poised to bring £1.5m to £2m of investment into the county over the coming months, as the project owners ...
CLA relieved at government renewable heat offer
The CLA today expressed relief over the Government's offer of support for renewable heat by honouring the commitment for the Renewable Heat Ince...
PepsiCo unveil carbon reduction plans
PepsiCo UK and Ireland has today announced plans to cut carbon emissions and water usage across the farming of its core crops in the UK by 50% over th...
Delegation visit N Ireland to learn green energy
Pioneers in the recycling of organic effluents and sludges using short rotation willow coppice plantations, Rural Generation, are playing host this we...
Turbine sales soar in the north
FIVE years ago ex-army engineer, Alan Cameron, installed wind and solar power on his 36ft river cruiser, today he's taking a raft of orders for ...
BPI honoured with green award
Greenock based British Polythene Industries, Europe's largest recycler of polythene film, was announced last night (30 Sept) as the winner of th...
Companies looking for solar enerhy in Shropshire
The drive for renewable energy generation is leading power companies to survey south facing land in Shropshire for potential solar parks. Shaun Jo...
Flood summit focuses on shared approach
Environment Minister Richard Benyon met with insurers to discuss how best to ensure that insurance is widely available for homes at risk of flooding a...
Milk leaves low carbon footprint
Milk has emerged top of a scientific index, ranking drinks in terms of their environmental sustainability coupled with their nutritional value. C...
UK must prepare for 'unaviodable' climate change
Britain must prepare for the 'unavoidable' impacts of climate change as well as continuing to cut carbon emissions, Environment Secretary...
£500,000 innovation challenge to dairy industry
Carbon Trust and Dairy UK announce search for new energy efficient processes Up to £500,000 in co-funding is being offered to dairy producers, equ...
Testing time for woodland carbon assurance scheme
The Forestry Commission is about to test a new quality assurance scheme for tree planting projects designed to sequester carbon. The market for suc...
Responsibility deals will cut business waste
The Government wants to work with businesses to help them reduce their waste and increase recycling through voluntary responsibility deals, Environmen...
Home-grown biofuel best says CLA
The CLA urged the Government to guarantee biofuels imported from outside the UK meet the high environmental standards demanded from inside the UK. ...
Home-grown biofuel best, says CLA
The CLA have urged the Government to guarantee biofuels imported from outside the UK meet the high environmental standards demanded from inside the UK...
Biomass: An alternative to conventional heating?
With oil and gas prices continually rising, the heating of large residences and farms is becoming increasingly more expensive with people looking to a...
Biotechnology 'inevitable' says CLA
The state of the countryside half a century from now was the theme today (Saturday, 24 July 2010) of the CLA Deputy President's Debate at The CL...
Minister to launch greenhouse gas calculator
The impact of Environmental Stewardship (ES) schemes on a farm's greenhouse gas (GHG) balance can now be calculated after the enhancement of a t...
Wildflowers win Wilkinson Environmental award
Headon, Retford farmer John Ogle has won this year's Wilkinsons Environment Award for Nottinghamshire. For the tenth year, the Worksop-based...
Research starts on sustainable palm oil
A radical research programme to map how the UK uses imported palm oil could halt the loss of rainforest thousands of miles away. Palm oil is a che...
Resolution to agri-environment scheme disruption
The CLA, on the 5th July, demanded that Defra and Natural England take action to minimise disruption to farmers and land managers set to be caused by ...
Four Farms pave the way to beat climate change
Focus Farms launched to demonstrate practical solutions and reduce emissions. Four forward thinking Scottish farmers are tackling climate change he...
Demand for biofuel will send prices soaring - UN
Food prices are set to rise as much as 40% over the coming decade amid growing demand from emerging markets and for biofuel production, according to a...
Carbon footprinting in spotlight - farming conference
Lower carbon farming is still a major priority of Britain's biggest retailer, producers will be told later this month at a conference organised ...
Livestock emissions cut by careful feeding
Greenhouse gas emissions from livestock can by cut by up to 15 per cent by careful management of the grass they graze, according to EBLEX. Excess w...
Old Mill holds seminar on the economics of renewable energy
Renewable energy projects are becoming a realistic option for many farmers, and could yield considerable financial and environmental gains, says rural...
Bocaddon Farm Becomes Green and Pleasant
Anaerobic digestion specialist Green and Pleasant Recycling wins over Bocaddon Farm, Cornwall, in a partnership to create green power from farm waste....
Research shows that rural communities benefit from Government Environmental Stewardship (ES) Scheme
A report commissioned by Defra and Natural England has shown that farmers who make the commitment to land management schemes aimed at protecting biodi...
RIBA and The Prince's Foundation joint debate: Globalisation and the Architect
The RIBA and The Prince's Foundation host a joint debate on whether Western-style urban development in developing economies is stifling local bu...
Digestion generates power and fertiliser
Exciting new waste management initiatives instigated by Avonmouth-based waste-to-energy business, GENeco, could see a significant increase in valuable...
Kindling business enthusiasm for wood fuel
Business owners can find out about the incentives and funding available for woodfuelled heating systems, small-scale electricity generation and woodfu...
Sustainable energy is cost effective alternative for Farmers
Farmers, who wish to use a cost effective, efficient and environmentally friendly energy source for their farm business, should consider using sustain...
FAO Releases Positive Environmental Report on Dairy
As part of its contribution to help address global warming, the dairy industry recently reached another significant milestone in their worldwide commi...
The Greenery launches new sustainability initiative
Fresh produce company The Greenery – one of the leading suppliers of fruit, vegetables and mushrooms to supermarkets and wholesalers across the UK – h...
Get paid to save energy
There has never been a better time for pig producers to save energy — and they can claim up to £20,000 for doing so, points out Nick Bird, director of...
Fisher German promote renewable energy to over 2000 farmers and landowners
Fisher German is at the forefront of a major drive to inform farmers and landowners of their options when considering renewable energy. This has inclu...
Governments complex certification scheme stops windturbines turning
With only a month left until a new Government cash incentive looks set to boost the uptake of green energy, wind turbine installers should be celebrat...
Family put energy into building biomass supply chains
A Northumberland father and son are driving up demand for their respective businesses after receiving funding to help build companies in the North Eas...
Energy generation to provide solutions for farmers
The introduction this year of feed-in tariffs will provide additional income to those considering renewable energy. This means that there is now a si...
New Feed in Tariffs (FiTs) make small scale wind impossible to ignore
Mark Newton of Fisher German was quoted this week as saying "every farm will have a wind turbine within the next five years". With the annou...
Energy yield from biogas can be improved
Even more biogas can be extracted from the biogas process than is currently being achieved. Scientists at the Faculty of Agricultural Sciences at Aarh...
Biofuels in high demand
As delegates from 193 nations return home from the Copenhagen climate conference, gaps still remain in greenhouse emissions targets worldwide. However...
Cornish Farmer first in UK to install world's highest tech wind turbine
CORNISH farmer Robert Herford is the first UK farmer to install a Coemi Skywing turbine and is set to hold an open day on Friday, December 11th. Th...
Farm consultancy - long lasting solutions are key to keeping on top of today's challenging farm conditions
Farm Consultancy Richard Sanders advises that long lasting solutions are key to keeping on top of today's challenging farming conditions ...
Scarecrow Launches COMPACT – the First UK Bio-Acoustic Bird Dispersal Product Powered by Renewable Energy
Scarecrow Launches COMPACT – the First UK Bio-Acoustic Bird Dispersal Product Powered by Renewable Energy Leading the Way in Energy Efficient Bio-A...
All systems go for 10th All-Energy show
All-Energy, the UK's largest renewable energy exhibition and conference, comes of age in May 2010 (Aberdeen, 19-20 May 2010) when it celebrates ...
Pigs and willow go together
Energy crops can become the new partners in organic pig farming. Tentative results from trials with free-ranging pigs look promising. The phrase "e...
Biogas growth predicted
About 760 biogas plants will be connected to the German national electricity grid in 2009 — three times the number in 2007 — according to estimates by...
Cost Effective Solar Powered Water Pumping for UK Farmers
Agricultural renewable energy specialists, 4 Elements Limited, have launched a series of off-the-shelf solar powered water pumping systems – the Solar...
Monthly biogas open days
Due to a surge of interest in on-farm biogas production in the UK and the rest of Europe, EnviTec Biogas AG has organised a series of open days on far...