Sheep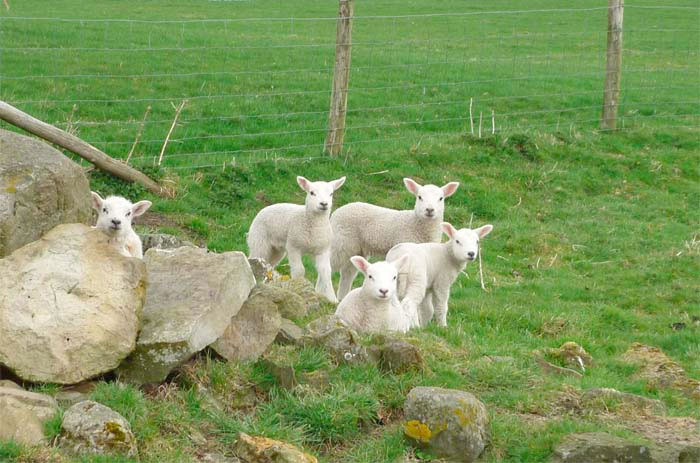 Winter: Preparing livestock's seasonal housing needs
The days are shortening, harvest and autumn sowing is mostly done, so now is the time to turn your attention to the winter and your stock. You must as...
Planting trees improves lamb and cow health
Farmers discovered ways of improving the health and wellbeing of livestock at a recent event aimed at highlighting how trees can increase a farm's pro...
'Good trade' at Bishops Castle sale of breeding sheep
Auctioneers Halls reported a "good trade" with buyers from near and far at a highly successful sale of 6,000 breeding sheep held at the Love Lane site...
Farmers concerned over lack of lamb promotion
NFU Cymru and Welsh sheep farmers said they were concerned that some retailers are still failing to back Welsh farming and are not giving Welsh lamb p...
Antibiotic usage in livestock
With the growing problem of bacterial resistance to antibiotics, antibiotics from the fluoroquinolone and 3rd and 4th generation cephalosporin groups ...
Farmers remain on guard over liverfluke
After last year's fierce fluke challenge and with the wet and warm conditions having continued this year, farmers are right to remain on their guard a...
Combining solar and livestock farming: New guidance published
A new guidance published today expounds best practice in coupling conventional agriculture and ground-mounted solar electricity generation. The new...
English sheep exports to China hold 'huge benefits' for industry
Gaining access to the Chinese market for lamb produced in England would be a 'game-changer' for the industry and help manage price volatility, accordi...
Retailers urged to back British lamb
The National Farmers' Union have said retailers must do more to promote British lamb in its peak season. The NFU and British sheep farmers are con...
Realise ram investment post sale
Farmers who have purchased rams at this year's Cydectin Kelso Ram Sale are reminded to manage their performance post sale to maximise returns from the...
Double tag older ewes, Scottish sheepkeepers told
The derogation that allows older sheep tagged before 2010 to be moved in batches between businesses will end in January 2015. Given the sizeable pr...
Maintain lamb performance post weaning
Despite reliable spring grass growth and favourable conditions leading to strong lamb performance, producers are being urged to carefully manage finis...
Livestock rustling boosts rise in cost of rural crime
The cost of rural theft rose in the UK in 2013, according to NFU Mutual. The results of the insurer's 2014 Rural Crime Survey show the value of items ...
16-year high for UK sheep meat exports
UK export volumes of sheep meat in the first six months of 2014 hit their highest half-year level since 1998, according to EBLEX. Global shipments ...
Research could lead to robot sheepdogs
Research to develop a mathematical shepherding model could lead to the development of robots that can gather and herd livestock, Swansea University ha...
NSA ram sale honours retiring committee members
Two staunch members of the NSA Wales and Border Ram Sales were honoured in a ceremony at the early Builth sale on Monday 4th August, to mark their ret...
Farmers all set for 'Love Scotch Lamb' weekend
Scottish sheep farmers are all set for "Love Scotch Lamb' weekend (23 and 24 August), when they will be tempting Scottish shoppers with lamb at 12 ven...
Livestock farmers' 'confidence in jeopardy'
An excellent turnout of Monmouthshire livestock farmers attended an on-farm meeting held in Llansoy to raise their concerns on the future of the beef ...
HCC boosts demand for Welsh Lamb
Hybu Cig Cymru - Meat Promotion Wales (HCC) - launches a new trade and consumer marketing campaign this September. The new catchline for the market...
Scottish lamb 'filling up shop shelves' ahead of campaign
With a major Scotch Lamb promotion due to be launched this month, NFU Scotland's latest look at supermarket shelves has shown that they are finally st...
Support an end to non-stun slaughter, vets urge party leaders
Party leaders in the United Kingdom have been urged to support a veterinary campaign to end non-stun slaughter. Writing to party leaders, Robin Har...
Optimistic outlook for sheep sector showcased at NSA Sheep Event
A public commitment to fight European carcase splitting rules, a clear intention to secure tolerance on read rates of electronic eartags and a reitera...
Sheep farmers warned over tagging or risk lower prices
The LAA, NSA and NFU have issued a joint call on British sheep farmers to double-tag their historic sheep flock to maximise selling options when they ...
North Yorkshire farm hosts sheep lameness trial
The issue of antibiotics versus trimming as a means of controlling lameness in sheep is often debated, so a new trial at Marrick Abbey Farm in North Y...
Volatile market and low investment fears for future of UK sheep market
The first ever NSA and NFU 'Vision for British Lamb Production' report has been launched at the NSA Sheep Event, identifying the strengths and weaknes...
Yearbook highlights strong year for sheep meat exports
Volume and value of UK sheep meat exports performed strongly again last year, according to the AHDB/EBLEX Cattle and Sheep Yearbook 2014. Volumes i...
Study highlights potential to reduce long term antibiotic usage for sheep lameness
Sheep farmers could reduce antibiotic treatments for lameness by as much as 92% within two years of implementing the practical FAI Farms Five-Point Pl...
Redesigned claw for better sheep and goat milking
The Fullwood RP1 is a vertical unloading clawpiece, designed for use in parlours where the milking equipment is mounted at a high level – such as the ...
Farmers in lamb protest at Royal Welsh Show
NFU members have staged a demonstration outside the Tesco stand at the Royal Welsh Show in protest at the retailer's failure to back British lamb. ...
NFU concerned over fall in lamb prices
Farmers have vowed to use the Royal Welsh Show to reiterate to retailers and processors to back sheep farmers after the recent fall in prices. With...
Dairy sheep farmer wins in NSA prize giveaway
With most of its members running sheep for meat production, it made a nice change from the norm when the National Sheep Association (NSA) gave away a ...
Welfare of farm animals can be improved 'by planting trees'
Sheep farmers are being invited to discover how the health and welfare of their animals, and productivity of land, can be improved, by planting trees....
Farmers invited to discuss shelter, sheep health and increased lamb survival rates
Sheep farmers are being invited to discover how the health and welfare of their animals, and productivity of land, can be improved, by planting trees....
NSA Sheep event's Big Debate announced
BBC Countryfile's Tom Heap will be leading this year's 'Big Debate' at the sheep industry's national event, NSA Sheep 2014. The environment and rural ...
1200 visitors enjoy the sun at NSA South Sheep
Over 1200 visitors enjoyed a day at NSA South Sheep on Saturday. A packed seminar and demonstration programme, farm tours and 120 trade and breed soci...
A sheep's early life experiences can shape behaviour in later life
New research has found that a sheep's experiences soon after birth can shape its later behaviour and also that of its offspring. The study led by ...
Farmers learn of positive prospects for wool
Anglesey NFU Cymru members recently learnt of the positive prospects for wool, with demand for the product expected to grow significantly this year. ...
Negotiations begin for £120m China beef and lamb export deal
British beef and lamb could soon be heading to China in an agreement that could be worth up to £120m to the UK economy each year. Owen Paterson wel...
New high for UK sheep meat exports to non-EU markets
Export volumes of UK sheep meat to non-EU markets in the first quarter of 2014 have hit a new record high. Shipments to these markets increased by ...
Lamb prices hold firm as new season gets underway
The number of new season lambs reaching the market has increased due to the good weather in many parts of the UK this spring, according to the latest ...
£23m annual bill 'burdening sheep farmers', MEPs told
The National Sheep Association (NSA) has written to all 73 newly elected and re-elected MEPs, plus the 39 outgoing representatives, drawing their atte...
Farmers need to stay alert to sheep scab
As famers welcome the warm weather, many will be breathing a sigh of relief as their worry about sheep scab subsides. However, with a significant numb...
Dog owners warned over rise in sheep worrying
The NFU is reminding dog owners and walkers to be vigilant and responsible when out in the countryside this bank holiday weekend. The call comes in...
Sheep breed societies focus on meeting market demand
The 2014 NSA Breed Society Forum on Thursday 8th May at the Royal Welsh Showground saw technical information and lively debate on the theme of 'meetin...
Tackling sheep scab remains a priority for the industry
The ongoing frustration faced by many farmers in the continuing battle against sheep scab means it remains a major source of economic loss and continu...
Vets warn farmers over liver fluke risks
Sheep farmers are being warned that while liver fluke epidemics may have failed to hit the headlines during the recent winter, they have not disappear...
Capital exposure for Lakes sheep farmers
One of the most far-reaching explorations of Cumbrian upland sheep farming ever undertaken is set to be exhibited in a major London exhibition. Est...
Sheep producers urged to vaccinate against killer threats
With 2014 lamb prices running ahead of 2013 levels, sheep producers are being urged to realise full value for this year's crop by making sure young la...
Sheep EID discussions at Pembrokeshire NFU meeting
Local farmers are invited to the next Pembrokeshire NFU Cymru county meeting, on Thursday, 1 May 2014, at the Agriculture House, Haverfordwest. St...
Association expresses 'disappointment' over lamb meat substitution
The Food Standards Agency has announced additional testing of lamb dishes from takeaway restaurants across the UK following evidence of substitution f...