Sheep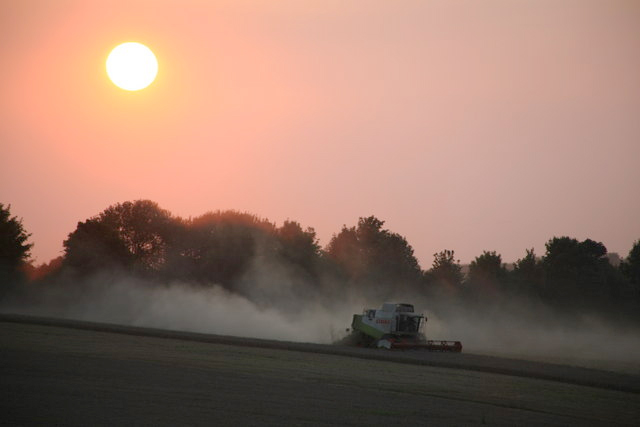 UK farmer confidence falling, according to new survey
Falling farmgate prices and market price volatility have contributed to a drop in farmer confidence, a new survey by the NFU has revealed. After th...
Make more of mutton: New energy to promote meat
New energy has been put into the promotion of quality mutton in a renewed initiative from National Sheep Association (NSA) and the Royal Academy of Cu...
Modern sheep genetics on the world stage
A record breaking number of six sheep breeds were represented on the joint EBLEX and British Livestock Genetics stand at the major Eurotier show. E...
Home Secretary endorses agricultural crime initiative
Home Secretary Theresa May MP has praised an agricultural industry led crime initiative which brings farmers, auctioneers and the police together in a...
Proceed with caution on new labelling laws, NSA urges
The National Sheep Association (NSA) welcomes the concept of new meat labelling laws that differentiate between animals that are stunned at slaughter ...
Inspiring the next generation of sheep farmers
Young people keen to get ahead in the sheep sector are encouraged to attend a free one-day event in Gloucestershire on Wednesday 12th November. Th...
'Extremely worrying times' ahead for farmers, says NFU
With farmers facing significant challenges heading into the winter, the Government is being urged to come forward with proposals for how they intend t...
EU promotion aims to encourage people to cook lamb
A £6.17m campaign to encourage more people to cook with lamb across six European countries is to be launched thanks to a co-promotion deal EBLEX has s...
Liver fluke 'remains a risk for cattle farmers'
Despite a relatively dry summer and early autumn, liver fluke infection remains a risk for cattle and sheep and farmers are being urged to remain vigi...
Business efficiency training on offer for English sheep enterprises
The National Sheep Association (NSA) is encouraging English sheep producers to take advantage of subsidised business efficiency training workshops thi...
Sheep report shines light on sheep breed trends
A reduction in hill breeds means that the reliance on the traditional stratified structure of the British sheep industry is decreasing in favour of lo...
Who are the biggest meat consumers in the world?
Across the globe, meat is a staple food enjoyed by an array of countries and cultures. From tender chicken in traditional Spanish paellas to juicy sau...
Keeping up with the next generation of livestock farmers
The NFU has teamed up with Innovation for Agriculture (IfA) and Warwickshire Rural Hub to focus on the potential that precision agriculture has for th...
Public consultation launched on TB in non-bovine animals
A 12-week-long public consultation has been launched on proposals for new controls to address incidences of bovine tuberculosis (TB) in specific non-b...
UK success at World Young Shepherd Challenge
There was plenty of cause for celebration among the UK competitors in the World Young Shepherds Challenge in France on Wednesday. England took top pri...
Balance ewe diets to optimise lambing success
With variable grazing conditions this autumn, sheep farmers should be vigilant when assessing body condition of breeding ewes before tupping. The p...
Sheep trade 'to remain under pressure' into 2015
The liveweight sheep market is likely to remain under pressure into the new year due to a combination of subdued demand, plentiful supply and increase...
Winter: Preparing livestock's seasonal housing needs
The days are shortening, harvest and autumn sowing is mostly done, so now is the time to turn your attention to the winter and your stock. You must as...
Planting trees improves lamb and cow health
Farmers discovered ways of improving the health and wellbeing of livestock at a recent event aimed at highlighting how trees can increase a farm's pro...
'Good trade' at Bishops Castle sale of breeding sheep
Auctioneers Halls reported a "good trade" with buyers from near and far at a highly successful sale of 6,000 breeding sheep held at the Love Lane site...
Farmers concerned over lack of lamb promotion
NFU Cymru and Welsh sheep farmers said they were concerned that some retailers are still failing to back Welsh farming and are not giving Welsh lamb p...
Antibiotic usage in livestock
With the growing problem of bacterial resistance to antibiotics, antibiotics from the fluoroquinolone and 3rd and 4th generation cephalosporin groups ...
Farmers remain on guard over liverfluke
After last year's fierce fluke challenge and with the wet and warm conditions having continued this year, farmers are right to remain on their guard a...
Combining solar and livestock farming: New guidance published
A new guidance published today expounds best practice in coupling conventional agriculture and ground-mounted solar electricity generation. The new...
English sheep exports to China hold 'huge benefits' for industry
Gaining access to the Chinese market for lamb produced in England would be a 'game-changer' for the industry and help manage price volatility, accordi...
Retailers urged to back British lamb
The National Farmers' Union have said retailers must do more to promote British lamb in its peak season. The NFU and British sheep farmers are con...
Realise ram investment post sale
Farmers who have purchased rams at this year's Cydectin Kelso Ram Sale are reminded to manage their performance post sale to maximise returns from the...
Double tag older ewes, Scottish sheepkeepers told
The derogation that allows older sheep tagged before 2010 to be moved in batches between businesses will end in January 2015. Given the sizeable pr...
Maintain lamb performance post weaning
Despite reliable spring grass growth and favourable conditions leading to strong lamb performance, producers are being urged to carefully manage finis...
Livestock rustling boosts rise in cost of rural crime
The cost of rural theft rose in the UK in 2013, according to NFU Mutual. The results of the insurer's 2014 Rural Crime Survey show the value of items ...
16-year high for UK sheep meat exports
UK export volumes of sheep meat in the first six months of 2014 hit their highest half-year level since 1998, according to EBLEX. Global shipments ...
Research could lead to robot sheepdogs
Research to develop a mathematical shepherding model could lead to the development of robots that can gather and herd livestock, Swansea University ha...
NSA ram sale honours retiring committee members
Two staunch members of the NSA Wales and Border Ram Sales were honoured in a ceremony at the early Builth sale on Monday 4th August, to mark their ret...
Farmers all set for 'Love Scotch Lamb' weekend
Scottish sheep farmers are all set for "Love Scotch Lamb' weekend (23 and 24 August), when they will be tempting Scottish shoppers with lamb at 12 ven...
Livestock farmers' 'confidence in jeopardy'
An excellent turnout of Monmouthshire livestock farmers attended an on-farm meeting held in Llansoy to raise their concerns on the future of the beef ...
HCC boosts demand for Welsh Lamb
Hybu Cig Cymru - Meat Promotion Wales (HCC) - launches a new trade and consumer marketing campaign this September. The new catchline for the market...
Scottish lamb 'filling up shop shelves' ahead of campaign
With a major Scotch Lamb promotion due to be launched this month, NFU Scotland's latest look at supermarket shelves has shown that they are finally st...
Support an end to non-stun slaughter, vets urge party leaders
Party leaders in the United Kingdom have been urged to support a veterinary campaign to end non-stun slaughter. Writing to party leaders, Robin Har...
Optimistic outlook for sheep sector showcased at NSA Sheep Event
A public commitment to fight European carcase splitting rules, a clear intention to secure tolerance on read rates of electronic eartags and a reitera...
Sheep farmers warned over tagging or risk lower prices
The LAA, NSA and NFU have issued a joint call on British sheep farmers to double-tag their historic sheep flock to maximise selling options when they ...
North Yorkshire farm hosts sheep lameness trial
The issue of antibiotics versus trimming as a means of controlling lameness in sheep is often debated, so a new trial at Marrick Abbey Farm in North Y...
Volatile market and low investment fears for future of UK sheep market
The first ever NSA and NFU 'Vision for British Lamb Production' report has been launched at the NSA Sheep Event, identifying the strengths and weaknes...
Yearbook highlights strong year for sheep meat exports
Volume and value of UK sheep meat exports performed strongly again last year, according to the AHDB/EBLEX Cattle and Sheep Yearbook 2014. Volumes i...
Study highlights potential to reduce long term antibiotic usage for sheep lameness
Sheep farmers could reduce antibiotic treatments for lameness by as much as 92% within two years of implementing the practical FAI Farms Five-Point Pl...
Redesigned claw for better sheep and goat milking
The Fullwood RP1 is a vertical unloading clawpiece, designed for use in parlours where the milking equipment is mounted at a high level – such as the ...
Farmers in lamb protest at Royal Welsh Show
NFU members have staged a demonstration outside the Tesco stand at the Royal Welsh Show in protest at the retailer's failure to back British lamb. ...
NFU concerned over fall in lamb prices
Farmers have vowed to use the Royal Welsh Show to reiterate to retailers and processors to back sheep farmers after the recent fall in prices. With...
Dairy sheep farmer wins in NSA prize giveaway
With most of its members running sheep for meat production, it made a nice change from the norm when the National Sheep Association (NSA) gave away a ...
Welfare of farm animals can be improved 'by planting trees'
Sheep farmers are being invited to discover how the health and welfare of their animals, and productivity of land, can be improved, by planting trees....
Farmers invited to discuss shelter, sheep health and increased lamb survival rates
Sheep farmers are being invited to discover how the health and welfare of their animals, and productivity of land, can be improved, by planting trees....