Sheep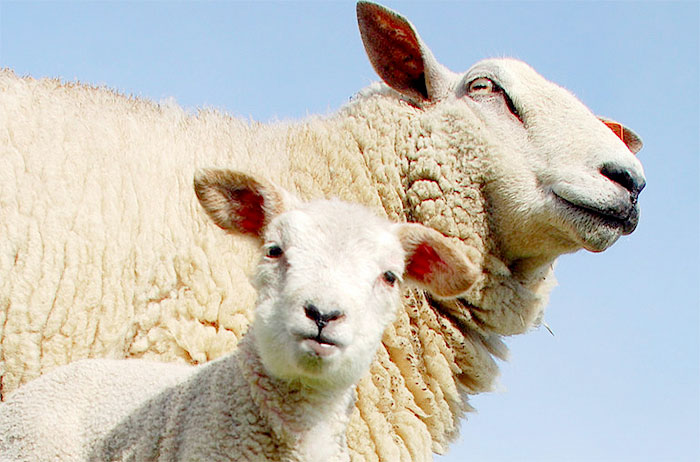 International focus at Sheep 2008
The Sheep 2008 event (Malvern - 30 July) has a truly international feel with around 20 senior overseas guests hosted by EBLEX working in close collabo...
Beware sheep sales for scab risk
Early-season sheep sales are a timely reminder for farmers to be aware of the risk that bought-in sheep pose for scab infestation. Autumn sheep mo...
Suffolk Sheep Sale Success Over-Rides BTV Zones
A seventy per cent clearance and average of £2,407 on 159 sold, sealed the success of the first Suffolk Sheep sale of the season, despite Bluetongue m...
Autumn sheep movements pose major scab transmission threat
Autumn sheep movements are a major transmission route for sheep scab infestation, although symptoms may not show for several weeks or months, accordin...
FUW brands EID a 'tax on the EU sheep industry'
Members of two Farmers' Union of Wales committees have unanimously branded the European Commission position on electronic identification of livest...
Sheepmeat Has Potential To Keep UK Food Costs Down
SAC at Sheep 2008 Wednesday 30 July Malvern "The UK needs home grown food. A competitive sheep industry can provide this, helped by applying ...
Creating a political voice for 'commons'
Over two billion people worldwide depend on common property for at least some significant part of their livelihoods. But the majority of land and...
Jim Paice MP to open NSA Sheep 2008
NSA Sheep 2008, the UK industry's biennial business to business event, will be held at the Three Counties Show Ground, Malvern on Wednesday 30 Jul...
Ryeland Ewe victorious in prestigious wool on the hoof competition
A Ryeland shearling ewe from one of the first flocks of this breed to be established in Yorkshire, won the prestigious Wool on the Hoof competition at...
Sustainable beef and lamb prices are essential says NFU
NFU livestock board chairman Alistair Mackintosh is calling on the whole supply chain to work closely in the coming weeks to help deliver sustainable ...
A 'Family' Approach To Micro Nutrition In Sheep And Lambs
The Denis Brinicombe Group has developed a new 'family' of three sheep drenches, which between them, are formulated to provide a single dose, ...
Sheep farmers' warning for Benn
Farmers have warned UK Environment Secretary Hilary Benn that Electronic Identification and individual movement recording of sheep will drive farmers ...
Depleted livestock lines still set high Royal Show standards
The cattle and sheep producers who beat the bluetongue restrictions to get their animals to the Royal Show, set very high standards as they battled fo...
The NSA Sheep 2008 seminars and forums
The full spectrum of political, marketing, technical and sheep health issues will be up for discussion and debate at a series of seminars and forums, ...
High number of badgers gives rise to growing TB fears
SOMETIME later today Hilary Benn, the Secretary of State for the environment, will rise in the House of Commons and announce that there will be no wid...
Keep your silage well wrapped up
The quality of stretchfilm wrapping will have a direct effect on the ultimate value of the bale, points out a leading crop packaging specialist. One r...
UK secures individual recording concessions for sheep and goat industry
The EU Commission's Standing Committee on the Food Chain and Animal Health (Scofcah) has voted by qualified majority for changes to the individual...
Strong message from NFU Livestock Board Chairman
"As a Union, we vehemently oppose and see absolutely no justification for electronic sheep identification. We have taken this firm stance in the hope ...
EID plans will force sheep farmers out of the sector
A delegation representing sheep farmers, livestock auctioneers and meat processors met Secretary of State Hilary Benn yesterday (Mon) and reinforced t...
Report on the welfare implications of castration and tail docking for lambs
The Farm Animal Welfare Council (FAWC) today launched its "Report on the implications of castration and tail docking for the welfare of lambs". The...
Powys farmer becomes Wool Board Vice Chairman... and says better times ahead for wool
Gethin Havard makes no bones about it - he's deeply committed to wool and firmly believes in its future. Last year he was elected as the British W...
NFU calls for higher farmgate prices for beef and sheep sectors
The NFU is calling for further increases in farmgate prices for beef and lamb to safeguard long term sustainability of the sectors. This follows th...
UK unions join forces against EID sheep tagging
UK farming unions have joined forces against the introduction of the Electronic Identification for sheep; saying the current ID and batch recording sy...
UK farming unions join forces against EID sheep tagging
The UK farming unions have joined forces against the introduction of the new Electronic Identification for sheep saying the current ID and batch recor...
'Bright future' for sheep farming
The rural affairs secretary has forecast a "bright future" for sheep farming in Scotland. Richard Lochhead is attending Scotsheep 2008 in the Bord...
Organic marketing group sweeps board in Lamb Competition
Members of Graig Producers, the Wales-based independent organic livestock marketing group, took the top three positions in the organic section St Merr...
Cost Savings For Sheep Breeders In MV Accreditation Scheme
The sheep and goat health schemes board have met to review the operation of the maedi visna (MV) accreditation scheme throughout Great Britain. The f...
Workshop on Manx Loaghtan sheep
Following a successful event last year, there will be another summer workshop show and sale for breeders and would-be breaders of Manx Loaghtan sheep...
Vets advise farmers facing bluetongue threat
Farmers are being reminded to be aware of the signs of bluetongue disease as virus-carrying midges become active again. The warning came at a roads...
Scottish Government agrees to order bluetongue vaccine
Farmers in Scotland will be given the opportunity to vaccinate against bluetongue this winter after the Scottish Government agreed to secure 12 millio...
Sheep ID plan could lead to exodus from industry warns NFU Cymru
European Commission plans to introduce compulsory Electronic Identification (EID) for sheep could lead to a significant number of farmers leaving the ...
Extra bluetongue vaccine delights farmers
Livestock farmers warmly welcomed Defra's announcement yesterday that five million doses of the bluetongue vaccine could be ready by the end of ne...
Germany moves to vaccinate farm animals against bluetongue
German officials said Monday they were bulldozing through plans to inoculate farm animals against bluetongue disease, which is common in Mediterranean...
Sheep race through NZ town
Forget Spain's Pamplona bull run, New Zealand is where the action is. The small New Zealand town of Te Kuiti was overrun with thousands of sheep c...
New bluetongue case is confirmed
Bluetongue precautions have been extended after a new case of the animal disease was confirmed in Hampshire. The Department for Environment, Food an...
Rochdale Bluetongue zone
Rochdale has been included in a protection zone after an outbreak of Bluetongue - one hundred miles away. The borough has been placed in a `surveil...
Shocked farmer victim of valley sheep rustlers
A worried farmer is said to be devastated after becoming the victim of a modern day sheep rustling incident it has just been revealed. The shocking...
Organic marketing group calls for caution in organic conversion
Graig Producers, the Wales-based independent organic livestock marketing group, is calling for extreme caution if conventional farmers think organic l...
Farmers ready for single entity in meat industry
Never before have so many sheep farmers been keen on the idea of merger within their industry. The southern sheep farmer is not usually the type to...
Pricing grid puts sheep farming on a knife-edge
There is no-one making a fortune out of sheep farming. Quite the opposite, in fact. While the dairy and tillage farmers enjoy a boom period and beef p...
Benn unveils UK bluetongue plan
DEFRA Secretary Hilary Benn has published a UK plan for bluetongue vaccination over the months ahead. He confirmed that the approach will be volunt...
Wool crisis as European deal unravels
Australia's wool chiefs are flying to Europe today in a bid to salvage lucrative trade contracts with the region. One of the world's larges...
Sheep numbers down, both in North Dakota and nationwide
The sheep and lamb inventory in North Dakota as of Jan. 1, 2008, indicated a drop of five percent from the previous year, according to a report from t...
Bluetongue sheep 'had tested negative'
The farmer at the centre of Wales' first bluetongue case yesterday insisted his infected sheep was "tested and re-tested" before being imported fr...
Farmers' unions demand ban on imports
The time has come to ban all livestock imports, farmers' groups warned last night. The demand came after Wales' first case of bluetongue wa...
Govt may appeal against sheep cruelty decision
Western Australian Minister for Agriculture Kim Chance says the State Government may appeal against a court decision clearing a live animal exporter o...
Lack of feed leaves farmers desperate
Fears that starving sheep have been shot on a North Canterbury farm have prompted calls for desperate farmers to be given priority for stock at freezi...
Signs looking good as sheep sector begins to spring back
Sheep producers, after one of the most difficult periods for many years, especially during the last quarter of 2007, are now enjoying something of a r...
Perth court throws out cruelty charges against live sheep exporter
A landmark Animal Welfare case against a Western Australian live sheep exporter has been thrown out of the Perth Magistrates Court. Emanuel Exports...
Prospects good for sheep and cattle in 2008
Meat and Livestock Australia expects the cattle and lamb industries to bounce back this year, following several difficult years of drought. Officia...