Shows and Events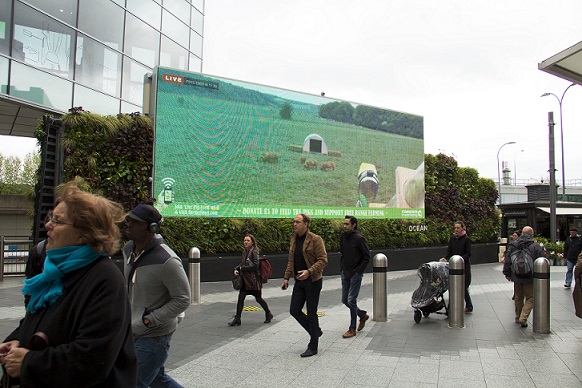 World's first real live pig feed aids animal welfare charity
The world's first real live pig feed is broadcast on a large format outdoor advertising screen in London this week to raise donations and support for ...
Livestock entries flood in for Bath & West Show
Livestock entries are again nudging record levels at the Royal Bath & West Show, with more than 2000 sheep, cattle and pigs already entered. With ...
Businesses sign up to support Kenilworth Show
One of the Midlands' largest agricultural shows has secured major sponsorship deals with two familiar organisations. The Kenilworth Show returns t...
Hay Festival visitors invited to local farms
Visitors attending the forthcoming Hay Festival are invited to join five local farmers on guided tours of their farms to learn more about where and ho...
Three new varieties follow DSV trio of firsts
Two new Oilseed Rape varieties and a new Winter Wheat will be previewed by DSV UK at Cereals 2013 hot on the heels of the company's trio of firsts in ...
Price is more important than welfare, poultry delegates told
European calls for animal welfare standards to be written into international trade deals were described as "challenging" by a Canadian delegate at the...
Twin outlet spray nozzle for faster spraying
A new 035 size for the Hypro GuardianAIR Twin range will be shown for the first time at Cereals 2013. The versatile drift-reducing nozzle with the fin...
Cheshire Show's efforts to raise awareness of rare breeds receive backing from rural TV star
The Cheshire County Show is supporting the Rare Breed Survival Trust (RBST), which celebrates its 40th anniversary this year, by giving the public the...
Case IH to unveil revisions to Axial Flow combines at Cereals 2013
A redesigned cab which creates the ultimate in operator environment, together with new unloading technology that incorporates a folding auger and indu...
New Knight mounted sprayer and re-designed cultivator at Cereals 2013
A new design of mounted sprayer will be among an extensive display of Knight sprayers at Cereals 2013 along with a Raven cultivator re-designed to imp...
Cereals 2013 – novel science with a practical twist
Hundreds of crop plots showing the latest agronomic developments will form the heart of this year's Cereals Event, which takes place on 12 and 13 June...
Options for working with TB to be outlined at Beef EXPO
Options for working with TB rules will be the focus of the TB Opportunities area at Beef Expo 2013 at Malvern on 23 May. The event's TB Opportunit...
Prince of Wales recognised for contribution to sheep farming
The National Sheep Association has announced the Prince of Wales as the winner of the 2012 George Hedley Memorial Award, which is presented annually t...
NFU Cymru meet with William Powell assembly member
NFU Cymru representatives in Brecon and Radnor recently met Liberal Democrat Assembly Member for mid and west Wales, William Powell, on farm near Taly...
Expert judges line up for Great Taste in Ireland
Almost 100 food judges are preparing to taste the very best food and drink produced in Ireland as Great Taste 2013 comes to a boil in Dublin. Tak...
Plant and farm machinery in demand at Shrewsbury
Good quality plant and agricultural machinery was in demand at a successful collective auction in Shrewsbury on Friday, which attracted buyers from as...
Kenilworth Show to adopt new dairy theme
Coventry and Warwickshire's biggest one-day agricultural show will have a new theme this year – and organisers will be 'milking it for all it's worth'...
Farmers encouraged to pursue anaerobic digestion
This year the UK's biggest dedicated anaerobic digestion (AD) and biogas event, UK AD & Biogas, will focus heavily on the farming sector, recognising ...
Nominations sought for pig industry 'extra-miler'
National Pig Association is seeking nominations for its Chris Brant Award which annually recognises someone who has contributed beyond the call of dut...
Geoff Skerritt wins veterinary award
Veterinary Instrumentation, one of the leading suppliers of instruments and orthopaedic implants to veterinary surgeons, announced today the Simon Awa...
AB Vista hosts CEO conference in Bangkok
On 12 March AB Vista brought together 60 chief executives and senior technical representatives from across South Asia for a day of lively discussion a...
Minimal grass growth forces cancellation of ScotGrass
Due to minimal grass growth, the ScotGrass event at the SRUC Crichton Royal Farm planned for Tuesday 14 May 2013 has had to be cancelled. Dunca...
Society appeals for vintage farming machinery and equipment
Vintage farming machinery is being sought by the Cheshire County Show for a trip down memory lane to celebrate its 175th anniversary. One of the wa...
Three Counties Show gets royal recognition
One of the UK's largest agricultural events has been granted the Royal seal of approval, following a lengthy application process. The long-running...
Proterra Foundation's 2013 conference to be held in Netherlands
The ProTerra Foundation, the not for profit organisation set up to support the European food and feed industries in sourcing sustainably produced, non...
Young farmers meet with MP Jamie Reed
Farmers need 'the right signals from government' if they are to carry on in business, according to young farmers who met with Jamie Reed MP at an even...
McCormick unveils new tractor at SIMA
McCormick has unveiled their new tractor X7.460 at the SIMA agricultural machinery show in Paris. Production of the new machine is due to start thi...
Gloucestershire dealership open its doors on March 6
Farmers in Gloucestershire, Worcestershire and surrounding counties who take time out to attend an Open Day at a Bredon-based farm equipment business ...
NFU panel discuss current farming issues
The final session of NFU13 not only picked over the bones of the horsemeat scandal but looked at the links between farmers and the food industry, with...
Cogent takes on Comber – the 'ultimate Simmental bull'
A bull described as 'the ultimate example of the modern Simmental breed' and which has been brought to England from Northern Ireland to improve one of...
Tight contest predicted for woolhandling at Golden Shears
The TAB is forecasting a tight contest for the Golden Shears Open woolhandling title this week, with three competitors who have never won the title vy...
Farm buildings award finalists announced
RIDBA (the Rural and Industrial Design and Building Association) has shortlisted for the first-ever FAB (Farm and Agricultural Buildings) awards. T...
New team assembled ahead of Kenilworth Show
A new chairman and secretary team have been appointed as preparations get underway for Coventry and Warwickshire's biggest one day agricultural show. ...
McCormick on show at SIMA
ARGO Tractors will present a special edition of its popular McCormick X60 four-cylinder tractor at the SIMA agricultural machinery show. Finished i...
Cobb Europe opens new headquarters
Broiler breeding stock company Cobb-Vantress has opened a new Europe headquarters in Colchester. The building was opened by Cobb president Jerry Mo...
New era of phytase debated at IPS 2
Incomplete destruction of phytate is compromising the profitability and sustainability of the animal feed industry, according to information presented...
Students to compete in barley growing challenge
Aiming to encourage the next generation of agronomists and farmers by offering students a real-time crop to manage and sell, the Cereals Challenge is ...
John Deere awarded SIMO 2013 silver medal
John Deere has been awarded a SIMA 2013 silver medal for its new Remote Display Access (RDA) system. The RDA telematics solution allows remote acc...
CAP concerns discussed at Builth Wells meeting
Concerns over the impact of CAP reforms were highlighted during a meeting at Builth Wells between politicians and farm group officials. "The MEPs c...
Farmers take part in consultation
Over 100 farmers and growers took time out to participate in a recent Lantra consultation about the National Occupational Standards (NOS) for agricult...
'Impressive' store cattle prices at Bishops Castle auction
Impressive prices were recorded as Bishops Castle Auction began the year with a total clearance of 370 store cattle on January 24. The wintry weat...
Precision Farming Event to showcase latest equipment
The annual Precision Farming Event on the 6th of March will showcase 'the latest equipment and techniques' from the UK's leading farming companies. ...
Meirionnydd farmers to discuss rural policing
Farmers in Meirionnydd are set to discuss rural policing when they meet the newly elected Police and Crimes Commissioner for North Wales next week. ...
London farm machinery display raises £65,000
A display of farming machinery in the centre of London helped raise more than £65,000 in aid of farmers in crisis. The equipment was showcased outs...
New Holland BigBaler recognised at Good Design awards
New Holland's BigBaler large square baler has been awarded the 2012 Good Design accolade. This award was conferred on the BigBaler range by the Chi...
Forbes Adam wins top landowner award
CLA member Charles Forbes Adam has been awarded the annual Bledisloe Gold Medal for Landowners by the Royal Agricultural Society of England (RASE) for...
New cab for John Deere 5E Series tractors
John Deere's 5E Series three-cylinder utility tractors will be available from this spring with a new John Deere designed cab. A 5055E model was sh...
McCormick exhibit new x50 tractor series at LAMMA
The McCormick X50.50 Power Plus exhibited on the LAMMA show stand of GB distributor AgriArgo UK is the most powerful of four new McCormick X50 Series ...
Agricultural engineer winner goes to to further success
Winning the Ivel Award at LAMMA was just the grass roots of success for County Durham based Fuel-Guard's diesel fuel decontaminator. After winning...
Norfolk farmer recognised at agricultural awards
Jim Papworth, one of Norfolk's most recognised farmers has won the 2012 National Agriculture Award from the Royal Agricultural Society of England in r...