Shows and Events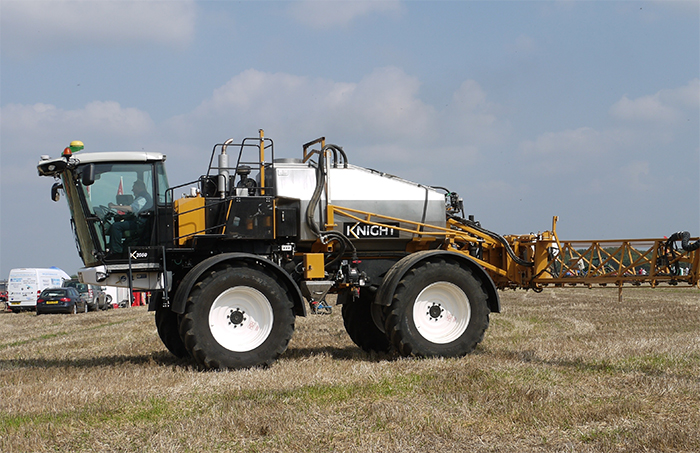 Latest Knight high-output sprayers at LAMMA 2015
Knight Farm Machinery will be featuring its latest high-output sprayers in trailed and self-propelled versions at LAMMA 2015 in January. With a ch...
First public showing for new Case IH Farmall A at LAMMA 2015
Amongst a host of new products being exhibited by Case IH at LAMMA 2015 will be the company's new Farmall A tractor, production of which is scheduled ...
Tractor Show returns in the spring
In March 2015, the Three Counties Showground at Malvern will once again be home to hundreds of tractors, displays and trade stands, as the renowned Tr...
The Royal Welsh vows to tackle challenges
"As we look back and reflect on another successful year we must also look forward" said John Davies, The Royal Welsh Agricultural Society's chairman o...
SRUC and Edinburgh University ranked 'most powerful' in agricultural research
Agricultural and veterinary research at SRUC and the University of Edinburgh has been ranked as most powerful in the UK in the Research Excellence Fra...
EnviTec Biogas UK shows AD on a growth curve at Energy Now
High performance plant, a commitment to technology and innovation, a highly-trained service team operating nationwide and a strong balance sheet are j...
Junior Agri-Academy fact-finding tour of Brussels
Fourteen members of Wales' Junior Agri-academy have taken the opportunity to meet EU politicians, senior commission officials and NFU lobbyists, durin...
I want to help dairy farmers, new DairyCo chairman tells delegates
I want to all all I can to help the dairy industry react more quickly to good ideas, Gwyn Jones, the new chairman of DairyCo told attendees at the Nor...
Tong Peal showcases upgraded Caretaker at LAMMA
Tong Peal, one of the UK's most established vegetable handling equipment firm will be returning to LAMMA to showcase its latest equipment range for 20...
New John Deere machinery makes debut in Ireland
John Deere's new 6R and 7R Series tractors and 8000 Series self-propelled forage harvester, all featuring the company's latest fuel-efficient, Stage I...
The New CAP Reform - Be Ready for 1 January
The new rules have only recently been published and this webinar will cover how they are to be applied in practice, what the new tests for eligibility...
Livestock Event 2015 to host four national beef shows
Four beef breeds will be staging major national fixtures at Livestock Event, the UK's largest event within the sector, to be held at The NEC, Birmingh...
UK dairy industry honours industry star at Dairy Expo 2015
The John Dennison Lifetime Achievement Award is returning to Borderway UK Dairy Expo, held in Carlisle, for the third year running. This award is in m...
Peter upsets the odds to become Wales' top young butcher
Talented 19-year-old butcher Peter Rushforth caused an upset by beating the defending champion in the final of the Welsh Young Butcher Competition 201...
Farming industry gears up for LAMMA 15
LAMMA will again be the destination in January for farmers from across the UK and Europe with more than 40,000 people expected at the country's larges...
Farm safety at heart of free UK events this winter
A series of free one-day events focusing on health and safety in agriculture are taking place across the UK this winter. Organised by Lantra on behalf...
Mitas Tyres to launch its largest agricultural tyre at LAMMA 2015
Farmers who purchase two or more Mitas, Continental or Cultor radial agricultural tyres in a single transaction will be entitled to a rebate worth up ...
CropTec wows visitors and exhibitors
CropTec 2014 had a positive reaction with visitors delighted by its mix of technical information and new technology on show and exhibitors impressed b...
John Deere scores hat-trick at 2015 SIMA show
Three John Deere concepts will receive gold and silver innovation awards plus a special mention at the 2015 SIMA show in Paris in February. "This a...
Case IH Magnum Rowtrac previewed at LAMMA 2015
Combining the individual benefits of wheeled and tracked tractors, the new Case IH Magnum Rowtrac 380 CVX – which will be previewed in the UK at LAMMA...
New John Deere machinery to be shown at LAMMA
John Deere's new 6R and 6M Series tractors, R4040i self-propelled sprayer and 8000 Series self-propelled forage harvester will be featured for the fir...
Modern sheep genetics on the world stage
A record breaking number of six sheep breeds were represented on the joint EBLEX and British Livestock Genetics stand at the major Eurotier show. E...
Case IH to launch new machinery at LAMMA 2015
Case IH will exhibit new products at LAMMA 2015, the UK's largest farm equipment show, on 21 and 22 January. In addition to the new Case IH Rowtr...
New Holland tractor plant welcomes Essex farmers
The New Holland Basildon Tractor Plant recently opened its doors and welcomed Essex farmers and invited guests as the county NFU branch marked its cen...
Claydon to exhibit new Hybrid T drill at LAMMA 2015
Claydon Drills will exhibit the production version of their new Hybrid T drill for the first time at LAMMA 2015. Exceptionally versatile and flexible,...
Arable challenges discussed at NFU conference
Arable farmers in Wales had the opportunity to learn more about overcoming some of the challenges facing the sector earlier this week, thanks to a joi...
Farm business innovation expo returns this month
Farm Business Innovation exhibition and conference returns to Olympia London at the end of the month, promising new ways for farmers, smallholders, la...
Helping to give poverty in farming the boot!
Harrison Clark Rickerbys takes giant welly on a tour of its four Three Counties' offices, thanks to the help of Gloucestershire business, Green Farm S...
Royal Welsh Agricultural Society is one of the top Welsh businesses
The Royal Welsh Agricultural Society last week saw itself recognised as one of the top businesses in Wales. At the very first Wales Business and E...
UK 'on the edge of agricultural revolution'
The UK is on the edge of another agricultural revolution, which will be achieved through new technology, innovation and shared knowledge within the se...
Crop diversity needed for growing population
Greater diversity in crops, livestock, biodiversity, our markets and diets was the key message and subject of debate at the annual LEAF (Linking Envir...
New Holland dealers unveil diverse line-up for Agriscot 2014
This year's brand new telehandler from New Holland will be making its Agriscot debut surrounded by a diverse display of products. Local dealers Br...
Improvements needed to boost agricultural productivity
Greater improvements are required to boost agricultural productivity in England, Innovation for Agriculture have warned. Addressing the barriers to...
Ceredigion NFU Cymru on-farm milk meeting
Aled Jones, NFU Cymru Milk Board Chairman, will be guest speaker at the next Ceredigion NFU Cymru on-farm milk meeting on Thursday, 20 November, 2014....
Welsh food and drink producers head to China
With Export Week now upon us, eleven Welsh companies are getting ready to fly the Welsh flag in China to promote their produce at the Food and Hotel C...
Using science to break through the yield plateau
Using science to break though the yield plateau is the theme for this year's Hutchinsons Winter Technical Conference for farmers being held at Rowley ...
Learn more about profit, efficiency and stewardship at CropTec
Farmers are invited to meet up with their local BASF Agronomy Manager and BASF market sector experts to learn more about the key elements of farming -...
Future of farming to dominate Three Counties show
The future of farming and engaging the next generation in the industry will dominate the agenda at one of the UK's premier farming conferences taking ...
London combine harvester parade aims to encourage public to back British farming
A state of the art combine harvester is taking to the streets of central London for one of the UK's most historic parades. NFU Cymru and the NFU ha...
New campaign aims to educate farmers about cattle diseases
A campaign has been launched by the National Beef Association (NBA) to educate beef farmers about the everyday health problems that face their herds. ...
Cream of dairy genetics on offer in December
An all-star line-up of high-class dairy cattle from the UK will be going under the hammer in Carlisle in Britain's Premier Elite Holstein auction in D...
Welsh dairy farmers' plight raised at Anglesey Day
Food, farming and tourism were in the spotlight for the fourth annual Anglesey Day in Westminster hosted by the island's MP Albert Owen and featuring ...
Farming on parade as combines take to London streets
A state of the art combine harvester is taking to the streets of central London for one of the UK's most historic parades. The NFU has teamed up w...
Innovation award for Mitas PneuTrac at EIMA fair
Mitas' tyre concept PneuTrac received the EIMA Technical Innovation award in Bologna, Italy. The jury awarded Mitas PneuTrac as the best innovation...
National Agricultural Exhibition Centre to get £2m rebrand
The Grandstand Group has announced it has taken over the running of the Stoneleigh Park exhibition venue having brought out the Royal Agricultural Soc...
New Reform Metrac H8X to be introduced to the UK market
Reform Werke have announced the imminent introduction to the UK market of their compact Metrac H8 X tractor, which the company say, delivers the combi...
NFU urges farmers to understand new CAP payment scheme
NFU's series of CAP roadshows gets underway in the East Midlands, next week with a strong message from NFU to all farmers and growers: read, understan...
25 things you might not have known about the Royal Welsh Winter Fair
1. The Winter Fair was initially only going to run as a trial event for three years, to see if it would be viable. However it has been a resoundi...
John Deere's HarvestLab wins innovation award
John Deere's HarvestLab sensor system won the Highly Commended prize in the Award For Innovation category at the 2014 Farm Business Cream Awards, whic...
Support local farmers and butchers in Sausage Week, says FUW
The Farmers' Union of Wales today called on people to support their local farmers and butchers by tucking into wonderful Welsh bangers during next wee...