Shows and Events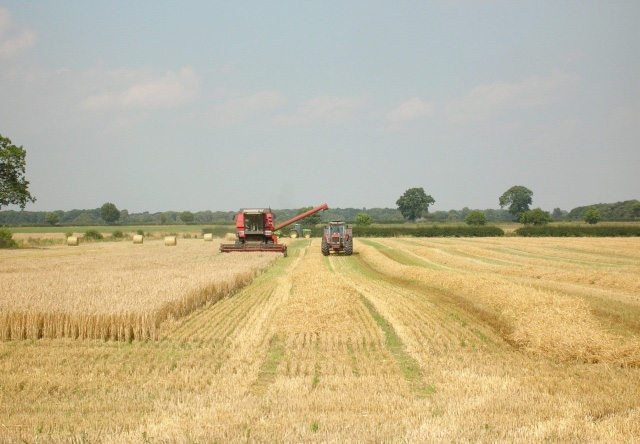 Zoetis to exhibit in poultry hall for first time
Zoetis will be featuring at the British Pig & Poultry Fair (Hall 1 Stand 13) one of the broadest portfolios of poultry health products including 17 li...
Volunteers visiting farms to tackle rural crime
Officers and volunteers will be out and about across the force area today as part of a day of action tackling rural crime. They will be visiting fa...
Submersible propeller pump for long pig slurry channels
Landia's AXP 500 propeller pump is ideal for pig slurry circulation and homogenisation in channels under slatted floors. Especially suitable for...
Beef Expo farm tours showcase traditional Northumbria
Renowned Northumberland farmers Willie Woodman and the Hunter family will be hosting this year's farm tours, which form a key part of NBA Beef Expo re...
National research to deliver local solutions at Cereals 2014
The role of national and independent research in delivering local solutions will be the focus of HGCA's crop management research plots at Cereals 2014...
Visitors attending Hay Festival invited to join local farm tours
Visitors attending the forthcoming Hay Festival are invited to join five local farmers on guided tours of their farms to learn more about where and ho...
Knight to show cultivator range at Cereals
Knight Farm Machinery will be showing two new additions to the Bednar range of cultivators at Cereals 2014. Last year the company was appointed the...
Young farmers bury time capsule in Devon
Young Farmers buried a time capsule in Hemyock, Devon - the site of the first Young Farmers' Club (YFC) - to commemorate the National Federation of Yo...
Yorkshire prepares for Tractor Fest
Tractor enthusiasts from across the country will gather in Yorkshire this summer for the Newby Hall Tractor Fest – and its annual 'March of the Tracto...
New Holland grain header to debut at Cereals
Cereals 2014 will be the stage for the UK debut of the Varifeed 41-foot grain header for the New Holland CR combine harvester. On display at New Ho...
New John Deere trailed sprayers at Cereals 2014
John Deere's new mid-specification M-Series trailed sprayer range makes its working debut at Cereals 2014, in the Sprays & Sprayers demonstration aren...
Welsh butchers to represent Great Britain
Matthew Edwards, 22, who works for S. A. Vaughan Family Butchers, Penyfford, near Chester, has begun training for the European competition in Switzerl...
Micron to unveil its latest innovations at Cereals
Micron Group, precision spraying specialists, are set to unveil a whole host of product innovations at this year's Cereals event. Specifically, visito...
Extreme weather 'number one challenge' facing UK
Extreme weather in the UK has been described as the 'number one challenge facing the nation' at The Chartered Institution of Water and Environmental M...
Cereals 14: Limagrain to show oilseed rape variety Amalie
Taking centre stage on the Limagrain stand at Cereals 2014 will be Limagrain UK's oilseed rape variety Amalie, the only OSR variety which has single g...
Case launch new orchard and vineyard tractors
Case IH has launched two new specialist models, the Quantum F for use in orchards, together with the ultra-narrow Quantum V for use in vineyards and s...
Prince of Wales backs Herdwick breed with visit to auction
The Prince of Wales will attend an auction of prime Herdwick ewes and lamb at the Rural Auction Centre in Cumbria, today. The visit will highlight ...
Visitors see latest farm buildings at Agricultural Buildings Show
Keen interest in the continuing process of updating farm buildings, on all types of farm, ensured a positive turnout of farmers and sector specialists...
Claydon Drills to exhibit crop technology at Highland Show
Claydon Drills, which manufactures the patented Claydon Strip Seeding System, will be exhibiting the latest in its crop establishment technology at th...
Martin Jones becomes first winner of Robin Maund Cup at Shrewsbury
The first winner of the Robin Maund Cup, donated in memory of a prominent Shropshire dairy farmer who died last spring, at Shrewsbury Auction Centre w...
New ideas emerge from NFU tenant roadshow
Fresh ideas on the Scottish tenanted sector have emerged at NFU Scotland roadshow meetings held in the past few weeks. The Union is on the road, me...
Case IH to exhibit every model at Royal Highland Show
Case IH will exhibit almost every model in its comprehensive range at the 2014 Royal Highland Show, including Quadtrac, Magnum CVX, Puma CVX, Maxxum C...
Team Wakeham take on poultry at Bath & West Show
Three top judges from the same family will be taking on the poultry judging at this year's Royal Bath & West Show - an unprecedented first for both th...
Water companies join the Cereals 2014 line-up
The UK's water companies have joined forces to host a stand for the first time at the country's leading technical arable event, Cereals. They are supp...
Livestock event to stage world's first live robotic demonstration
The world's first combined live robotic milking and feeding system demonstration at an exhibition will be staged at the Livestock Event, to be held at...
NSA honours outstanding contributions to the sheep industry
The National Sheep Association (NSA) has named sheep farmer Margaret Dalton OBE and sheep consultant Dr John Vipond as joint winners of the 2013 Georg...
Buyers compete for store cattle at Bishops Castle
Buyers from as far away as Leicester and Suffolk competed for the 250 store cattle on offer at Bishops Castle Auction on March 20. The entry was up...
England's oldest horse race won by first time entrants
First-time entrants Tracey Corrigan and her fiancé Richard Mumford proved a surprise package when they overcame an experienced field to win England's ...
New HGCA Monitor Farm project underway
Eight arable growers have joined HGCA's Monitor Farm programme in the first large-scale, farmer-led initiative of its kind in England and Wales. Th...
'Buy from local butchers', as National Butcher's Week begins
People are being encouraged to buy from their local butcher as part of National Butchers' Week. This year's awareness-raising campaign focuses on e...
New awards celebrate farm wildlife success
The new Nottinghamshire Farm Environment Award launches today, run by NFU, jointly with Nottinghamshire Farming and Wildlife (NFW), the awards are des...
Soil Association to fund innovative farmer-led research
The Soil Association has announced funding for three innovative new research projects to support sustainable agriculture. The three projects, which...
New Holland fundraiser cycles over land and sea
A New Holland employee raised over £8,000 on a charity cycle ride that crossed the Irish Sea to thank two hospitals for their support when his son tra...
First Starter-farm planned for the Highlands
Forestry Commission Scotland is to create a new 'starter-farm' in Caithness - giving a new farmer an opportunity to get their first foothold into the ...
NFU meetings to discuss agricultural holdings
NFU Scotland has gone on the road to gather evidence through a number of meetings for tenant, owner-occupier and landlord members on the Agricultural ...
Voluntary code review evidence timetable extended
The review of the Dairy Industry Code of Best Practice on Contractual Relationships (Voluntary Code) has extended the deadline for evidence. Eviden...
Countdown to the world's breed-leading Holstein bull begins
The countdown has begun to the launch of semen from Cogent Breeding Limited's world-leading Holstein bull, Cogent Supershot. Cogent Supershot is th...
£20,000 raised for Somerset farmer Flood victims
A staggering £20,000 has been raised by NFU Cymru Glamorgan members jointly with Glamorgan Young Farmers Clubs for the Somerset farmers who have been ...
New machinery awards power off
The International Machinery Manufacturers' Awards are being launched this week, with four categories to choose from. Supported by the AEA, The In...
New video competition to feature at NSA Sheep Event 2014
Entries are now open for an exciting new video competition which will culminate at this year's NSA Sheep Event, held on Wednesday 30 July 2014 at The ...
New dairy cattle cup remembers late Shropshire dairy farmer
A new cup donated in memory of a prominent Shropshire dairy farmer who died last April aged 81 will be on offer for the best pedigree and commercial d...
Harper Adams conference links farming, science and nutritional food value
Harper Adams University is set to host the 2014 Frank Arden Memorial Conference on 24 April, supported by the Nuffield Farming Scholarships Trust. ...
Demand for NFU's big debate in Stirling
NFU Scotland has had an overwhelming demand for tickets for its high-level independence referendum debate, taking place later this month. NFU Scotl...
Shrewsbury collective machinery auction draws large crowd
Auctioneers Halls reported one of the largest ever crowds for its bi-monthly collective plant and agricultural machinery auction in Shrewsbury last mo...
Exceptional dairy trade at Shrewsbury Auction Centre
An exceptionally strong trade from start to finish was reported by auctioneers Halls as 145 dairy cattle went under the hammer in front of a good comp...
Co-Operative Group's Good Chicken award withdrawn
Compassion in World Farming is withdrawing the Co-Operative Food's Good Chicken Award following its decision to increase the stocking density of its b...
New John Deere balers unveiled at Grassland
A new John Deere 800 Series mower-conditioner plus three new 400 Series fixed chamber round balers, including a wrapping baler model, can be seen work...
Sheep farmers flock to electronic database meetings
National Sheep Association's series of six open meetings with SouthWestern, the provider of the new electronic sheep movement reporting database in En...
Andrew Burgess receives award for services to agriculture
Andrew Burgess of Produce World has received the award of Associate of the Royal Agricultural Society for his outstanding contribution to the agricult...
'Excellent trade' for quality store cattle at Bishops Castle
An excellent trade was reported by auctioneers Halls at just under 250 store cattle went under the hammer at Bishops Castle & District Quality Cattle ...