Shows and Events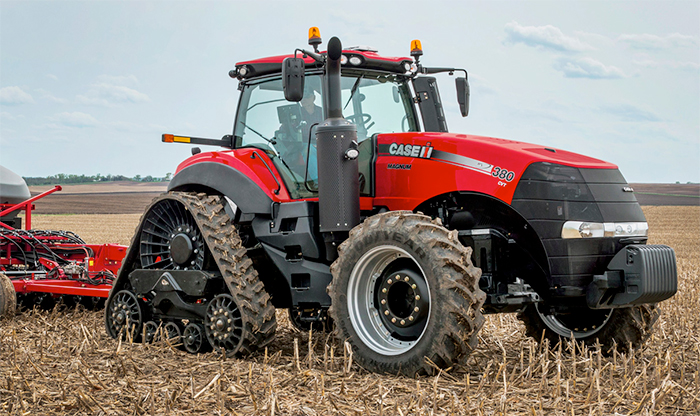 Case IH Magnum Rowtrac previewed at LAMMA 2015
Combining the individual benefits of wheeled and tracked tractors, the new Case IH Magnum Rowtrac 380 CVX – which will be previewed in the UK at LAMMA...
New John Deere machinery to be shown at LAMMA
John Deere's new 6R and 6M Series tractors, R4040i self-propelled sprayer and 8000 Series self-propelled forage harvester will be featured for the fir...
Modern sheep genetics on the world stage
A record breaking number of six sheep breeds were represented on the joint EBLEX and British Livestock Genetics stand at the major Eurotier show. E...
Case IH to launch new machinery at LAMMA 2015
Case IH will exhibit new products at LAMMA 2015, the UK's largest farm equipment show, on 21 and 22 January. In addition to the new Case IH Rowtr...
New Holland tractor plant welcomes Essex farmers
The New Holland Basildon Tractor Plant recently opened its doors and welcomed Essex farmers and invited guests as the county NFU branch marked its cen...
Claydon to exhibit new Hybrid T drill at LAMMA 2015
Claydon Drills will exhibit the production version of their new Hybrid T drill for the first time at LAMMA 2015. Exceptionally versatile and flexible,...
Arable challenges discussed at NFU conference
Arable farmers in Wales had the opportunity to learn more about overcoming some of the challenges facing the sector earlier this week, thanks to a joi...
Farm business innovation expo returns this month
Farm Business Innovation exhibition and conference returns to Olympia London at the end of the month, promising new ways for farmers, smallholders, la...
Helping to give poverty in farming the boot!
Harrison Clark Rickerbys takes giant welly on a tour of its four Three Counties' offices, thanks to the help of Gloucestershire business, Green Farm S...
Royal Welsh Agricultural Society is one of the top Welsh businesses
The Royal Welsh Agricultural Society last week saw itself recognised as one of the top businesses in Wales. At the very first Wales Business and E...
UK 'on the edge of agricultural revolution'
The UK is on the edge of another agricultural revolution, which will be achieved through new technology, innovation and shared knowledge within the se...
Crop diversity needed for growing population
Greater diversity in crops, livestock, biodiversity, our markets and diets was the key message and subject of debate at the annual LEAF (Linking Envir...
New Holland dealers unveil diverse line-up for Agriscot 2014
This year's brand new telehandler from New Holland will be making its Agriscot debut surrounded by a diverse display of products. Local dealers Br...
Improvements needed to boost agricultural productivity
Greater improvements are required to boost agricultural productivity in England, Innovation for Agriculture have warned. Addressing the barriers to...
Ceredigion NFU Cymru on-farm milk meeting
Aled Jones, NFU Cymru Milk Board Chairman, will be guest speaker at the next Ceredigion NFU Cymru on-farm milk meeting on Thursday, 20 November, 2014....
Welsh food and drink producers head to China
With Export Week now upon us, eleven Welsh companies are getting ready to fly the Welsh flag in China to promote their produce at the Food and Hotel C...
Using science to break through the yield plateau
Using science to break though the yield plateau is the theme for this year's Hutchinsons Winter Technical Conference for farmers being held at Rowley ...
Learn more about profit, efficiency and stewardship at CropTec
Farmers are invited to meet up with their local BASF Agronomy Manager and BASF market sector experts to learn more about the key elements of farming -...
Future of farming to dominate Three Counties show
The future of farming and engaging the next generation in the industry will dominate the agenda at one of the UK's premier farming conferences taking ...
London combine harvester parade aims to encourage public to back British farming
A state of the art combine harvester is taking to the streets of central London for one of the UK's most historic parades. NFU Cymru and the NFU ha...
New campaign aims to educate farmers about cattle diseases
A campaign has been launched by the National Beef Association (NBA) to educate beef farmers about the everyday health problems that face their herds. ...
Cream of dairy genetics on offer in December
An all-star line-up of high-class dairy cattle from the UK will be going under the hammer in Carlisle in Britain's Premier Elite Holstein auction in D...
Welsh dairy farmers' plight raised at Anglesey Day
Food, farming and tourism were in the spotlight for the fourth annual Anglesey Day in Westminster hosted by the island's MP Albert Owen and featuring ...
Farming on parade as combines take to London streets
A state of the art combine harvester is taking to the streets of central London for one of the UK's most historic parades. The NFU has teamed up w...
Innovation award for Mitas PneuTrac at EIMA fair
Mitas' tyre concept PneuTrac received the EIMA Technical Innovation award in Bologna, Italy. The jury awarded Mitas PneuTrac as the best innovation...
National Agricultural Exhibition Centre to get £2m rebrand
The Grandstand Group has announced it has taken over the running of the Stoneleigh Park exhibition venue having brought out the Royal Agricultural Soc...
New Reform Metrac H8X to be introduced to the UK market
Reform Werke have announced the imminent introduction to the UK market of their compact Metrac H8 X tractor, which the company say, delivers the combi...
NFU urges farmers to understand new CAP payment scheme
NFU's series of CAP roadshows gets underway in the East Midlands, next week with a strong message from NFU to all farmers and growers: read, understan...
25 things you might not have known about the Royal Welsh Winter Fair
1. The Winter Fair was initially only going to run as a trial event for three years, to see if it would be viable. However it has been a resoundi...
John Deere's HarvestLab wins innovation award
John Deere's HarvestLab sensor system won the Highly Commended prize in the Award For Innovation category at the 2014 Farm Business Cream Awards, whic...
Support local farmers and butchers in Sausage Week, says FUW
The Farmers' Union of Wales today called on people to support their local farmers and butchers by tucking into wonderful Welsh bangers during next wee...
Inspiring the next generation of sheep farmers
Young people keen to get ahead in the sheep sector are encouraged to attend a free one-day event in Gloucestershire on Wednesday 12th November. Th...
Former FUW director takes top Carmarthenshire farming award
Former Farmers' Union of Wales director of agricultural policy Mary James has received this year's FUW/United Counties Agricultural & Hunters Society ...
East Yorkshire farm diversification businesses win national award
Directors and staff at Hunmanby Grange's three farm diversification businesses are celebrating after winning a prestigious award in a national farming...
Solar can transform agricultural businesses, seminar will urge
Agricultural businesses are being urged to attend a free seminar to learn how solar power can transform their operations and cut their fuel bills. ...
Kuhn to display new range at AgriScot
The latest Axis fertiliser spreader and PolyLonger hedgecutter will be among the machines being displayed by Kuhn Farm Machinery at this year's AgriSc...
Animal psychology in focus at agricultural workshop
Agricultural workers can get an insight into animal psychology as part of efforts to improve farm safety while handling cattle. Agriculture continu...
John Deere to unveil new sprayer at CropTech 2014
Aimed at arable farms, speciality crop growers and contractors, the new John Deere R4040i self-propelled sprayer replaces the current 5430i model for ...
NFU Cymru supports Future Farmers of Wales
Members of Wales' rural group, Future Farmers of Wales, were delighted to receive a donation for £500 from farming union, NFU Cymru, recently. On p...
New Holland regains Guinness title for harvesting
New Holland Agriculture has reclaimed the Guinness World Records title, harvesting 797.656 tonnes of wheat in eight hours with the world's most powerf...
Potato supply chain 'in focus' at November conference
'From seed to ware', this year's Seed Industry Event (SIE14) on 25 November, at the Crieff Hydro in Perthshire, widens its' appeal to the whole supply...
New McCormick tractor ranges to make their debut at AgriScot
Four new McCormick tractor designs are set to make their AgriScot debut at the 2014 event on November 19 at Ingliston, Edinburgh. Manufacturer Argo...
Princess Royal to attend Royal Welsh Winter Fair
The Princess Royal has accepted an invitation to attend the 25th Royal Welsh Winter Fair which will be celebrating the silver jubilee. It will be h...
British farming 'must be more ambitious', says Oxford Farming Chairman
For the British farming industry to thrive we must be more ambitious, according to Richard Whitlock, chairman of the Oxford Farming Conference who was...
Winner of NFU Dairy Stockperson of the Year announced
Carl Poole, from Meifod, Powys, has been announced as the winner of the 2014 NFU Cymru / NFU Mutual Welsh Dairy Stockperson of the Year Award during t...
JCB launches new Fastrac 4000 series
A new chapter in the JCB Fastrac story begins this autumn when production of the all-new Fastrac 4000 Series tractors gets underway. Set to enter a...
Welsh government Director to address NFU farm meeting
Andrew Slade, Director of Agriculture, Food and Marine for Welsh Government, will be the guest speaker at the next Brecon and Radnor NFU Cymru on farm...
Business efficiency training on offer for English sheep enterprises
The National Sheep Association (NSA) is encouraging English sheep producers to take advantage of subsidised business efficiency training workshops thi...
Industry speakers confirmed for 2015 Norfolk Farming Conference
Industry-leading speakers have been confirmed for the next Norfolk Farming Conference, which takes place on 12 February 2015. The 2015 conference ...
Union proposes new farmed environment forum
NFU Scotland has contacted key Scottish politicians this week asking them to consider a new forum to debate environmental matters that have implicatio...