Shows and Events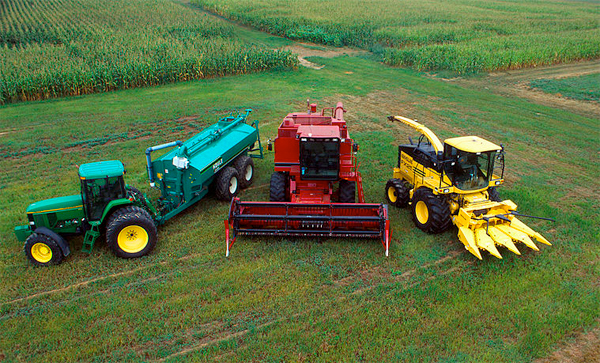 Conference tackles sustainable agriculture and growing global demands
The challenges of delivering sustainable agriculture while meeting growing global demands for food will feature high on the agenda for this year's AIC...
Carlisle open day gives farmers latest on wind power
A Cumbrian farmer who has installed the latest energy-saving wind turbine on his land is hosting an open day for farmers and land owners across the No...
Schedules out for the 25th Royal Welsh Winter Fair
Livestock schedules for this year's 25th Royal Welsh Winter Fair have been sent to over 5,500 potential exhibitors. First staged in 1990, this year...
NFU attends Conservative Party conference
The NFU's Head of Government and Parliamentary Affairs, Matt Ware, says that the Conservative Party Conference is an vital opportunity for the NFU to ...
New NFU Cymru Livestock Champion Award
NFU Cymru is launching a new Award to find the best livestock person working within the agricultural industry in Wales, with the Award winner receivin...
Innovation and Business hubs new to Croptec 2014
Two brand new feature areas at CropTec 2014 focussing on the key areas of innovation and business have been introduced to help forward thinking grower...
Put farmers at the centre of global talks, Kendall urges
Peter Kendall, President of the World Farmers' Organisation (WFO), joined the UN Climate Summit in New York this week to ensure that farmers are no lo...
Gravity defying athlete stuns sprint star Harry Aikines-Aryeetey in world's first track vs tree challenge
British 100m track star, former BBC Young Sports Personality of the Year and Commonwealth silver medallist, Harry Aikines-Aryeetey, faced his biggest ...
Taking the Countryside to the City
NFU Cymru will help bring the countryside and agriculture right to the heart of the city over the weekend for the Cardiff Country Fair - with celebrit...
Green Energy Awards shortlist announced
Cutting edge technology and innovation is at the heart of an impressive 2014 shortlist for the prestigious annual Green Energy Awards, organised by Re...
'Huge turnout' for Berkshire's Have a Go show
They came, they saw – and many of them had a go! The 2014 Royal County of Berkshire Show will be remembered as one which excelled for its particular b...
Real spider-men descend on Warwickshire for the ultimate climbing battle!
Warwickshire opens its doors to the world's arborist and forestry community this week, as it hosts the Husqvarna World Pole Climbing Championships 201...
Norfolk farmer sells collection of military vehicles
A 1945 Centurion tank, a 1940s US military truck, a 1930s Austin 8 military car and a parachute are among a collection of vintage military vehicles an...
'Good trade' at Bishops Castle sale of breeding sheep
Auctioneers Halls reported a "good trade" with buyers from near and far at a highly successful sale of 6,000 breeding sheep held at the Love Lane site...
NFU spells out priorities ahead of 2015 General Election
A Government that understands farm businesses, wants agriculture to grow and has the policies that send the right signals to farmers, are the key mess...
Dairy Show 'boasts genetics of the future'
Calf showing can sometimes be seen as a poor relation compared to the excitement of dairy interbreed championships – but it is the foundation on which...
New John Deere combine developments for 2015
John Deere is introducing the new five-walker W330 and six-walker W440 entry level combine harvesters for the 2015 season. Offering reliability and si...
FUW brings taste of rural life to Cardiff Country Fair
The Farmers' Union of Wales will welcome visitors to the Cardiff Country Fair at the end of the month with a taste of rural life and food production i...
Win £1000 off your next fertiliser order
Quality fertiliser is the key to yield and that holds true whether it's applied to grass, other forage or arable crops so this great prize of £1000 to...
Proven vigour required for late sowings
Some parts of the UK are struggling to finish harvest and consequently to get their winter oilseed rape drilled. Those that have been pushed into late...
Realise ram investment post sale
Farmers who have purchased rams at this year's Cydectin Kelso Ram Sale are reminded to manage their performance post sale to maximise returns from the...
Innovative dairy product wins top award
A temperature-monitoring bolus which spots signs of illness in dairy cattle up to two days before any physical signs appear has won a major award for ...
Time running out to enter Dairy Stockperson Award
Time is running out to enter the NFU Cymru / NFU Mutual Dairy Stockperson Award, which recognises dedicated, committed and enthusiastic dairy stock ma...
Lochaber Conservation grazing project's Show success
Forestry Commission Scotland use of Highland cattle to manage conservation grazing sites across the National Forest Estate has met with double success...
British food and farming in global spotlight at IFAJ Congress this week
Thursday 4th September marks the start of the keenly awaited 5 day International Federation of Agricultural Journalists (IFAJ) 2014 Congress. 'Inn...
Deputy Minister visits NFU Cymru's Presidents Farm
Bovine TB, livestock movement rules and the Wales Rural Development Plan (RDP) were the three key issues raised by NFU Cymru President, Stephen James,...
Red Tractor joins food festival celebrations
Red Tractor Assurance (RTA) joined thousands of hungry festival goers last week as The Big Feastival opened its gates. Hosted by Alex James and Ja...
FUW holds successful abattoir talks over a "Pie and Pint" at Anglesey show
The Farmers' Union of Wales Anglesey branch held a pie and a pint evening reception at this year's Anglesey County Show to open up discussions about t...
Micron precision sprayers to premier at APF event
Micron Group, manufacturers of precision spraying equipment, have announced their inaugural attendance at APF, UK's leading forestry and arboricultura...
FUW's 'wooden horse' race night for children's hospices a great success
Farmers' Union of Wales Glamorgan and Gwent branches enjoyed a hugely successful wooden horse race night in aid of union president Emyr Jones' charity...
FUW reveals speakers for autumn conference
The Farmers' Union of Wales has today revealed its speakers for its upcoming autumn conference themed 'Joint ventures in farming – myth breaking and m...
FUW stalwart honoured for services to Welsh Agriculture
Glamorganshire beef and sheep farmer and long standing South Wales special member of the Farmers' Union of Wales finance and organisation committee Lo...
New Holland tractor joins Notting Hill carnival parade
Joining the world famous music and colour of the weekend-long Notting Hill carnival this year was the blue of a New Holland tractor. The appearanc...
Innovative dairy hygiene products at the UK Dairy Day
For the dairy industry, lameness remains one of the most significant welfare issues affecting productivity, with over half the average dairy herd expe...
World's largest corn dolly measures over 65 feet
A woman from Dorset has just completed what could be the world's longest corn dolly measuring over 65 feet. The 20metre long intricately woven dol...
Grassland Farmer of the Year 2014: Final round completed
The judges of the BGS Grassland Farmer of the Year Award criss-crossed the UK last week (18-22 August), visiting the three 2014 finalists at their far...
NSA ram sale honours retiring committee members
Two staunch members of the NSA Wales and Border Ram Sales were honoured in a ceremony at the early Builth sale on Monday 4th August, to mark their ret...
Farmers reminded of dangers of rail line crossings
With the re-opening of the Cambrian rail line between Harlech and Pwllheli to engineering trains earlier this month, which is to be followed shortly b...
NFU Cymru & NFU Mutual Welsh Dairy Stockperson Award
Dairy stock managers are being recognised today at Denbigh and Flint Show by NFU Cymru and NFU Mutual with the launch of its annual Welsh Dairy Stockp...
Farm Cycle Challenge charity donations top £42k
Former NFU President Peter Kendall and Oxford Farming Conference Chairman Richard Whitlock's Farm Cycle Challenge has now raised more than £42,000 for...
Farmers all set for 'Love Scotch Lamb' weekend
Scottish sheep farmers are all set for "Love Scotch Lamb' weekend (23 and 24 August), when they will be tempting Scottish shoppers with lamb at 12 ven...
Satellite tractor joins show adventure
The countryside adventure that will unfold for next month's Royal County of Berkshire Show promises to take visitors on a journey both backwards and f...
Frome Show: 'Wonderful opportunity to see top quality show cattle'
Frome's Annual Show, the Cheese Show as it's been known locally for many years, is fast becoming one of the South West's most important one day agricu...
NFU President to attend Pembrokeshire County Show
NFU President, Meurig Raymond and NFU Cymru Pembrokeshire County Chairman, Mike Plumb, will start the press briefing with a photo opportunity. They wi...
New elite short gestatiuon Angus sire joins Sterling Sires
A new British-bred Aberdeen Angus bull offering minus 4.9 days gestation length has joined the Sterling Sires line up. Oakchurch Duke N121 has calving...
Farmer Forum at Pembrokeshire Show
NFU Cymru is holding a Farmer Forum at this year's Pembrokeshire Show when both the NFU President and the NFU Cymru President will be available to ans...
NFU roadshow at Monmouthshire Show
Celebrity farmer Johnny Ball and the NFU Let's Talk Farming roadshow will be visiting Monmouthshire Show later this month. The inimitable Johnny Ba...
East of England Potato Day 2014
Potato Council technical executive, Chris Steele who is organising the event says, "The technical event will provide growers, agronomists and advisors...
FUW hosts 'wooden horse' race night for children's hospices
The Farmers' Union of Wales Glamorgan and Gwent branches are organising a wooden horse race night for union president Emyr Jones' charity fund for chi...
Environment & Animal Welfare: British Science Festival
Discover the latest studies and approach as humanity battles with its biggest threat, climate change. Meet the scientists preparing humanity for the u...