Shows and Events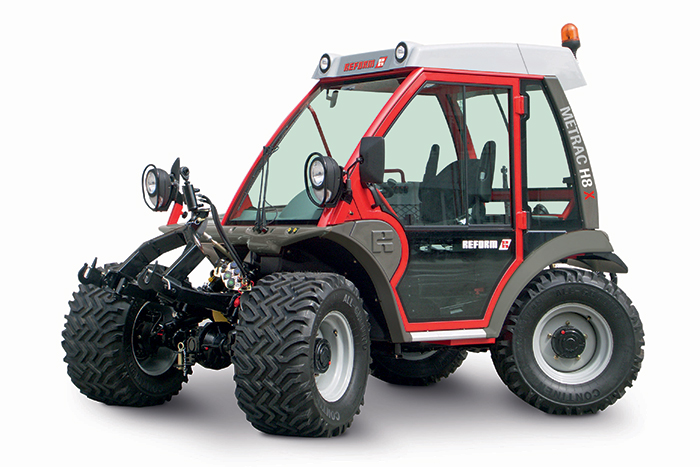 New Reform Metrac H8X to be introduced to the UK market
Reform Werke have announced the imminent introduction to the UK market of their compact Metrac H8 X tractor, which the company say, delivers the combi...
NFU urges farmers to understand new CAP payment scheme
NFU's series of CAP roadshows gets underway in the East Midlands, next week with a strong message from NFU to all farmers and growers: read, understan...
25 things you might not have known about the Royal Welsh Winter Fair
1. The Winter Fair was initially only going to run as a trial event for three years, to see if it would be viable. However it has been a resoundi...
John Deere's HarvestLab wins innovation award
John Deere's HarvestLab sensor system won the Highly Commended prize in the Award For Innovation category at the 2014 Farm Business Cream Awards, whic...
Support local farmers and butchers in Sausage Week, says FUW
The Farmers' Union of Wales today called on people to support their local farmers and butchers by tucking into wonderful Welsh bangers during next wee...
Inspiring the next generation of sheep farmers
Young people keen to get ahead in the sheep sector are encouraged to attend a free one-day event in Gloucestershire on Wednesday 12th November. Th...
Former FUW director takes top Carmarthenshire farming award
Former Farmers' Union of Wales director of agricultural policy Mary James has received this year's FUW/United Counties Agricultural & Hunters Society ...
East Yorkshire farm diversification businesses win national award
Directors and staff at Hunmanby Grange's three farm diversification businesses are celebrating after winning a prestigious award in a national farming...
Solar can transform agricultural businesses, seminar will urge
Agricultural businesses are being urged to attend a free seminar to learn how solar power can transform their operations and cut their fuel bills. ...
Kuhn to display new range at AgriScot
The latest Axis fertiliser spreader and PolyLonger hedgecutter will be among the machines being displayed by Kuhn Farm Machinery at this year's AgriSc...
Animal psychology in focus at agricultural workshop
Agricultural workers can get an insight into animal psychology as part of efforts to improve farm safety while handling cattle. Agriculture continu...
John Deere to unveil new sprayer at CropTech 2014
Aimed at arable farms, speciality crop growers and contractors, the new John Deere R4040i self-propelled sprayer replaces the current 5430i model for ...
NFU Cymru supports Future Farmers of Wales
Members of Wales' rural group, Future Farmers of Wales, were delighted to receive a donation for £500 from farming union, NFU Cymru, recently. On p...
New Holland regains Guinness title for harvesting
New Holland Agriculture has reclaimed the Guinness World Records title, harvesting 797.656 tonnes of wheat in eight hours with the world's most powerf...
Potato supply chain 'in focus' at November conference
'From seed to ware', this year's Seed Industry Event (SIE14) on 25 November, at the Crieff Hydro in Perthshire, widens its' appeal to the whole supply...
New McCormick tractor ranges to make their debut at AgriScot
Four new McCormick tractor designs are set to make their AgriScot debut at the 2014 event on November 19 at Ingliston, Edinburgh. Manufacturer Argo...
Princess Royal to attend Royal Welsh Winter Fair
The Princess Royal has accepted an invitation to attend the 25th Royal Welsh Winter Fair which will be celebrating the silver jubilee. It will be h...
British farming 'must be more ambitious', says Oxford Farming Chairman
For the British farming industry to thrive we must be more ambitious, according to Richard Whitlock, chairman of the Oxford Farming Conference who was...
Winner of NFU Dairy Stockperson of the Year announced
Carl Poole, from Meifod, Powys, has been announced as the winner of the 2014 NFU Cymru / NFU Mutual Welsh Dairy Stockperson of the Year Award during t...
JCB launches new Fastrac 4000 series
A new chapter in the JCB Fastrac story begins this autumn when production of the all-new Fastrac 4000 Series tractors gets underway. Set to enter a...
Welsh government Director to address NFU farm meeting
Andrew Slade, Director of Agriculture, Food and Marine for Welsh Government, will be the guest speaker at the next Brecon and Radnor NFU Cymru on farm...
Business efficiency training on offer for English sheep enterprises
The National Sheep Association (NSA) is encouraging English sheep producers to take advantage of subsidised business efficiency training workshops thi...
Industry speakers confirmed for 2015 Norfolk Farming Conference
Industry-leading speakers have been confirmed for the next Norfolk Farming Conference, which takes place on 12 February 2015. The 2015 conference ...
Union proposes new farmed environment forum
NFU Scotland has contacted key Scottish politicians this week asking them to consider a new forum to debate environmental matters that have implicatio...
Apprenticeship scheme celebrates matching 300 placements
An industry-led apprenticeship scheme which is encouraging young people into careers in agriculture have now matched over 300 young people in apprenti...
FUW hosts farm visit with deputy Minister
The Farmers' Union of Wales Denbighshire branch recently hosted a successful farm visit (October 2) with deputy Minister for farming and food, Rebecca...
Keeping up with the next generation of livestock farmers
The NFU has teamed up with Innovation for Agriculture (IfA) and Warwickshire Rural Hub to focus on the potential that precision agriculture has for th...
Shrewsbury machinery auction attracts New Zealand and European buyers
Buyers from as far away as New Zealand added to the competitive bidding at auctioneers Halls' successful bi-monthly plant and agricultural machinery a...
Lister Wilder scoops Farm Machinery Dealer of the Year award
Lister Wilder has been named as Farm Machinery Dealer of the Year to round off a run in which the company also achieved a second successive five-star ...
UK Dairy Day success promises exciting 2015 event
UK Dairy Day promises to be even bigger and better next year, after enjoying success last month. The inaugural event attracted more than 6200 visi...
UK success at World Young Shepherd Challenge
There was plenty of cause for celebration among the UK competitors in the World Young Shepherds Challenge in France on Wednesday. England took top pri...
Equine Fair at the Donkey Sanctuary
The Donkey Sanctuary is holding an Equine Fair on Saturday 11th October from 10am to 4pm. The fair features a packed programme of demonstrations an...
British Farming Awards: Zedlock 'Machinery Innovator of the Year' finalist
Zedlock has announced their selection as a finalist in the "Machinery Innovator of the Year" category of the British Farming Awards. The awards, ...
Farmer Judi James 'relishes judging opportunity'
Judi James, 55, from Littlebredy in Dorchester, took her seat on this year's judging panel to help decide the winner of UK Worker of the Year 2014, a ...
'Never a better time to get into the agricultural industry'
There has never been a better time to get into the agricultural industry. The world's population is growing and the resulting demand for food presents...
Conference tackles sustainable agriculture and growing global demands
The challenges of delivering sustainable agriculture while meeting growing global demands for food will feature high on the agenda for this year's AIC...
Carlisle open day gives farmers latest on wind power
A Cumbrian farmer who has installed the latest energy-saving wind turbine on his land is hosting an open day for farmers and land owners across the No...
Schedules out for the 25th Royal Welsh Winter Fair
Livestock schedules for this year's 25th Royal Welsh Winter Fair have been sent to over 5,500 potential exhibitors. First staged in 1990, this year...
NFU attends Conservative Party conference
The NFU's Head of Government and Parliamentary Affairs, Matt Ware, says that the Conservative Party Conference is an vital opportunity for the NFU to ...
New NFU Cymru Livestock Champion Award
NFU Cymru is launching a new Award to find the best livestock person working within the agricultural industry in Wales, with the Award winner receivin...
Innovation and Business hubs new to Croptec 2014
Two brand new feature areas at CropTec 2014 focussing on the key areas of innovation and business have been introduced to help forward thinking grower...
Put farmers at the centre of global talks, Kendall urges
Peter Kendall, President of the World Farmers' Organisation (WFO), joined the UN Climate Summit in New York this week to ensure that farmers are no lo...
Gravity defying athlete stuns sprint star Harry Aikines-Aryeetey in world's first track vs tree challenge
British 100m track star, former BBC Young Sports Personality of the Year and Commonwealth silver medallist, Harry Aikines-Aryeetey, faced his biggest ...
Taking the Countryside to the City
NFU Cymru will help bring the countryside and agriculture right to the heart of the city over the weekend for the Cardiff Country Fair - with celebrit...
Green Energy Awards shortlist announced
Cutting edge technology and innovation is at the heart of an impressive 2014 shortlist for the prestigious annual Green Energy Awards, organised by Re...
'Huge turnout' for Berkshire's Have a Go show
They came, they saw – and many of them had a go! The 2014 Royal County of Berkshire Show will be remembered as one which excelled for its particular b...
Real spider-men descend on Warwickshire for the ultimate climbing battle!
Warwickshire opens its doors to the world's arborist and forestry community this week, as it hosts the Husqvarna World Pole Climbing Championships 201...
Norfolk farmer sells collection of military vehicles
A 1945 Centurion tank, a 1940s US military truck, a 1930s Austin 8 military car and a parachute are among a collection of vintage military vehicles an...
'Good trade' at Bishops Castle sale of breeding sheep
Auctioneers Halls reported a "good trade" with buyers from near and far at a highly successful sale of 6,000 breeding sheep held at the Love Lane site...
NFU spells out priorities ahead of 2015 General Election
A Government that understands farm businesses, wants agriculture to grow and has the policies that send the right signals to farmers, are the key mess...