Shows and Events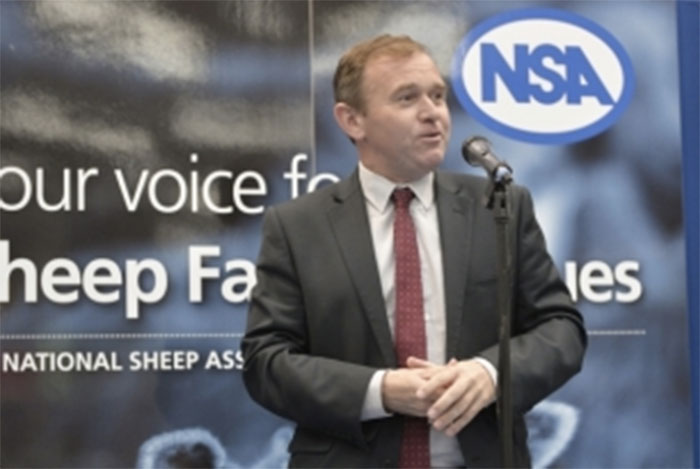 Profitability of beef to be focus of EBLEX conference
Efficiency and profitability of producing high quality beef and lamb for domestic and export markets will come under the spotlight at this year's EBLE...
Optimistic outlook for sheep sector showcased at NSA Sheep Event
A public commitment to fight European carcase splitting rules, a clear intention to secure tolerance on read rates of electronic eartags and a reitera...
Free-range farmer tours Europe, calling for honest labelling
From August 1st, Devon broiler farmer's daughter, Tamsin French, will dress as a chicken called 'Rosa', and embark on a 39-day tour of the European Un...
Forum discusses the Organic Future
The Scottish Organic Forum held an open workshop on the 10th of July at SAC Craibstone, to discuss the future of the organic sector in Scotland. Many ...
New John Deere tractor transmission wins IMMA
John Deere's DirectDrive transmission was judged winner of the tractor category in the new International Machinery Manufacturers Awards (IMMA), which ...
CLA Game Fair conservation prize winner announced
An aspiring river keeper is the winner of this year's CLA Game Fair Conservation Saturday Quiz which took place at Blenheim Palace in Oxfordshire on 1...
Angus event helps growers tackle PCN 'creep'
Potato Cyst Nematode (PCN) was the topic of the afternoon at this new technical event held this July at the family farm of John Reid at Newmill of Bal...
Wales Woman Farmer Award winner announced
Eleri Lloyd from Ffynonlwyd Farm, Llangynin, Carmarthenshire, has today been crowned NFU Cymru / Principality Building Society Wales Woman Farmer of t...
UK tour dates unveiled for New Holland combines, tractors and balers
A national showcase tour of combines, tractors and balers will let farmers get to grips with the latest New Holland harvest technology. The demonst...
New tractor transmission wins IMMA
John Deere's DirectDrive transmission was judged winner of the tractor category in the new International Machinery Manufacturers Awards (IMMA), which ...
Agri-Tech East to say ancient wheat varieties and latest technology hold key to food security
Global wheat consumption exceeded production in six out of the last eight years. Although increasing yield to meet demand is important, improving resi...
An Anglesey gateway for the Royal Welsh
The new livestock entrance, Porth Môn has been designed by local Radnorshire architect, Mike Garner. The tower represents the Anglesey windmills a...
Nine young farmers benefit from travel scholarship
Nine young farmers from across Wales have financially benefited from this year's Gareth Raw Rees Memorial Travel Scholarship. A total of £1,950 has be...
Suckler herd of the year award launched
The search is on for the UK's top suckler herd, an annual award organised by Beef Shorthorn Society and supported by Morrison with £1,500 at stake. ...
New Environment Secretary visits CLA Game Fair
An economically viable countryside needs a policy agenda which will encourage business development, increase food production and recognise the cost of...
Cameron visits the Royal Welsh Show
Prime Minister David Cameron today flew in to Llanelwedd to visit the Royal Welsh Show for the morning. As the first serving British Prime Minister...
Prince of Wales visits innovative research project
As part of his annual Food and Farming Summer School, The Prince of Wales met with students and farmers at Eastbrook Farm in Wiltshire. He took a t...
Record number of participants as Garden re-leaf day total announced
Garden Re-Leaf day, the UK's biggest garden retail charity event in support of Children's hospice garden charity, Greenfingers, was last night hailed ...
Ministers' visits to CLA Game Fair will put rural issues in focus
Ministers visiting the CLA Game Fair at Blenheim Palace, Oxfordshire will have the chance to hear firsthand the concerns of the countryside. Farmin...
Minister's Royal Welsh snub angers Plaid Cymru
Plaid Cymru has described the refusal by three Welsh Government Ministers to attend a scrutiny session with Assembly Members at the Royal Welsh Show n...
Borderway Agri Expo unveils 2014 livestock judges
Borderway Agri Expo 2014 has revealed a line-up of top-quality judges from around the UK for this year's event. This Harrison & Hetherington-organi...
Launch of the Kent Countryside Award 2015
The search is now on to find Kent's farmers, growers, food producers and rural businesses contributing to the benefit of the Kent countryside. The 201...
New Kuhn farm machinery to be shown at Royal Welsh Show
Kuhn Farm Machinery's new RW 1400 and RW 1600 bale wrappers with e-Twin wrapping functionality will be on display at this year's Royal Welsh Show at B...
Innovation in agriculture 'in the spotlight' at Royal Welsh Show
A series of hi-tech innovations with potential to make Welsh farming more efficient and productive will come together under one roof at this year's Ro...
Top Female Farmer Awards celebrate 18th birthday
To celebrate 18 years of the Welsh Woman Farmer Award's, a cake cutting ceremony will take place at the Royal Welsh Show, in the NFU Cymru Pavilion, o...
SRUC Honorary Fellowship Awarded to Nigel Miller, President NFUS
Nigel Miller, President of NFUS Scotland, has been awarded an Honorary Fellowship of Scotland's Rural College, in recognition of his outstanding contr...
Dairy sheep farmer wins in NSA prize giveaway
With most of its members running sheep for meat production, it made a nice change from the norm when the National Sheep Association (NSA) gave away a ...
Down on the farm – with a difference
Set in 160 acres of countryside in the Vale of Glamorgan the Amelia Trust Farm is no ordinary farm. From the outside the usual array of cows, sheep an...
Beef Association calls for introduction of Agricultural Ombudsman
The National Beef Association (NBA) has welcomed the industry coming together to tackle falling prices in the Beef Summit in London, but says tougher ...
CLA highlights sharing as key for future of farming
A wider uptake of share farming could enable thousands of young people to get their first foot on the farming ladder according to the CLA. The CLA...
Farmers invited to discuss shelter, sheep health and increased lamb survival rates
Sheep farmers are being invited to discover how the health and welfare of their animals, and productivity of land, can be improved, by planting trees....
Livestock Event sees record attendance
A record 17,000 visitors attended the Livestock Event staged at The NEC, Birmingham on 2 and 3 July. The figure was up 6% on the year. "The event c...
Large crowd braces rain for Stone machinery auction
A large crowd braved heavy rain showers at auctioneers Halls' successful collective machinery auction at Stanklyn Lane, Stone near Kidderminster last ...
1200 visitors enjoy the sun at NSA South Sheep
Over 1200 visitors enjoyed a day at NSA South Sheep on Saturday. A packed seminar and demonstration programme, farm tours and 120 trade and breed soci...
North Wyke research farm opens its gates to sheep farmers
The National Sheep Association's South West Regional Committee have an excellent farm walk planned for Tuesday 8th July at the North Wyke Research Far...
Royal Three Counties Show crowns top agricultural contractor
Herefordshire firm, Gamber Cleaning Services, of Peterstow, Ross on Wye, has been awarded 'Agricultural Contractor of the Year' by the Three Counties ...
Johnny Ball NFU Roadshow visits Royal Welsh Show
Celebrity farmer, Johnny Ball and his NFU Let's Talk Farming roadshow will be visiting the Royal Welsh Show, in Builth Wells later this month. John...
Beef summit highlights industry challenges
Yesterday's Beef Summit, held in London, has identified the challenges that face a sustainable beef industry, but now action is needed to make it happ...
Farmers hit hunger for six in Cambridge cricket tournament
Four teams from across the UK farming sector have helped to hit hunger in Africa for six by playing in a cricket tournament that has raised the whoppi...
World's largest haggis record attempt
Hall's has officially reclaimed its title as the creator of the largest haggis, which has been officially verified by Guinness World Records. The s...
Glastonbury kicked off with the help of New Holland rhythm and blues
The rhythm of blue New Holland tractor engines helped to kick start Glastonbury this year as a fleet was put into action setting up the world famous m...
The Livestock Event: 450 trade stands, more livestock, latest technology
All dairy, beef and sheep farmers seeking how to improve their units' efficiency and profitability and enjoy a day away from the farm at Livestock Eve...
Wifi tractors en route for the tour
Fantastic food and scenery are the contributions most people expect farmers to make to their enjoyment of this summer's Tour de Yorkshire. What the...
British-bred Holstein and polled no 2 for type joins Sterling Sires
A British-bred Holstein bull offering £175 PLI genomic proof in combination with high scores for management and functional type traits has joined the ...
Farmer wins prize for spotting illegal pesticide
Lincolnshire farmer David Revill was the winner of the The Voluntary Initiative (VI) "Right One!" quiz run at Cereals 2014. The quiz, sponsored b...
New research on the influence of phytase on calcium at European Poultry Conference
AB Vista's Research Director, Dr Mike Bedford, will be presenting new research data at the XIVth European Poultry Conference (EPC) on the practical li...
Countryside innovators going for gold
An acclaimed Lake District apprenticeship scheme to boost declining rural skills is seeking top honours. A finalist last year in prestigious countr...
Suzuki gears up for the Royal Highland Show
Suzuki is gearing up for another great four-day event at the Royal Highland Show this week. The full range of Suzuki ATVs will be on display at the sh...
IMMA silver award for Axial-Flow 9230 combine
Case IH's Axial-Flow 9230 was the only combine to receive an IMMA award at the Cereals event held on the 11th and 12th June. It won a silver award in ...
Cereals event attracts 25,000 people
Almost 25,000 people attended this year's sun-drenched Cereals event to catch up with the latest technical advances, machinery innovations and busines...