Shows and Events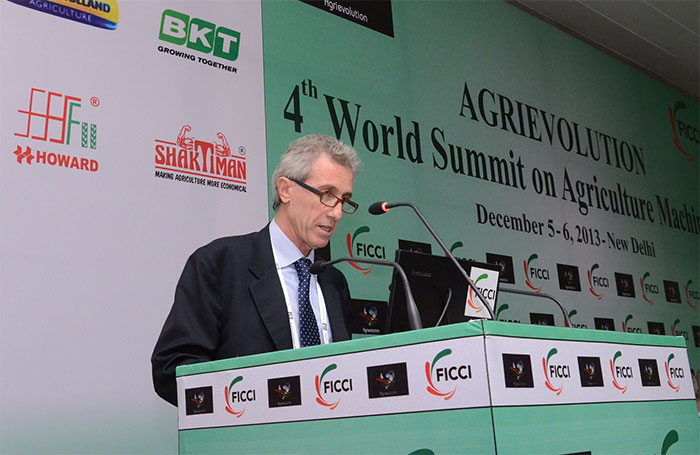 Prince of Wales to receive RASE award
The Royal Agricultural Society of England (RASE) has announced that His Royal Highness The Prince of Wales is to receive the Society's National ...
Supply chain must work together to secure long-term future of British lamb
All parts of the supply chain must work together to secure the long-term future of British lamb by ensuring producers are paid a stable and sustainabl...
Record Breaking Entries for Great Yorkshire Show
The Great Yorkshire Show is a record breaker with more entries for the competitive classes than in its history. 2009 sees a total of 12,189 entries co...
DKB Crop protection open days prove great success
More than 400 farmers attended The-cereals event at Walworth, near Darlington organised by DKB Crop Protection (part of Crest Marketing). Trial plo...
Waitrose Backs Future for Native Breeds
Native Breeds of cattle provide an excellent opportunity for livestock farming in this country, according to one of the UK's leading food retail...
Royal Show Livestock Entries Up
Royal Show Livestock Entries Up Livestock farmers are flocking to the Royal Show this year determined to have a chance to win at the last ever show....
NFU president celebrates Cheshire's thriving farming heritage
President of the National Farmers' Union (NFU) is celebrating the success of Cheshire as a thriving dairy county when he visits as special guest...
Crowds Flock to Farms for Open Farm Sunday
Crowds Flock to Farms for Open Farm Sunday 15th June 2009 From villages and towns, cities and suburbs, children and students, parents and grand...
Record tractor display at the South-West's largest festival of transport
The Gloucestershire Steam & Vintage Extravaganza makes a welcome return to Kemble Airfield this year, taking the show in to its 35th year (Friday 31st...
Royal Show Debates on 'A Profitable Farming Future'
A stimulating series of debates at this year's Royal Show will provide farmers with an excellent opportunity to gather information, network, and...
Huge crowd and strong trade at Stone collective sale
A huge crowd enjoyed a sunshine-filled day as 2,000 lots went under the hammer at auctioneers Halls' monthly collective sale of machinery at Sto...
Calves sell for £400 at Shrewsbury Auction Centre
The best calf prices for a decade were achieved at Shrewsbury Auction Centre as Simmental bulls hit the £400 barrier yesterday (Tuesday). The bull...
Shrewsbury collective sale attracts 1,000 lots
Around 1,000 lots will be on offer at the next bi-monthly collective sale of tractors, agricultural machinery, plant and equipment at Shrewsbury Aucti...
Milk Link picks up awards at Royal Bath and West Show
Milk Link, the UK's leading integrated dairy business, has triumphed at the Royal Bath & West Show winning an outstanding 20 awards in total for...
Royal County of Berkshire Show marks 100th birthday
Tickets are now on-sale for this year's centenary Royal County of Berkshire Show (Newbury Showground 19 & 20 September 2009). Celebrating 100...
MP's on the trail of why science matters for farming at Cereals 2009
MPs from all parties and other VIPs will find out more about the vital scientific and research work being carried out in agriculture by following a sp...
Global dairy industry experts to speak at 2009 Large Herd Seminar
Leading experts in dairy herd management, research, nutrition and health will deliver a range of fascinating presentations covering a wide range of to...
Recession what Recession
Two students from Chipping Norton show there is still hope during difficult times. Alexander Edwards (22) and Richard Demczak (25) show there is st...
Seminar for farmers on surviving testing times
A seminar in Stratford-upon-Avon will give farmers and landowners vital advice on how to survive the recession. Stratford-upon-Avon law firm Lodder...
Broken dogs record average at Skipton Auction Mart
Buying and selling bonanzas for Gregorys and Birketts The first of 67 dogs to be put through their paces on the trial field held off all-comers t...
The Black Farmer Supports Native Breeds
The Black Farmer is sponsoring the first ever Hampshire Down Sheep Class at the 2009 Woolsery Show, North Devon on 27th July. "I am delighted that ...
Tesco Enjoy the Taste of Scotland
Tesco becomes the Toast of the Square Thousands braved the downpours and flocked to Glasgow's George Square to sample Tesco's 'En...
New cattle handling equipment launched at Beef event
A new mobile cattle handling system, combining a feed pen and folding gates on a trailer, has been launched by agricultural engineers Armstrong & Holm...
Buters flock to sale of pedigree organic dairy herd
Prices of up to 1,980 guineas were achieved and buyers from across England and Wales were attracted as an entire Worcestershire herd of pedigree organ...
The Prince of Wales and The Duchess of Cornwall to visit the Royal Bath West
The Royal Bath & West Show is proud to announce that the 2009 show will be attended by The Prince of Wales and The Duchess of Cornwall on Friday 29th ...
Farmers urged to register land at Suffolk show
Farmers and landowners will be able to find out how to secure the future of their land ownership at the Suffolk Agricultural Show on 27 and 28 May, wh...
The Royal Show Is Set for Success
This year's Royal Show, the last in its 160 year history, is set for success. With excellent advance ticket sales and increased exhibitor entri...
GWCT Unveils New Research Arm at Game Fair
The Game & Wildlife Conservation Trust is looking forward to welcoming visitors to its stand at the 2009 CLA Game Fair at Belvoir Castle in Leicesters...
What a winner for Jerman family at Bishops castle Mart
Auctioneers Halls reported a "fantastic" trade and a total clearance at a prize sale of 575 quality store cattle at Bishops Castle Auction o...
Come along to the Harper Adams open day
People are invited to have a nose around Harper Adams University College at its public open day on May 9. Visitors, who can drop in at any time bet...
Tractor of the Year heads Massey Ferguson arable tractor range at Cereals 09
Headed by the award-winning 'Tractor of the Year', MF 8600 Series, Massey Ferguson will be exhibiting its best ever range for the arable s...
RABDF launches machinery and equipment award at Dairy Event and Livestock Show
Machinery and equipment exhibitors at the Dairy Event and Livestock Show are invited to enter a new award presented by the Royal Association of Britis...
Large Herd Seminar moves to the South West
The South West has been chosen to host this year's Large Herd Seminar, the annual event which provides forward-thinking dairy farmers, herd mana...
New Hollands T7000 Auto Command makes its debut at Grassland UK
New Holland's latest and most advanced evolution of the award-winning T7000 series will make its first national public appearance at the Grassla...
Sneak Preview for the new Hound Show at the Great Yorkshire Show
Photo caption: Michael Bannister, President of the Yorkshire Agricultural Society (organisers of the Great Yorkshire Show) is seen here with his harri...
Swires swoop again to bag new Craven Dairy Auction record
North Yorkshire father-and-son dairy farmers Malcolm and Robert Swires, of Haverah Park, Beckwithshaw, Harrogate, bagged a new record when exhibiting ...
Skipton Auction Mart all set for pedigree beef season
The countdown is on to Skipton Auction Mart's 2009 pedigree beef season. The series of high profile midweek shows runs through until the end...
PAVA presented new flour products on the Siberian forum of bakers
On March 17-20, PAVA specialists took part in the Siberian forum of bakers supported by the Administration of the Krasnoyarsk Territory – the host of ...
EBLEX Open Meeting heads to Sedgemoor
Sedgemoor Auction Centre is set to host the South West EBLEX Open Meeting on Monday 20th April 2009, providing three informative activity sessions for...
Otley Show Bicentenary attracts Royal presence
More than half a century after his aunt became the first Royal visitor to Otley Show, the Duke of Gloucester is to attend this year's landmark 2...
Over 75 trophies and Pound12,500 prize money at 200th Otley Show
A total of 75 trophies and £12,500 in prize money, including £5,500 in livestock classes, are available to be won at this year's landmark 200th ...
Oilseed Rape Yield Management Project Progresses
The agronomy and crop protection specialist Agrovista UK Limited is pleased to announce the second visit to its Oilseed Rape Trials site at Darlington...
Poultry on the Piste 2009
Following the success of conferences in the snow in 2007 and 2008, 24 poultry producers and lecturers braved the slopes in Zauchensee, Austria during ...
Exhibition of Animal and Landscape Paintings
"On To Pastures New" An Exhibition and Sale of Paintings by Mike Jory at The University of Exeter IAIS Gallery Stocker Road Universit...
Historic display set to be centrepiece of 200th Otley Show
A display covering the 200-year history of Otley Show, Britain's oldest annual one-day agricultural show, is set to be the centrepiece of the bi...
Open Farm Sunday is off to a great start
Open Farm Sunday 2009 is off to a great start, with over 120 famers across the country having already registered their events - ready to show consumer...
Ayr College student wins Great Potato Challenge 2009
Ten catering students from across the country battled it out recently in a bid to take home one of the top three prizes in the grand final of the Pota...
Calves in demand at Shrewsbury Auction Centre
More calves are needed to meet strong demand at the Tuesday sale at Shrewsbury Auction Centre, report auctioneers Halls. Auctioneer Tom Jones said...
Entries pour in for next Shrewsbury plant and machinery sale
Entries are pouring in for the second collective sale of tractors, agricultural machinery, plant and equipment at Shrewsbury Auction Centre on April 3...
Pagan Osborne and CKD Galbraith host farmers information evening
Rural law specialists from Pagan Osborne and selling agents CKD Galbraith will host a discussion event for farmers in St Andrews on March 4. A pane...