Shows and Events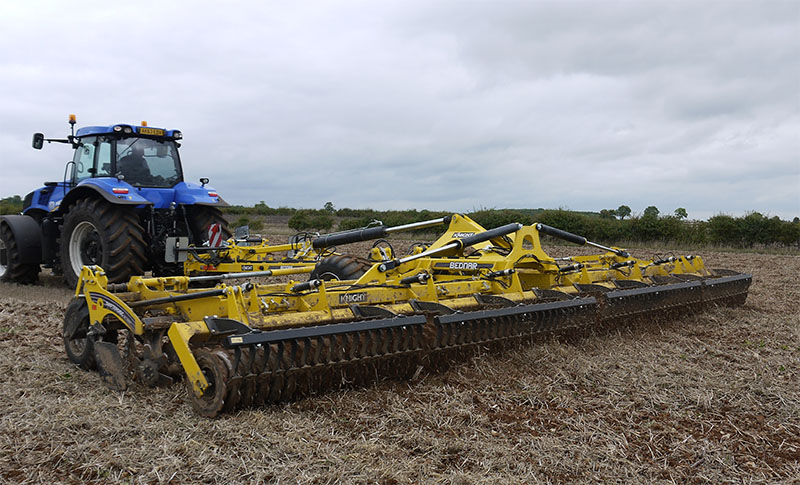 Auctioneers report 'fantasic' trade for dairy cattle
Auctioneers Halls reported a "fantastic" trade for dairy cattle at Shrewsbury Auction Centre on Tuesday as heifers sold up to £2,550 and cows to £1,98...
Tenant farming in the spotlight at national conference
The tenant farming sector will come under the spotlight next month at a national conference organised by the NFU. The NFU Tenant Farmers' Conferenc...
Coster wins as Open shearing returns to Ellesmere show
New Zealand representative Tony Coster celebrated Open-class shearing's return to the Ellesmere A and P Show in Canterbury on Saturday with his fourth...
Largest entry for two years at machinery auction
Around 1,200 lots, including a good selection of tractors, telehandlers, loadalls harvesting and cultivation equipment and accessories, went under the...
Elveden Farms joins network of LEAF demonstration farms
Elveden Farms has become the latest farm to join LEAF's nationwide network of LEAF Demonstration Farms. It joins over 40 other farms across the countr...
Top Farm Shop finalists 2014 announced
Finalists for the farm retail Awards from the National Farmers' Retail & Markets Association have been selected. There is a shortlist of twenty farm s...
EnviTec Biogas reports record numbers at Nextgen 2013
Farmers and landowners are becoming increasingly aware of the range of options to produce renewable energy on their sites, according to feedback from ...
Food Forensics wins prestigious UK award
Food Forensics has been announced winner of the 2013 'Re:fresh Innovation of the Year Award.' The Norwich based company was formed in 2011 offering...
NFU begins process of electing new President
The National Farmers' Union has started the process of electing its office holder team in 2014 during NFU Council, after its President Peter Kendall c...
Pest management, cultivation options and grain markets focus of Welsh arable event
HGCA and NFU Cymru will be bringing the latest arable information to cereal and oilseed farmers in Wales. Mr Perkin Evans, Chairman of NFU Cymru's ...
NSA Wales seeks to recognise young person in the sheep industry
NSA Cymru/Wales Region in inviting nominations and applications for its annual Achievement Award, presented each year to recognise the contribution of...
Put vets at heart of expansion, says Veterinary Association
Vets must be at the heart of initiatives to expand the food supply chain in Northern Ireland, according to the President of the British Veterinary Ass...
Wind, wood and sun at North East Renewables Night
NFU Scotland is hosting a 'Windy, Sunny and Woody' evening in the North East next week, as farmers get a chance to hear about some of the many renewab...
New John Deere tractors make UK show debut
John Deere's new 6100MC and 6110RC tractors will make their public debut at AgriScot in November, alongside the new F440R fixed chamber round baler fo...
BCPC wins approval with return of its Congress to Brighton
After an absence of nearly a decade, the BCPC Congress 2013 – Focus on EU Regulatory Affairs – received a vote of approval when it returned to the Hil...
New shearing season set to start
The new competition shearing and woolhandling season starts with the New Zealand Merino Championships this week in Alexandra, Central Otago. Attach...
Biogas launches new compact plant at Nextgen 2013
EnviTec Biogas UK will be showcasing its new anaerobic digestion (AD) compact unit, which delivers the company's renowned quality in a compact design,...
Back British Farming campaign hits the road
The NFU is taking its Back British Farming message on the road in a bid to gain support from politicians, retailers and the public. An ad-van will ...
Shropshire blacksmith's 'strange' auction attracts more than 2,000 people
Well over 2,000 people from across the UK attended a fascinating dispersal auction as a diverse collection of vintage cars, tractors, implements and m...
Borderway bull sale 'one of the UK's largest'
Harrison and Hetherington have announced that they are to conduct one the UK's largest sales of Holstein & British Friesian bulls that has been seen f...
More than 1,000 lots entered for plant and machinery auction
More than 1,000 lots, including a good selection of tractors, telehandlers, loadalls harvesting and cultivation equipment and accessories, will be goi...
NSA Wales and Border Ram Sale caters for strong commercial demand
A Texel ram that sold for 8,000 guineas topped the NSA Wales & Border Main Ram Sale, held at the Royal Welsh Showground on Monday. It was a buoyant sa...
Opportunities for precision technology to improve dairy herd performance
Tracking animal behaviour, improving heat detection, picking up subclinical disease, improving grazing outputs and reducing lameness will all be discu...
Global issues facing ornamental horticultural production
Over 90 delegates from around the world took part in strategic planning sessions, committees and professional tours during the 65th AIPH Annual Congre...
Premier pedigree herd competition winner announced
Holstein UK's Premier pedigree Herd for 2013 is Bill Nadin and Yasmin Bradbury's Sterndale and Peak herd from Earl Sterndale near Buxton in Derbyshire...
Keenan to launch MF380 at Irish Ploughing Championship
The new Keenan MF380 was developed to fill the gap between the current MF360 and MF400 models; it has a nominal rating of 24 m3 capacity and a maximum...
NFU Cymru Conference - Live to farm or farm to live?
Live to Farm or Farm to Live? That will be the question being asked, and answered, through NFU Cymru's annual Conference which is to be held in Novemb...
Farm Assistant is one of eight finalists for UK worker of the year
Judi James, 53, from Littlebredy in Dorchester has been shortlisted to the final eight out of thousands of entries for UK Worker of the Year 2013. ...
April 'living her dream' as role model for young women in farming
A role model for young woman seeking a career in the male dominated farming industry has been shortlisted for a prestigious Apprentice of the Year awa...
Dairy Show celebrates young farm vets with a new award
Three young veterinary students have been short-listed for a prestigious new award, which will be presented at the Dairy Show next month. The Dair...
Farmer Automatic to attend trade fair show
Farmer Automatic will be presenting its awarded pullet rearing system Combi Pullet and its some months ago new created brand design at the Dutch Landb...
College farm opens its door to the public
Walford and North Shropshire College will be opening its doors to the public on Sunday 22nd September, with visitors able to view the farm's new milki...
Strip till cultivator demonstrated at Tillage Live
A strip till cultivator with versatility to operate in a range of UK arable farming situations was demonstrated by Kuhn Farm Machinery at Tillage-Live...
New disc cultivator makes demonstration debut at Tillage live
A new deep tine disc cultivator from Kuhn Farm Machinery made its worldwide demonstration debut at Tillage-Live at West Hall Farm, Welton in Lincolnsh...
Chief economist to address Monmouthshire NFU Cymru members
NFU Chief Economist, Phil Bicknell will be addressing the next Monmouthshire NFU Cymru meeting, on Thursday, 19 September 2013, at Beaufort Arms, Ragl...
Cogent to market Royal Welsh champion Charolais bull
A Charolais bull that has been described as 'a spectacle of an animal' and that took this year's Royal Welsh Show by storm, is now being marketed by C...
CropTec to highlight benefits of technical approach to growing
A more strategic technical approach to cereal growing is essential as growers face increasing threats to production and fewer conventional control opt...
Optimising livestock production with Precision Technology
Throughout October and November, the Royal Agricultural Society of England is hosting a series of farm visits and workshops across the country specifi...
Knight shows latest machines at cultivation events
Knight Farm Machinery had their new Bednar cultivators out in force at the Power in Action and Tillage-Live events this month, along with a new sub-so...
Potato Week to return from October
Potato Week is to return from 7-13 October, helping the industry grow value sales as it encourages mums to 'trade-up' from generic whites to named var...
Farmers mean business at the Dairy Show
Milk prices are likely to be a hot topic of discussion at next month's Dairy Show, with thousands of dairy farmers expected to attend. Following t...
NFU on the hunt for agriculture's rising stars
The new tranche of "Farming Ambassadors" courses are being launched this week for the National Farmers' Union East and West Midlands and North East re...
Three top Jerseys in the UK's largest ever catalogue for the breed
Cogent's involvement with the Jersey breed has been stepped up a gear this autumn, as the company launches by far the largest and most comprehensive J...
Senior Environment Adviser to address local NFU members
Nichola Salter, Senior Environment Adviser, Natural Resources Wales will be addressing members at the next NFU Cymru Brecon and Radnor county meeting ...
Farming industry opens debate on vital skills challenge
With rising food demand and pressure on resources challenging farmers to 'produce more with less', knowledge and skills are vital. This is the foc...
Hereford breeder wins Idris Davies Memorial Award
Hereford breeder George Thorne from Studdolph Hall, Steynton, Milford Haven, is the winner of the Idris Davies Memorial Award for 2013, announced at t...
NFU's Raymond speaks to Welsh dairy farmers at Pembrokeshire
"Given the right support from the supply chain Welsh farmers have a genuine opportunity to capitalise on growing domestic and global demand for dairy ...
Farmer cooperative's CEO named Director of the Year
Richard Anscombe, Chief Executive Officer of AtlasFram Group, the UK's foremost farmer-owned cooperative, has been named Director of The Year by the j...
New Holland and Ernest Doe ride out for Cancer Research
Cycling colleagues from New Holland's award-winning tractor plant in Basildon teamed up with the local family-run Ernest Doe dealership to collect £2,...
Record numbers at Wayland Agricultural Show
The annual Wayland Agricultural Show celebrated its 140th year on Sunday 4th August 2013 when it returned to Watton with an attendance of 20,000 visit...