Shows and Events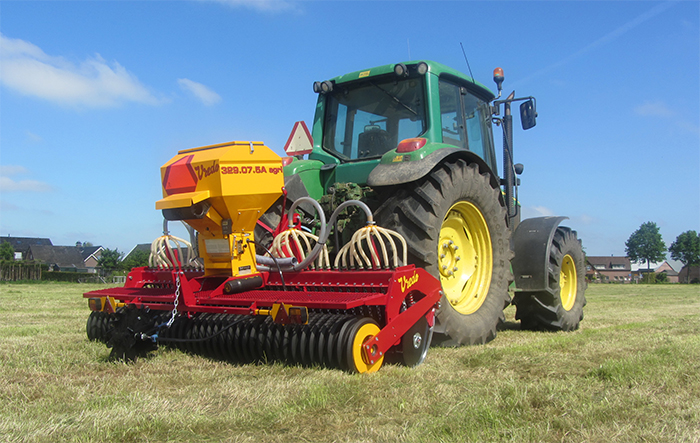 New judge for Beef Expo National Spring
Hotly contested competitive cattle classes will once again be an important part of the National Beef Association's Beef Expo 2012, held this yea...
Hunt is on for UK's top rural crime fighters
A nationwide search is launched today to find outstanding local crime fighters protecting the UK's countryside communities – with winners scoopi...
Rhino orphanage supported with tractor donation
New Holland Agriculture announced yesterday at the official inauguration of Ntlo ya Lerato Rhino Orphanage the donation of a TT55 tractor to support t...
'15m to transform food manufacturing in the UK
From using sound waves to cook, to foods that fill you up faster - up to '15 million is on offer to anyone who can come up with ways to transfor...
Grower competition is 'good news' for consumers
Every grower and marketing desk understands the importance of how improved top fruit storage technology has extended the availability of fruit in the ...
Special entry of 100 store cattle of Shrewsbury auction
A special entry of 100 outlying store cattle from a North Shropshire farmer has been consigned to a catalogue sale at Shrewsbury Auction Centre on Thu...
Fendt launches new 300 Vario range
With its quality, reliability and ease of operation, the 300 Vario range from Fendt has found many enthusiastic users since 2006. In light of the emis...
Can you create a recipe fit for the Queen?
Budding chefs are being urged to get creative and come up with a dish in honour of The Queen's Diamond Jubilee. The NFU is asking members of...
Farmers meet with police over theft worries
'I fully recognise and appreciate the devastating effect that theft has on the rural, isolated communities of Brecon and Radnor. I do however wa...
Welsh egg producer serves up 'Glamping' prize
A couple who run a multi-award winning Welsh free range egg company have come up with a cracking competition to celebrate 30 happy years of selling eg...
Farmers set to discuss CAP reform
CAP reform proposals will be the subject of discussion at the next meeting of Carmarthenshire NFU Cymru members set to take place on Monday, 19 March ...
Sheep lines extended at New Forest show
The sheep section of The New Forest & Hampshire County Show (NFHCS) is a real success story with numbers of entries rising every year. As all the clas...
ASA Celebrates National Agriculture Day
The American Soybean Association (ASA) is proud to join its colleagues and counterparts in the agriculture industry as it celebrates National Agricult...
South West shoot development days
Two shoot development days designed to help small shoots make the most of their shooting ground will take place on 31st March in Wiltshire and 21st Ap...
Poultry internship for Brazilian student
A postgraduate student from Brazil has spent the past two months researching poultry nutrition at Harper Adams University College. 26-year-old Aman...
Two charities benefit from farmers' fundraising
One thousand pounds has been split and donated to two Welsh charities thanks to NFU Cymru members in Glamorgan. During the recent Glamorgan NFU Cym...
Morrisons join campaign for farmer safety
Morrisons is to run workshops on farm safety to help reduce accidents in the most dangerous industry in the UK. Workshops on farm safety and farme...
Exhibitors flock to Kent for Agri-Expo 2012
Agri-Expo (SE) 2012, one of the South East's biggest agricultural machinery shows, has seen a 40% increase in exhibitors on last year. More ...
Awards for Scotland's top agriculture learners
Michael Binnie, a Modern Apprentice in Mixed Farming, was recognised as 'Agricultural Learner of the Year' at the ninth annual Lantra Land...
Steer sells for record '1,500 at Bishops Castle
A record top price of '1,500 was paid for a steer at Halls' St David's Day store cattle sale at Bishops Castle Auction. The recor...
World shearing champs set for Ireland in 2014
The next Golden Shears World Shearing and Woolhandling Championships will be held near the small market town of Gorey in County Wexford , in May 2014....
Nominees sought for services to agriculture award
Do you know someone whose long service in the agricultural industry deserves to be formally recognised? Nominations are still open for the 2012 Newark...
The shearing goes on despite storm
The weather bomb across the North Island has wrought havoc through most areas but in Masterton, apart from the noise on the tin roof, there's li...
Farming event demonstrates new technology
The latest farming technology will be demonstrated at Soil, Water and Precision Management – being held at Easton College on 15 March. This new CCA t...
House of Commons launch for Precision Farming Centre
More than 140 guests, including MPs, engineering and farming experts, and research staff, attended the launch of the National Centre for Precision Far...
BASC starts search for new Chief Executive
The British Association for Shooting and Conservation (BASC) has launched its search for a new Chief Executive to replace John Swift who retires in Ju...
1,900 lots sold at Stone machinery auction
A large crowd enjoyed the winter sunshine as 1,900 lots went under the hammer at Halls' successful monthly collective machinery auction at The G...
World Potato Congress draws in crowds
With the congress just around the corner, numerous international potato growers and traders at Fruit Logistica requested details on topics, speakers a...
Farmyard toys sought for May auction
Leading Shropshire fine art auction house Halls is appealing to owners of Dinky, Corgi and Matchbox diecast toy models and Britains farm animals, trac...
Brothers chase National Shearing crown
Three brothers from Northland have achieved a possible first in all qualifying for the final stage of one of New Zealand's premier shearing comp...
John Deere's FarmSight 'main focus' of 2012 events
John Deere's new global suite of advanced technologies under the name FarmSight, designed to help optimise machinery and farm operations, will b...
The hunt is on for the 2012 Beef Stockman of the Future
The National Beef Association (NBA) has joined the hunt to find the best young beef farmers and stockmen ' and is putting the call out to Englan...
Projects to safeguard UK countryside receive new funding
The Prince's Countryside Fund awards '422,000 to 15 new rural projects Initiatives to save village shops and support the UK's next ...
Agriculture students prepare for a challenge
Students from six agricultural colleges are battling it out to grow the best crop of winter wheat and win £1,000 in the Cereals Challenge 2012. The...
Smith rolls on towards big shears showdown
Northland giant Rowland Smith took a big step forward in the countdown to the Golden Shears when he won the Taumarunui Shearing Jamboree open final la...
Poet Andrew Motion new president of CPRE
The writer Sir Andrew Motion will formally be proposed as the new President of the Campaign to Protect Rural England (CPRE) in June 2012, succeeding t...
Award winning chefs confirmed for Natural Food Show's line up
Award winning cuisine is back on the menu for visitors to this year's Natural Food Show, with today's announcement of the full Natural Foo...
Branching out live from Llanrwst to Brussels
Members of the Conwy Valley NFU Cymru branches will experience the latest in communication technology when the first live video conference link will b...
Final call for new potato ambassadors
Potato growers are needed to help put potatoes in the public eye and promote how great they are as a healthy, tasty and sustainable food. This final a...
Kiwis odds-on to shear World title
New Zealand is taking on the World next week, and will almost certainly win. That's the view of the TAB in its opening book on the World sheari...
BASC Scotland Gamekeepers' Day
More than 100 gamekeepers and deer stalkers from across Scotland are expected to attend the 16th annual BASC Scotland Gamekeepers' Day at Scone ...
NFU launch economy booklet
The Deputy Minister for Agriculture, Alun Davies, has launched NFU Cymru's 'Why Farming Matters to the Welsh Economy' booklet, on fa...
World shears team chosen
Waipawa shearer Cam Ferguson has blasted through the pain barrier to win the right to defend his World title, despite a back injury and without a sing...
NFU lobbies for farmers at national Drought Summit
The NFU is calling on Government to ensure adequate measures are in place so the farming industry can cope if hit by another dry year. Speaking ahe...
Kent County Show receives advance bookings
Kent businesses are being urged to book early for the 2012 Kent County Show as organisers are for the first time offering a 5% discount on trade stand...
Henare to go for World champs wool chance
Young woolhandling sensation Joel Henare is on the brink of a chance to add a World title to an amazing list of victories by reaching a cut-throat fin...
Vets to brief MSPs on animal health
On Wednesday, 14th March 2012, The British Homeopathic Association and Jim Eadie MSP are hosting a reception at the Scottish Parliament entitled &rsqu...
Farmers to put forward views on CAP reform
Farmers in Clwyd are to get the opportunity to channel their views on Common Agricultural Policy Reform directly via NFU Cymru President Ed Bailey. &...
Farmers get lessons in health and safety
More than 100 farmers from across Devon and Cornwall have taken part in a series of practical workshops to highlight health and safety and cut the num...
Hereford Regional Calf Show confirmed for 2012
Organisers of the Newark Vintage Tractor & Heritage Show are delighted to announce that, following the success of its inaugural event at the venue las...