Shows and Events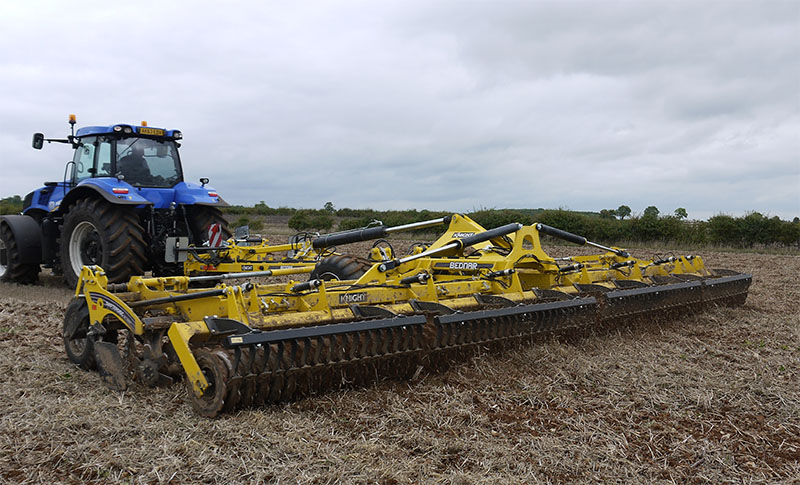 2012 Farm Retail award winners announced
The Winners of the 2012 UK Farm Retail Awards from FARMA (The National Farmers' Retail and Markets' Association) have this month been anno...
'Gloucestershire Cat' sparks University survey
There has recently been a lot of excitement about a big cat that has apparently been attacking deer and wallabies in the environs of Stroud in Glouces...
Lovesick cows get new mate for Valentine's
An Irish Moiled bull is set to be in the 'moo-d' for love at Wimpole Home Farm after the romantic future of a rare breed cow herd was put ...
War Horse farm receives donation from charity trusts
A charity founded by War horse author Michael Morpurgo has received the first in a series of annual £10,000 donations from the CLA Charitable Trust – ...
Environment minister to visit Kent county show
Caroline Spelman, Secretary of State for the Department of Environment, Food and Rural Affairs, is to be the special guest at this year's Kent C...
£7m public funding available to deliver better fruit and veg
A new research initiative launched today aims to bring academic researchers together with industry in order to deliver bigger yields of better quality...
International presence at Natural and Organic Products 2012
Visitors to this year's Natural & Organic Products Europe trade show at London's Olympia on 1-2 April will enjoy an increased opportunity ...
Greenvale AP's Debut in Branded Sector
Greenvale AP, the UK's leading supplier of potatoes, is aiming to inject fresh interest into the produce sector with the launch of its first bra...
Scientist's highlights efforts to get bees buzzing
A scientist at the University of Reading has called for immediate action to save pollinating insects crucial to British wildlife and the economy. ...
Scottish Egg Producers set to gather for annual Conference
For the first time ever the Scottish free range egg industry have a conference which aims to focus on the issues affecting Scottish egg producers. ...
New Holland wins innovation awards
New Holland has started 2012 where it left off in 2011, by confirming its status at the forefront of the agricultural industry with five FIMA technica...
New Holland CEO joins dealers on Customer Centre tour
Franco Fusignani, head of New Holland Agriculture, has been in Britain to visit New Holland's brand new Customer Centre at its manufacturing pl...
UK produce industry celebrates strong links with China
The UK fresh produce industry celebrated its strong trading relationships with the People's Republic of China at the 66th Fresh Produce Consorti...
Sheara black singlet at any cost
It's costing more than $10,000 each, but that's the price New Zealand's top shearers are paying for the chance to represent their co...
First manufacturer wins certificate of compliance
The UK market leader in conveyor belting, Habasit Rossi, has become the first manufacturer to receive European Hygienic Engineering & Design Group (EH...
John Deere Graduation celebration
A total of 28 young service technicians recently graduated from the John Deere Ag Tech and Turf Tech advanced apprenticeship programmes, run by nation...
AtlasFarm advisor wins Animal Health award
Emilie Wix, a Livestock and Animal Health Specialist with AtlasFram Group, the UK's leading farm input purchasing and crop marketing cooperative...
Food Production can help UK Economic Growth
The UK, at present, is less than 60% self-sufficient in food but with a growing population, estimated to increase by 15% by 2026, our self-sufficiency...
Artist gains inspiration down on the farm
Looking into the eyes of an 1,800 pound Highland Cow is not the easiest thing to do when he's grumpy, has not yet had his breakfast and his frin...
New community challenge aims to jump-start energy projects
Community energy projects will receive a £1m jump-start today, with the launch of an innovative new programme from The Co-operative1. The Co-operat...
Delivery will be key on Working Smarter Report
NFU Cymru has welcomed today's publication by the Welsh Government of the Working Smarter report which looks at simplifying regulation within ag...
MSD Animal Health headquarter in New Jersey, US
MSD Animal Health, known as Merck Animal Health in the United States and Canada, today announced that it intends to centralize certain functions at th...
SAC and UWS Launch New Riverside Campus
SAC and University of the West of Scotland (UWS) have officially launched their new '81 million Riverside Campus in Ayr. Michael Russell MSP,...
Five-a-day design wins cookery demonstration
Following the success of previous Christmas poster competitions, the FSA in Scotland invited all primary schools across Scotland to design posters pro...
Soil and water experts line up for practical event
Soil fertility and tillage systems, controlled traffic farming, abstraction licensing issues and improving irrigation efficiency, are some of the prac...
NFU pays tribute to former President Butler
Sir Richard Butler, President of the NFU from 1979 to 1986, died at the weekend at the age of 83. Sir Richard farmed the family farm near Halstead ...
Farmers flock to fertility event
Over a 100 farmers and industry representatives from across South and Mid-Wales benefited from hands on practical advice from nationally renowned spea...
Finest Fayre on Show at Scotland's speciality food show
Scotland's Speciality Food Show closed on Tuesday with visitors encouraged by the range and quality and products on show and the enthusiasm and ...
Create a great idea and bag £1,000 with ABN award
Open to anyone with an idea for adding greater value to the British pig and poultry industry, the ABN Innovation Award 2012 sets out to highlight the ...
NFU signs new farm safety charter for Wales
NFU Cymru has today signed up to a new Farm Health and Safety Charter for Wales to help raise awareness of the dangers faced when working in the agric...
PIC opens UK's first gene transfer centre
Pig breeding company PIC UK has opened a world-class GT Centre of Excellence which is thought to be the first of its type in the UK and probably in Eu...
Midlands farmers receive expert support
Farmers in the East Midlands have welcomed the creation of a panel of agricultural experts which has been recently formed by the National Farmers&rsqu...
Top UK beef farmer to speak at Welsh meetings
The National Beef Association (NBA) has teamed up with Farming Connect to offer four meetings in Wales next month, all including a presentation from a...
NFU supporting Gwent Young Farmers clubs
NFU Cymru is continuing with its commitment to Gwent YFC with a donation for £200 which will go towards its Training Events fund. Established in th...
Knight shows 6000-litre sprayer at LAMMA 2012
The biggest sprayer at LAMMA this year was the Knight EUA6000 trailed model, with a 6000-litre stainless steel main tank and 24-metre boom. Like al...
Red Tractor show their support for Breakfast Week
Red Tractor Assurance and Sodexo have joined forces to show their support for Farmhouse Breakfast Week. The HGCA's Farmhouse Breakfast Week (...
Competitive trade for in-lamb ewes at Shrewsbury
An excellent entry of 450 quality in-lamb ewes attracted a large attendance of prospective purchasers and a competitive trade on all breeds and ages a...
Celebrate Chinese New Year without lanterns, says NFU
Celebrations for the Year of the Dragon will start this weekend but the NFU hopes the public will think twice about letting off Chinese lanterns over ...
A Great British success story
With 400,000 employees and a '76.2bn annual turnover the UK's food and drink manufacturing industry is one of Britain's great succes...
Hawke's Bay gun wins big in Southland
Hawke's Bay shearer and New Zealand representative Dion King scored an important victory when he won the Northern Southland Community Shears Ope...
NFU Livestock chairman to address NFU conference
Alistair Mackintosh, Chairman of the NFU Livestock Board, will be guest speaker at the NFU Cymru Ceredigion County Conference on Wednesday, 1 February...
BUAS launches one year bicentenary countdown
The Border Union Agricultural Society (BUAS) this week launched the one-year countdown to its bicentenary celebrations in 2013 with the announcement t...
Former farming editor to address NFU conference
Steve Dubé, former Editor of the Western Mail's Country & Farming Supplement, will be guest speaker at the NFU Cymru Carmarthenshire Conference ...
Big name brands confirmed for Natural Food Show
Dorset Cereals, Kallo Foods, The Food Doctor, Windmill Organics, Green & Blacks, Clipper Teas, Infinity Foods, and Tree of Life are just a few of the ...
Government must lead by example in run-up to Rio+20
The Tory-led coalition's approach to mainstreaming sustainable development (SD) is failing to put the nation on a more sustainable footing, acco...
LAMMA: Growers told - low drift nozzles a must
The 'Chlorpyrifos Say NO to DRIFT,' campaign is calling for growers and spray operators to urgently adopt new nozzle and buffer zone requi...
NFU council re-elects President and Deputy
Ed Bailey, a beef and sheep farmer from Meirionnydd, has been re-elected President of NFU Cymru and Stephen James, a dairy farmer from Pembrokeshire, ...
Lely Astronaut A4 milking robot wins award
The Lely Astronaut A4 milking robot has been acclaimed as 'Agricultural machine of the year 2012' in Poland. This prestigious award, grant...
BASC and York Guns to co-host night vision event
BASC and York Guns will co-host an event with author and leading fox shooter Robert Bucknell to showcase the latest equipment for night shooting and n...
AB Vista to sponsor poultry congress
AB Vista has announced its sponsorship of the 22nd Central American and Caribbean Poultry Congress. As well as lending its name to the event, AB Vi...