Shows and Events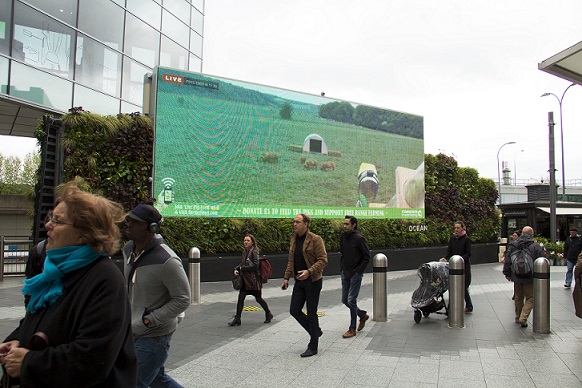 Two charities benefit from farmers' fundraising
Two thousand pounds has been split and donated to two Welsh charities thanks to NFU Cymru members in Glamorgan. Representatives from The Stroke Ass...
NFU success at Grower of the Year awards
NFU members' are toasting success at this year's Grower of the Year awards after winning a number of top prizes. National horticulture ...
Awards for Farm Stay members at marmalade event
Yorkshire members of Farm Stay, the UK's largest network of farm-based accommodation providers, have again demonstrated their culinary imaginati...
Walker family supreme on Craven Champion Day
The Red Rose farming family of J C Walker & Son, of Brennand Farm, Dunsop Bridge, Clitheroe, secured a supreme and reserve championship double, plus t...
Attraction is cream of the tourist crop
A North East farm is celebrating its success as a tourist attraction with a national award, as it prepares to open at half-term for the new tourism se...
Record price broken at Skipton working dog sale
The world record price for a working sheep dog paid at an official sale was broken again at Craven Cattle Marts' winter fixture at Skipton Aucti...
Stronger figures at UK livestock auctions
New trade figures released last month re-affirm the stronger prices and positive attitudes prevailing at livestock auction markets across the UK, espe...
Store cattle sale attracts buyers
Buyers from as far away Doncaster and Leicester were attracted by a very good entry of 475 at Halls' first store cattle auction of the year at B...
Dispersal sale has wide appeal
Auctioneers Halls are preparing to holds their first farm dispersal sale of the year in North Shropshire next weekend. The sale at Sunnyside Farm,...
Agricultural Machinery & Equipment Show
The second Agricultural Machinery & Equipment Show is to take place 2nd February 2011 at The Bath & West Showground. This year the Show will welcome t...
Dairy and the environment: saints or sinners?
Global environmental and nutrition experts will meet in London this week (27th January) to look at the impact of the dairy industry on sustainability,...
Simon wins prestigious national award
Simon Foster from Syngenta Bioline has won a top national award recognising his technical ability and professionalism in crop protection. He received ...
Spaldings Set to Showcase New Products at LAMMA
As one-thousand new products join the comprehensive Spaldings catalogue LAMMA 2011 provides the perfect platform for their launch. Spaldings, Europ...
Norfolk conference gives latest on CAP reform
Along with the usual sound advice on markets and studies of entrepreneurial young farmers, the Norfolk Farming Conference also promises to give delega...
West Midlands Project invites Farmers to Add Value
A West Midlands based Farming and Food Enterprise Development Project is hosting a variety of one day workshops across the West Midlands region, to in...
Joint venue farmers look at the real numbers
The fifth Joint Venture Farming Group Annual Conference keeps the real numbers in perspective this year as it looks towards farming post 2013. With an...
New oilseeds conference arranged
A new oilseed rape conference is being organised by United Oilseeds in conjunction with the HGCA to provide growers with access to the latest developm...
Farming roadshow goes from strength to strength
A roadshow aimed at teaching consumers about the importance of farming has travelled 15,000 miles and spent over 120 days on the road since it was giv...
RSPB Manager to address Monmouthshire NFU Cymru
Arfon Williams, Countryside Manager for RSPB Cymru, will be guest speaker at the NFU Cymru Monmouthshire County Conference on Thursday, 27 January 201...
Horsch showcases cultivation at LAMMA 2011
Horsch is expanding its UK product range and its latest cultivation models, such as the Tiger and Joker, will be displayed for the first time in the U...
Show support for the CFE at LAMMA 2011
Farmers and land managers are being urged to play their part in supporting the Campaign for the Farmed Environment (CFE) at this year's LAMMA ev...
Pig breed classes separated at Newark Show
Organisers of the Newark & Nottinghamshire County Show (Saturday 14 and Sunday 15 May) are pleased to announce that both Traditional and Modern pig cl...
Can food technology prevent future food crisis?
An impending world food shortage crisis caused by the effects of climate change, limited water supplies and increasing competition produced by the dem...
NFU President to address NFU welsh council
Peter Kendall, NFU President, will be guest speaker at the next meeting of NFU Cymru's ruling body, Welsh Council, on Tuesday, 18 January 2011. ...
Selectivity in weed control for row crops
Selectivity through equipment design was a logical response to some selective post-em herbicides for weed control in minor crops, and especially row c...
Michelin doubles up for LAMMA 2011
Michelin Tyre plc is doubling its presence at Lamma 2011 with twin exhibition stands for the Michelin and Kleber brands. The investment will enable t...
British Cattle Conference firmly established
The farming conference season gets under way early in the New Year when the key event for those involved in cattle breeding and production will be the...
The 2011 Great Yorkshire Show
The 153rd Great Yorkshire Show takes place on Tuesday 12, Wednesday 13 and Thursday 14 July, 2011 when the cream of the country's livestock, edg...
Courses in field beans, combining and vining peas
The PGRO will hold courses on crop protection in combining & vining Peas on Tuesday 8 February and on crop protection in winter and spring field beans...
High prices achieved at farmland auction
Strong interest from non farming investors continues to push up farmland prices, with over £11,000 per acre achieved at a recent auction in Nottingham...
Shrewsbury dairy cattle sell to £2,300
The Christmas Dairy Show and Sale at Shrewsbury Auction Centre on December 14, sponsored by Santander Bank and Blue Merle, attracted a first rate entr...
Open Farm Sunday – 12 June 2011
Farmers are being encouraged to open their gates next June for Open Farm Sunday (12 June 2011). This is a fantastic opportunity for farmers to show co...
Knight launches new sprayer at LAMMA
Visitors to LAMMA 2011 will have the first sighting of Knight Farm Machinery's new SP 2050 self-propelled sprayer with 5000-litre tank and booms...
BCPC highlights success of CropWorld 2010
Now that the dust has settled on the first CropWorld event to be held at the ExCel Centre, London it is time to reflect on the progress made and chang...
Pen power lands youngsters top prizes at contest
A budding storyteller from Powys is now running his own miniature farm after scooping the top prize in a writing competition organised by NFU Cymru. ...
Stationary engines included in auction
A small collection of four stationary engines will be going under the hammer at a leading Shropshire fine art auction house on Thursday. The engin...
Population control to be debated at OFC 2011
The political and moral minefield of population control will be debated at the 2011 Oxford Farming Conference running from 4-6 January 2011. Profes...
Barbara Hughes is Wales' top woman farmer
Barbara Hughes, from Ivy House Farm, Malpas, Wrexham, has today been crowned NFU Cymru / NatWest Wales Woman Farmer of the Year at the Royal Welsh Win...
New class at Horse of the Year show 2011
Grandstand Media Ltd is delighted to announce the Maxi Cob of the Year will take place at Horse of the Year Show (HOYS) for the very first time in 201...
Southland guns shear Tapanui gold
Former New Zealand representative Nathan Stratford claimed his first win of the 2010-2011 shearing season as Southlanders dominated the open champions...
World champ shows class in Nelson sheep Shears
World champion shearer Cam Ferguson proved a class above the rest when he won the Nelson A and P Shears open final on a flying visit to the South Isla...
Record delegates expected at BFREPA Conference
This year's BFREPA conference seems set to be bigger than ever, despite recent difficulties in the free range egg market. More than 600 delegat...
Food show theatre will highlight best of British
British reared turkeys and seasonal produce are sure to be some of the highlights at the hugely popular BBC Good Food Show when it launches its first ...
Changes made to Horse of the Year show
Further to the extensive research Grandstand Media Ltd have done over the last 12 months into the current HOYS qualifying series, Grandstand Media Ltd...
NBA urges response to controlling TB in badgers
The National Beef Association is urging its members, and everyone else keen to call a halt to TB spread in England in the badger population, to respon...
Store cattle trade firms up at Bishops Castle
Auctioneers Halls reported a welcome firming in the trade at a store cattle sale at Bishops Castle Auction on November 4 An entry of 285 cattle we...
Hat trick for Sellers at countryside live
It was a hat trick for Phil and Sharon Sellers who took the Supreme Beef Championship at this weekend's Countryside Live at the Great Yorkshire ...
Firearms licensing service at BASC roadshow
Visitors to the British Association for Shooting and Conservation's (BASC) Northern Roadshow at the Yorkshire Showground in Harrogate on Friday ...
Welshpool NFU office opened by minister
Welshpool NFU Cymru office was officially opened on Monday, 18 October, by Wales' Rural Affairs Minister, Elin Jones. Speaking at the event, ...
Last chance to book for seed industry event
Potato seed growers wanting to keep up-to-date with changes in consumer attitudes towards potatoes are urged to attend this year's Seed Industry...