Crops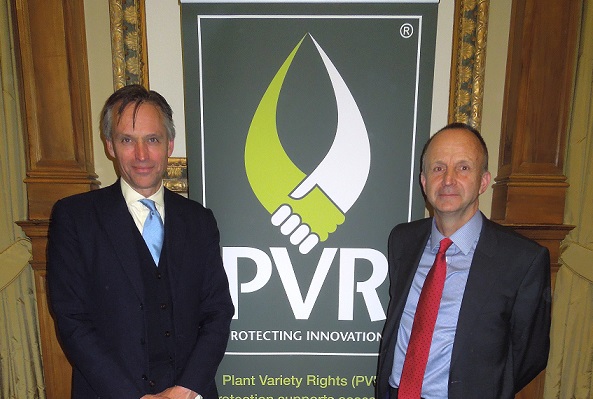 Chicago market report - 12th July 2012
Soycomplex: Jul 12 Soybeans closed at USD16.23, down 25 3/4 cents; Nov 12 Soybeans closed at USD15.22 1/2, down 16 cents; Jul 12 Soybean Meal closed a...
Potato growers face weather challenges
Potato growers are facing many weather-related challenges and recent warm, wet weather has led to a massive increase in the number of Smith Periods th...
Is it now time for GM?
2012 is the 16th year in which commercial GM crops have been grown and incorporated in feedstuffs. Since the introduction of GM crops, retailers have...
Pulse Crop Bulletin - 12th July 2012
Becky Ward, PGRO principal technical officer, comments on Bruchid beetle control in beans, and on pests and diseases in peas. Beans Bruchid beet...
Resistance tests: only as good as the sample
Resistance testing black-grass seed may deliver misleading results and could make the problem worse, says Bayer CropScience, unless growers pay close ...
Grainseed appoint seed specialist
Grainseed have expanded their technical team with the appointment of Wilson Hendry as Seed Specialist. With over 20 years experience in the agricul...
EU market report - 9th July 2012
EU grains closed sharply higher with Nov 12 London wheat up GBP4.50/tonne to GBP185.00/tonne and Nov 12 Paris wheat EUR6.75/tonne firmer at EUR248.75/...
Chicago market report - 10th July 2012
Soybeans Jul 12 Soybeans closed at USD16.65 1/4, up 45 1/4 cents; Nov 12 Soybeans closed at USD15.47 3/4, up 42 cents; Jul 12 Soybean Meal finished...
Government unveils Green Food project
A major study into how Britain's entire food system must change to keep food affordable without destroying nature, at a time of soaring world populati...
Humphrey Feeds Commodity Report - 7th July 2012
We are in a weather market which has turned nasty over the weekend, and with 57 wild fires reported in the USA on 1st July, of which 49 were 'large, u...
New pesticide rules put focus on UK stewardship
The Chemicals Regulation Directorate has confirmed that UK implementation of new EU rules on the sustainable use of pesticides will take effect later ...
Torch – the highest yielding Group 3 with broad market appeal
Growers looking for a variety with the potential to deliver a premium and compete with the leading Group 4 soft types should consider Torch, the leadi...
Bayer acquires biological firm AgraQuest for $500m
Bayer CropScience, the global crop science company, has signed an agreement to purchase AgraQuest, Inc. for $425 million (approximately EUR 340 millio...
High rainfall at flowering increases Fusarium mycotoxin risk to highest levels in 10 years
Professor Simon Edwards of Harper Adams University College who helped develop the HGCA Fusarium mycotoxin risk assessment tool is warning the industry...
Grain and Oilseeds Market Report - 29th June 2012
Jonathan Lane, Gleadell's trading manager, comments on grain markets: WHEAT - USDA reports US wheat harvest 59% complete, 48% last week and 27%...
Clean up grain store ready for harvest
With significant investments having been made to maximize yields in the field, growers should not risk any yield loss post-harvest with poor grain sto...
FreshTec launch to help food and fresh produce industry strengthen business through technical excellence
Former technical manager at The Greenery UK, Richard Binks, has launched a new business providing technical services to the global food and fresh prod...
PGRO pulse crop report - 15th June 2012
Becky Ward, PGRO principal technical officer, advises on disease control, and on pea moth ... Combining Peas Responses to treatment can be expecte...
Plant breeding must address food security challenges - Moore
Advances in plant breeding are essential to help address the challenges of global food security and can also be a significant contributor to UK econom...
Farm returns could be hit by euro uncertainty
Farmers have been urged to reassess their budget forecasts in light of the European uncertainty of the Euro and increasing pressures on costs. Spea...
Agricultural wage negotiations result in 2.8% rise
The outcome of the 2012 Agricultural Wages Board negotiations will result in a weighted 2.6 per cent increase across the industry. There will be a 2....
Top 20% of OSR yields achieve over 5.5 t per hectare
Results of a survey conducted among major UK oilseed rape growers to identify potential links between best crop management practice and high yields wi...
CAP reforms would damage UK competitiveness - NFU
Following a trip to Strasbourg to meet with key MEPs involved with the CAP reform process, farming unions have said the greening measures being propos...
Danes put CAP reform on right track, says CLA
The Danish Presidency's statement on the progress of Common Agricultural Policy (CAP) reform negotiations highlighted the impact of lobbying by Europe...
Danish bid to revive GM cultivation plan fails
Attempts by the Danish Presidency to revive a European Commission proposal to reform legislation on approving GM cultivation applications have failed ...
Large turnout expected at Cereals
Organisers of this year's Cereals Event are expecting another large turnout when the gates open for business later this week. Over 490 exhibitors a...
SY Venture 'breakthrough' in winter malting barley
A new winter malting barley variety with the highest UK treated yield figure among two-row malting varieties on the HGCA Recommended List winter barle...
High sugar extended grazing mixture launched at Grassland
A new seeds mixture for extended grazing and comprising exclusively of the Aberystwyth-bred Aber High Sugar Grasses has been launched at the Royal Wel...
Sorting arable and grass tasks
Investment in a purpose-designed grassland subsoiler can be more easily justified if the implement is versatile enough to also handle arable tasks, ac...
Agricultural suppliers aiming to grow in mobile markets
Leading suppliers of animal feeds, agricultural supplies and horticultural products are looking to nurture their businesses in 2012 by targeting growt...
High sugar grass offers better yield
The latest Aber High Sugar Grass AberGain enters the industry's independent Herbage Varieties Guide with a Grazing Yield of 109% - highest of al...
Precision drilling world record broken
Claas and Horsch set a new world record on 26th April by drilling 448.29 ha in 24 hours with the Maestro 24 SW drill and the Claas Xerion 5000 Trac tr...
New dose rates for Dow Shield 400 in sugar beet
Sugar beet growers who have used Dow Shield for a number of years to control difficult and competitive weeds such as volunteer potatoes and creeping t...
Pulse Market Update - 4th May 2012
Global pulse stocks are the lowest for some years. 30th March saw USDA's Prospective Plantings Survey and maize acres are predicted to rise more...
Milling wheat - a potential opportunity for 2013
A feature of the 2011-2012 markets has been the fall in the milling wheat premiums but consultant Simon Ward of Increment, believes that this is a one...
GM outcrosses six times more than non-GM wheat
Recent research has found that varieties of GM wheat are outcrossing to other plants at a rate six times higher than conventional varieties. The fi...
Market Report - 4th May 2012
GRAIN MARKETS - Jonathan Lane, Trading Manager WHEAT - The USDA report corn plantings are 53% complete, 28% last week - 27% average, and spring...
BCPC attacks anti-GM wheat stance
An anti-GM lobby group has asserted that the Rothamsted GM wheat trial poses a 'contamination' threat to the local environment and wheat i...
New sugar beet varieties introduced by Sesvanderhave
The 2013 BBRO Sugar Beet Recommended List includes three new high yielding varieties from SESVANDERHAVE: Dolphin, Bulldog and Pitbull. 'All t...
Scaling up organic farming will 'slash food production'
A comprehensive new study comparing yields in conventional and organic agriculture has scotched 'once and for all' contentious claims that...
NFU attacks government biofuel policy
Latest government figures reveal that the vast majority of biofuels supplied in the UK are made from imported feedstock, with almost nine out of every...
Two sprays pay for winter bean disease control
Two-spray fungicide programmes consistently deliver better disease control and yield improvements in winter bean crops, with improved control of Rust ...
New sugar beet joins BBRO list
The new high yielding variety - SY MUSE - from Syngenta joins the 2013 BBRO/NIAB Recommended List of sugar beet varieties. With a 3-year mean yiel...
Pulse Crop Bulletin - 1st May 2012
Becky Ward, PGRO principal technical officer, advises .. Post emergence herbicides Beans In beans, post-emergence options are limited to Bas...
Need for resistance management in potatoes
Potato growers are being urged to take anti-resistance measures more seriously, especially in the light of the more aggressive blight populations and ...
BPTA to launch revised seed sale terms
The British Potato Trade Association will launch revised terms and conditions surrounding the sale and purchase of seed potatoes on May 1, 2012. Fo...
Grain and Oilseed Market Report - 27th April 2012
GRAIN MARKETS WHEAT - USDA report corn plantings 28% complete, 17% last week, 8% last year and 15% average. - Canadian farmers are planti...
Senate committee invests in vegetable industry
The Senate Agriculture Committee voted 16-5 to pass the Agriculture Reform, Food and Jobs Act of 2012. It marks the beginning of efforts to reauth...
Late sown maize demands greater protection
The combination of wet weather and cold soils has now delayed maize drilling for over two weeks in some areas, compared to recent seasons. With th...
Arable innovations to showcase at Cereals
New fungicides, novel breeding techniques and the latest nutrition findings are among numerous arable innovations that will be shown at Cereals 2012. ...