Livestock Equipment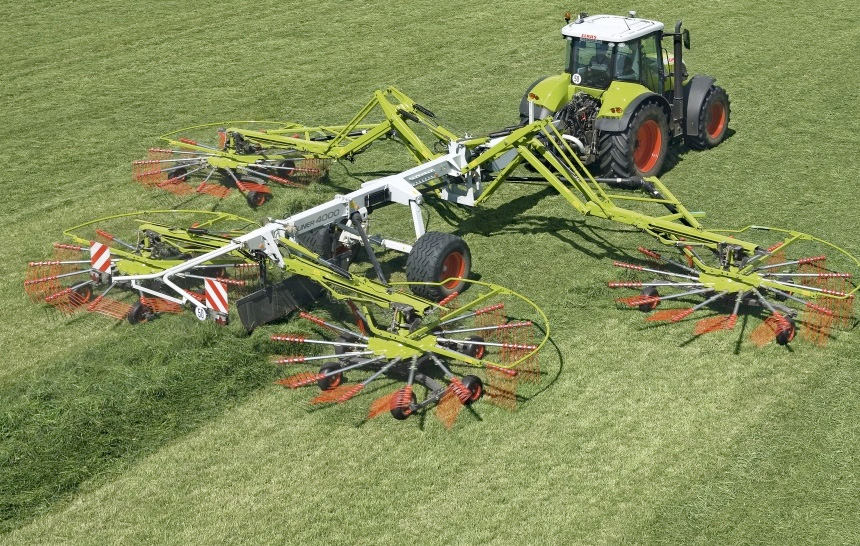 Lack of engineers a 'ticking time bomb' for agriculture
A lack of engineers, not enough people promoting the land-based industries and a lack of apprentice opportunities for students is a 'ticking time bomb...
New Holland Agriculture enjoys a successful start to 2014: three FIMA and six AE50 innovation awards
New Holland Agriculture has confirmed its position as the leader in agricultural innovation with three awards from the FIMA jury. Opti-Grape™ technolo...
Livestock 2013: Ventilation, a key component in healthy livestock
Hydor will be demonstrating its wide range of solutions for ventilating agricultural environments at the 2013 Livestock event (Stand LE-365), with vis...
Hydor extends poultry range following BFC purchase
Agricultural ventilation specialists Hydor will be featuring a range of products from BFC Parts at this years Livestock Event (Stand LE-365). The rang...
Livestock: Energy efficient livestock heating
Returning to the Livestock Event (Stand LE-365), agricultural ventilation specialists Hydor will have the Rinnai range of condensing water heaters amo...
RDS presents WEIGHLOG a10 on-board weighing system at Livestock 2013
With the efficient use of animal feed having never been so important, RDS Technology will be focussing on how cost-effective on-board weighing can hel...
Member states back banned farming practices, say welfare groups
With financial backing of Member States in the European Union - international banks and credit agencies are investing in agricultural companies that f...
Portable space heaters in agriculture
Portable air heaters are commonly used in many areas of agriculture. Quick installation, low running costs as well as high efficiency make them the id...
Gloucestershire dealership open its doors on March 6
Farmers in Gloucestershire, Worcestershire and surrounding counties who take time out to attend an Open Day at a Bredon-based farm equipment business ...
Intershape is Lighting the Way to Higher Yields
Intershape Ltd has launched AniLEDlight, a new range of LED lights specifically designed for use in dairy buildings. Installing LED lights in dairy b...
4G would benefit farming, says NFU
Two out of every three farmers who use the internet say they would benefit from the rollout of superfast mobile broadband (4G) according to new resear...
Environmental focus tightens links in meat chain
Foyle Food Group has joined with five animal by-product processing businesses to ensure that the Foodchain and Biomass Renewables Association, Fabra, ...
Inspectors deployed at ports for first time in decades
RSPCA inspectors were at a UK port today for the first time in more than a decade to check the welfare of hundreds of calves and sheep being shipped a...
New team to lead NFU livestock board
Charles Sercombe has today been elected chairman of the NFU's national livestock board. Mr Sercombe, a tenant farmer from near Melton Mowbra...
New pig welfare standards 'must be enforced'
New rules for the pig industry are intended to create a more-even set of welfare standards across Europe and stop some farmers - such as those in Brit...
Early start essential to reduce insect burden on livestock
An early start to controlling insects around livestock gives the best chance of minimising the annual population explosion of flies and midges that be...
NBA optimistic that USA will open to British beef
The National Beef Association (NBA) is hopeful that a draft law published in the USA will make its way through the system and result in the United Sta...
Sire selection drives Stabiliser breed forward
Access to an elite team of Stabiliser sires has had a major impact on the Stabiliser breed, according to Richard Fuller, technical director of the Sta...
New beef line considered on Anglesey
Anglesey farmers have been told that a new beef line could be opened at the Vion plant on the island. Members of NFU Cymru Anglesey branch welcomed Mr...
New arrival saved at Hall Hill Farm
Mothers Day has an extra special meaning this year at Hall Hill Farm as a newborn calf is reunited with its mother after being found in a ditch shortl...
Concerns rise over electronic sheep database
Genuine concerns and unanswered questions surround an electronic Sheep Database NFU Cymru said today in response to the Deputy Minister for Agricultur...
Farmers want swifter action on red tape - NFU
Government plans to cut the amount of red tape in the farming industry is good news but farmers want to see swifter action, said the NFU today. The...
New markets opening for Welsh beef and lamb
Exciting new overseas opportunities to market Welsh beef and lamb are on the horizon, Dai Davies, Chair of Hybu Cig Cymru (HCC) has said. Speaking ...
Positive future for livestock farmers
"Everyone aspires to eat red meat, it is the protein of choice and we as farmers have an obligation to feed the growing global population." This was t...
Call for new laws to tackle irresponsible dog owners
NFU Cymru is calling for Government action as sheep worrying and potential health problems resulting from dog faeces continue to increase. This follow...
Farmers flock to fertility event
Over a 100 farmers and industry representatives from across South and Mid-Wales benefited from hands on practical advice from nationally renowned spea...
Livestock board chairman steps down after 4 years
Outgoing NFU livestock board chairman Alistair Mackintosh believes the industry is more optimistic now than when he was elected in 2008. Mr Mackin...
Supermarket Watchdog must come 'sooner' - MP
The MP who chairs the national Grocery Market Action Group (GMAG) Andrew George, has today used a debate in the House of Commons to again call on the ...
Ritchey extends product range
Ritchey Ltd is delighted to announce that it has been appointed sole UK distributor for Prattley animal management systems. New Zealand-based Pratt...
Separation is the answer to slurry storage, handling and utilisation issues on West Sussex dairy farm
Separating the constituents of slurry into liquid and solids has transformed management of cattle waste on a West Sussex dairy farm. It not only resol...
AONB decision will stultify farm growth potential
NFU Cymru has expressed disappointment at today's Welsh Government decision to extend the Clwydian Range Area of Outstanding Natural Beauty (AON...
Bauer Group ends financial year 2010/11 with best ever results
The Bauer Group, world market leader in irrigation and slurry technology, ended its financial year to September 30, 2011 with the highest sales figure...
Reduced energy costs for Shropshire farm
Shropshire farm has installed a new radiant-based heating system from Hydor to improve the brooding environment in two of its four broiler sheds, savi...
Tacker and Datatag announce security partnership
Tracker, the UK leader in stolen vehicle recovery, has been appointed by Datatag, on behalf of the Construction Equipment Association (CEA) and the Ag...
Third of farmers spend £15 or less on preventing theft
One in three farmers rely on a simple padlock or less to protect hundreds of thousands of pounds of equipment, a survey has revealed. Rural crime c...
Paneltim sales growth
Pig farmers are purchasing record quantities of Paneltim, the plastic building panel, reports Suffolk-based equipment company, G E Baker Ltd. The com...
SKT new Big Dutchman distribution partner
Vechta-Calveslage/Tampere (Finland) – Big Dutchman, the worldwide market leader for housing equipment for modern pig management, welcomes a new partne...