Machinery and Spares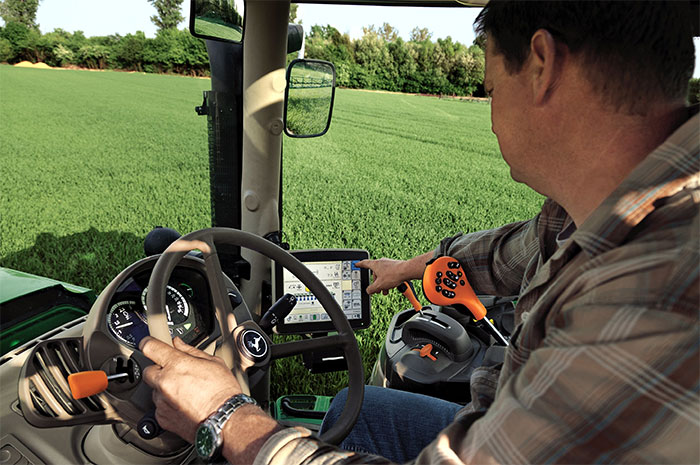 Catterick racecourse says Kubota is thoroughbred
The Kubota RTV900 all-terrain utility vehicle has proven to be an odds on favourite with Catterick Racecourse when it comes to which machine it uses t...
John Deere dealer merger in south-west
John Deere dealers C Smart Agricultural Services Ltd and Ashworth Farm Machinery Ltd have agreed to merge their existing businesses to form one new co...
New premises needed to cope with McCormick dealer
Being awarded the McCormick franchise three years ago has helped a fledgling agricultural engineering business blossom into a major dealership supplyi...
Goodyear to spend 43 days at farming shows in 2011
This week the Goodyear Farm Team has released their show programme for 2011. As part of their commitment to the farming industry and to providing ...
Golden Tractor design award for New Holland
• The award was picked up by the new T7.210 Auto Command™ • The T7 proves to be the most award-winning series ever • More performance and less fuel ...
New John Deere 8R Series tractors for 2011
Following the introduction of the new 8R Series range of tractors last year, John Deere has announced five newly styled wheeled models from 260 to 360...
Tracker and New Holland tackle theft head on
TRACKER, the leader in stolen vehicle recovery and vehicle tracking solutions, has signed a major new deal with New Holland, the world-leading manufac...
Tractors: core business of ARGO industrial group
ARGO SpA will devote its resources entirely to the development and production of Landini, McCormick and Valpadana tractors in future as a result of an...
Kubota tractor appoints Blackwood
Kubota UK has announced the appointment of David Blackwood as sales and marketing manager for its highly successful Tractor & Groundcare Division. ...
Fresh impetus for Landini tractor sales
A descendant of Dutch farmers who pioneered agricultural drainage techniques in the eastern counties has joined a machinery dealer to help farmers wit...
Kiotech invests £2m in new plant
Kiotech, the international supplier of natural high performance feed additives to enhance growth, health and sustainability in agriculture and aquacul...
NZ firm wins R&D award
Innovative New Zealand agritech company, Simcro, has secured another major award for its use of Research and Development. The Hamilton-based company...
New McCormick tractor dealer in Scotland
An agricultural engineering firm based at Dundonald in Ayrshire has been appointed to represent AgriArgo UK's McCormick tractor range in the are...
Vapormatic Immobiliser Protects Police Tractor
Helping to raise awareness of the growing rate of farm machinery theft, Lincolnshire Police have been using a John Deere 6630, complete with Police li...
A1 Tractors takes on McCormick in Yorkshire
Parts and service support coverage for McCormick tractor users in North Yorkshire has been improved with the appointment of a new dealer based in Dish...
ProRain – Made by Bauer – new reel irrigator meets
Growers wanting an efficient and durable reel irrigator now have a new option in the shape of the ProRain irrigator. "The high-end Bauer Rains...
John Deere parts distribution centre expands
With the addition of a new parts deconsolidation and packaging facility (DECON Centre), John Deere's European Parts Distribution Centre (EPDC) i...
Yorkshire farmer's son takes on new role
A Yorkshire farmer's son has been appointed to help agricultural equipment dealers supply the most suitable tractors for the needs of their farm...
Working demo launches Yorks McCormick tractor sale
A new business venture between Barnsley farm machinery dealership N&S Moorhouse and the distributor of McCormick tractors in Britain was launched with...
John Deere supports horse of the year show
Horse of the Year Show (HOYS), the world's most famous horse show, is delighted to announce that John Deere has been appointed as the official t...
Applying pellets? - seasonal advice from BCPC
At a time of year when fertiliser spreading and slug pellet application is being considered farmers and growers need to ensure that their applications...
New step forward in precision farming
A new in-cab touchscreen display unit can access nearly double the number of satellites than current models, increasing GPS availability for farmers u...
Shropshire farm machinery to be sold at auction
An important dispersal sale of arable farm machinery and equipment is to be held in South Shropshire later this month. The auction, at Patton Hous...
New Holland delivers power to the people
New Holland's T8000 and T9000 ranges are already known for their considerable power – but they are also now becoming renowned as machines that a...
Michelin harvester tyre improves productivity
Cereal farmers, contractors and farm- machinery cooperatives are to benefit from the launch of a new Michelin tyre which can help reduce the stress an...
New model expands McCormick tractor range
• McCormick CT55U at 47hp joins current 57hp four-cylinder model • Air conditioned cab with roof window for year-round operator comfort • 16 for...
New John Deere forager saves fuel
John Deere is showing its new top of the range 7950 self-propelled forage harvester for the first time at the 2010 Dairy Event & Livestock Show, as we...
Skills shortages in the UK continue
The Institution of Agricultural Engineers (IAgrE) endorses research carried out by the Confederation of British Industry and the EDI (the vocational q...
Event held to help reduce death in farming
Around 300 farmers across Cambridgeshire and Suffolk will be attending a free event on Thursday 8 July 2010 aimed at helping reduce the number of deat...
£73k fine after farmer is crushed to death
Farming and haulage company Pearn Wyatt & Son has been fined £21,000 with £52,000 costs after a 24-year-old agriculture worker was crushed to death on...
Farm fatalities rise amid calls for training
The alarming rise in the number of fatalities in the agricultural sector is further evidence of the urgent need for employers to invest more in traini...
MP introduces Bill to limit damage done by factory farming
Stoke-on-Trent South MP Robert Flello is spearheading the drive for planet- friendly farming by introducing a new Bill in the House of Commons to limi...
Vapomatic launches vehicle immobiliser
Tractor theft is a growing concern on virtually every farm in the UK and many tractor and agricultural vehicle owners are looking for security solutio...
John Deere builds 500,000th combine
John Deere Harvester Works (JDHW) recently rolled the half millionth self-propelled combine, a 9870 STS model, off the assembly line at the East Molin...
McCormick sub-compact tractors tackle a wide range of jobs
Farmers with a good-size lawn, equestrian enterprises with paddocks to maintain and smallholders needing a general purpose power unit are among potent...
Hypro welcomes news on air inclusion nozzle droplet sizes
The publication by HGCA of a chart showing the droplet sizes produced by different flat fan air inclusion nozzles has been welcomed by Britain's...
New Staffs branch opened by McCormick dealer Barlow's
Machinery dealership Barlow's of Henbury is celebrating 60 years of agricultural engineering service to rural businesses and opening a second br...
Improving accuracy and reducing risks of slug pellet application
New developments for the Techneat Outcast sprayer-mounted slug pellet applicators will minimise the risk of environmental loss and improve the accurac...
New Techneat Nutri-Start LQ gets autumn OSR fertiliser spot on
A new liquid fertiliser applicator for min-till established oilseed rape will help growers to get crops off to a fast start and well established befor...
Cast chassis beefs up six-model Landini 7 Series
The strength of a heavy-duty cast iron chassis helps the latest Landini six-cylinder tractors cope with the stresses and strains of operating heavy gr...
Joint venture for McCormick tractor sales
Two independent farm machinery businesses have teamed up to provide a new sales and service outlet for McCormick tractors throughout Staffordshire and...
First customer for McCormick MC130 tractor
Farming brothers David and John Roycroft became the first customers of the new joint venture between Julian Kearne's Hilton Machinery and Chris ...
Stronga introduce new root crop trailer
Stronga have expanded their BulkLoada range to now include a trailer specifically for the specialist vegetable and root crop sector. The BL700 has bee...
New spreader options from Kuhn
Kuhn Farm Machinery has added two models to its successful MDS fertiliser spreader range, with both machines suitable for smaller sized farms. The...
Basildon tractor operations celebrates phenomenal awards success with two special edition "Blue Power" tractors
To celebrate its T7070 Auto Command™ winning the prestigious 2010 Tractor of the Year® as well as the Golden Tractor for Design award, New Holland has...
New tipping mechanism: Making sure all fully emptied
A new design of tipping mechanism that ensures boxes and bags are fully emptied is introduced by Tong Peal, leading manufacturers of machinery for veg...
New Holland Agriculture announces Tier 4A solutions
As the Clean Energy Leader, New Holland has been pioneering the use of biodiesel in agricultural machinery since 2006 and is currently researching the...
Farmer gets first go on conservation charity's new kit
Devon Wildlife Trust has this month lent out its brand new Pasquali low ground pressure tractor to a landowner in North Devon, the first to benefit fr...
Suzuki GB appoints new ATV dealers
After recently launching innovative new power steering models into their ATV range, Suzuki GB PLC has strengthened their dealer network with the appoi...
Event planned to help landowners manage difficult sites
Wet Culm Grassland habitats can be difficult to maintain, especially tussocky, scrubby areas which are often dominated by purple moor-grass. Devon Far...