Machinery and Spares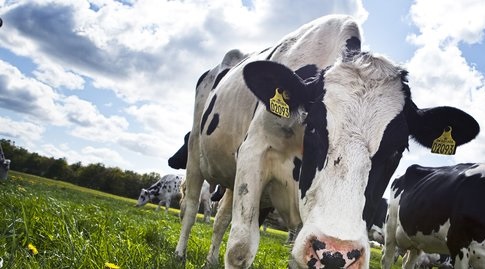 Kmco expand into utility market
KYMCO is a renowned world-leader in producing high quality machines for the ATV market. Now the Taiwanese company has gone one step further and appli...
McCormick tractors return to Billingshurst after 30 years
A former employee of SCATS, the rural trading co-operative that for many years was the Sussex distributor for McCormick-International tractors, is bri...
New combines increase harvest performance
John Deere has announced a series of improvements to its combine range for 2009, designed to increase harvest performance in all crops and conditions....
New Holland CR9090 combine sets World Harvesting Record
On 31st July 2008, New Holland set a new world record with its latest flagship rotary combine, the CR9090 Elevation, confirming the combine's high...
John Deere at The Dairy Event 2008
The Dairy Event and Livestock Show, Europe's premier two day business to business exhibition for the dairy industry organised by the Royal Associa...
Case IH to sponsor Craig Morgan 'International Harvester' Tour
Case IH has announced an agreement to sponsor a concert tour by country music superstar Craig Morgan. Titled "Craig Morgan Powered by Case IH . . . In...
McCormick Tele-Trac – it's a tractor as well as a handler
• First telescopic handler from McCormick is a versatile workhorse • Top handler performance – 2.85 tonne lift capacity; 8.6m lift height • Effectiv...
MEGASTAR GEN-2 - Born to reduce costs
The MEGASTAR soil separator from STANDEN-PEARSON has received a far reaching makeover with a view to reducing ownership costs and enhancing performanc...
Landini launches 6544 'large compact' tractor with attractive all-in specification
Four-cylinder 2.5-litre Mitsubishi engine with 57hp output Synchro-shuttle transmission with creep – 32 forward, 16 reverse Three-speed power take-o...
Agricultural engineer A F Wiltshire switches to Landini to provide what customers want in a tractor
With two tractors retailed within weeks of signing up to a new franchise, the sales, service and management team at Surrey farm machinery dealership A...
Massey Ferguson to Exhibit its all new Flagship 370 hp MF 8690 Tractor at INNOV-AGRI
Anticipating future demands for cleaner air, greater fuel efficiency and quality engineering Massey Ferguson is continuing to celebrate its 50th a...
New plough and press combination
Plough manufacturer Gregoire Besson has recently completed successful trials of their latest product in the Paris Basin – a combination plough and pre...
New high performance Gator utility vehicle from John Deere
Increased power and ground clearance, a higher top speed and improved suspension are features of the new XUV 850D 4x4 Gator utility vehicle from John ...
Machinery export success from Chile to Russia
A substantial order for vegetable handling machinery from Russia is the latest export success for Tong Peal. Their customer Golden Niva at Stavropo...
Bridge the energy gap to increase milk production
With poorer grass quality and the summer downturn in sward growth underway, milk producers are being advised to take a fresh look at their cows' e...
New Activa S and Activa Combines add to Massey Ferguson straw walker combine choice
Massey Ferguson is further strengthening its Activa S combine range with a new, high output six-walker model as well as a new entry-level, five-walker...
New Massey Ferguson Fortia Rotary Combine Range delivers on Massey Ferguson's combine commitment
Debut at Innov-Agri in September is part of an impressive roll out of new combine harvesters and other machinery to mark Massey Ferguson's 50th ...
Massey Ferguson celebrates its 50th anniversary with the debut of its new High Capacity Centora Combines
Massey Ferguson is further strengthening its position at the top of the high capacity, conventional combine harvester sector with the introduction of ...
New AutoTrac developments from John Deere
Following last year's announcement on 8030 Series tractors, John Deere is now delivering all 8030T and 9030/9030T Series tractors AutoTrac-ready a...
Claas changes company name from Renault Agriculture to Claas Tractor
With the take-over of the remaining 20% share, the family owned company Claas has now become the full owner of Renault Agriculture SAS. In this contex...
Goodyear adds to heavy load range
After the increased demand for tyres with heavier load carrying capacities, Goodyear, the leading tyre manufacturer, introduced a 14 ply rated 12.5/80...
High tech crop sprayer starts work in Fife
Beley Farms Ltd at Boarhills, near St Andrews, has taken delivery of one of the biggest and most sophisticated crop sprayers in Scotland – a 4000-litr...
Lincolnshire farmer wins Golden Spreader
Richard Larder of Keelby is the proud winner of Amazone's Golden ZA-M 2200 spreader. He was presented the unique spreader by Amazone's Product...
McCormick MC Power6 tractors get bigger, more modern engine
• New engine features in latest six-cylinder McCormick MC Power6 tractors • Extra torque from 6.7-litre BetaPower engine will enhance field performa...
Sprayer has the latest features
The Knight 1830 self-propelled sprayer shown by the company at Cereals 2008 last week had two new features not seen on this model before. Previous ...
McCormick dealers stock new XTX165 tractor in miniature
• Bruder model of the McCormick XTX165 launched at summer shows • Initial supplies exclusive to McCormick's nationwide retail dealers • Two vers...
More power from New Holland as the T9000 tractor arrives in the UK
New Holland will bring the American-built T9000 tractor range to the UK in 2009 to provide its customers with the highest levels of power. It was thir...
New Holland BB9000 big balers weigh in with new features
• Four new models - BB9050, BB9060, BB9070 and BB9080 • Latest harvester styling • Five CropCutter™ knife configurations • Unique integrated bale w...
Tuning Down Fuel Costs
Paramount Performance is now offering a range of Diesel engine tuning services that will reduce the fuel consumption of most modern diesel engined veh...
New Holland's Grassland and Muck demonstrations run on biodiesel
New Holland will be running all its working demonstration machines on biodiesel during the Grassland and Muck event. Supplied from a biodiesel tanker ...
Black and orange now offered on new Valtra tractors
Valtra customers now have the choice of two new colours on its tractors. Black and orange are now available for order alongside a choice of six other ...
Agricultural machinery rings in merger talks
The directors of Eastern Agri-link Ltd and Norfolk & Waveney Machinery Ring (NWMR) have announced that they will be discussing merger proposals with t...
J Riley Beet Harvesters (UK) Ltd to represent Valtra in Norfolk
Valtra have appointed J Riley Beet Harvesters (UK) Ltd., based at Attlebridge, as service and parts dealers for Norfolk. Announcing the appointment Va...
Kubota puts on a big show at Rockingham
Kubota Live! At Rockingham Castle, 13th, 14th, 15th May 2008, 8.00am to 6.30pm, will provide visitors with a unique opportunity to put a range of worl...
Valtra at Grassland
At the forthcoming Grassland Event Valtra will be demonstrating a comprehensive selection of tractors from their A, N and T Series, plus recently intr...
Parts training places up for grabs
Applications are already being received from John Deere dealers for places on the 2008/2009 Parts Tech training programme for aspiring parts apprentic...
Win a Case CX16B mini excavator with new UK construction and Quarry equipment magazine
'Machinery Movers UK', the new monthly specialist magazine dedicated to the construction & quarry plant and equipment sector, is giving one lu...
Hill quick hitches and Buckets at the forefront for quality, safety and performance
Leading excavator attachments manufacturer, Hill Engineering Ltd, is experiencing an ever increasing demand for its products in the UK and Ireland, as...
Attachments boost Kubota mini excavators productivity
Kubota mini excavators are stealing a further march over their competitors due to the increasing number of useful attachments that can be fitted, deli...
New Holland T5000 Series breaks into the +100hp sector
• Lower engine emissions to meet Tier lll levels • Lower fuel consumption • More power to increase productivity • More torque - up to 40% high t...
Kuhn offers more options in landscape maintenance
Kuhn Farm Machinery continues to expand its range of landscape maintenance machinery with the addition of new options within its Pro-Longer and Agri-L...
Our Problem is Lack of Mechanized Farming - Garafini
Special Adviser to the Governor of Niger State on Local Government Affairs Alhaji Ahmed Aliyu Garafini told Daily Trust that mechanized farming system...
DISCO CONTOUR mower range extended
Following the initial introduction of the DISCO CONTOUR range of mowers last spring, the range has been extended with the addition of two mower condit...
New venture for Lincs farm tractor and machinery dealer
• New venture with McCormick for Lincolnshire farm machinery dealer • Broad appeal of McCormick tractor range presents new sales opportunities • Fa...
Recruitment drive nets ten new dealers for McCormick tractors
• McCormick appoints new dealers from Oxfordshire to Perthshire • Network gains from ten new outlets for sales, servicing and parts • Brings more fa...
First result of Knight-Rabe collaboration at LAMMA 2008
The first result of the collaboration between Knight Farm Machinery and German manufacturer Rabe announced last year – a cultivator/drill combination ...
Sumo's Trio cultivator notches up sales milestone at LAMMA event this week
Sumo's Trio, the UK's top-selling one-pass cultivator, notched up another milestone at this week's LAMMA event when major dealer Sharmans ...
First LAMMA show for uprated stocks seeder
Stocks Ag Ltd is showing the latest version of its TurboJet seeder with an advanced control system, new feed motor and other improvements at LAMMA 200...
New high-precision Sulky Spreaders at LAMMA 2008
Rustons Engineering is showing the new X range of high-specification Sulky fertiliser spreaders at LAMMA 2008 for the first time since their introduct...
Knight shows expanded cultivator range at LAMMA
The C-type range of cultivators being shown by Knight Farm Machinery at LAMMA 2008 now includes a compact model that can be pulled by 150hp to 175hp t...