Machinery and Spares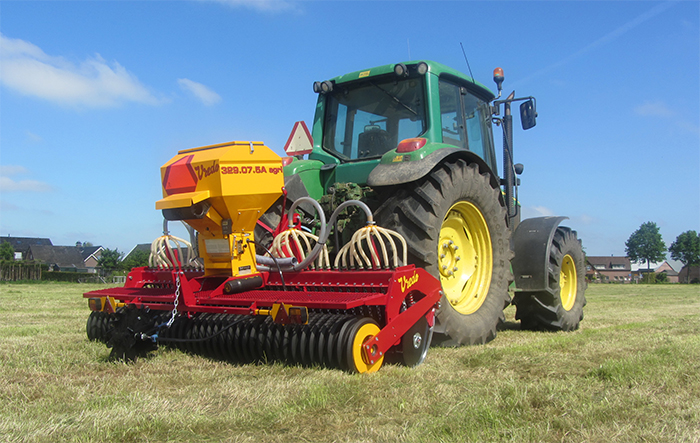 New robotic milking system
WestfaliaSurge GmbH reached an agreement with PUNCH Technix nv for the global licensing of its patented robotic milking technology – the T!TAN multi-b...
New self-propelled foragers offer intelligent solutions
New levels of power, 'intelligent' technology and productivity are offered by John Deere's 7050 Series self-propelled forage harvesters, w...
Fendt press release - TRISIX Vario
With the concept study TRISIX Vario, Fendt presents a high-performance vehicle at the Agritechnica 2007. The concept unites the advantages of track tr...
Agrovista EcoRider winner annouced
Simon Bray of Monks Farm from Norton near Sittingbourne, has been presented with a brand new EcoRider that he won from entering a free draw at the Nat...
New Holland T8050 tractor: more power, greater control
New Holland T8050 tractor: more power, greater control • New 325hp model • 9 litre, 24-valve, common rail injection diesel engine • IntelliView I...
Cleaner engines for the A Series
One of the most popular tractors in the Valtra model line-up, the A Series is now being offered with cleaner and more environmentally friendly engines...
New smaller N Series models
Valtra is expanding the N Series by offering new two models in the under-100-horsepower class; the N82 and the N92 (replacing the N91). The N82 comes ...
New AutoComfort semi-active cab suspension enhances comfort
Cab suspension on tractors have become increasingly popular but, to date, systems have been "passive", meaning that spring and dampening settings have...
Valtra introduces Steerable LHLINK front linkage
To make the most of their tractors customers are increasingly specifying front linkages and front PTO. Until now, regardless of make, adjustability ha...
New Holland T6000 Range Command and Power Command tractors
• Three six-cylinder common rail models • Range Command™ and Power Command™ transmissions • Standard Eco 40kph with optional 50kph Direct Drive • ...
A New Holland Tractor for the Pope
Today, Fiat CEO Sergio Marchionne presented Pope Benedict XVI with the keys to a special tractor, which New Holland, a Fiat Group company and world le...
McCormick CX auction bids hit new high – ends 6th November
• Bids for last Doncaster-built McCormick CX tractor reach £31,199 • Final deadline for postal or online bids is mid-day, 6th November • Full range ...
5th Year of Operator Training Courses Sees More NRoSO Points
For the 5th year running, national agronomy and crop protection specialist Agrovista UK Limited is supporting farmers and sprayer operators by staging...
Landini Compact 40 Series tractors
Landini's growing network of retail sales and service dealers have a new range of power-efficient compact tractors capable of handling a wide rang...
New Holland Precision Land Management leads the way
• Three GPS guidance systems offering scalable accuracy • Auto steering improves productivity and lessens fatigue • High accuracy systems enable pre...
New silent piston air compressors from Wilkinson Star
Wilkinson Star Limited, the Worsley, Manchester based industrial equipment supplier and sole UK representative for Bologna based designer and manufact...
New Holland BB9090 baler receives a big boost
New Holland's 2008 big baler range will be topped by the new BB9090 large rectangular baler, which replaces the BB980. The new baler represents a ...
New 6030 Series tractors broaden customer appeal
John Deere's new mid-specification 6030 Series tractors are designed for wider appeal to a bigger range of customers, particularly mixed and lives...
Police and farmers work together to clear mud from roads
Two North Lancashire police officers have decided to help the farming community clear the roads of mud during harvest time by trialling a groundbreaki...
New Holland: a complete offering of 100% biodiesel equipment
New Holland has announced that it supports B100 biodiesel use in all its equipment with New Holland engines, including electronic injection engines wi...
Safer emptying of big bags
Safety issues in handling big bags have led Tong Peal to launch a new design tipper which empties big bags from the top. Big bags, often holding mo...
New tractor for Hadlow College safety and proficiency training
• Tractor used for instructing students on safe driving and working practices • McCormick CX105 supplied by Kent dealer LandTecnics ideal for this ro...
Alvan Blanch launch innovative new slurry separator
A new slurry separation machine, the Roller Screen 500, has been developed and launched by UK manufacturers Alvan Blanch Development Co Ltd. With t...
New compact tractors from McCormick
• Three-range hydrostatic drive or 12x12 shuttle gearbox for 28hp model • Three-range dual pedal hydrostatic drive for larger 41hp and 47hp versions ...
British machinery in drive for Swedish quality potatoes
One of Sweden's most modern vegetable packers has chosen Tong Peal for a major new investment in preparing potatoes for high quality markets. ...
Repairs and service of any tractor is our claim to fame
Based in a small Derbyshire village Alkmonton Tractors Ltd, run by John and Mandy Ayre, has gained a reputation throughout the UK not so much for the ...
New Herriau precision drill
A new tractor mounted HERRIAU precision drill range has been announced by UK and Ireland importers STANDEN-REFLEX. The new EVOLUTION P-24 model as the...
Kuhn launches latest twin vertical auger diet feeder
Kuhn Farm Machinery has further expanded its Euromix vertical auger diet feeder range, which now includes single and twin auger models as well as a se...
Load versitility wins it for Montracons new machinery carrier
East Yorkshire based RBM Agricultural Ltd has taken delivery of the first from the new range of Montracon machinery carriers. Design plated for ope...
McCormick to auction historic tractor – proceeds to charity
• McCormick CX tractor production transferring to ARGO's Italian factory • Final Doncaster-built McCormick CX to be auctioned for charity • Bids...
New Holland TC5000 combines provide proven productivity
• Three models from 170hp to 240hp • Five strawwalker models • Gentle crop treatment for high straw quality • Comfortable cab inspires confidence ...
New Holland customers benefit from Laterale thinking
• Two new Laterale models in the CSX7000 range • New Laterale model in the CS6000 range • Laterale models conquer slopes up to 30% New Holland ha...
New opportunities for agricultural engineering businesses in Wales as Landini appoints new retail sales and service dealers
Three agricultural engineering firms in Wales have taken the first step towards expanding their businesses by signing up to a new tractor franchise. ...
McConnel's dual-cutting highway star
The dual-cutting qualities of McConnel's recently launched PA180 power arm is clocking up the miles across Europe and proving to be a hit with Eur...
New Case IH Steiger and Magnum models celebrate powerful heritage
• Powerful new Magnum model • Five new Steiger models • "Gold Signature Editions" of the Steiger and Magnum tractors Case IH has further strength...
New separation system for John Deere combines
Increases in power, separation capacity and output, particularly in difficult crops and conditions, are the key features of John Deere's combine h...
AGCO's investment in Laverda underlines professional
The investment being made by AGCO Corporation to form a 50:50 joint venture with ARGO SpA for the production of combine harvesters, has been welcomed ...
Auction sale of vintage tractors
Cheffins are holding their annual auction sale of vintage and classic tractors on Saturday, 18th August 2007. This is a sale, which is now in its 10t...
Another Gold Award for the 900 Vario
The fifth demopark was held from 17 to 19 June 2007 in Eisenach/Germany. AGCO/Fendt presented its product highlights at Europe's largest open-air ...
Silver Medal-Winning Trio Tweaked For Autumn 07
A new point, specially designed for farmers with abrasive soil types, is now available on the award-winning Sumo Trio from SW Agriservices Ltd. The...
Green Glastonbury uses biodiesel-powered New Holland tractors
The world-renowned Glastonbury Festival, which has always strived to promote environmentally-friendly technologies, has teamed up with New Holland to ...
New parts training programme from John Deere
John Deere and Brooksby Melton College have launched the industry's first specialist training programme for aspiring parts apprentices. The new...
Landini to expand tractor range with new six-cylinder Powermax
Two models from 141hp to 167hp plus power boost for pto/transport 32-speed transmission featuring eight-speed powershift High capacity hydraulics,...
New John Deere dealer appointed in Kent
John Deere has announced the appointment of Burden Bros Agri Limited as its new agricultural dealer for Maidstone and the surrounding area. The family...
Compact front implement hitch and pto for McCormick MTX tractors
• Compact hitch handles front implements without steering restrictions • Lift capacity up to 4.55 tonnes; single- and double-acting lift cylinders •...
The Eden Project selects New Holland tractors
Picture: Eden Chief Executive, Tim Smit, receives the keys from Simon Thornton, head of marketing and product development New Holland Europe, at a cer...
Hydraulic lift control enhances mower performance
Kuhn has extended its range of mower conditioners for the 2007 season with the introduction of two new centrally articulated three-point mounted model...
HPX Gator wins ATV of the Year Award
John Deere's new HPX Diesel 4x4 Gator utility vehicle has won 4x4 Magazine's Pick-up of the Year 2007 Award for Best ATV. Organised annuall...
John Deere 8030 tractors delivered AutoTrac-ready
All new John Deere 8030 Series tractors are now being delivered AutoTrac-ready from the factory at no additional charge. This means that the tracto...
Just what foresters need
A remarkable range of highly productive, compact sawmills with competitive price tags are being launched by the newly created Just Saws division of Ch...