Renewable Energy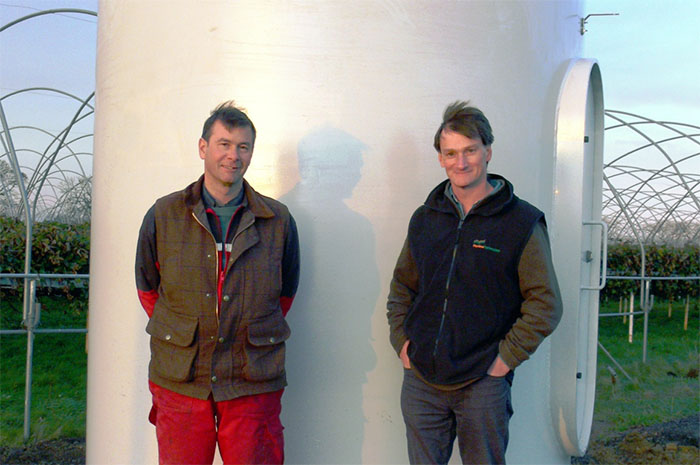 New Holland confirms emissions reduction strategy
New Holland Agriculture has confirmed its Tier 4B strategy for its entire model line-up, which will provide tailored emissions technology. This is ...
Experts assess future of renewable energy in Central America
The Worldwatch Institute and the INCAE Business School's Latin American Center for Competitiveness and Sustainable Development (CLACDS) are co-hosting...
Earthmill release turbine installation video
Earthmill have released their first ever online video, promoting their passions and expertise in the installation and maintenance of wind turbines. T...
Fossil fuel and renewable energy subsidies on the rise
Total subsidies for renewable energy stood at $66 billion in 2010, but are still dwarfed by the total value of global fossil fuel subsidies estimated ...
International agreement opens biofuel market for arable farmers
Arable farmers will gain critical access to biofuel export markets after the Red Tractor and Scottish Quality Crops (SQC) schemes gained commercial re...
Transport emissions could increase 300 percent by 2050
Transportation emissions are the fastest growing source of global greenhouse gas, with emissions expected to increase 300 percent by 2050, according t...
Clarification sought over timing of plant shutdown
The UK Department of Energy and Climate Change (DECC) is being asked to clarify whether input was sought from the Scottish farming industry over its d...
MDA EarthSat expands into Europe
The company already provides hourly forecasts for ERCOT, MISO, BPA and others in North America and said it "is pleased to accommodate those with inter...
Sustainable dairy industry vital for biogas prospects
The effects of the dairy crisis are being felt in the farm-scale renewables sector, it has been claimed. Anaerobic digestion (AD) specialists have ...
Renewable Obligation response is 'good news' for wind energy
Developers of onshore wind projects have received welcome news as the government announced a lower than expected reduction in the Renewables Obligatio...
Positive FITS, negative ROCs
The DECC's latest announcement regarding the revised rates for the latest changes to Feed–in–Tariffs (FIT) brings certainty to the UK's small scale re...
Feed-in tariff provides windfall for livestock farm
The owners of a West Yorkshire beef cattle farm have slashed electricity bills and started generating an additional income for their retirement with t...
Can turbines and free range hens co-exist?
If you as a free range egg producer were suddenly told that a tall wind turbine was likely to be built adjacent to your hens, what would you do? Woul...
Shropshire farm installs renewable energy options
A Shropshire farm has become the first to install solar PV panels under a new service partnership agreement aimed at UK-wide agricultural based busine...
Government unveils Green Food project
A major study into how Britain's entire food system must change to keep food affordable without destroying nature, at a time of soaring world populati...
UK's most environmentally friendly building opened
With its wildflower meadow roof merging into the Evesham hills, hempclad walls, solar panels and geothermal pumps, the new £30 million salad factory i...
EU paves way for GM meat and milk
European Union officials are paving the way to bring genetically modified (GM) animals to the European market. European authorities have developed ...
UK's largest solar installation to be shown
Organisers will be marking the completion of a large photovoltaic panel rooftop installation at their headquarters in Harrogate as it is set to become...
Number of wind farms increases but many farmers are unaware of insurance risks
With rapid growth in the renewable energy industry prompting a surge in the number of farmers and growers setting up wind farms, a national broker is ...
Environment Agency accused over dam overflow
The Environment Agency has been accused of hiding behind an 'Act of God' excuse for failing to tackle the continuous overflow from Cylwedog Dam, said ...
Lely acquires wind turbine manufacturer Aircon
Agricultural suppliers Lely have acquired wind turbine producers Aircon GmbH, activities of which will be continued under the name of Lely Aircon B.V....
Danes put CAP reform on right track, says CLA
The Danish Presidency's statement on the progress of Common Agricultural Policy (CAP) reform negotiations highlighted the impact of lobbying by Europe...
Ecosystem approach is an 'untested concept'
Proposals by the Welsh government on the management and regulation of the environment has been cautiously welcomed by farming unions. In its submis...
Its all just chicken muck to me!
Renewable energy consultant James Miles-Hobbs says he is still optimistic that someone will eventually develop an effective combined heat and power pl...
Carbon capture and storage stalled in 2011
Global funding for carbon capture and storage technology, a tool for the reduction of greenhouse gas emissions, remained unchanged at US$23.5 billion ...
Latest Defra survey 'falls short of expectations'
The latest Department for Environment, Food and Rural Affairs (Defra) survey on the Campaign for the Farmed Environment (CFE) released today shows it ...
Biogen fined £5,000 for pollution
Leading anaerobic digestion company Biogen UK has been fined £5,000 by Bedford Magistrates' Court for polluting one mile of a Bedfordshire strea...
Action on GHGs builds momentum
The agricultural industry in England is making significant progress in reducing its greenhouse gas (GHGs) emissions, according to a new report publish...
Fracking approval creates land exploration surge
The announcement by the Environmental Agency, effectively approving the process of 'fracking' for shale gas, will give a green light to en...
Environmental focus tightens links in meat chain
Foyle Food Group has joined with five animal by-product processing businesses to ensure that the Foodchain and Biomass Renewables Association, Fabra, ...
NFU attacks government biofuel policy
Latest government figures reveal that the vast majority of biofuels supplied in the UK are made from imported feedstock, with almost nine out of every...
Investors should 'do more' to promote palm oil
WWF is urging investors to do more to promote sustainable palm oil, backed by findings from a new survey released during a high-level meeting of inves...
Young farmers enhance farmed environment
Members of Gillingham and Shaftesbury Young Farmers' Club (YFC) have been named winners of a competition to promote voluntary environmental sche...
Landowners urged to seek advice about pylons route
The next phase of the controversial Mid Wales Connection Project is set to begin in May when National Grid announces its selected route for power line...
Economic recovery brings growth in CO2 emissions
Although global emissions of carbon dioxide (CO2) declined slightly in 2009, the beginnings of economic recovery led to an unprecedented emissions inc...
4R wins bio-compost contract at 3SE facility
4Recycling has been given a 25 year contract by 3SE to remove and recycle bio-compost produced at the proposed Bolton Road facility. They will hand...
15 Agricultural innovations protecting the environment
For the last 40 years, Earth Day has been celebrated around the world to call attention to some of our most pressing environmental and social problems...
Renewable companies in farm solar project
Two renewable energy companies have joined to develop a '1.2 million solar PV project at a poultry farm, one of the largest of its kind in the U...
Airport picks local partner for conservation project
Bristol Airport has commissioned a local charity to implement the first phase of the Nature Conservation Strategy which will help to mitigate the effe...
Solar meets horse power for Kilmacolm farmer
The marriage of modern solar power and old-fashioned horse power has come together for one Kilmacolm farmer. As a director of the Clydesdale Horse...
Rainforest Alliance certification sees growth
During 2011, the Rainforest Alliance demonstrated significant growth globally in sustainable forestry, agriculture, tourism, climate change and enviro...
Farm waste has potential to power homes
An electrical company's expertise has seen it play a pivotal part in a renewable energy project that will turn farm and food waste into electric...
Hydor appoint new engineer
Agricultural ventilation company Hydor has extended its technical support team with the appointment of Richard Kendall. Richard joins Hydor as a Me...
ETI seeks partners for £13m energy project
The Energy Technologies Institute (ETI) has today announced it is seeking partners for a new £13 million project to help design and build a next gener...
New Holland discusses sustainable agriculture in Brussels
The group, led by Chief executive Franco Fusignani, was invited by Paolo De Castro, Chair of the Committee on Agriculture and Rural Development, to at...
Sustainable palm oil has financial benefits, study shows
Protecting the environment by producing certified sustainable palm oil is also good for the bottom line, according to a new report released today. ...
UK farming still not sustainable, report shows
The Government is still failing to reduce the impact of UK farming on our environment - despite promising to take action a year ago, a new report reve...
Research to discover forest trees for future climate
Forest Research, a part of the Forestry Commission in the UK, is taking part in international research to identify alternative tree species that could...
Mixed feelings as renewable heat incentive updated
The Department of Energy and Climate Change (DECC) announced today that it is extending the Renewable Heat Incentive Premium, which was due to run out...
Crisis, what crisis? - Bullish times for fluid power
Despite the bearish market climate that remains an ongoing challenge for many technology and service sectors, the fluid power industry is one sector t...