Renewable Energy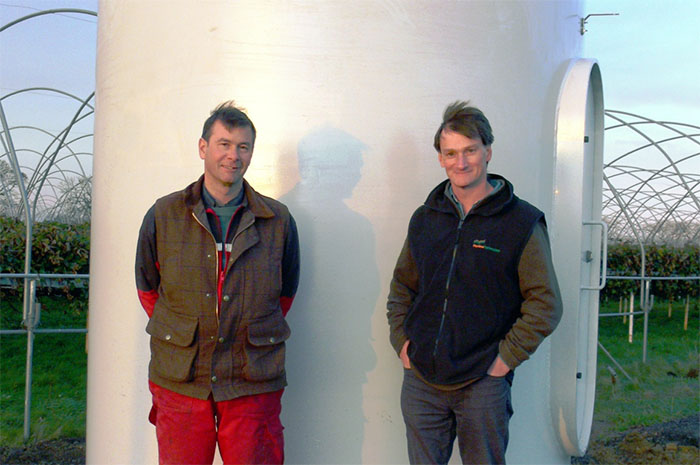 Rising number of farm animals 'poses enviromental risk'
The global population of farm animals increased 23 percent between 1980 and 2010, from 3.5 billion to 4.3 billion, according to research by Worldwatch...
MEP accuses EU of 'chasing fairies' on greening measures
Speaking during a debate this week in the European Parliament's Agriculture Committee on the impact of greening proposals on farming, Stuart Agn...
CPRE attacks Chancellor's planning as 'misguided'
Responding to today's Budget statement the Campaign to Protect Rural England (CPRE) condemned the Chancellor's rhetoric on planning as mis...
Green entrepreneur urges planning process reform
A leading green entrepreneur has warned that delays and red tape in the current planning process are in danger of harming farmers' efforts to di...
Woodland carbon code is a million-tonne winner
Efforts to boost British forests' contribution to tackling climate change reached a key milestone this week. The amount of carbon dioxide predic...
Drought takes toll on Mexican agriculture
How drought will affect Mexico's demand for U.S. feed grains is hard to assess, but the impact is likely to be felt for two to three years, acco...
Survey identifies challenge of changing rainfall
Climate change, and its disruptive effect on rainfall, is causing problems for crop and grassland farmers across the UK with over a third  of farmers ...
SIAC obtains MCS installer certification
The National Association of Professional Inspectors and Testers (NAPIT) has granted SIAC Wind Energy, the exclusive supplier of Bergey wind turbines i...
CLA lobbying success for on-farm renewables
The CLA today said the Government had shown its commitment to cutting red tape and simplifying the planning system by allowing on-farm renewable proje...
Rush for wind turbines as investors save £50,000 plus
The government's small wind subsidy proposals have created a £50,000 bonus for the 'quickest off their feet', says Glasgow based far...
New farm waste facility unveiled
Waste farm plastic continues to be a major problem for British farmers and growers with up to 80,000 tonnes of this material generated annually. C...
Renewable technology demand remains high
Farmers are showing greater interest than ever before in renewable energy technologies, according to one of the leading companies in the sector. Ec...
Agriculture must do more to reduce carbon footprint
"Whilst agriculture accounts for between 8 and 9% of the UK's greenhouse gas emissions, there is quite a bit that the industry can do to reduce ...
Fertiliser Market Report - 9/3/2012
UREA After a surge in the Granular Urea market last week buying activity has slowed, but product availability has become tight after many sales have ...
Dairy processors reduce carbon emissions by 28%
The UK dairy processing industry has reduced its carbon emissions by an impressive 28%, or nearly 75,000 tonnes a year, since 2000. Data collected...
DEFRA announces new rural economy grant
DEFRA have announced the new Rural Economy Grant (REG) which provides funding to enable significant "game changing" transformational performance in fa...
Shortcuts costly when buying conservation from farmers
Shortcuts in the design of payment schemes to persuade farmers to undertake conservation works could be putting the potential environmental benefits a...
Deadline looms to beat wind power tariff cuts
The UK's leader in renewable energy has launched a series of roadshows across the UK to help farmers and rural businesses beat the deadline for ...
EU should abolish farm subsidies, research shows
New research released today, Liberating farming from the CAP, shows that by abolishing direct EU subsidies to farmers the level of food production wou...
Wind turbines to be built in Lanarkshire, Scotland
TGC Renewables has started construction on three wind turbines for the farming and agricultural community in Lanarkshire, Scotland. The constructi...
SIAC installs lattice tower in West Sussex
SIAC Wind Energy has installed a 30m lattice tower on an industrial estate in Lancing, West Sussex. The leading wind energy specialist erected the ...
MP calls for more GM crops in the UK
Norfolk MP George Freeman has today called for a new debate on GM, saying UK drought and global development in food security make it essential that th...
NFU launches new Farm Energy Service
A new initiative that provides a range of renewables and energy efficiency services to help reduce environmental impact and increase farm profits is b...
Greenvale invest £1.7m to reduce water usage
Leading potato supplier Greenvale AP is on target to reduce its water usage by 100 million litres a year after rolling out its revolutionary Cascade e...
UK green farming 'not penalised'
The UK will not be "penalised" for championing wildlife-friendly farming under reforms of European policy, the EU's agriculture commis...
Environmental agencies warn against gov't cuts
WWF today warned against cutting valuable environmental protections along with red tape, arguing that sustainable farming is a common goal. WWF also w...
ASA points to biodiesel before Senate committee
In comments submitted Wednesday, the American Soybean Association (ASA) pointed to the record-setting production of biodiesel from American soy, as we...
National Trust called to clarify stance on wind turbines
Scottish Conservative MEP Struan Stevenson has written to Sir Kenneth Calman, Chairman of the National Trust for Scotland to seek clarity on the conse...
SMEs turning to renewable energy generation
New research from business-to-business energy supplier, Opus Energy, suggests a growing level of interest among small to medium enterprises (SMEs) in ...
SIAC criticises DECC review of feed-in-tariffs
SIAC Wind Energy, the leading wind energy specialist, has criticised a review of Feed-In Tariffs for non-PV (photovoltaic) technologies, released by t...
Crucial survey for CFE needs record farmer support
Farmers are being urged to reveal how they are protecting and enhancing the agricultural landscape before a major initiative is reviewed by the Govern...
Winners and losers in the latest FiTs shake-up
The announcement from DECC of new rates for Feed-In Tariffs (FiTs) for Solar PV, and the consultation on the comprehensive review of Feed-In Tariffs f...
Rainforest Alliance spices up sustainability with new standard
With its proven track record, international conservation organisation, the Rainforest Alliance was chosen by the Sustainable Spices Initiative (SSI) t...
Alex Salmond Welcomes Record 200 Small Wind Turbine Order for Gaia-Wind
Gaia-Wind and renewable energy provider Myriad CEG Power have today signed a 5m plus contract to provide almost 200 Gaia-Wind 133-11kW small wind turb...
Environment minister to visit Kent county show
Caroline Spelman, Secretary of State for the Department of Environment, Food and Rural Affairs, is to be the special guest at this year's Kent C...
Renewables report a blueprint for ignoring communities, says MEP
Today's release by the Scottish Government of a blueprint to streamline the scoping, planning and consenting of offshore renewables developments...
LEAF Marque farmer gets the nation buzzing
LEAF (Linking Environment and Farming) Marque farmer, Duncan Farrington has achieved national recognition for his work to enhance biodiversity on his ...
Property owners urged to take advantage of higher solar rates
It now seems likely that the lower Feed-in Tariff (FIT) rates for Solar PV that were proposed to take effect from the 12 December 2011 will not come i...
Green farm subsidies 'unworkable' - rural lawyer
A rural legal expert has criticised 'seriously flawed' EU proposals to dramatically alter farm subsidies which she says could significantl...
Land management should feature in flood defence policy
Government policy on flood defence does not recognise agriculture, food production and land management, the CLA has warned. The Association said a ...
Plan for farmers to help combat climate change
Farmers have been told they can help to mitigate the potential effects of climate change by adopting new practices to reduce their output of greenhous...
Plant science critical to planet under pressure
UN experts have called for a transformation of the global economy, based on an 'evergreen revolution' which will double agricultural produ...
Silence speaks a thousand words
More than seven months on from the decision made by the Environment Minister, John Griffiths, to review the scientific evidence base behind the Wales ...
UK Government loses Feed-in-Tariff appeal
The Court of Appeal has rejected the Governments appeal against a High Court decision that it unlawfully reduced Solar PV Feed-in-Tariffs (FITs). T...
Climate change offers opportunities for farmers, says CLA
The CLA has said the Government's first ever Climate Change Risk Assessment (CCRA) published today will help land-based businesses adapt to clim...
New event targets soil, water & precision management
As input costs soar and with a depleted body of professional soil and water management specialists to fall back on, a timely new technical event in sp...
CLA President says resources needed to support environment
CLA President Harry Cotterell has told the Commons' Environment, Food and Rural Affairs (Efra) Committee there are huge resource issues to meeti...
Paice gives message of support to Organic Conference
The 6th ORC Organic Producers' Conference at Aston University, Birmingham, opens today (Wednesday) with a strong message of support from Defra&r...
Government must lead by example in run-up to Rio+20
The Tory-led coalition's approach to mainstreaming sustainable development (SD) is failing to put the nation on a more sustainable footing, acco...
Cash for solar barns - deal or no deal?
Adverts offering earnings up to £20,000 a year for photovoltaic solar panels to be installed on the roof of a purpose built barn are highly tempting b...