AGCO RM Announces Massey Ferguson Farm Equipment Now Available in Russia
25 February 2014 10:20:04|
News
AGCO-RM Announces Massey Ferguson Farm Equipment Now Available in Russia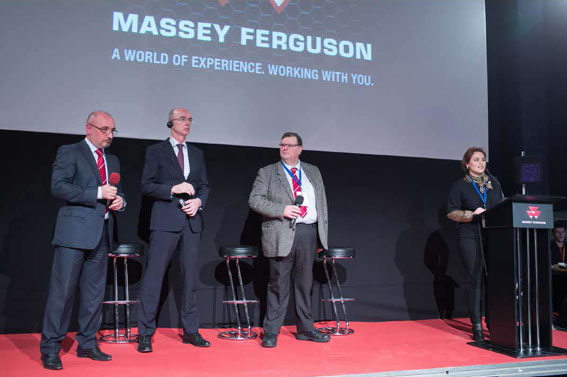 AGCO-RM, the joint venture between AGCO (Your Agriculture Company, NYSE:AGCO), a worldwide manufacturer and distributor of agricultural equipment, and Russian Machines, one of the leaders in the Russian machinery sector, today announced the launch of the Massey Ferguson farm machinery brand in Russia.

As AGCO's global brand, Massey Ferguson's full range of agricultural machinery will strengthen AGCO-RM's position in both the tractor and harvesting equipment market segments.

"The launch of Massey Ferguson in the Russian market reflects our mission to offer as complete a machinery range as possible," says Yuri Zyabkin, 1st Deputy General Director, AGCO-RM. "One of our company's key objectives is to provide farmers - from large agri-holdings to mid-size operations – with a unique choice of equipment to meet their needs and expectations. The Massey Ferguson brand can satisfy the requirements of the majority of farmers irrespective of their location, crops or scale of business."

With a 160-year history, Massey Ferguson is one of the best known names in agricultural equipment and a pioneer of some of the most important breakthroughs in the industry including the tractor three-point linkage, the self-propelled combine harvester, Electronic Linkage Control and yield mapping. AGCO has invested more than $200 million in Massey Ferguson new product development and technology over the last five years. The brand will provide a platform for the further implementation of modern technology in the Russian farm machinery market.

Massey Ferguson's comprehensive tractor line-up, consisting of five ranges from 100hp to 370hp, presents a new opportunity for AGCO-RM to develop this segment of the market.

With Massey Ferguson's worldwide experience in harvesting machinery, AGCO-RM is also planning to strengthen its position in the harvesting equipment segment. Massey Ferguson's modern range of machines includes combine harvesters, balers and windrowers.

"One of the key focuses of the Joint Venture is localization," says Markus Schlosser, Chief Executive Officer AGCO-RM. "We have already started assembly of Massey Ferguson tractors and combines at our production site in Golitsino in the Moscow region. While production volumes depend on the general market environment, our current plan for 2014 includes the production of 300 Massey Ferguson machines and a focus on increasing the level of localization. Currently, we have more than 10 local suppliers of wheels, cast iron, hydraulics, fasteners and metalwork etc. Work on the utilization of local components continues and we are planning to reach 50% localization by 2018."

AGCO-RM is developing a new central parts warehouse to provide state-of-the-art aftersales support. The site includes10,000 m2 of covered space and more than 35,000 parts lines will be on offer. Parts deliveries to dealer centers are made within 24 hours. AGCO-RM's dealer network for the support of Massey Ferguson machinery currently consists of 29 outlets. A further five outlets are scheduled for opening in 2014 and it is planned to reach 100% coverage of Russia's arable regions by 2018.

Download

No comments posted yet. Be the first to post a comment
Display name

Please enter your name

Email
(optional)
Comment

Please enter your comment

Post Comment


Your comment submitted successfully.Please wait for admin approval.

Some error on your process.Please try one more time.