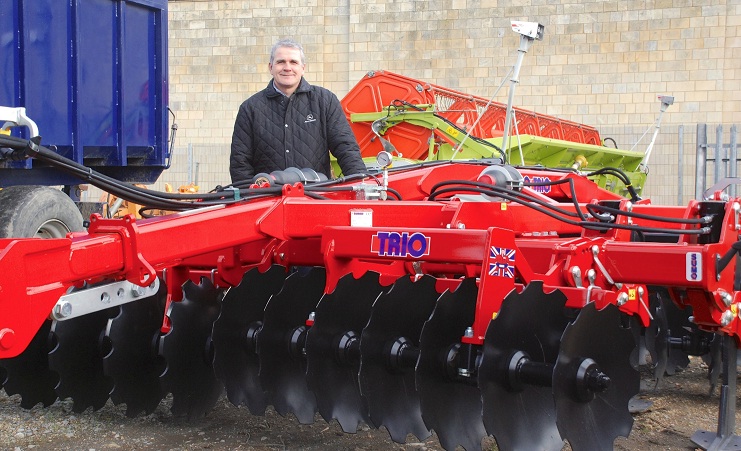 Arable farmers are continuing to move to minimum tillage crop establishment, while some early adopters of the system are now at the stage where they are upgrading their equipment on the back of strong combinable crop prices.
That's been the experience of farm machinery dealer Ripon Farm Services, which covers territory across Yorkshire and Cleveland, and has holds the area franchise for drill and tillage machinery manufacturer Sumo.
Iain McPherson, sales manager at Ripon Farm Services Tadcaster branch, says that their sales of Sumo equipment continue to climb.
"In many instances farmers are moving on from simple sets of discs, and looking to the tine/disc/press format of the Sumo Trio one-pass cultivator to combine deep loosening, seedbed creation and consolidation in a single pass."
"But others have been committed to minimum tillage for some time, and have found the system works well for them. Many of those are now trading in their original Trios to benefit from the latest design of current models, which feature ultra-low draught subsoiler legs with auto-reset, improved point choices, disc scrapers and a redesigned Multipacka."
"We've sold a lot of 3m mounted Trios from our Ripon and Darrington branches and, from Tadcaster in particular, there's been a demand for 2.5m units as well as 3m. We're also finding interest is growing in trailed 3m units, as opposed to the standard mounted models."
"With a new branch at Stockton-on-Tees, following our purchase of the EA Clayton business, when added to our other branches at Keighley and Hull, we've now got a wider area across which to offer the Sumo range."
"The way Sumo equipment is made shows in the second-hand condition of the Trios we have taken in, which has been very good. As a result, second-hand demand is high and prices are strong. And the level of trade we do in Sumo wearing parts suggests customers are keen to maintain these values by refitting their Sumo equipment with genuine spares," he adds.
Comments
No comments posted yet. Be the first to post a comment