August brings lungworm risks to unvaccinated cattle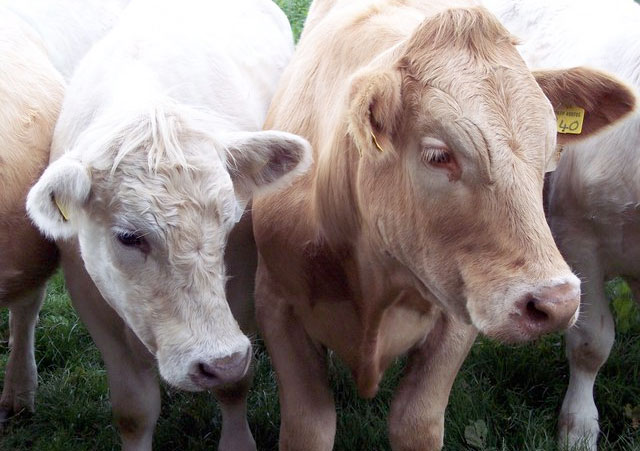 Unvaccinated calves during their first grazing season are most at risk of lungworm infection this August, according to the NADIS Parasite Forecast.
Older cattle are however also susceptible, as the period for lungworm infection peaks.
"Frequent coughing, even while resting, is the most common indicator of lungworm infection. If left untreated, most cattle will quickly develop clinical signs," explains Lynda Maris, Brand Manager at Merial Animal Health. "Cattle rapidly lose weight and body condition within a couple of weeks of infection. In severe cases lungworm can be fatal but even mildly affected animals can suffer significant production losses, impacting on profitability."
Mrs Maris continues: "Except for severely affected cattle which may have suffered physical lung damage, treating with an effective anthelmintic product such as EPRINEX® for dairy cows and IVOMEC® Classic for beef animals will quickly tackle the problem. It is therefore important that all cattle in affected groups are treated as soon as possible."
The Parasite Forecast also predicts that the incidence of type 1 Ostertagiosis in cattle will be highest during August and September. Ostertagia causes acute, profuse, diarrhoea with affected animals rapidly losing weight and body condition. All cattle in the group should be treated with an effective anthelmintic immediately signs of infection are detected.
In the case of weaned lambs, those moved to clean grazing such as silage aftermaths may not require anthelmintic treatment for several weeks. Later on, faecal worm egg counts (FWEC) can be a very useful tool to monitor parasitic gastro-enteritis (PGE) and determine whether the use of an anthelmintic is necessary or not. To do this, faecal worm egg counts should be taken every 7 - 10 days from the fresh droppings of about 10 lambs. Mrs Maris notes "PGE may become a problem in the autumn if lambs are returned to pastures heavily contaminated by worm
eggs
in the previous months."
Where weaned lambs must remain on pasture grazed by sheep this year, further pasture contamination can be limited by the use of anthelmintic treatment. This should help to ensure lamb growth rates are not hindered. Farmers should consider regularly weighing lambs to identify individuals which may be struggling due to worm burden and use targeted anthelmintic treatments to treat only those that require it. Targeted anthelmintic treatments can avoid unnecessary treatments (up to 40% on average), save money, and reduce the selection pressure for resistant strains of worms.
Mrs Maris states: "When treating, under-dosing can lead to poor drug efficacy and the emergence of resistant strains of worms, so drench guns should be set to the appropriate dose for the heaviest animals in the group, not the average weight. It is also important to calibrate drenching equipment to ensure the correct dose is being delivered."
Remain alert for blowfly strike in flocks while the warm weather continues. The risk of flies and lesions will remain throughout August, with a lesser risk to sheep which have been shorn. Control of PGE and subsequent scouring will also help to minimise the risk of fly strike.
Download


No comments posted yet. Be the first to post a comment
Display name

Please enter your name

Email
(optional)
Comment

Please enter your comment

Post Comment


Your comment submitted successfully.Please wait for admin approval.

Some error on your process.Please try one more time.
Trending Now
Viewed
Discussed