Australia wheat crop shrinks UK grain lost export markets
Australia wheat crop shrinks; UK grain lost export markets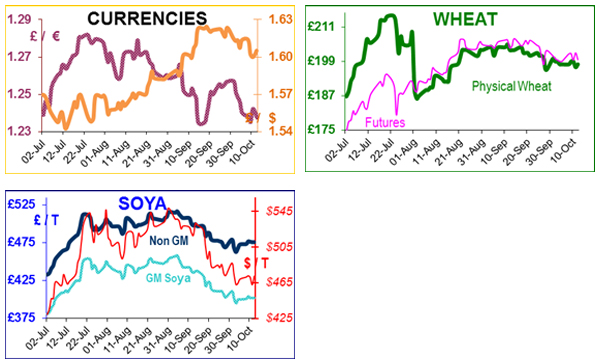 The commodities price spike, the reluctance of some supermarkets to cover the production costs of food, and the bad UK wheat (see CR w/e 17th Aug) with all its associated contractual and milling problems makes this an extremely challenging year.
The quality issues mean that the UK
grain
trade has lost some of its export markets this year, so trade with feed compounders is almost the only game in town. Arable farmers are trying to find uses for sub-65 bushel wheat – apparently Drax and the biofuel plants are not as choosy as chickens, and some low bushel wheat is being exported to the Mediterranean to blend and bulk out their feed wheat.
In the US, bioethanol production has fallen to its lowest level since reports began in 2010, with daily production at 10% below the same time last year. Bioethanol producers are losing $0.15-0.25 per gallon, so the industry has mothballed the equivalent of 600-700m gallons per year.
Globally the situation is tight for cereals: as we understand it, the wheat supply and demand is 659-681 = -22mt; barley is 133-135 = -3mt; and maize is 841-857 = -16mt. In other words we will be dipping into old crop carry-in stocks to keep the world fed. However India and China hold about 50% of global
grain
stocks, so though India may sell 5mt, China will not export any. We need to achieve a series of good harvests to replenish cereal stocks; otherwise prices will stay high indefinitely. Thus the focus is on Australia and the South American crops.
Unfortunately Australia's wheat crop is shrinking; last year they exported 25mt, and according to the Commonwealth Bank of Australia that might fall to 17.8mt this year, as production falls to 21.4mt (29.5mt last year), which is 6% below the five year average of 22.8mt.
The EU is estimated to import 10mt maize this year, and after excluding contentious GM origins, the Ukraine is cheapest source – but it only has 12.5mt available. Meanwhile the lack of joined-up thinking anywhere in the EU, means that France is currently exporting maize to Japan and Asia. Extrapolating from Brazilian maize plantings, the analyst Celeres estimates next year's maize crop at a record 76mt (USDA believe 70mt). Another analyst estimates 68mt, citing reduced seed and fertilizer sales by 10-15%.
Russia's harvest is almost complete, and their
grain
harvest is put at 70mt (94mt last year). Russia's export prices are no longer competitive to the tune of $15-20/t.
Russia is expected to export 10mt of
grain
this year. Kazakhstan's
grain
harvest this year is put at 14.2mt (30mt last year) from its entire 15.2m hectares, so yields are less than 1t/ha! (UK 6.75 this year, avg since 2000: 7.78) The Ukraine is expected to harvest 43mt of
grain
(57mt last year).
Because of the high level of winterkill, many farmers took the decision to replant with spring wheat; unfortunately the drought meant that this crop too was a failure. Consequently many Ukrainian farmers are broke, bank interest rates are in the region of 25%, so the ability of Ukraine to recover to its former export status is questionable. It rather depends on the financial situation of the bigger corporations who now run agriculture in the Ukraine, rather than the family farms.
In the US the soya harvest is 58% complete, with a good to excellent rating of 37%. The maize harvest is 70% complete. Soya bean and maize prices are about $15.50/b and $7.40/b respectively, which have been declining from their recent tops of $17.8/b and $8.4/b respectively.
AO soya is about £400/t delivered to the mill, but it is difficult to calculate the real price for Non GM soya, one importer places it at £100 over GM due to not having any to sell, whilst another has completely withdrawn – will we have supplies of Non GM to see us through the winter – we doubt it! Wheat is about £200/t for November.
Soya planting has just started in Brazil, but more rain is needed to achieve the potential crop of 82mt. Argentina believes that there will be a switch from planting maize to soya. As of Sep 27th, there is no sign of soya rationing as US export sales commitments are 862mb (618mb last year) almost 40% more than last year, whereas the USDA believes that exports for the entire year will be 22% below last year. Brazilian soya bean exports are drying up fast, so demand is switching to the US.
Download

No comments posted yet. Be the first to post a comment
Display name

Please enter your name

Email
(optional)
Comment

Please enter your comment

Post Comment


Your comment submitted successfully.Please wait for admin approval.

Some error on your process.Please try one more time.