Badger colony repairs to cost 35 000 for Norfolk council
Badger colony repairs to cost £35,000 for Norfolk council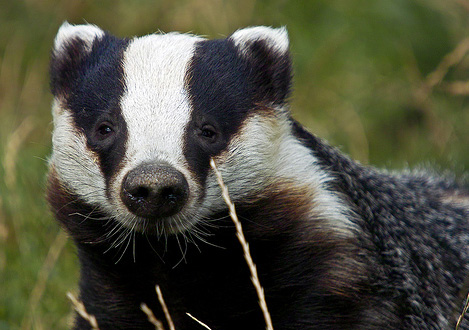 Work is underway by Norfolk County Council to repair long distance country paths damaged by badger cull colonies which is expected to cost £35,000.
A network of tunnels, dug by Norfolk's biggest badger colony at Whitwell, near Reepham, had left the Marriott's Way, which runs along the old railway embankment there, liable to collapse at any time.
That posed a real danger to the hundreds of walkers, cyclists, horses and riders who use the trail every year and left Norfolk County Council with no option other than to close a 300m stretch of the popular trail nearly two years ago, for safety reasons.
But with strict badger protection rules in place and any possibility of moving the colony ruled out, engineers had to be sent back to the drawing board when estimates for plans to solve the problem using traditional methods - for instance by building bridges over the affected section or creating a permanent new route for the path - showed they could have cost between £200,000 and £500,000.
The approved scheme will now see the path reinforced using a system that is frequently used in a wide range of civil engineering applications - from roads and airfields to construction sites and old landfills - to stabilise ground where it is prone to subsidence.
It will involve setting layers of "geotextile" membrane and aggregate over the path, to create a strong and durable new structure, safe enough to support heavy regular use over the long term, especially by horses and their riders, and protect the badgers beneath.
The scheme was designed by civil engineering specialist, Naue Geosynthetics, based on detailed site investigations undertaken by earth scientists based in the County Council's closed landfill management team , both of whose work includes dealing with unstable land , and after they carried out a series of geophysical surveys which looked into the ground below the path to identify the composition of the substructure of the soil and the precise location and extent of the tunnels.
Charles Wright, Norfolk County Council's landfill strategy manager, who headed up the site investigation and design team for the Marriott's Way project said: " This is a good example of a multi disciplinary approach that has resulted in a standard design using well proven technology for the Marriott's Way. That helped drive down the cost of providing a durable long term solution.
"It was made possible because we carried out detailed investigations into the ground structure along this stretch of the Marriott's Way. In this respect we had to work around the strict badger protection rules which put limits on the investigation methods and the times when setts can be examined, so we initially commissioned Dr Jenni Turner and undergraduate Louise Christopher from the University of East Anglia to run a geophysical survey of the area which could be carried out on the surface without disturbing the badgers below.
"The initial UEA geophysics gave us a good general data about the ground beneath and a comparison of techniques, which we were then able to investigate further with more detailed geophysics and by drilling cores in selected locations away from the badger setts when we were permitted to do so.
"All of this gave us an accurate picture of the precise depth, length and location of the tunnels. What it showed was that the badgers have almost entirely tunnelled through a very specific section of the embankment. This is made up of softer sand and gravel which was presumably backfilled between two areas of solid clay when the embankment was originally built. The tunnelled section had completely undermined the path above, but the clay sections were intact, and it was this that enabled us to commission the "bridging" design from the expert structural engineering company.
"They are more used to providing schemes that are suitable for driving lorries and other vehicles over, rather than safely keeping badgers and path users apart, but in terms of strength and durability, the principles are exactly the same."
The work will take about two weeks to complete, subject to the weather, so it could be open for Easter. Until then, all the diversions will stay in place for safety reasons.
David Brown of Natural England which approved the scheme said: "Although this is an engineering solution based on tried and trusted technology, this is a novel approach to the very specific problem at Whitwell.
"Mitigation measures have been designed into the scheme to prevent any blockages of the tunnel entrances so that the movement of badgers in and out of the sett will not be inhibited. And given the depth of the tunnels and chambers beneath the surface of the bridleway we're confident that any disturbance to the badgers during the work will be minimal."
"Once the scheme is finished, it means that people and badgers alike will be able to go about their business as normal along the Marriott's Way in the very near future."
David Harrison, Cabinet Member for the Environment said: "This stretch of the Marriott's Way has been closed for a long time and I'd like to thank people for their patience while we dealt with this tricky problem.
"The situation at Whitwell has highlighted the very tough challenges of meeting our obligations to protect wildlife, maintain our beautiful natural environment and enable people to enjoy it safely.
"This inevitably comes at a price because this is a significant engineering project. But it's not only the best solution, but the cheapest on the table, too.
"Fixing the problem says much about the considerable environmental expertise across a number of different organisations that exists in Norfolk. And that they have been able to work together so effectively to achieve a positive outcome for this very popular part of Norfolk. "
James Joyce, County Councillor for Reepham said: "The Marriott's Way takes people through beautiful countryside and links numerous lovely towns and villages.
"Little wonder it is one of our most popular and heavily used countryside footpaths. It also supports many businesses along the route which make a big contribution to the local economy. The closure of the path at Whitwell has been painful for many people for a long time, and I'm very pleased that we are now seeing
light
at the end of this very long tunnel. "
The construction project will be aided by Whitwell Station which will be providing space in their ground to store equipment and materials and by providing a diversion through the station yard while the work is being carried out.
Speaking about the wider value of the project, Jenni Turner, Senior Lecturer at UEA who guided the geophysical survey, added: "This project also gave one of our undergraduates hands on experience of collaborating with other agencies and putting her knowledge into practice in order to help solve this challenging real-time environmental problem.
"UEA students regularly contribute to various environmental projects with Nofolk County Council and that provides professional experience which is incredibly valuable for earth scientists moving out of their studies and taking their first steps on the career ladder."
Download
28-03-2014 11:56 AM | Posted by: dodge
I suppose thats what happens when you build a footpath on top of a badger sett!!
28-03-2014 18:49 PM | Posted by: Blackwater Farm Equestrian centre
We are all really looking forwards to being able to ride along this lovely section of Marriots Way again after so long.Thank you for finding a solution and getting it open again.
18-06-2014 10:59 AM | Posted by: How much public money!!
This really is an unacceptable amount of money. Badgers and the diseases associated with them are costing this country far too much money.
Display name

Please enter your name

Email
(optional)
Comment

Please enter your comment

Post Comment


Your comment submitted successfully.Please wait for admin approval.

Some error on your process.Please try one more time.