Banking analyst predicts feed price falls
25 April 2014 10:29:21|
News
Banking analyst predicts feed price falls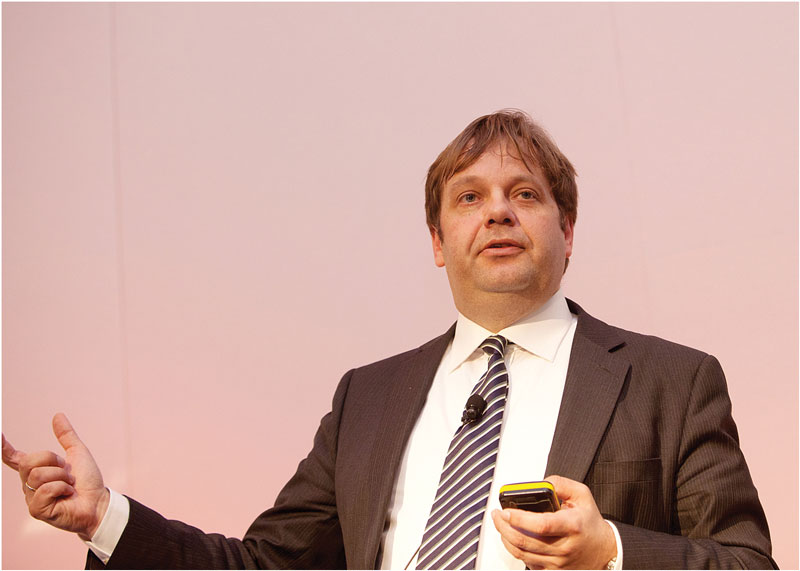 An analyst with a leading European bank says he expects feed prices to fall over the next year despite the recent rise in
grain
prices sparked by the crisis in Ukraine.
Nan-Dirk Mulder of Rabobank says he expects the prices of wheat, corn and soya to all fall over the next 12 months, although he says feed prices are likely to remain volatile and there are still threats to prices from the political crisis in Ukraine and from the possibility of poor weather in the United States. He says the egg industry should remain prepared to deal with such volatility.
Wheat futures spiked in March after Russia sent troops into Crimea on the pretext of protecting Russian-speaking citizens. At the end of February the UK May wheat futures stood at £156 per tonne. By the middle of March, after Russian troops were sent into Crimea, they had hit £170 per tonne. As the crisis escalated, markets took fright that supplies could be disrupted from what is a very important region for global trade in grain.
Nan-Dirk Mulder told delegates at the International Egg Commission (IEC) conference in Vienna that the Black Sea region was an important global source of both wheat and corn. Ukraine, Russia and Kazakhstan together exported 38 million tonnes of wheat - as much as 25 per cent of global trade - and 21.5 million tonnes of corn, which represented some 21 per cent of world trade. "You can imagine that turmoil in these markets makes investors concerned," he said. But whilst the markets inevitably reacted to what was happening in Ukraine, the reality of the situation was a little different, said the analyst. The production outlook in Ukraine was very good, he said, and the main export ports for the country were in the Odessa region to the West, which was not affected by the current political crisis. "The reality is not that dramatic," he said.
As well as the political uncertainty in Ukraine, Nan-Dirk Mulder pointed to a warning of weather problems in America as another potential threat to feed prices. "There has been a warning by the US weather authorities that for this year there is a 50 per cent chance of a return of El Niño effects," he said. "This is very important because it could have a huge impact on global
grain
markets," he said. "This is a development you should definitely follow in the next months."
However, despite the potential effects of political unrest and the possibility of severe weather conditions, he said there were developments that would have a beneficial impact on supplies and he said that over the next 12 months he thought these outweighed the negative concerns. He said
grain
and oilseed areas would be at record levels, forecasts for production looked good and there was a slowdown in demand for biofuel. There was also lower demand in China because of outbreaks of avian influenza there and because of a slowdown in the Chinese economy. "Over the next year the balance is moving to the bearish side," he said.
He said he though that the main feed ingredients - wheat, soya and corn - would all fall in price over the next year. "If we look at wheat we expect that global production will be high," he said. "This is more than enough to justify a reduction in the price of wheat over the next three or four quarters."
He said the position was similar with corn and expectations for soya beans were linked to those for corn. Higher potential returns had encouraged farmers to shift from planting corn to planting soya. "If you look now to the global situation for soya beans, you see that, especially in the United States, there is very large planting now, soya bean planting, that will come onto the market later this year. That will have more impact on supply." He said Brazilian supplies also looked good. "With soya bean the situation is definitely bearish. A pretty sharp decline in the prices of soya beans is expected until the end of the year," he said.
"How will this affect the global egg industry?" He said there were many differences in price levels around the world, but the egg industry would mostly benefit from falling feed prices. He said that low feed prices were positive for an industry that - particularly in Europe - was suffering from imbalances. He said the introduction of a ban on battery cages had led to an oversupply of
eggs
in Europe. It would take time to bring the market back into balance and improve margins as a result, but he said margins were generally closely linked to feed prices. As feed prices fell margins on
eggs
improved. "We expect until the end of the year a pretty good situation for the industry."
Volatility would remain. Stock levels of
grain
were improving but were still relatively low and he said that "any changes in the fundamentals," like the recent crisis in Ukraine causing cereal prices to rise, could have an impact. "You should be prepared for a return of volatility in feed prices." However, he said that margins should be better for the egg industry in the coming 12 months.
Download

No comments posted yet. Be the first to post a comment
Display name

Please enter your name

Email
(optional)
Comment

Please enter your comment

Post Comment


Your comment submitted successfully.Please wait for admin approval.

Some error on your process.Please try one more time.