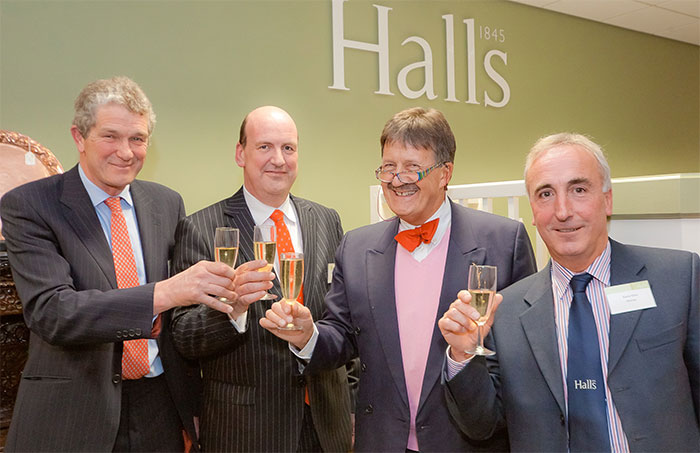 Celebrity antiques expert Tim Wonnacott opened Halls' new headquarters and fine art salerooms in Shrewsbury on Friday.
Around 400 guests attended the opening ceremony at the new 20,000 square feet building at Battlefield, adjacent to Shrewsbury Auction Centre.
The new HQ has two fine art salerooms, dedicated offices, storage space, 110 parking spaces and a café facility provided by Battlefield 1403.
Around eight kilometres of electric cabling and 36,000 bricks have gone into the new building, which is 'A' rated for energy performance.
Wonnacott visited Halls' frequently in recent years as presenter of the BBC television series Bargain Hunt when the company was based at the Welsh Bridge in Shrewsbury.
He said his late friend and colleague, Richard Allen, a former fine art director at Halls, would be very proud of the company's "very special" development. He paid tribute to work of current fine art director Jeremy Lamond and his team who had carried forward Allen's legacy.
"Richard was totally professional in everything he did," he told the audience.
"He cared passionately about all the things that matter in an auction business. His successors have carried on that tradition and you cannot look at this business and fail to be impressed by what Jeremy and his team have been able to create."
Commending the quality of the new building and salerooms, he predicted they would attract people from across the UK to sell their antiques at Halls.
"It's a centre of excellence and somewhere for Shrewsbury to be proud of. It will be of real value to the community and the whole of the Midlands," he added.
Halls' chairman Peter Willcock also referred to the legacy left by Mr Allen, whom he said had reinvigorate the fine art department following his arrival in 1992.
Describing the new headquarters as an "exciting and positive expansion" of the business, he paid tribute to the tenacity and determination of fellow director David Giles, who managed the project, to deliver the building on schedule.
Willcock thanked main building contractor S. J. Roberts Construction Limited of Marton, near Welshpool and L. R. Powley and Co of Shrewsbury, who were responsible for the engineering part of the project, for their professionalism and commended the work of an in-house team at Halls.
Giles said the new building would lead Halls into an exciting new era and he was delighted with the many positive comments and the "phenomenal" response from guests invited to the official opening event.
"This new building is an investment in the future that will increase the company's profile in all aspects of our work," he added.
Lamond said: "We are confident that it will become an important powerhouse for the fine art department, expanding the business that has been developed at the Welsh Bridge over the past 50 years.
"Our new, bespoke fine art facilities make us one of the most modern regional salerooms in the country and will allow the fine art department to offer a greater sales programme, with more dedicated specialist auctions, to our ever-widening national and international market."
Halls, a multi-disciplined company with a network of 10 offices and 125 employees across Shropshire, Worcestershire and Mid Wales.
Comments
No comments posted yet. Be the first to post a comment