Low beef cattle prices are causing problems in farm incomes and damages the confidence of the industry, according to the Farmers' Union of Wales who met with MPs at a meeting in Westminster.During meetings with MPs Elfyn Llwyd (Meirionnydd), Guto Bebb (Aberconwy) and Glyn Davies (Montgomeryshire), FUW president Emyr Jones and deputy president Glyn Roberts highlighted the anger felt by farmers just 12 months after the horsemeat scandal led supermarkets to pledge allegiance to British beef.Speaking after the meetings, Mr Jones said: "There is a strong sense of anger out there with people feeling that the promises made by supermarkets have been shown to be hollow.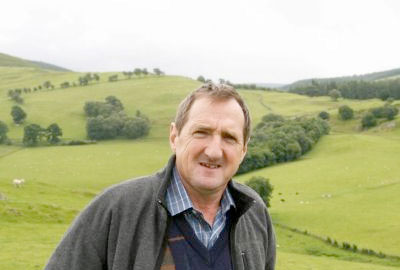 "Twelve months ago the food industry was falling over itself to apologise for selling horsemeat labelled as beef to consumers, and pledging allegiance to supply quality Welsh and British beef."With prices at unsustainably low levels, and a significant increase in imported beef undermining prices, the industry now feels betrayed."Roberts said: "The figures we have also suggest that the savings made by supermarkets through paying low prices to farmers are not being passed on to consumers and many feel both farmers and consumers are being squeezed in order to make up for dwindling supermarket profits."Roberts added that the Welsh MPs were left in no doubt as to the strength of feeling amongst Welsh farmers.Roger Williams MP for Brecon and Radnorshire highlighted to the Minister responsible for Food and Agriculture, George Eustice, the collapse in the farm gate beef price. It has dropped from around 380p per kilo deadweight to 310p per kilo deadweight, so the average beast is now worth around £250 less than it was 4 months ago. He asked the Minister what DEFRA thought the cause of this problem was, and what they would do about it.
The Minister replied that increased imports and both slaughter and meat processing plants and retailers were increasing their margins which was reducing beef prices. DEFRA would be hosting a beef summit in the early summer to address the issues.
Williams said: "the drop in beef prices has shook the confidence of the whole beef supply chain. Upland farmers in Brecon & Radnorshire and all the way across Wales produce top quality beef. But the cost of doing it is very high. Making a commitment to produce a calf that will not be ready for slaughter for two years needs assurance that the demand will be there after the costs have been incurred. I intend to attend the summit when DEFRA arrange it because this is one of the biggest threats to upland farming that exists at the moment. I will also be contacting the main supermarkets to tackle this issue head on."With a reduced beef supply forecast as we reach the end of the year, and with fewer cattle coming forward, there needs to be a change of attitude and a realization that beef farmers have no option but to work to a long term plan. It's impossible to work to do that when everyone else is thinking in the short term. It is a cliché that we have used before, but the beef supply is not a tap that can be turned on and off at a moment's notice.NFU President Meurig Raymond added: "Consumers made it clear during horsegate that they value shorter supply chains, with provenance high on their agenda. At that time major retailers made statements of the importance of economically sustainable supply chains and a commitment to build confidence with producers for a long term supply of beef. Now is the time that is going to test how deep those commitments run."Imports were also looked at and while the level of beef imported from countries outside the EU remains small, and Irish beef continues to make up the majority (70 per cent) of beef imports to the UK, all UK union leaders stood united on the need for government and businesses to work to ensure that any beef imports meet the same high standards as those asked of British and Irish assured beef. It is critical that beef, and products containing beef, are clearly labelled with the country in which that beef was produced, so that consumers can exercise choice as to where the beef they are eating has come from.NFU livestock board chairman Charles Sercombe was emphatic that there should be a continued drive to export what is rightly viewed as world class produce. He said: "In a well-functioning market there should be sufficient margin in beef for everyone; the farmer, the processor and the retailer. For now we need to promote our product more widely, be it through the levy bodies working on export opportunities, or through retailers for what should be one of their headline products."With the World Cup coming up and the promise of more good weather, farmers will want to see British beef and lamb taking pride of place on the barbeque and on the shelves. We produce world class meat; domestic and international consumers want it, farmers want to supply it, so it seems perverse that we are in the situation we are in now. What is needed is for there to be more trust and a concerted effort to build long term relationships and sustainability in the chain."