Booths, a family owned food and drink retailer, launched today a new milk product paying the highest supermarket price of 35.5p per litre to farmers.
Chairman Edwin Booth said, "As dairy farmers are under pressure, we guarantee to pay our farmers the highest market price for every pint of milk we sell."
"Paying the highest market price means family farms are able to keep going, invest in the future and spend more time and money looking after their herds to ensure they produce great quality milk."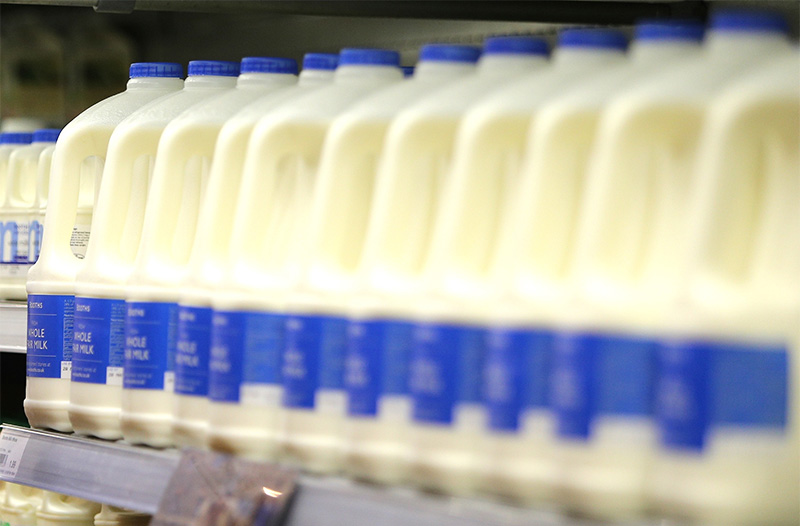 The market price is collected by an independent price comparison consultancy, milkprices.com, who monitor the farmgate prices of the major UK supermarkets. Booths will review the market price regularly, to ensure that Booths are paying their farmers more than their supermarket rivals.
One family farm in each of Booths counties will benefit; these are Manor House Farm in Garstang, Wigglesworth Hall Farm in Wigglesworth, Heaves Farm in Kendal and Lower Lightwood Green Farm, Nr Crewe.
"Giving a fair deal to farmers and producers is core to our buying ethos. After long negotiations with our milk processor, Muller Wiseman we're delighted to guarantee the highest farm gate price for our dairy farmers. The deal allows us to form relationships with local producers, directly benefiting farmers in our region. I'm proud to tell our customers, that when they buy a pint of Booths milk, they're giving the farmer a truly fair price for the milk," said Booth.
Claire and Richard Barber of Manor House Farm in Garstang, explain; "It is an honour for us here at the High Hopes Herd to supply our milk to Booths. We share many values as a family business with a sustainable outlook and we sell the best produce we can from the cows we care passionately about. The Booths milk price will allow our business to invest and move forward to the next step confidently."
Edward Booth from Wigglesworth Hall Farm in North Yorkshire, added: "This is an exciting opportunity and as a local farming family we are really pleased to be working with Booths on this new venture. It gives us the confidence to continue moving forward with our business and to make investments and improvements on the farm. This will ensure the highest possible animal welfare and environmental standards continue to be met and help us maintain a diverse balance of farming and wildlife in this beautiful part of the upper Ribble Valley.
"This close working relationship will ensure a more sustainable milk price which in turn will benefit not just the producer and retailer but will ultimately ensure the best possible good value product for the consumer. We appreciate this forward thinking initiative and the benefits it will bring, supporting the viability of local farmers like ourselves. This Booth Family are very much looking forward to an exciting future working with Booths on this project."
Christopher Dodd from B L Dodd & Family who farm at Lower Lightwood Green Farm in Cheshire, said; "We are proud to be associated with Booths, supplying quality local milk. A higher farmgate milk price will enable the business to expand, buying cows and dairy accommodation to provide a sustainable financial future."
Roger Mason from Heaves Farm in Levens, Cumbria, said; "As a long established family dairy farm, we at Heaves Farm are proud to be working together with Booths to promote a great quality local product. The opportunity to receive a high farmgate, long term, sustainable milk price bodes well for us and other local farmers giving us the confidence to invest and ensure a viable future both for ourselves and the next generation."