Boris Johnson calls for landowner shale rights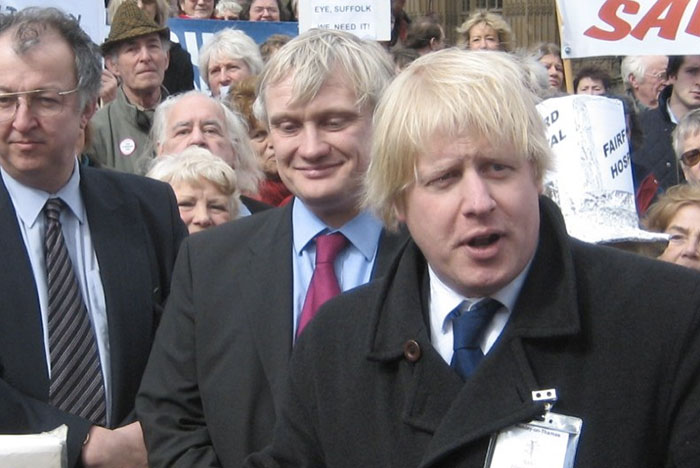 Boris Johnson has entered the fracking debate with a proposal to change the law to give landowners the commercial rights to oil and gas beneath their land.
The principle is likely to be attractive to farmers with the promise of full control and the possibility to achieve the best returns. However, it would require a major change to old, established law, and in the end, is it practical?
It has been a longstanding principle of English law that a freehold landowner owns "everything reaching to the very heavens and down to the depths of the Earth" directly above and below his land. This normally includes minerals lying beneath the surface of the land.
However, it was considered too complex to allow individual landowners to have control of coal, oil and gas resources required for the nation's energy supplies.
So the state, or more specifically the Crown, automatically retains rights to all coal, gas and oil (and precious metals) which can only be removed under licence from the Government. Consequently, as the law stands at present the rights to shale gas and oil vest in the Crown not the landowner.
Shale gas and oil is found in shale rock several hundred metres below the surface which requires a special technique known as hydraulic fracturing or 'fracking' to extract it. Drilling companies need a licence from the Crown to prospect for and extract oil and gas, but they also need to negotiate rights of access to and licences to establish a well head from the landowner on whose land the well head is to be established.
So far as adjoining landowners are concerned, under whose land gas or oil is to be extracted, it is arguable that the drilling process (but not the extraction) is a trespass. This gives adjoining landowners the possibility of frustrating the whole process. This may soon change if proposed Government legislation is enacted.
Whilst at present oil companies need to secure an access licence from the landowner, they are not obliged to pass on the income from fracking or pay a level of compensation which would make it commercially attractive to landowners.
In these circumstances the only bargaining chip left for landowners is control of access rights over the surface of their land and/or the argument the drilling process underground is a trespass. Even so, if the parties fail to agree access, the Government may intervene and order compensation calculated according to statutory guidelines at a level which could be significantly lower then commercial rates. Companies in the shale gas and oil industry are concerned that negotiating access rights will be costly and time-consuming and may hinder the growth of this industry.
The Government is very much in favour of development of the shale gas industry. It is looking to legislate to remove the threat of trespass, and to simplify the procedure to allow companies to access the significant reserves of shale gas and oil without allowing landowners to frustrate extraction projects.
The proposed changes have been put forward in the Infrastructure Bill, and set out in a consultation paper. The proposals include:

• a right for drilling companies to subterranean access to extract oil and gas at a depth of at least 300 metres without requiring the permission of the surface landowner;
• an obligation to make community-wide payments to the areas affecting by drilling arising from the above right; and
• a requirement for drilling companies to comply with a new public notification system.
As a sweetener, it is proposed that local communities affected will receive a one-off compensation payment in return for access to the ground under properties in the area for each horizontal well over 200 metres in length and/or a percentage of the revenue from oil or gas extracted. It will be noted this is compensation for the community as a whole, not individual landowners. The Government has supported this compensation scheme and believes that as the drilling occurs far below the surface, only a nominal payment is required.
A public notification system is also proposed which will provide information including which communities are affected and therefore likely to receive compensation. However, affected property owners can only voice their objections in the planning forum.
Companies have to fulfil a number of conditions before the right of underground access can be granted. They will require petroleum and abstraction licences, planning permission and environmental permits, Health and Safety Executive approved plans and drilling consent. The environmental regulators will continue to measure and assess the environmental impact of the drilling, including related seismic activity and
water
pollution. Local planning authorities will have the usual powers to enforce adherence to planning conditions.
The proposals have been met with considerable resistance from a number of environmental groups and landowners in areas likely to be affected by the proposed changes to the law. There is concern that relaxing the rules on fracking will hamper investment in renewable energy resources, withdrawing focus from the reduction of emissions. Others claim that fracking may cause contamination of ground and surface
water
from potentially carcinogenic chemicals and seismic activity, although this has not yet proven (studies have indicated only small scale seismic activity has occurred).
Advocates for the change in the law argue that relaxing the rules on fracking would provide a vital energy source and reduce our over-reliance on other fossil fuels. The Institute of Directors estimates that the production of shale gas and oil in the UK could create investment of £3.7 billion and maintain approximately 74,000 jobs.
Many landowners will not welcome the proposal to remove any remaining control they might have had over mineral rights, particularly where they receive no direct financial reward.
In contrast, the principle of Boris Johnson's proposal seems more attractive to landowners. The landowner would own all minerals and thus would be able to grant not only rights of access but also rights to mine and extract coal, oil and gas to commercial mining companies through private negotiation in exchange for proper commercial compensation. This would be in line with the current position for other minerals.
However, is this proposal really workable?
Is it really practical essentially to privatise natural resources and leave control in the hands of individual landowners? Lateral mining could involve large numbers of landowners, which would cause huge difficulties and delays in negotiating consent from all owners. There are likely to be continuing arguments as to whether individual landowners or communities should receive payments or compensation for the disruption.
Although large reserves have been detected across swathes of the UK – most recently shale oil in the South East - research is still underway to establish whether fracking is economically viable depending on the location of the gas or oil. If companies then have to factor in private compensation payments calculated on a commercial scale, such projects may never be realised.
In practical terms, farmland and open land are more likely to be targeted for drilling wellheads than towns and villages, to minimise environmental issues, though properties in the vicinity could be affected by lateral drilling. If Boris's ideas ever became a reality, it remains to be seen whether farmers consider the economic benefits of fracking, alongside renewable energy projects or other forms of diversification on their land, as profitable enterprises.
The consultation period for the Government's proposal closes on 15 August 2014 – after which the debate on mineral and access rights will no doubt run and run.
Sue Lister
Senior Associate
Agricultural and Rural Property
Thomson Snell & Passmore
Download

15-07-2014 14:42 PM | Posted by: annon
i'm against fracking and this is such a better idea than removing the right for homeowners to refuse companies from fracking under their homes
15-07-2014 14:45 PM | Posted by: NO TO FRACKING
So far as adjoining landowners are concerned, under whose land gas or oil is to be extracted, it is arguable that the drilling process (but not the extraction) is a trespass. This gives adjoining landowners the possibility of frustrating the whole process. This may soon change if proposed Government legislation is enacted.
Whilst at present oil companies need to secure an access licence from the landowner, they are not obliged to pass on the income from fracking or pay a level of compensation which would make it commercially attractive to landowners.
15-07-2014 15:37 PM | Posted by: Simon Turner
Boris's suggestion will pit neighbour against neighbour and, due to human greed make large scale fracking more likely.
15-07-2014 16:27 PM | Posted by: Boyd
A scheme to provide energy free housing for elders in the towns and free up their homes to be renovated for half price housing for the youngers.

So less fracking gas needed.

Also saves land from being built on so we get to eat food.

http://www.transitionlinks.org/?p=4916

15-07-2014 17:05 PM | Posted by: iang
The UK needs the gas and the jobs. It does need to be done properly though.
15-07-2014 18:43 PM | Posted by: Smokin Fish
Fracking Poisons the land and water table. Fills everywhere full of leaking methane that they admit they can't capture all of, and disturbs RADON. Not to mention the colossal waste of fresh water and nuclear waste. Millions of gallons. Your property will also become worthless, or at least worth less. www.dangersoffracking.com
19-07-2014 12:03 PM | Posted by: Maria
Forget fracking renewable is the way forward.
Too much risk of environmental damage and pollution with fracking just need to look at the problems all coming to light go America and Canada. Leaky wells after use. Too much water needed for the process when we already have drought issues and regular hosepipe bans. Carcinogenic risks to health. Earthquakes. Why on earth would you risk damaging your farmland and affecting its sale value?
19-07-2014 14:42 PM | Posted by: Julia Taylor
UK farmers and land owners have only to look at what has happened in America to be able to make an informed decision, based on facts and real life experience rather than vacuous assurances and promises, as to whether or not they want:

1)this level of irreversible pollution of their water, air and soil
2)water shortages
3)industrialisation of their land
4)heavy vehicle traffic and resulting damage to roads
5)reduction in the value of their property
6)earth tremor damage
7)inability to get insurance cover for their property
8)very real risks of fires and explosions at various stages of the operation (well head and transporting liquid gas by road or train, etc)
9)huge liability as a taxpayer and as the landowner for trying to clear up the damage when the drilling companies are long gone (but the damage will, in fact, be irreparable)
10)living with radioactivity and methane leaks in their surroundings, plus other unknown toxic chemicals - as drilling companies maintain that they cannot reveal what chemicals they use because they are their industrial 'secret ingredients'.

At least, with Boris' plan landowners would be able to negotiate an astronomical compensation package from the drilling companies - which might bear some proper market relation to the scale of damage they will sustain to their land and its future use/loss of future income - and would be able to make their individual choice as to whether that is a price worth accepting and paying.

This is in marked contrast to the current proposals which would strip all property owners of any rights to any say in the matter or to any compensation for the destruction of their property and way of life.

Making energy companies pay the true cost of their activities in this way would, of course, reveal the truth that fracking is completely economically unviable. Even in America, where regulations and safeguards have been notoriously lax, these companies are getting into serious financial difficulties and debt.

All this is, of course, not to mention the climate damaging impact of the methane, which has far more impact even than CO2 emissions on climate change and the costs and problems that brings with it.
19-07-2014 16:21 PM | Posted by: pauline
Fracking must NEVER happen in the UK - Germany and France have both banned it for very good reason. UK politicians and their wealthy friends in high places have very vested interests going on here that Cameron thought he could quietly and quickly sneak through while no one noticed - WRONG!! With climate change a very real threat to our planet any resources need to go into clean renewables - wind, wave and solar, not into more dirty fossil fuels. I strongly believe and hope that the UK public are not stupid enough to let this happen, but instead have learned from the huge problems now being seen all over the USA as a result of indiscriminate fracking. IT CAN NEVER BE UNDONE.
19-07-2014 18:56 PM | Posted by: jo
greed is good eh? We've got to get these looters and climate change deniers out of power, or we are certainly doomed.

The future could be brighter with better leadership and a proper grasp of how to face up to climate change. A huge renewables industry could be kickstarted in this country -creating thousands of jobs, reducing our carbon and creating energy security.
Kick out the dinosaur tory looters for a brighter future, and vote green.
19-07-2014 19:46 PM | Posted by: Lynne cooper
NO FRACKING AND STICK YOUR LEGISLATION BORIS!
20-07-2014 10:50 AM | Posted by: jobo
This is exactly what's happened in Queensland Australia isn't it? Huge areas of farmland destroyed because of greed and selling out to the unconventional gas company BG. Brian Monk stands against them, remaining practically alone and surrounded by gas fields with his land and water poisoned. Have a look at Brian's youtube videos here: https://www.youtube.com/channel/UCuTlubPDJ9J-zfZzTFCVvTA/videos and Brian's facebook page is public if you want to see what's going on there.
Display name

Please enter your name

Email
(optional)
Comment

Please enter your comment

Post Comment


Your comment submitted successfully.Please wait for admin approval.

Some error on your process.Please try one more time.
Trending Now
Viewed
Discussed