Bovine TB rates fall to lowest in 10 years
Bovine TB rates fall to lowest in 10 years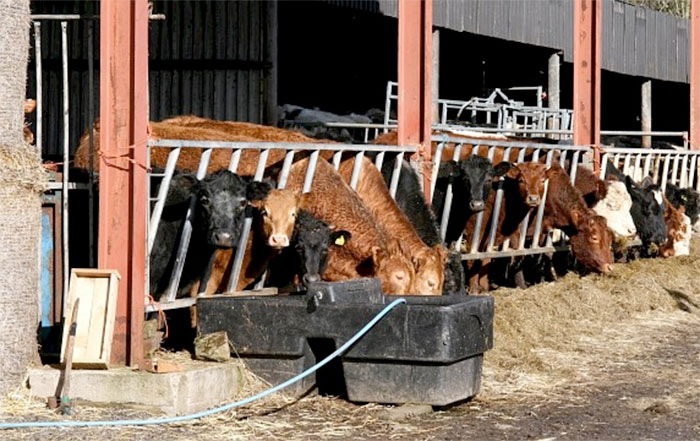 Incidents of Bovine TB in cattle fell in April to their lowest levels in almost ten years, according to the latest statistics from Defra.

The number of new herd incidents during the period January to April 2014 was 1,767 compared to 1,809 for January to April 2013. The number of tests on officially TB free herdswas 31,287 during January to April 2014, compared to 29,526 during January to April 2013.

The number of cattle compulsorily slaughtered as reactors or direct contacts was 11,689 during January to April 2014, compared to 12,003 during January to April 2013.

Bovine TB presents serious challenges to the food and farming industries and has economic and social impacts.

The economic costs of a bTB breakdown are shared by farmers and government; in 2012 the estimated average cost of a confirmed herd breakdown in high risk areas of England was £14,000 to farmers and £20,000 to government.

New Environment Secretary Liz Truss said she would use "every tool in our toolbox" to fight bovine tuberculosis in cattle.

Reduction of badger populations by shooting was considered, by government, as one of a number of measures to control the prevalence of bovine tuberculosis in cattle.

However, the Independent Expert Panel (IEP) found that because of the protected status of badgers, little or no experience of shooting unrestrained badgers was available. A pilot cull was seen as an appropriate way to test assumptions on the effectiveness, humaneness and safety of this type of shooting.

The Panel's report said: "The pilot culls were complex and it was essential that they were conducted with scientific and statistical rigour to ensure that they generated reliable and robust results.

"Our original terms of reference were refined in 2013 to reflect the primary roles of the IEP in (a) guiding the development of scientifically and statistically sound protocols and (b) assessing the robustness of the data collection and their analyses. The IEP was not involved in either the implementation or the day to day monitoring of the pilots during the six-week period set aside for culling."

Ian Corner said he hadn't brought any animals onto his farm in Oxfordshire for 14 years and his cows had no contact with any other cattle while grazing in the fields but two had still tested positive for the disease and had to be slaughtered.

Mr Corner said: "All the animals on this farm were born here and before February we'd never even had one cow give an inconclusive reaction, never mind a positive test. In February we had our annual whole herd test and we had four inconclusive cows. We had another test 60 days later and two of them went clear and two reacted positively to the skin test which meant they had to be slaughtered.

"It's like going to hell and back. It's like having a sentence hanging over you and there's nothing you can do about it. Until you've been through it you don't realise the disruption it causes and the impact it has on your whole family and your business.

"Two years ago we were in a four-year testing area but we're now on annual testing because the disease is spreading this way. We've almost been able to follow its progress down the valley and see it coming towards us and we feel helpless because there's nothing we can do."

Mr Corner's herd was started in 1904 by his great-grandfather Dr Harry Corner, an eminent brain doctor working in London who believed that the milk from the Jersey cow was beneficial to the human brain. The herd has evolved to become one of the highest yielding Jersey herds in the country and one of the few remaining dairy herds in Oxfordshire.

"We're very proud of what we do and what we've achieved and the health and welfare of our animals is always our highest concern. These animals are part of our lives. They're born here, they're raised here, and you do become attached to them, I don't care what anyone else says.

"I don't understand how people can say they're concerned about wildlife if they're not concerned about the disease in other animals. If we're testing cattle regularly and slaughtering those animals that test positively for the disease we need to develop a test for wildlife so we can find out where the disease is and stop it spreading further."

Mr Corner said he was also concerned that his animals had to be taken to Crewe to be slaughtered and weren't slaughtered until they day after they had left the farm.

"I don't understand how anyone can say that taking animals on such a journey and leaving them overnight is good animal welfare," he said.

NFU President Meurig Raymond said: "Cases like this show that bovine TB is continuing to affect new farming families and businesses and re-emphasises why we must do everything we can to control and eradicate it."

Download
18-07-2014 16:04 PM | Posted by: reg pollard
here we go again,new environmental secretary same script,this government & NFU only listening to 1 scientist and he belongs to Deathra,so tells these morons what they want to hear,just hell bent on slaughtering badgers,regardless of overwhelming evidence against the cull.these people just don't listen to common sense.
18-07-2014 21:33 PM | Posted by: reg pollard
some people are so stupid its unbelievable,just read an article from this Morón from Somerset who lives on edge of culling areas and has made a statement saying "hedgehog's have made a miraculous recovery & their numbers increased dramatically since last year cull of badgers,anyone with half a brain cell knows the reason hedgehog's are in decline is because of Man,farmers and land owners using pesticides, & number of hedgehogs killed on roads,so please don't try and insult intelligent people with such idiotic statement's.
30-07-2014 10:15 AM | Posted by: Billy badger
just love listening to David Cameron speak,praising Owen Paterson for doing a fantastic job, so if praterson was such a brilliant man why did Dave the brave sack him, watch your back Cameron because Praterson will stick the biggest knife in it that he can find.
Display name

Please enter your name

Email
(optional)
Comment

Please enter your comment

Post Comment


Your comment submitted successfully.Please wait for admin approval.

Some error on your process.Please try one more time.