CAP concerns discussed at Builth Wells meeting
CAP concerns discussed at Builth Wells meeting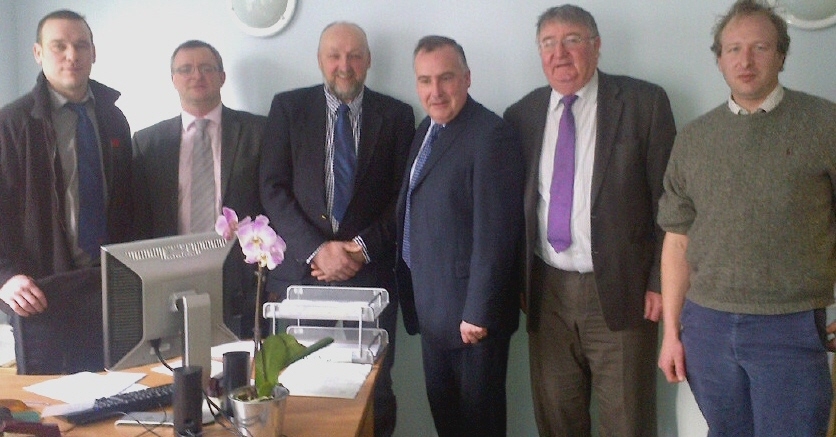 Concerns over the impact of CAP reforms were highlighted during a meeting at Builth Wells between politicians and farm group officials.

"The MEPs certainly seem to understand agriculture and recognise the need to maintain EU food security far more than the commission" said Brian Bowen, vice chairman of the Farmers' Union of Wales.

The amount of money assigned to the Common Agricultural Policy (CAP) and a number of policy concerns relating to the future CAP are among the issues being discussed by European leaders at the budget summit.

The FUW have objected to linking 'greening' rules to direct payments.

MEPs have said new environmental rules - which will make 30% of national budgets for direct payments conditional upon compliance with greening measures - must be made more flexible.

There were three key measures: crop diversification, maintaining permanent pasture and creating ecologically focused areas will remain but with exceptions.

MEPs made clear that farms with under 10 ha of arable land should be exempt and the rules should be relaxed for holdings of 10 - 30 ha.

"We asked MEPs to make the greening proposals more workable and to ensure that the efforts of farmers already in agri-environment schemes was taken into consideration. We asked that if a farmer chose not to do the greening requirements, that he would only lose his greening payment" said Deputy President of the NFU Meurig Raymond.

Bowen said: "Ironically, the commission's greening proposals would have acted as a disincentive for farmers to enter agri-environment schemes and made farms less self-sufficient."

"The amendments go some way towards reintroducing the original concept of encouraging farms to lessen their environmental impact and their input costs as a part of greening, whereas the original commission proposals would severely limit a farm's ability to grow its own crops or plant cover crops to help wildlife."

The final regulations are expected to be finalised over the coming months pending agreement over the EU budget.

Farms that are certified under national of regional environmental certification schemes, and hence are already using environment-friendly practices, would be exempt from 'greening' provided that the measures they apply have an impact that is at least equivalent to that which the mandatory greening ones would have.

"We have managed to bring greening into the first pillar of the CAP, making it possible for every farmer in the EU, not just those in countries that can afford to fund it under rural development programmes. This greening is clearly subject to EU rules, and now needs to be paid for by real EU money for a public good", Luis Manuel Capoulas Santos said.

Bowen also emphasised the FUW's major concerns over the proposed liberalisation of modulation arrangements.

"We understand that the UK Government is seeking to be able to modulate up to 20% of pillar 1 monies in order to pay for pillar 2 underfunding without any obligation to co-fund such monies."

"This would move us further away from the principle of having a more common policy across the EU which underpins the current negotiations."

"If we want more money for Pillar 2 it should come from securing a fairer share of the EU budget - we currently gets a fraction of what we should get and that is what we should be fighting for."

Download

No comments posted yet. Be the first to post a comment
Display name

Please enter your name

Email
(optional)
Comment

Please enter your comment

Post Comment


Your comment submitted successfully.Please wait for admin approval.

Some error on your process.Please try one more time.