30-06-2014 16:31 PM
| News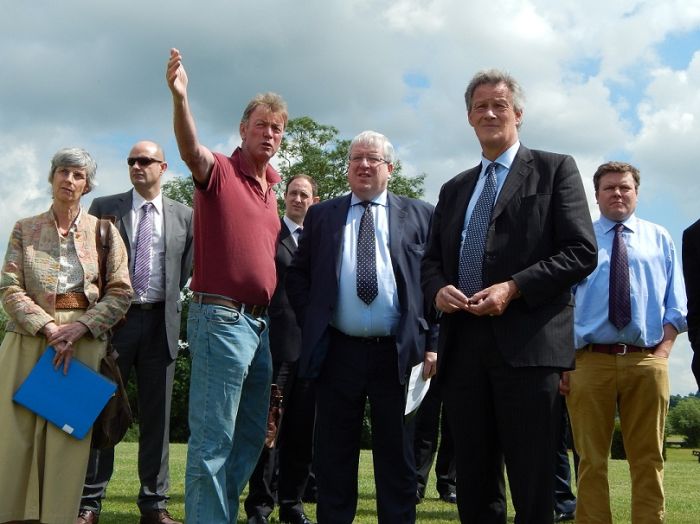 Transport Secretary (centre); and Henry Robinson, CLA President (second right) listen to the concerns of one of the businesses visited on tour of HS2-affected businesses on the Northants-Oxfordshire border
The CLA has called on Transport Secretary Patrick McLoughlin to push HS2 Ltd to provide full assistance and early, common-sense settlements to people severely impacted by the plans for the new high-speed rail link.
This comes after the Association today (Monday 30 June) took Mr McLoughlin and Parliamentary Under Secretary at the Department for Transport Robert Goodwill on a tour of affected CLA members situated on the Northamptonshire­-Oxfordshire border that have the route cutting through their land.
The ministerial visit took in an internationally-renowned equine business covering 150 acres in Aston Le Walls (situated between Daventry and Banbury), a 500-acre arable and sheep unit just outside Banbury which has diversified with commercial office lets, and a sixth-generation dairy farm on 200 acres close to Brackley.
CLA President Henry Robinson who accompanied Mr McLoughlin on the visit said: "While the circumstances of each of these families are different, they all share the common problem of facing an utterly uncertain future due to HS2.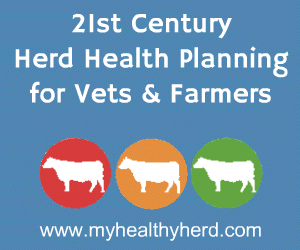 "Our members have come up with a number of sensible and constructive ideas for protecting and growing their businesses in the face of the impact of HS2. They are realistic and know this is an infrastructure project of national importance, and they want to engage with HS2 Ltd and its intermediaries in a positive fashion.
"However it appears HS2 Ltd is so focused on the Hybrid Bill and using existing, out-of-date compulsory purchase powers that it's stopping it from finding and implementing timely and workable solutions. It needs to do more and go further than just performing its basic statutory duties.
"These businesses will simply stagnate if they are not given the tools to implement plans now. They cannot be left hanging in the air waiting for construction to begin in 2017, and then face further delays before receiving a financial settlement – it will be far too late to ensure their businesses can adapt and survive. These businesses need to implement their plans now, otherwise a generation's worth of progress will be lost.
"We hope Mr McLoughlin has today seen the true depth of the impact of HS2 on these families and that compulsory purchase in its current form simply does not work and that HS2 offers a real chance to reform the compulsory purchase regime – we want the Government to grasp this opportunity now.
"We also urge him to push HS2 Ltd to positively engage with those severely affected by the project, and assist in offering early, common-sense solutions so these valuable rural businesses can survive and continue to flourish, even with the threat of HS2."
Comments
No comments posted yet. Be the first to post a comment