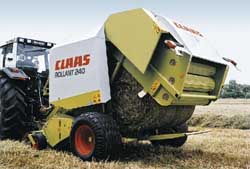 CLAAS has further expanded its ROLLANT round baler and QUADRANT big square baler ranges with the addition of two new models. These are in addition to the new QUADRANT 2100 baler announced last autumn.
CLAAS ROLLANT RotoFeed
The CLAAS ROLLANT round baler range has now been expanded to five models with the addition of the new ROLLANT 240 RotoFeed.
Launched last year to meet the specific needs of farmers who want a straightforward round baler without the advanced features of larger ROLLANT 250 and 255 models, the ROLLANT 240 incorporates a simple, well proven 16 roller chamber similar to that used on the old ROLLANT 46. On the standard models, material is fed into the chamber via a feed assist rake, whereas on the new model this rake is replaced by the CLAAS RotoFeed rotor.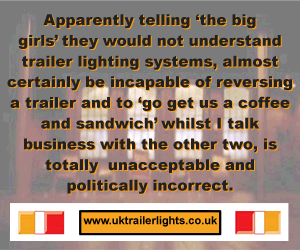 The RotoFeed rotor consists of a series of rotors mounted in a spiral formation that positively feeds the crop and provides an extremely even feed of material into the chamber, so increasing output and density compared to the standard ROLLANT 240.
The cost of the new CLAAS ROLLANT 240 RotoFeed is £18,700
CLAAS QUADRANT 2200 FineCut
Until now the CLAAS QUADRANT 2200 high density baler has been available with either a RotoFeed feed rotor or RotoCut chopping system.
The new FineCut rotor option is similar in principle to the RotoCut chopping system, but uses a total of 49 knives in the chopping rotor to provide a 20mm chop length.
This chop length makes the bales produced by the QUADRANT FineCut ideal for poultry bedding, but also for use in dairy cattle housing, especially on slats or where slurry pumping systems are used.
Until now, to achieve the chop length required for these types of housing system it has been necessary to use a straw chopper, which is both costly and noisy. By chopping the straw in the field at time of baling, this considerably reduces the cost of bedding, provides increased absorption and lowers dust levels within housing.
The cost of the new CLAAS QUADRANT 2200 FineCut is £83,000
Comments
No comments posted yet. Be the first to post a comment