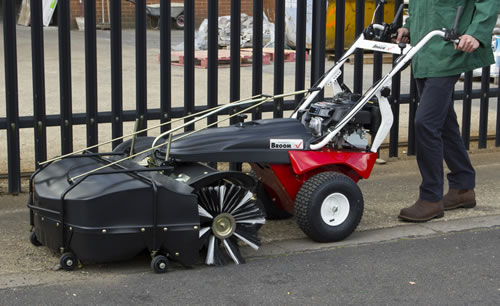 Here's an extensive range of pedestrian power brooms that is tailor-made for hire outlets, private estates, equestrian centres, the agricultural and construction industries, councils and contractors.
The new BroomEx sweepers offer a model for every application with professional and semi-professional machines and variations of engine type, brush width, rotor speeds and bristle consistency. There is also a choice of gear driven and hydraulic models. Each features a quality three layered lacquer finish and parts that are subjected to extreme forces are galvanised or made from high-grade steel.
Handlebars are height adjustable, the chassis is rugged steel and the brush height adjustment is simple, requiring no tools. The brush drive is central for sweeping up to walls and obstacles and, overall, the machines are designed for durability and longevity.
The very popular Briggs & Stratton powered BroomEx PR-70, widely used for sweeping courtyards, gardens and footpaths, is joined by two new semi-professional sweepers. The PZ-80 is an easy steer sweeper, light and easy to manoeuvre, with the ability to turn 360° on the spot. Honda powered, it has 4-stage height adjustable handlebars and features automatic brush pressure that requires no adjustment. The PS-80 has a working width of 80cm and will cover an area of 3,500 square metres per hour. It's ideal for snow clearance, grain stores and construction sites.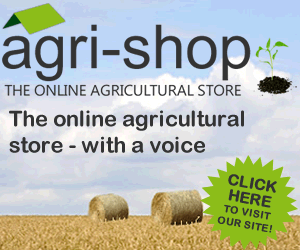 In the BroomEx professional series there are two new models available in either 100cm or 120cm widths. The PT-100 and PT120 are ideal machines for contractors and professionals requiring a heavy duty workhorse, with variable brush speed controlled from the working position.
With Honda power they cover up to 4,600 and 5,600 square metres per hour respectively and have three forward and one reverse gear. For professionals looking for a hydraulic model the BroomEx PH-100 and PH-120 offer 10cm and 120cm working widths, with hydrostatic transmission for maximum versatility.
There is a wide range of accessories available for the new models, from collector boxes to snow blades and chains, to a leaf pusher and heavy-duty bristles. Broadwood International: 01420 478111 www.broadwoodintl.co.uk
Comments
No comments posted yet. Be the first to post a comment